2018 Porsche 911 GT3: Great to Date, But Is It Monogamy Material?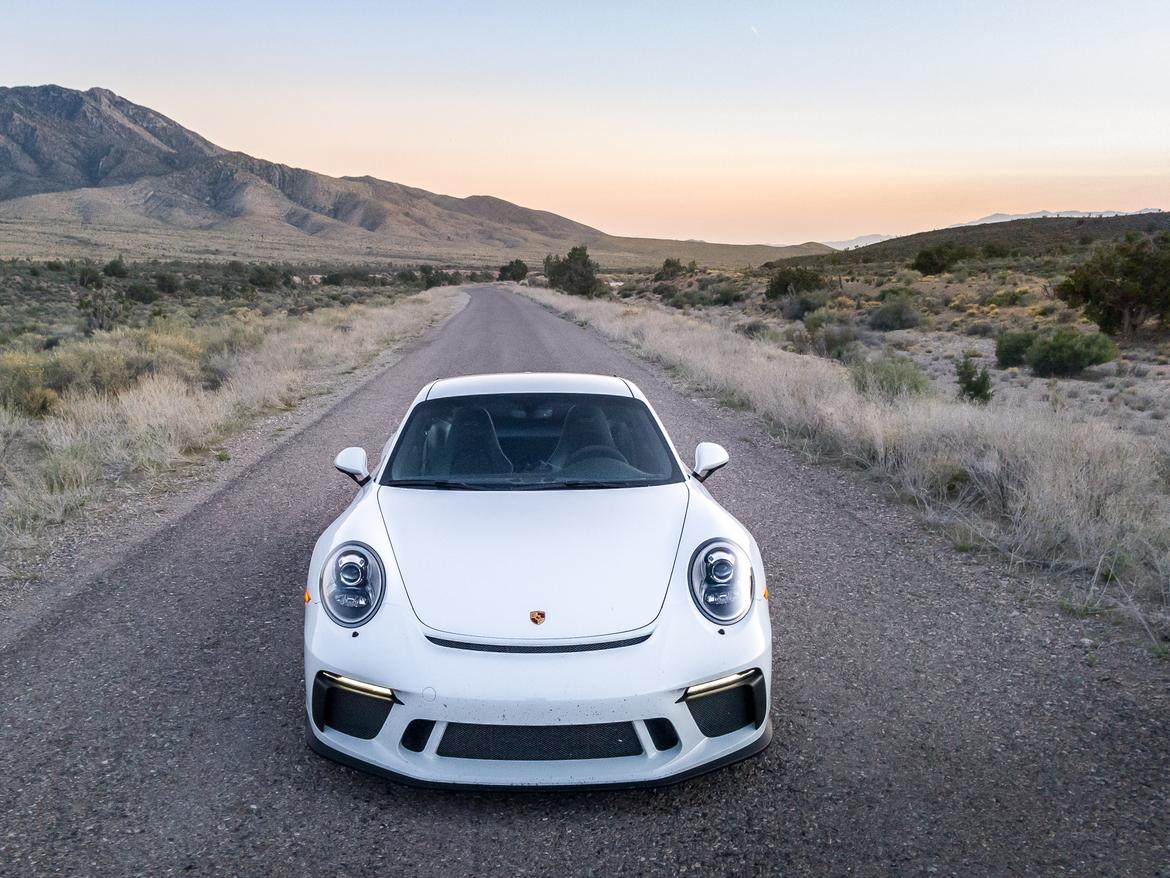 The 2018 Porsche 911 GT3 is a dream car. It's a track-bred monster that you can take home and keep in the garage. There's no question that it's incredible to drive; my Cars.com colleague Aaron Bragman recently spent some quality time with the 911 GT3 out on the track at Roebling Road Raceway near Savannah, Ga., and walked away smitten.
Related: 2018 Porsche 911 GT3: Icon of the Road Hits the Track
I, of course, had to put that conclusion to the test for myself on a driving date through the canyons of Los Angeles (OK, maybe like three dates), and I can definitively say this: It's a hell of a car. Everything works in such wonderful harmony, from the suspension to the dialed-in steering to the naturally aspirated flat-six-cylinder engine that sings all the way up to nearly 9,000 rpm. Driving the Porsche 911 GT3 hard is a uniquely rewarding experience, and it's the rare car that makes you a better driver. I didn't come close to touching its limit as a nonprofessional race driver, but it was still a blast to come however close I came.
However, if you do end up with a GT3, a track day isn't the only time you'll be inclined to drive it. What about when you're not pushing it hard in a canyon or on a road course? What's it like to actually live with a nearly $150,000 sports coupe in day-to-day domesticity — especially one perched on such a performance knife's edge as this one? To put that to the test, I spent a week in the GT3 (hard life, I know), including a long road trip from Los Angeles to Las Vegas.
2018 Porsche 911 GT3; Cars.com photos by Brian Wong
What We Tested
Powertrain: 500-horsepower, 4.0-liter boxer six-cylinder, 339 pounds-feet of torque; seven-speed PDK dual-clutch automatic transmission; rear-wheel drive
Fuel economy: 15/20/17 mpg city/highway/combined
Key features: Sport exhaust system, dry-sump oil lubrication system, carbon-fiber-reinforced plastic rear wing, rear-axle steering, Porsche Active Suspension Management adjustable damper system, extended-range fuel tank, heated seats, 20-inch GT3 wheels
Price: $147,910 (including destination charges)
What I tested was pretty much as stripped down a version of the 911 GT3 as you can get. The only added options were the Carrera White Metallic paint job ($720), heated seats ($700), auto-dimming mirrors ($700) and an extended-range fuel tank ($140), which boosted capacity to 23.7 gallons from 16.9 gallons and was a welcome addition for the trip, allowing us to run the nearly 300 miles from Los Angeles to Las Vegas on one tank of gas.
Where It's Lacking
If you look at the GT3 from a features perspective, it's left wanting in a few key areas. Your nearly $150,000 will buy you plenty of performance, but not much in the way of driver aids or creature comforts. For example, adaptive cruise control, lane keep assist and forward collision warning — three safety technologies we're big fans of — aren't offered at all (let alone standard). And it's definitely a bit strange to have to turn a key to start the car up, and manually adjust the seats forward and back in a car this expensive. A quick note on the cupholders as well: they won't fit anything larger than a standard cup, so if you have a water bottle or anything wider than a medium soda. However, it did turn out to be a great holder for my phone (see below).
One other thing to watch out for in the GT3: The front splitter is super-low to the ground. It scrapes on most driveways, so I had to perform a lot of angular gymnastics to keep that to a minimum. Porsche does offer a front-axle lift system ($2,590) that raises the front axles by about 1.5 inches to increase ground clearance, and that's something I'd definitely suggest springing for if you're taking a GT3 home.
The GT3 also has a pretty tight suspension, as expected. Even in its softest setting, bumps and road imperfections are transmitted throughout the cabin. It's an unavoidable trade-off to get the kind of performance that the car offers, but it will be too stiff for some for everyday use.
2018 Porsche 911 GT3; Cars.com photos by Brian Wong
Where It's Not
There were some pleasant surprises in living with the GT3. I'm a bigger person, so I was afraid the seats would be uncomfortable for longer trips with their track-ready bolstering. However, I found them to be supportive in both spirited and regular driving. The engine's power is also very easy to modulate in both traffic and tight quarters. It makes much of its horsepower high up in the rev range, so if you're cruising around town at lower rpm, slap the suspension into normal and it keeps things nice and tame.
The luggage situation was also not as bad as I had anticipated. The front trunk isn't particularly large, but it is deep enough to fit two carry-on-sized pieces of luggage stacked on top of one another, which left a backpack to be placed in the area behind the front seats. The GT3 deletes the 911's tiny rear seats and leaves just a carpeted area, which doubles as extra storage. You could conceivably fit a bag of golf clubs back there or one larger piece of luggage, though not much else.
The Tradeoff
One final thing to note about the GT3: It's not a quiet car. Conversations can be had, but you'll have to speak up to be heard over the road noise and the engine. Or, you can just shut up and bathe in the GT3's unique sound. It does get to be a bit much on longer trips, though, and I ended up turning off the sport exhaust for most freeway stretches because it keeps the cabin more serene. But once I got back onto surface streets, it would go right back on (sorry, neighbors).
At the end of my week with the GT3, I was pained to see it go. Is it the easiest thing to live with? No, not at all. I grew tired of having to fall into the car to sit in it as well as examining each driveway I approached like it was going to try to eat the nose of the car. The lack of safety features is also disconcerting — you can have forward emergency braking without taking away the car's drivability or performance focus, and with an investment this large, I'd want all of the things to help me not crash it (blind spot monitors would be great, too).
Still, that was all stuff I thought of after I got out of it. Behind the wheel, the superlatives about the car are all true. Don't get this if you have kids or lots of people and luggage to take around — but you knew that already. Do get it if you like driving, because it'll make you love driving.
Cars.com's Editorial department is your source for automotive news and reviews. In line with Cars.com's long-standing ethics policy, editors and reviewers don't accept gifts or free trips from automakers. The Editorial department is independent of Cars.com's advertising, sales and sponsored content departments.