2018 Super Bowl Car Commercials: Watch Them All Here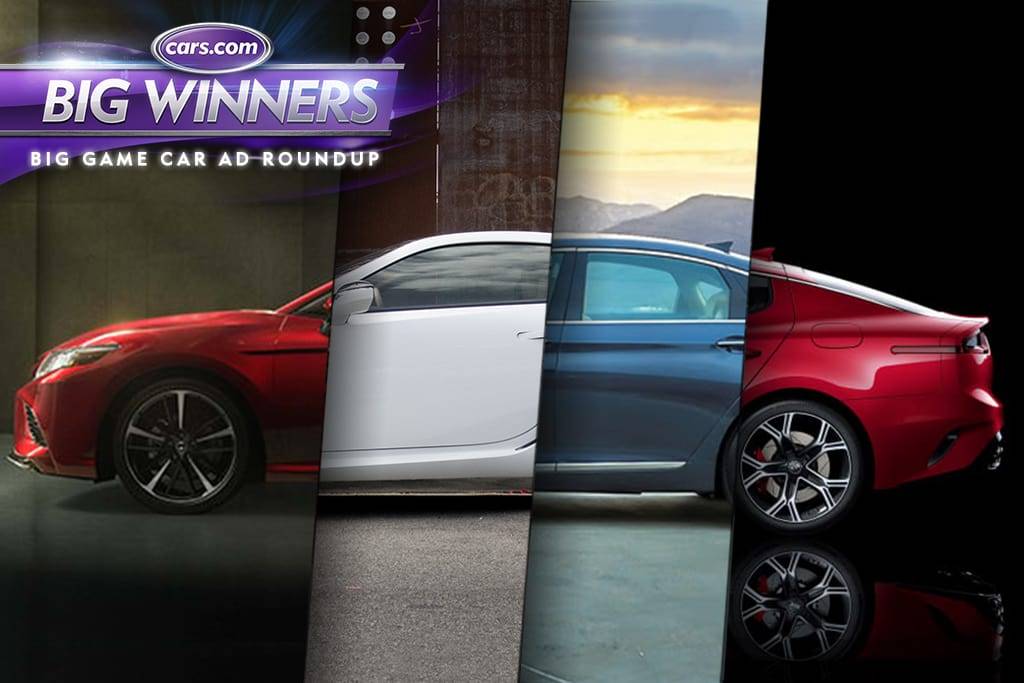 CARS.COM — When it comes to monocultural moments, you'd be hard-pressed to find an event that brings the American people together quite like the NFL's Super Bowl … commercial breaks! As the big interludes approach on Feb. 4, a select few automakers are taking advantage of the primo Your-Ad-Here space and dropping spots (and a whole 'lotta dosh) to direct your attention toward their latest offerings in between plays during the biggest game of the NFL season.
Related: Super Bowl Auto Ads Drive Shoppers
Car commercials probably won't dominate the Monday-morning water cooler conversation quite as much as last year, however. Data in on Super Bowl 51 suggested that automotive ad spending was on the decline for the first time in six years as automakers offered up $70.7 million. This year, only Kia, Hyundai, Lexus and Toyota are confirmed for Super Bowl commercial spots; Buick and Honda will be on the sidelines after appearing in 2017.
Even so, whether you're a Philadelphia Eagles fan relishing the prospect of revenge after 14 years of waiting, or a New England Patriots fan thoroughly unconcerned about this one because rings, man, everybody can feel a little bit better about themselves no matter the outcome after watching these commercials. Come, laugh and cry with us as we cavort through the below exercises in corporate psychology:
Lexus LS 500 F Sport: Black Panther on the Prowl
Up first in pregame reveals is the 60-second Lexus-Marvel Studios mashup for the LS 500 F Sport and the upcoming superhero movie, "Black Panther." In this extended version of the ad — a 30-second version will play during the actual Super Bowl — the Black Panther (Chadwick Boseman) starts on the roof of Nakia's LC 500 before recovering a tube of stolen vibranium from three hopelessly inept thieves who appear to be … standing in the middle of the road at the exit of a tunnel for some reason. After a cut sequence of crimefighting, King T'Challa's cat-suit-clad alter-ego dead-sprints across the emptiest stretch of New York City tarmac we've ever seen to perfectly time a fall into the LS 500 F Sport being remotely piloted by Shuri, T'Challa's sister. Befitting the king of Wakanda, the slot ends at a "world leadership conference." Just another day in the life, then.
Kia Stinger: Steven Tyler Does a Benjamin Button
Previously, Kia had teased its NFL Super Bowl ad for the Stinger with former double Formula One world champ and Indianapolis 500 winner Emerson Fittipaldi at an empty, twilight-laden racetrack with a pair of the sporty hatchbacks. Now we know who the other Stinger was for: Steven Tyler, lead singer of Aerosmith and famed participant in the "most iconic moment of all time," aka the Super Bowl 35 halftime show. We see Tyler suiting up and walking out of an infield-stationed motorhome (of which he can certainly afford multiples) before hopping into the car and hitting reverse, smoking his way around a desolate desert oval to the tune of his band's "Dream On." In one lap, he not only Benjamin Buttons his way back to the prime of his youth, but he also manages to dream into existence a delirious audience barely held back by a line of police (though none of these people seem to have discovered that you can just hop over the inside Armco barrier to get around the blockade). And in case that wasn't rock 'n' roll enough for you, there's a Beatles-like hidden message if you play the commercial in reverse.
Hyundai: Football and Feelings
… But if you thought Kia's commercials leave a lot of questions unanswered, wait until you see Hyundai's Super Bowl ad for the Kona. Against the backdrop of a youth match for that other football, a ref dangerously skids his Kona into a parking spot before issuing red cards to otherwise innocent kids in an effort to get everyone out of there so he can watch The Biggest Game at Charlie's Sports Grill (a level of corruption that would make Sepp Blatter blush). What we're wondering: Who schedules kids' soccer on a Sunday evening? What's the correct reaction to a callout for being twins or "too cute"? And if these people are so passionate about the Super Bowl, why do none of them sound like they're from Boston or Philadelphia? In the automotive business, we call that driving over some "plot holes."
For the commercial that ran during the game, meanwhile, Hyundai's tone swings toward the sincere with "Hope Detector," which turns metal detectors into a security redirection where Hyundai owners hear stories of cancer patients whose treatments were partly funded by their car purchase (a portion of Hyundai proceeds go to childhood cancer research). At the end, the owners meet the people behind the stories they've just heard, a heartwarming embrace of automotive hope all around.
Toyota: Born to Run (and Walk, Crawl, Etc.)
Like Hyundai, Toyota's slots balance the delicate confines of sincere humanism with one Super Bowl commercial of Onion-esque absurdity. "Good Odds" starts with an infant with no feet in the emergency room. "Odds of winning a gold medal?" Over the course of the next 50 seconds, you find out: From 1 in 997,500,000 down to even, the ad ends with eight-time Paralympic gold medalist Lauren Woolstencroft intoning: "When we're free to move, anything is possible." Expect to see more of this as Toyota's "Mobility for All" campaign kicks into high gear for the upcoming PyeongChang Olympics.
Speaking of mobility for all, Toyota breaks what has to be some kind of cutaway record as it outlines its goal to be a provider of "mobility solutions" for, well, all (a vision rival Ford has also been pushing for, at least since last year's Super Bowl). This Super Bowl ad packs in something like 260-plus shots and a handful of concept vehicles as a voiceover tells us what we free-world dwellers already know: Moving around on our own is pretty great. Leaving aside the debate of whether or not free movement is a human right — boy, have I got some philosophy treatises for you — do we have questions for this one? Of course we do: For starters, did Toyota just make up a Japanese baseball mascot at 50 seconds? There are no Kestrels in Nippon Professional Baseball — though we hasten to add that there are Swallows. (You noticed that too, right?)
The humor shows in the third ad, this one for the Tundra, starting off like every bad standup act you've ever heard: "A rabbi, a priest and an imam pick up a monk … ." I'm not sure what the punchline is here, however; despite running late and traffic and Foreigner and driving to a stadium that's so far away, it's pitch-dark by the time they arrive, the group still makes it in time to see what is apparently a crucial score. That's what having practically every higher power in the universe on your side gets you, perhaps.
Fiat Chrysler Automobiles: Jurassic Jeeps and Rigorous Rams
The last automaker to reveal its commercials was Fiat Chrysler Automobiles. A suitably frills-free batch of three for the Jeep brand was led by Jeff Goldblum's "Jurassic Park" daydream for the Wrangler, though the iconic SUV's off-road chops are more vividly displayed in "Anti-Manifesto"; a third ad for the Cherokee was also decidedly low-key. Ram's splashy "Icelandic Vikings" slot paid tribute to the Super Bowl's host city, Minneapolis, but the commercial from FCA's set that had everybody talking Monday morning was "Built to Serve," which used a Feb. 4, 1968, speech by Martin Luther King Jr. to … er, sell pickup trucks. Reactions were swift and heated, but you know the old adage: Any publicity is good publicity.
Mercedes-AMG: Finger to the Pulse
We admit that we're stretching a little bit here, but consider it a bonus: Though technically not a commercial running during the Super Bowl, Mercedes-Benz is running what it calls Last Fan Standing, a modern twist on the classic car promotion where the winner has to have their finger planted on a car longer than anyone else. This version, however, requires your phone: Contestants will use their fingers to follow a virtual Mercedes-AMG C43 coupe around a smartphone screen until their patience or attention fails them. You lose contact with the car, you lose the game — and apparently, the difficulty will increase as the contest goes on. A live counter will helpfully keep track of how many rivals you have left, and you can practice ahead of the game on Mercedes' site. We also suggest reading up on this list of smartphone finger maladies so you can remain in good enough physical condition to adjust your Designo settings to accommodate them after your win.
Cars.com's Editorial department is your source for automotive news and reviews. In line with Cars.com's long-standing ethics policy, editors and reviewers don't accept gifts or free trips from automakers. The Editorial department is independent of Cars.com's advertising, sales and sponsored content departments.