2019 Mercedes-Benz G-Class: Luxury Squared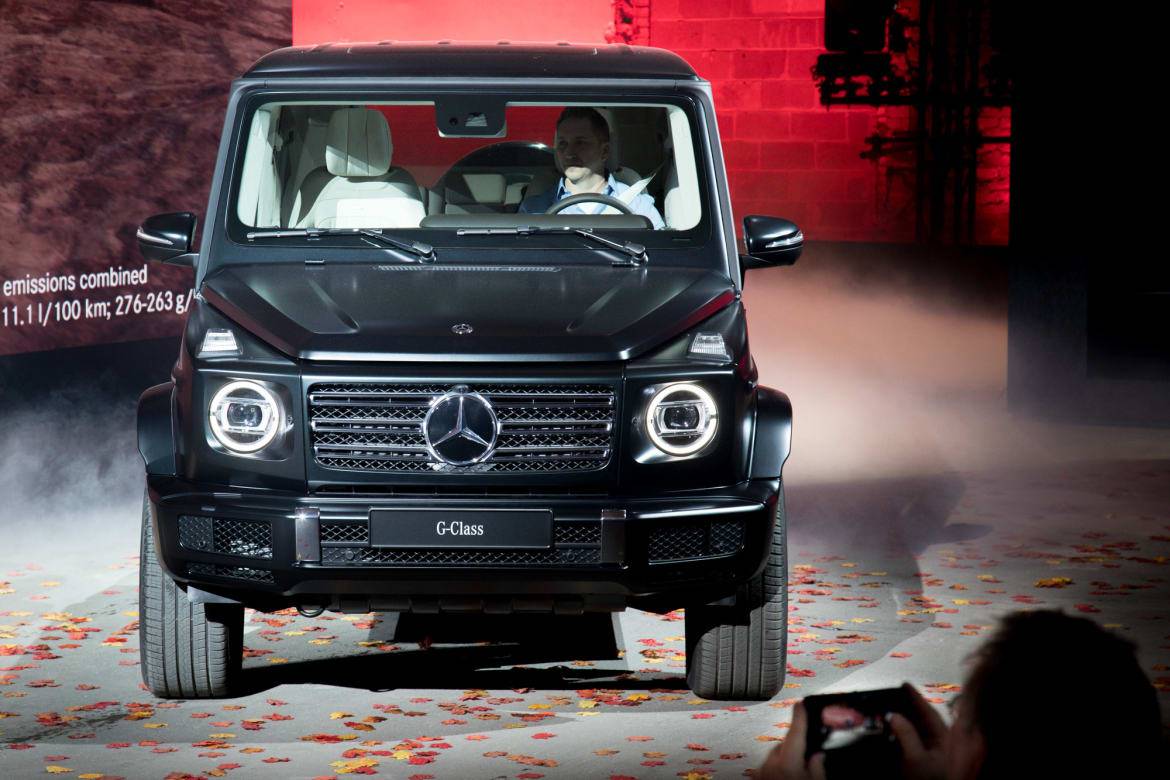 CARS.COM — You can make fun of the Mercedes-Benz G-Class for being an anachronism, a throwback, even a dinosaur. Heck, the automaker even displayed an original 1979 G-Class model in front of the North American International Auto Show completely encased in amber resin, like a trapped mosquito ready to lend its DNA to a resurrected "Jurassic Park" animal.
In many ways, that analogy is apt for the new 2019 G550 SUV: Mercedes-Benz has kept the bones, shape and overall look of the original, but like those fictional dinosaurs, it has spliced in some modern DNA to make the latest off-road G-Wagen more appealing.
Related: More 2018 Detroit Auto Show Coverage
From the outside, you'll be forgiven for not noticing that the new G-Class is actually all-new. Only a few actual parts are carried over from the last model, including the door handles. But the look and shape are iconic in ways that bring to mind the Porsche 911, Jeep Wrangler or Mercedes-Benz's own SL roadster. Immediately identifiable, instantly recognizable, you'll never confuse it for anything else. Despite the fact that it's longer and wider, it still looks to have the same proportions as before, and its increasingly large pool of buyers is perfectly happy with that.
The new G-Class off-roader also feels as unique as the last model in terms of the sounds and sensations it generates. Lock or unlock it, and you're welcomed with the traditional rifle-bolt snick of the locks characteristic of the G-Wagen. Same with the operation of the vaultlike doors, which open and close with a throwback feel not present on new vehicles since the 1970s.
But the best improvements are inside, where a completely redone cabin makes the most of the increased dimensions to dramatically amp up passenger comfort. Make no mistake, this is still a deceptively small SUV by American standards — there's room for five people, but a Ford Explorer is more spacious. Yet even the toniest Range Rover would have trouble matching the G-Wagen's newfound opulence. From the digital dash and real metal trim to the super-high-quality leather and ultra-solid construction, the new G-Wagen feels as expensive as it's quite likely to be.
And it's not just the opulence and electronics that have been improved. The biggest difference comes in passenger space: There's more width for passengers front and back, but most importantly, far more backseat legroom — nearly 6 inches more, according to the automaker. Extra space and reshaped backseats combine for an environment that no longer feels like a military vehicle. No longer are you sitting ridiculously high, knees splayed to either side of the front seats; there's real room in back now — comfortable room, too.
I just spent a week with the 2018 Mercedes-AMG G63 and loved it despite its bizarre quirks and foibles — or maybe because of those quirks and foibles. Regardless, the new one is an improvement over the old one in every measurable way.
Cars.com's Editorial department is your source for automotive news and reviews. In line with Cars.com's long-standing ethics policy, editors and reviewers don't accept gifts or free trips from automakers. The Editorial department is independent of Cars.com's advertising, sales and sponsored content departments.