2019 Toyota Avalon First Drive: Your Road Trip Hero Has Arrived
After the 2019 Toyota Avalon was unveiled at the 2018 Detroit auto show, I was the only writer on our four-person editor panel to call it a "winner" in Cars.com's Winners and Losers auto show wrap-up. After my first drive in the new Avalon and Avalon Hybrid at a Toyota media preview in San Diego, do I stand by that call?
Related: 2019 Toyota Avalon Aims for Excitement
I have a soft spot for big sedans and the Avalon certainly qualifies as that. It was time for a redesign, as my colleague, Cars.com reviewer Jennifer Geiger wrote in her recent review of the 2018 Avalon. Her conclusion was: "Wait till next year." She had specific gripes with the previous Toyota Avalon version mostly revolving around its multimedia system, climate controls, lack of flexible storage and price. The 2019 model directly addresses several of those issues but price… maybe not so much.
The 2019 Avalon will be offered in four trim levels, in ascending order of price: XLE, XSE, Limited and Touring. The Avalon Hybrid, which gets a few hybrid-specific touches in addition to its redesign, will be available in XLE, XSE and Limited trims. I drove both the gas and hybrid versions of the car, across several trim levels, in San Diego. Per company policy, Cars.com pays for its airfare and lodging at such automaker-hosted events.
Style for Some
The old Avalon's weird two-tiered front grille is gone. Toyota decided it needed to change the look by unifying into one big grille without a visible front bumper. While it may look like one massive air intake, much of the grille is actually closed off. The Toyota Avalon update also adds greater differentiation between trim levels; the sportier XSE and Touring trims have a more aggressive black mesh grille, while the XLE and Limited look a bit more subdued with horizontal grille slats and a chrome surround (for classiness of course).
This new nose is a point of contention among our staff; I like it, but my colleagues don't agree with me and I understand why — it's a polarizing design. From the side and rear views, however, the Avalon is decidedly improved. The new car is shorter, longer and wider, and the cabin has been stretched — ackward to give it more of a fastback look. There are also newly standard LED headlights and taillights across all trim levels, with Touring and Limited models getting unique LED daytime running lights and adaptive LED cornering lights, which activate when the turn signal is on, and the wheel is turned 25 degrees or more, or when reversing.
What's New Under the Hood
Toyota has touted the Avalon's mechanical changes, which include updates to both the gas and hybrid powertrains, suspension upgrades and new platform structure. A new 3.5-liter V-6 engine has the same displacement as last year's V-6 but now makes 33 more horsepower (301 hp, 267 pounds-feet of torque). A new eight-speed automatic transmission replaces the six-speed.
Hybrid models also see a power increase, from 200 total hp to 215 from its 2.5-liter four-cylinder engine and a new hybrid system that Toyota says is better at using the electric motor at low speeds.
The 2019 Avalon moves to the Toyota New Global Architecture platform, the same underpinnings of the 2018 Camry. In the Toyota Camry, that completely changed the character of the car, but in the Avalon the changes are less pronounced. I found the driving experience to be a strength in the previous version as it trended toward comfort and that remains true in the new Avalon. Things are sharper; it's more stable on turn-in, the ride is a hair more refined and the cabin feels more isolated. The added power is nice as well; it helps the Avalon feel luxurious since you get easy power in both the gas and hybrid versions. But the changes don't suddenly make the Avalon into as sporty a machine as its exterior suggests.
This is true even of Touring models, which are Toyota's first crack at an adaptive, adjustable-firmness suspension. Toyota says the suspension reads the road every 20 milliseconds and can switch between 650 different damping levels. The Touring model is also the only Avalon to get a Sport S Plus driving mode, one step above the Sport mode. Flipping into that mode turns up the engine's augmented volume, makes the suspension firmer, decreases steering wheel effort and increases throttle sensitivity. Sport S Plus doesn't transform the Touring into a sports sedan. Comfort remains the name of the game.
Addressing Interior Weaknesses
It's almost as though Toyota read Geiger's review and fixed the points she made. The 2018 model didn't have a folding rear seat bench, and now there's a 60/40 split-folding rear seat. It also had a poor multimedia experience, and now there's a larger standard 9-inch touchscreen that's mounted in a better position with newly standard Apple CarPlay and Amazon Alexa connectivity. The outgoing model had a weirdly shaped wireless charging tray that wouldn't fit larger phones, and now there's a bigger tray that even accommodated my giant Samsung Galaxy S8 Plus (with a case on it as well). She'll also be happy to know that the weird, touch-sensitive climate controls that didn't work when wearing certain gloves has been banished, replaced by good, old-fashioned physical controls.
I still have my own issues with the multimedia system. Toyota's optional native navigation is a mess with old-looking graphics and a lack of intuitive structure. It took two of us a few minutes to figure out how to turn off the navigation route we were on and enter a new one. It is nice that they added Apple CarPlay, but it is too bad there was no Android Auto to connect my phone to.
Materials and overall interior quality are strengths of all Toyota Avalons, from the XLE to the Limited. Limited models are better outfitted with new open-pore wood trim pieces and some very supple leather (seen here in striking Cognac) that wouldn't be out of place in a luxury sedan. But even the more modestly equipped XLE has nicely wrapped leatherette (imitation leather) seats, while the XSE and Touring add suede inserts. It felt the part of a premium sedan to me, even on lower grades.
The stretched wheelbase gives backseat passengers extra legroom, not that it needed it. It's a seriously large backseat with plenty of legroom and headroom. The backseat is a place I could spend a few hours comfortably, and there are even two USB ports (five total in the car) on the back of the center storage bin to keep my phone topped off. Toyota likes to call the Avalon a "premium mid-size sedan" since "full size" is apparently a bad word when it comes to sedans. But don't be fooled, this is a full-size sedan with a backseat to match.
Cargo room in the trunk area isn't as expansive as the Avalon's exterior size would suggest; there's just 16.09 cubic feet, compared to 18.8 in the 2018 Chevrolet Impala and 20.1 in the 2018 Ford Taurus. But the seats now do fold down to store longer items, and on hybrid models the battery has been moved so it has the same cargo dimensions as the gas vehicle.
What About Value?
Geiger's final gripe was value, so how did Toyota do there? Well, the base price for an XLE gas version of the 2019 Toyota Avalon is $2,000 more than the 2018. The base XLE model starts at $36,395 (all prices include destination charges), jumping up to $38,895 for the new XSE trim, $42,695 for the Limited and $43,095 for the line-topping Touring.
There is added equipment to account for the price jump, from the larger touchscreen and technology upgrades to standard blind spot monitors and more power under the hood. One could make a case that the Avalon is too close to the starting $39,945 price of the Lexus ES 350, but after the redesign I'd rather have the Toyota Avalon — I think it's the better car.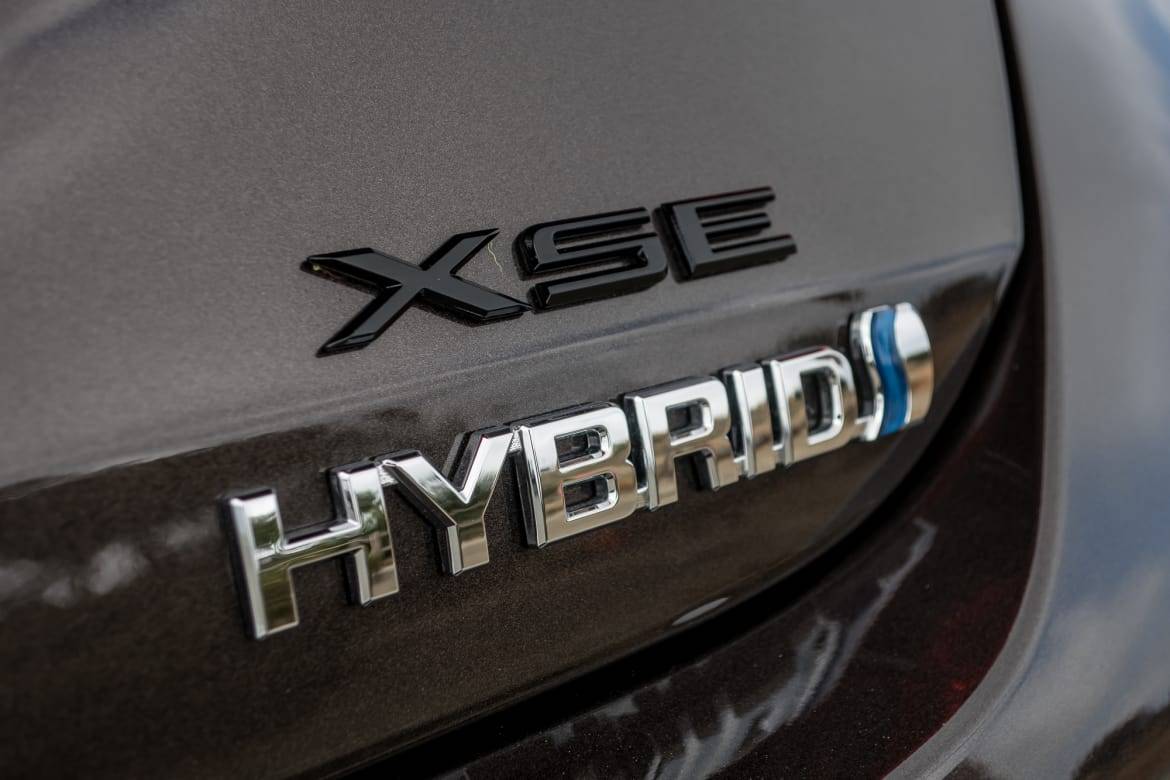 The hybrid will be the way to go for value-seekers. The 2018 hybrid was $2,250 more than the gas version, for XLE models, which is a big enough a gap that it becomes hard to make it up in fuel savings even with the Avalon Hybrid's big advantage in fuel economy. On 2018 Limited models, the gap was slightly smaller at $1,500. But, for 2019, the gap has shrunk even further and you're only paying a $1,000 premium for the Avalon Hybrid at each of its three trim levels. And there's now a wider gap in fuel economy between the two: Gas versions get 26 mpg combined for the XLE and 25 mpg combined for the other three trim levels, which is a slight improvement over the 2018 model. But the 2019 Avalon Hybrid's fuel economy gets a larger bump up to 43/44/44 mpg city/highway/combined for the XLE and 43/43/43 mpg for the XSE and Limited, an improvement over 2018's 40 combined mpg.
That means it's much easier to make up the price difference between the two in terms of fuel savings, and I don't think you lose much in the driving experience opting for the hybrid. The hybrid doesn't have as much top-end speed as the V-6, but I found it to be pleasant and smooth enough (minus that weird whooshy noise at takeoff that I don't know if I'll ever get used to). One slight drawback on the Avalon Hybrid is that the fuel tank has shrunk from 17 gallons to 13.2 gallons, so you lose about 100 miles of range, which means a few more trips to the pump.
All in all, the 2019 Avalon didn't surprise me, but I didn't mind. The changes didn't fundamentally alter its nature as much as the new styling would suggest, but instead did a good job addressing the weaknesses of the old model and enhancing its strengths. I think that the Avalon remains one of the best long haulers out there, with optimal comfort and space for occupants during long trips, charging ports galore and standard safety features that help with driver fatigue. After driving it, the new Avalon is still a winner in my book.
The big sedan will hit dealerships starting next month.
Cars.com's Editorial department is your source for automotive news and reviews. In line with Cars.com's long-standing ethics policy, editors and reviewers don't accept gifts or free trips from automakers. The Editorial department is independent of Cars.com's advertising, sales and sponsored content departments.