2020 Dodge Charger Scat Pack and Hellcat Widebody Review: Which to Buy?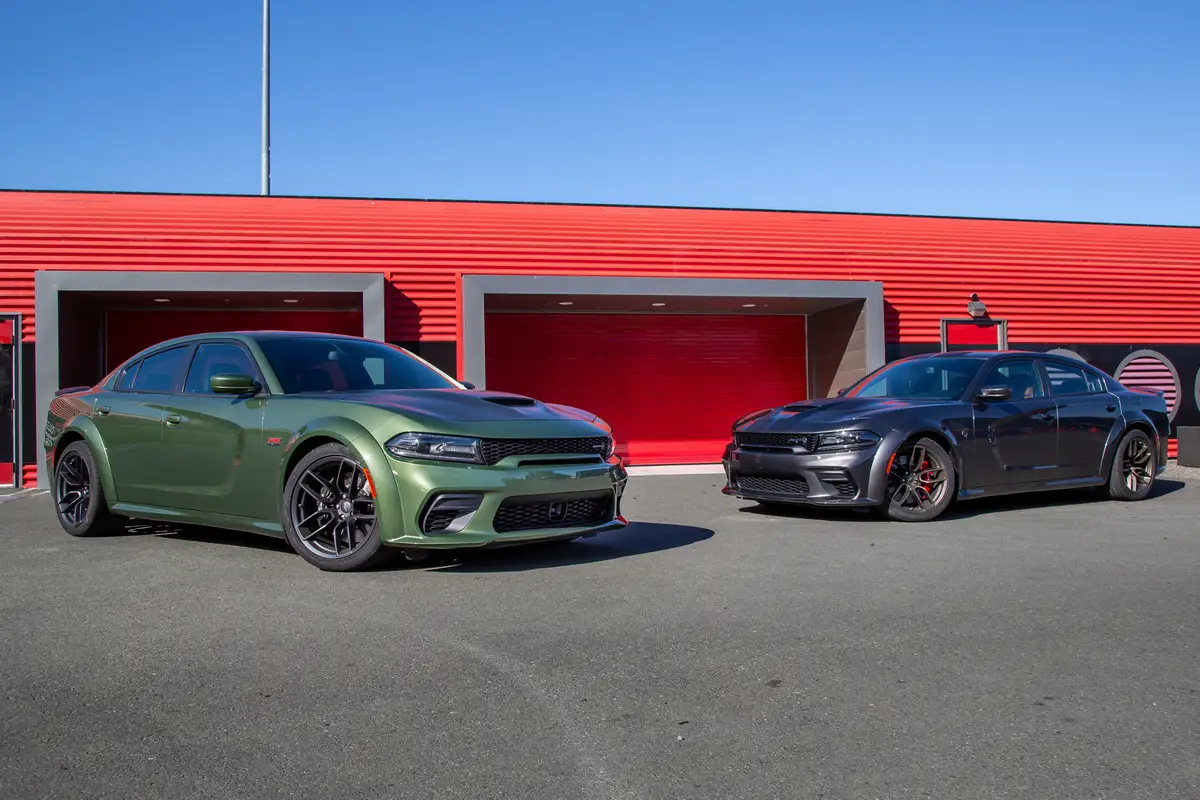 Dodge's announcement that Widebody versions of the Charger would be coming for the 2020 model year were met with personal delight. In large part because I know what "Widebody" means in Dodge parlance: a serious upgrade in performance. I headed to Sonoma, Calif., to test the updated 2020 Charger Scat Pack and Charger SRT Hellcat with Widebody additions on coastal streets and the road course at Sonoma Raceway. (Per our ethics policy, Cars.com pays for its own lodging and transportation at such automaker sponsored events.)
Related: 6 Things You Should Know About the New 2020 Dodge Charger Widebodies
Dodge previously released the Challenger's Widebody Package with many of the same changes found on the Charger, and we were big fans of those upgrades. On the Challenger, they made a car that was fast in a straight line but difficult to control more accessible and quicker around the bends. For the Dodge Charger, which I've always preferred to the Challenger because its longer wheelbase provides more stability, these changes would likely have the same affect.
What's Included in a Dodge Charger Widebody Package?
Widebody upgrades are meant to enhance the Charger's grip, handling and braking characteristics to better match the Scat Pack and Hellcat's incredible amounts of horsepower, and that means a long list of upgrades, starting with the tires.
Both the Scat Pack and Hellcat ride on standard 20-inch Pirelli P-Zero 305/35ZR20 all-season performance tires, which are a fairly ridiculous 11 inches wide (the previous tire for both vehicles was 9.5 inches wide); summer tires are optional. The car's overall width is up 3.5 inches thanks to large fenders that have been expanded to accommodate the new rubber, and those fenders are the easiest way to pick out a Widebody model from a regular Charger.
There are also suspension upgrades, and the Scat Pack Widebody adds larger and more powerful brakes taken from the Hellcat: Brembo-sourced six-piston fronts and four-piston rears. The Charger Hellcat also makes a transition to electric power steering for the first time — Dodge says this is because the hydraulic system couldn't keep up with the higher steering loads provided by the added grip from the tires and stiffer suspension.
Starting with the 2020 model year, all versions of the Charger Hellcat get the Widebody Package upgrades standard, which is very much a change for the better. For Charger Scat Packs, the package costs  $6,000, and it's an upgrade I recommend for anyone who intends to drive the Charger on a road that isn't perfectly straight.
More Grip, More Go
The 2020 Scat Pack and Hellcat engines are the same as 2019. For the Scat Pack, it's a 485-horsepower, 6.4-liter V-8 that makes 475 pounds-feet of torque mated to an eight-speed automatic and rear-wheel drive. In the Hellcat, it's a 707-hp, supercharged 6.2-liter V-8 that makes 650 pounds-feet of torque. Though it also has an eight-speed automatic, the Hellcat's engine is designed to handle the higher torque load.
Both engines are still ridiculous; the Scat Pack runs from zero-to-60 mph in just 4.3 seconds and the Hellcat in 3.6 seconds, which are remarkable times given the Charger's size. Driving the Widebody versions of both, I found that they still have the same sensation of speed, just with easier access. Mashing on the throttle, especially in the Hellcat, still results in a lot of noise and spinning tires, but it is noticeably easier to put down the Charger's prodigious power with the added grip — especially coming out of turns.
Suspension of Disbelief
The revised suspensions, combined with the added grip from those giant tires, do wonders. Both models have Bilstein adaptive shock absorbers but different suspension tuning. The Hellcat Widebody has 32 percent stiffer front spring rates compared to last year's model and larger sway bars front and rear. The Scat Pack Widebody has 27 percent stiffer front springs compared to regular Scat Pack models and a larger rear sway bar; both have retuned shock absorbers for the stiffer springs.
On the track, the difference between the standard car and the Widebody twins is immediately apparent. The Widebody grips harder onto the road and stays flatter, allowing you to carry more speed into turns with greater confidence. And as I mentioned above, this additional balance along with the wider tires means that you can get back onto the gas more quickly and the car won't lose its rear end. You also get a much sharper initial turn-in, and for a big car the nose feels rather light. This is truer in the Scat Pack than the Hellcat; it has less weight in the engine compartment and it feels the more agile of the two by a decent margin.
The Hellcat's move away from a hydraulic steering system had me wary, but after driving with the electronic power steering system, my concerns were alleviated. There's good feedback, even in a track environment, an area in which many EPS systems struggle, and it also made the Hellcat a bit easier to use at low speeds as well.
What also impressed me was how the added track prowess didn't seem to have a negative impact on the Charger's cruising characteristics. Driving the streets and highways around Sonoma, I found that both cars still rode very well and rather quietly. Except for when you get on the gas, then that nice V-8 soundtrack cranks up. I thought those widened tires might mean a lot of road noise and some wobbliness over broken pavement, but the suspension did an excellent job of gliding over road imperfections without transmitting those into the cabin. This is true even in Sport mode, with its stiffer suspension settings.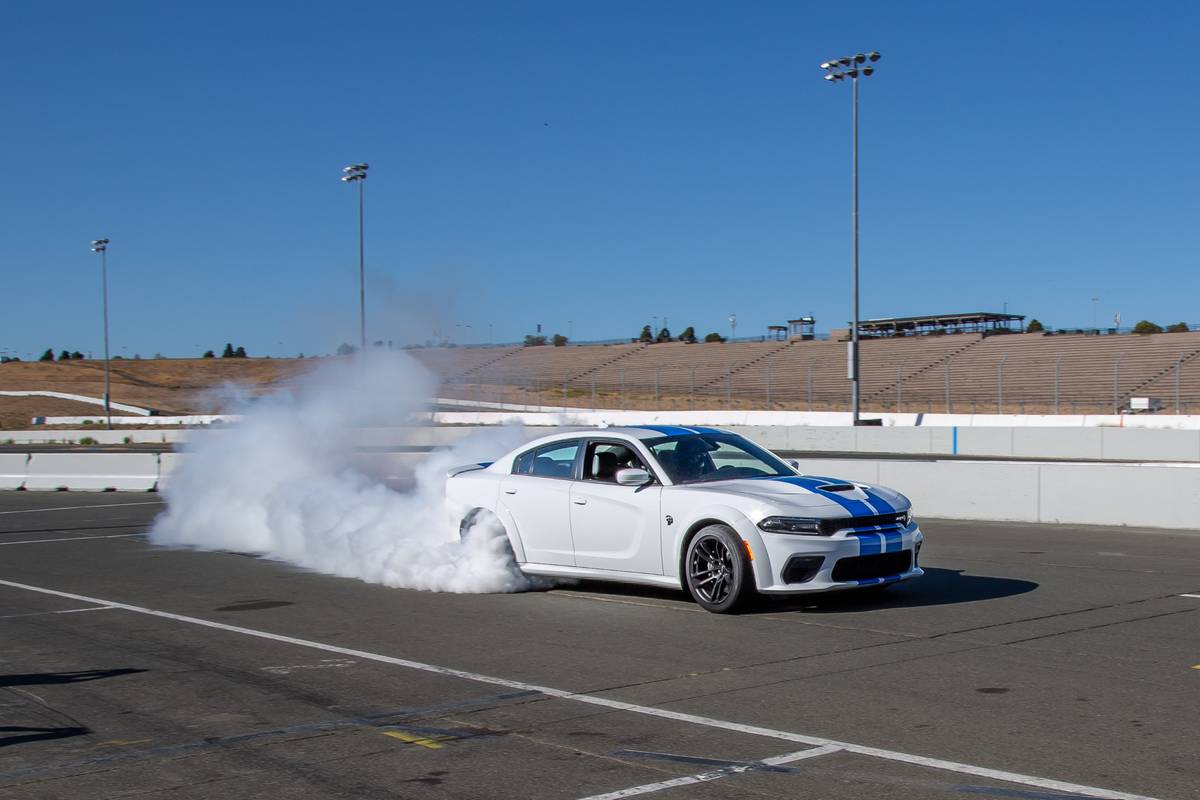 Should You Choose a Charger Scat Pack or Charger Hellcat?
The Widebody Package enhances the good characteristics with little to no drawbacks except that maybe now it's a little harder to fit into parking spaces. Added grip and stability was the perfect enhancement for the Charger, and it makes the cars even more enjoyable to drive, without any sacrifice to the Charger's prodigious grand touring proclivities.
What was interesting for me to consider was which one I'd rather have. My initial thought was the Scat Pack Widebody would come out on top for a few reasons, starting with price. That as-tested Scat Pack Widebody stickered at $61,445 (including destination charges), while the Hellcat Widebody jumped to $79,410. The Scat Pack offers more than enough power, handles better, and on the track I felt I could drive the car closer to its limit, which was more fun. In a Hellcat, you're still pretty worried that too much accelerator will instantly kick the rear end around, while the Scat Pack Widebody is more forgiving.
However, Sonoma Raceway is a very hilly track and it was hard to argue against the Hellcat's ability to roar up its steep grades without hesitation. In the Scat Pack, the acceleration wasn't quite as snappy. There isn't really anything like driving a Hellcat; it's like wrestling with a very happy bear (though with the Widebody upgrades you at least get to put some armor on).
At the end of the day, the Scat Pack is still the winner for me — you save $18,000, you can drive it harder, it handles better and 485 hp is plenty to get you wherever you need to go. But there are no wrong answers here, just one that's a bit righter than the other. If you decide that 707-grin-inducing horsepower is too much to pass up, you'll get no argument from me.
The 2020 Charger Widebody models go on sale in early 2020.
More From Cars.com: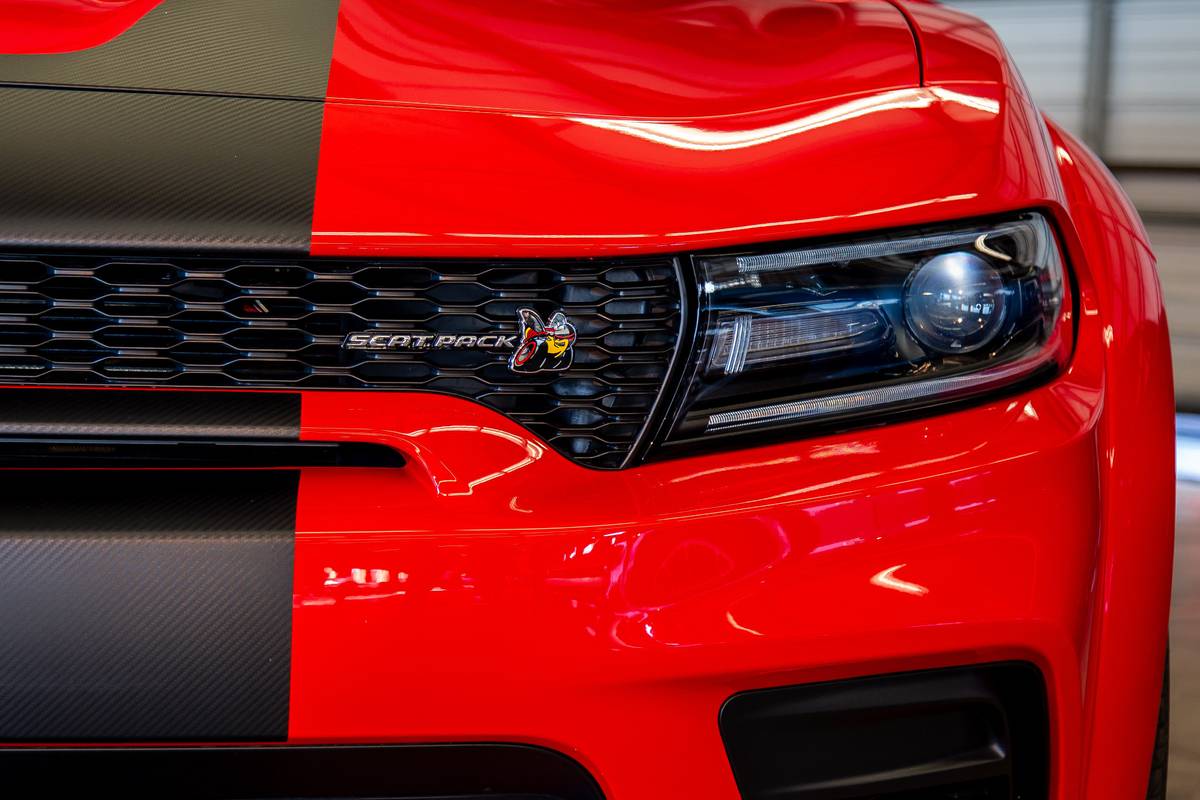 Cars.com's Editorial department is your source for automotive news and reviews. In line with Cars.com's long-standing ethics policy, editors and reviewers don't accept gifts or free trips from automakers. The Editorial department is independent of Cars.com's advertising, sales and sponsored content departments.