2020 Honda CR-V Review: A Little Better, a Lot More Hybrid
The verdict: An efficient, versatile SUV with a surprising appetite for cargo, the 2020 Honda CR-V would benefit from more off-the-line power, ride comfort and an agreeable multimedia system. The new hybrid boosts mileage by 31% combined but has modest passing power.
Versus the competition: The Volkswagen Tiguan is more enjoyable to drive, the Jeep Cherokee has off-road capability and the Hyundai Tucson is value packed, but the CR-V is a balanced competitor with exceptional cargo space. The new hybrid falls shy of the Toyota RAV4 Hybrid in mileage and passing power but has a bigger backseat.
Related: Honda CR-V: Which Should You Buy, 2019 or 2020?
Just shy of a year ago, I characterized the Honda CR-V as a leader that was losing its lead — not in sales, because it remained one of the best-selling SUVs in the U.S. market (it currently trails only the redesigned Toyota RAV4), but because it needed updates. Honda made some updates for 2020, including the welcome addition of a hybrid version and the elimination of a lesser engine for the base trim level, but otherwise, the changes don't qualify as major improvements. This review covers both a gas-only 2020 CR-V Limited we tested at Cars.com's Chicago headquarters and two versions of the Hybrid I drove in and around Tucson, Ariz., at a national introduction hosted by Honda. (Per our ethics policy, Cars.com pays its travel and lodging expenses for such events.)
To be clear, in case I harp on a few things below, the CR-V is a very good choice. As we disclaimed in our 2019 Compact SUV Challenge, all seven of our contestants were strong; that's how competitive this class is. All the same, the CR-V did come in fourth place overall, and the aspects that hurt its ranking were not the ones Honda addressed for 2020.
I'll discuss the CR-V Hybrid along with the regular one because it's worth anyone's consideration. There's a lot of talk about plug-in electrics right now, but the big plus of a hybrid is that the ownership experience is identical to what everyone's accustomed to. Between this and range per tankful that's longer than average rather than shorter (as with battery-electrics), a high-volume hybrid like the CR-V with its reduced carbon emissions can represent more substantial carbon savings than American buyers are likely to be coaxed to achieve with plug-ins as they exist today — even if they do have zero tailpipe emissions.
Honda CR-V Hybrid MPG, Price
The hybrid drivetrain is available on all four of the CR-V trim levels — LX, EX, EX-L and Touring — but it comes only with all-wheel drive while each of the non-hybrids can be front- or all-wheel drive. The hybrid adds $1,200 to the price regardless of trim and starts at $28,870 for an LX (including destination charge). Based on EPA estimates, you could make up the $1,200 difference in fuel costs within about four years — though that's based on today's cheap gasoline. It's rated 40/35/38 mpg city/highway/combined versus 27/32/29 mpg for the AWD gas-only version. The front-drive version is 28/34/30 mpg. All of these figures are very good for their types and class, but it must be noted that the 2020 Toyota RAV4 edges them all out, with estimates as high as 28/35/30 mpg for FWD, 27/34/30 mpg for AWD and 41/38/40 mpg for the RAV4 Hybrid (also AWD only).
After 19.4 miles of mixed driving in the CR-V Hybrid's regular (not Econ) mode, my trip computer read 44.2 mpg. After another 15.6 miles at somewhat higher speeds, my co-driver clocked 41.4 mpg. The weather was a hybrid-favorable 72 degrees and overcast.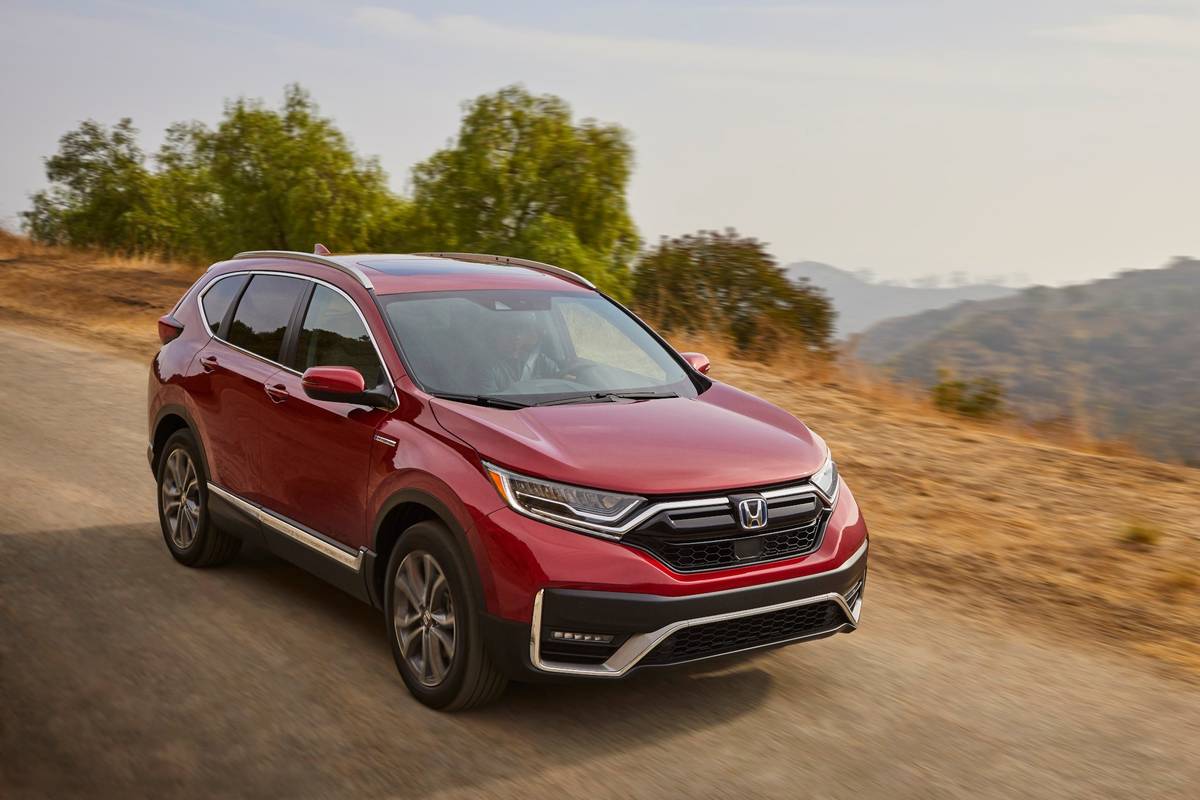 CR-V Vs. CR-V Hybrid Acceleration
Honda correctly claims that the CR-V Hybrid is quicker off the line than the non-hybrid. So is a kid on a tricycle. One of our biggest complaints about the gas-only CR-V is how poky it is from a standing start: Stomp on the pedal and the CR-V moves but covers practically no ground for two or three seconds, traversing just a car length or two. You can get used to it, and some drivers might not notice because once you get moving, the power is pretty good, even if continuously variable automatic transmissions aren't our favorite.
So, yes, the hybrid is quicker off the line than the regular CR-V, but it's not setting any records. Technically, Honda's two-motor hybrid system doesn't have a transmission at all, or even a power-split device like Toyotas and many others. I'll try not to get too technical, but this comes into play in some important ways. At low speeds, the CR-V Hybrid operates as a series hybrid in which the electric motor propels it, powered by the battery and/or the smaller motor, which operates only as a generator at any time (even though it's part of a two-"motor" system), and driven by the gas engine.
Even though the drivetrain isn't varying ratios like many hybrids do, there's still some rubber-band effect at lower speeds, a delay when you press on the accelerator while you wait for the engine to rev and the vehicle to respond. It's not as bad as an early hybrid or even some of the more common current types, but it still seemed like there was delay as the engine drove the generator that in turn powered the electric drive motor. It also included some of the engine droning that accompanies many hybrids.
Overall power is pretty good and admirably consistent for a vehicle with no transmission. If anything, the hybrid seems to sacrifice high-speed passing for its off-the-line advantage. The secret to the regular 1.5-liter turbo four-cylinder's efficiency is that it isn't overwhelmingly powerful, but I recall it having decent passing power at highway speeds; the hybrid, on the other hand, felt borderline at speeds around 55 mph, and where I drove, it wasn't particularly hilly or high in elevation. At higher speeds, a clutch engages that allows the engine to drive the wheels directly, with the larger motor-generator assisting. Honda cites peak system horsepower of 212 for the hybrid drivetrain versus 190 for the gas-only version.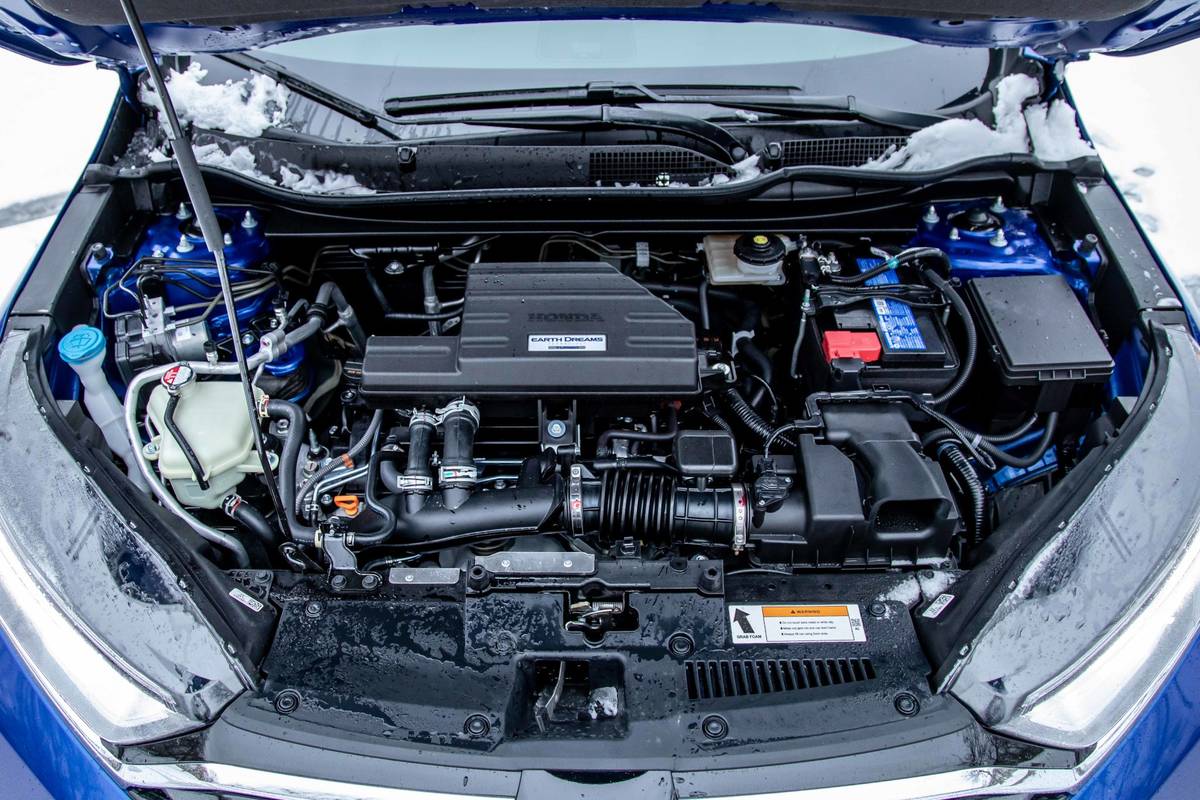 I'm not sure I buy it, at least not at highway speeds. The problem is that there's no transmission to force the gas engine into its most powerful range. Along with the two electric motors, the hybrid drivetrain uses a 2.0-liter four-cylinder gas engine without a turbocharger rated at 143 horsepower at 6,200 rpm. Honda said it was too complicated to specify at what speed or set of conditions the system achieves 212 hp, but it's unlikely the engine is close to its peak at 55-70 mph. My guess is the hybrid has less power to call on in normal driving — plus an extra 194 pounds of weight versus an equivalent non-hybrid CR-V to overcome.
Braking
When it comes to braking, any non-hybrid has a theoretical advantage because — barring terrible engineering or defects — conventional brakes feel more natural and linear. That's the case for the regular CR-V. The hybrid employs regenerative braking, and the pedal feel is pretty good for a hybrid by today's standards, and better than the RAV4 Hybrid — but I'll get to my RAV4 comparison in a bit. (Note that I'm talking about the braking experience here, not braking distances, which have to be tested under controlled conditions.)
I admit frustration with Honda's regenerative braking level adjustment, which employs steering-wheel paddles. One increases the regeneration (resulting in more pronounced deceleration when you lift off the accelerator pedal) and the other decreases it again. No problem in theory, as some other brands do the same. The problem is that, as in other Hondas, the regeneration level you choose doesn't stay; it defaults after a few seconds or after you come to a stop. Maddening. It's more of a problem with a plug-in like our 2019 Eco-Friendly Car of the Year winner, the Clarity PHEV, but still … Only when driving in Sport mode do these settings hold, but if the goal of more regen is efficiency, that's in conflict with how Sport mode operates. Little code changes like this to satisfy customers would make Hondas better products, but as it stands, the company is not one of the growing number of brands with updatable vehicles.
Ride and Handling
The CR-V has excellent steering feel and precision, and this translates to the hybrid. One of the things I don't love about the CR-V is how firmly it rides even with smaller wheels. Around Chicago, where the roads are generally awful, it had a busier, bumpier ride than every competitor in our Challenge but the sloppy 2019 Nissan Rogue, with noticeable pitching motions. The suspension doesn't feel unsophisticated, just firm. Though the CR-V isn't the shortest compact SUV in terms of overall length, it does have a short wheelbase, which can result in more body motion, all other factors being equal.
I can't say the CR-V Hybrid was worlds different, but it might have been a bit better. I say "might have been" because I was driving in a different state with better overall roads. But my CR-V Hybrids also had even larger wheels, measuring 19 inches (new on the Touring for 2020), which means shorter tire sidewalls and typically a firmer ride. The pitching motions weren't evident, a plus. The nearly 200 pounds of additional weight over a gas Touring also likely plays a part, as weight differences this great require different suspension tuning. 
Cargo Space Black Magic
At 180.6 inches from bumper to bumper, the gas-only CR-V was the second shortest of seven models we tested back to back in 2019, yet it made no space sacrifices inside. The cargo volume behind its backseat was one of the best by our measurements. As impressive, the CR-V provides this volume without a sliding backseat, yet there's plenty of backseat legroom.
We haven't done a full cargo workup on the hybrid yet, but by Honda's specifications, it drops only from 39.2 to 33.2 cubic feet behind the backseat with the addition of the hybrid battery pack. All that seems to be lost is underfloor storage space, which hadn't been extensive — limited to the spare tire and storage for the retractable cargo cover when not in place. By Honda's figures, maximum cargo volume with the backseat lowered drops from 75.8 cubic feet in the non-hybrid to 68.7 in the CR-V Hybrid.
What Was 'Fixed,' What Wasn't
The cargo provisions were a strength of the CR-V already, as was its in-cabin storage. It trounced all six other contestants last year partly thanks to a roomy, versatile center storage console between the front seats. For 2020, Honda made it better. Rather than an L-shaped partition that can be reoriented, there are now two pieces that slide and flip; they're certainly more elegant but achieve the same thing. Frankly, the CR-V was so far ahead of the other guys, the effort might have been better spent elsewhere — like on the multimedia and control system.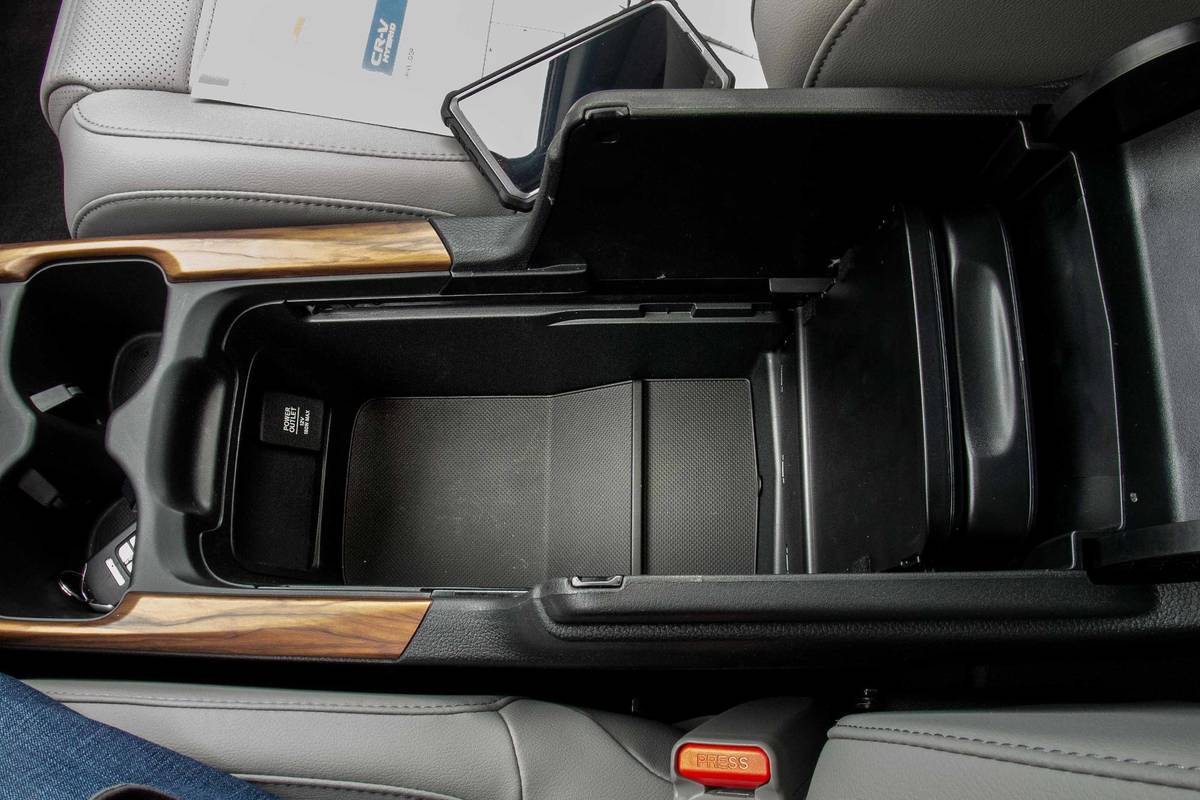 As part of the changes above, Honda did relocate the formerly buried USB ports to where they're more accessible and illuminated, and added an optional wireless charging pad — all good moves. But the 7-inch touchscreen remains smaller than some and has complex, unappealingly designed menus and low resolution, cartoony-looking maps that don't show enough information even when adjusted to do so. Further, it's accompanied by touch-sensitive rather than mechanical buttons, and it has a volume knob but lacks one for tuning. It rated last of seven in 2019 and would remain as such now.
Safety and Active Driver Assistance
For 2020, Honda made Honda Sensing, a suite of active-safety and drive assistance systems, standard across the board; it had been unavailable on the LX trim. It includes collision warning with automatic emergency braking that detects pedestrians as well as vehicles, lane- and road-departure mitigation, and adaptive cruise control that works all the way down to a stop. Lane-centering steering doesn't work below 45 mph, which is a bummer, but it does work well at higher speeds. Front and rear parking sensors are finally included — but only on the Hybrid Touring. Still oddly missing are 360-degree camera systems, such as the RAV-4's Bird's Eye View camera. 
The 2020 CR-V earns top scores from the Insurance Institute for Highway Safety for all crashworthiness tests and for the crash-prevention measures covered by Honda Sensing. Only the headlights vary in their rating (common nowadays), ranging from marginal (halogen) to good (LED on Touring only). In IIHS' Small SUVs class, the CR-V's scores qualify as the highly rated Top Safety Pick. 
For families who seek to install child-safety seats, the CR-V's generous interior volume combined with a couple of shortfalls to net an average performance in the CR-V's Car Seat Check. Though the backseat scored A grades for infant and booster seats, its lowest score was a C for a rear-facing convertible seat due to hard-to-reach Latch anchors and the need to move the front passenger seat forward. Our certified installers also noted that the middle seat's top tether anchor is in the cargo area ceiling, which impedes the driver's rear visibility. 
CR-V Vs. RAV4, Regular and Hybrid
If you ask me which is better, the Honda CR-V or its archrival, the Toyota RAV4, my answer for the non-hybrid versions would follow our conclusions from the 2019 Challenge, where a CR-V Touring edged out a RAV4 Limited (the latter ranked fifth overall). The Honda rated (as a 2020 still would) notably better than the Toyota in terms of its backseat, cargo provisions and value. It also scored a bit higher for in-cabin storage, handling and noise levels (though neither were great). The RAV4 beat the CR-V in the multimedia and controls category and took a lead in powertrain points, partly because it has an eight-speed automatic transmission rather than a CVT. Its real-world mileage also edged out the CR-V, confirming EPA estimates.
For the hybrids, however, it's not so clear, and I'm leaning toward the RAV4. We'd already declared this version the best of the RAV4s, and that's because the non-hybrid could be a bit stronger, especially its optional all-wheel drive, which feels reactive and unsophisticated. The hybrid's AWD, though, employs a dedicated motor-generator for the rear axle, and it works fine — the whole system feels more refined than the regular RAV4's AWD.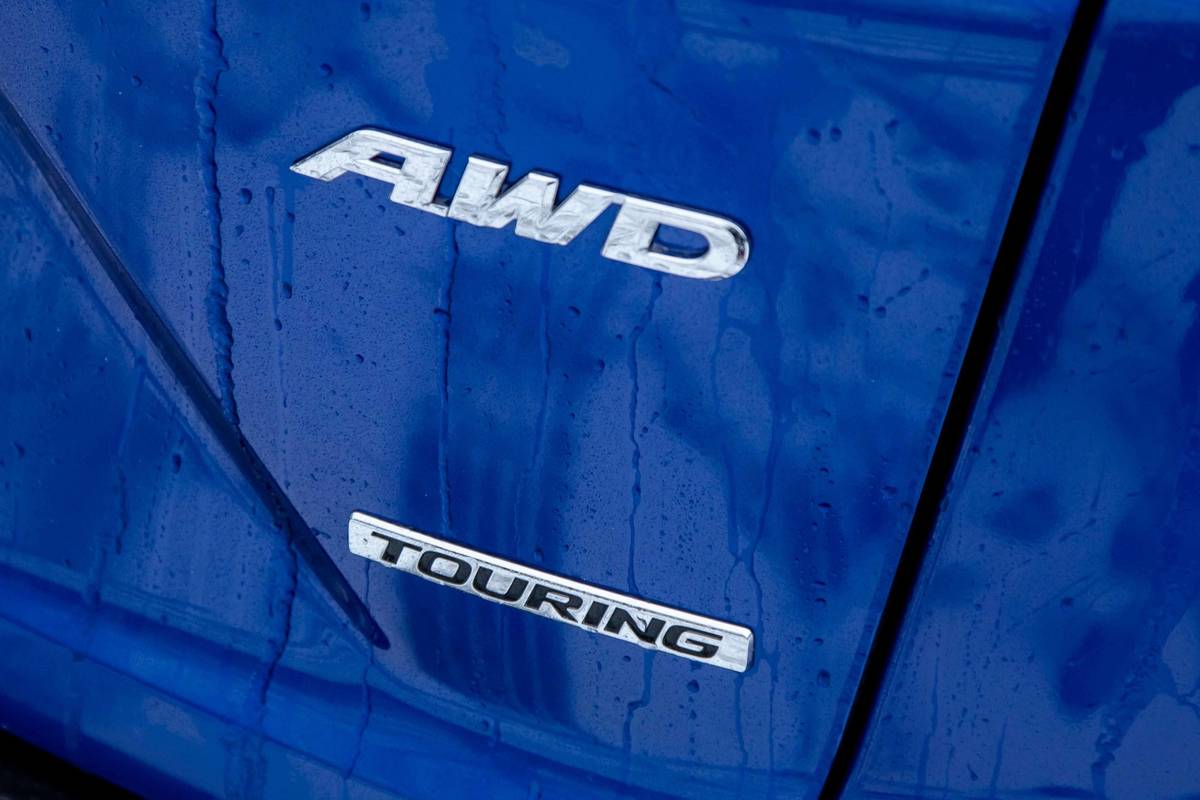 Conversely, the CR-V Hybrid uses the same mechanical AWD system from the regular CR-V. In case you're confused by the talk of two motors, they're both up front. Honda was actually the first to the U.S. market with a gasoline-electric hybrid with the 2000 Insight, but the company didn't start getting decent results until it ditched the original design (Integrated Motor Assist), which used one electric motor-generator, and went with two electric motors as all effective hybrids do. (The two-motor system is also used in the current Accord and Insight.)
Though Honda's Acura division hybrids have employed an additional motor on the rear axle to provide AWD like the RAV4 Hybrid does, the CR-V does not. The third motor can save some weight by eliminating the driveshaft while compensating with both more acceleration and regeneration, but it isn't the only way to do it and certainly not the most affordable. Honda said this system is more effective for inclement weather.
It's customary for automakers to have competing vehicles at their launch events, and I'm usually skeptical of any impressions I might garner. It's not that I don't trust Honda; it's that I don't trust anyone. But I drove the RAV4 Hybrid anyway and was more apt to trust my impressions when I ended up liking it better. Apart from its slightly better mileage ratings, the RAV4 Hybrid seemed to have more passing power than the CR-V Hybrid (which makes sense because it has variable gear ratios), and though both have the telltale hybrid engine drone, the Honda's sounded more whiny, the Toyota's more growly and agreeable. The RAV4's brakes were mushier and made odd whooshing noises upon release.
As for the AWD, Honda set us loose in a sand pit in both models. I wouldn't have been surprised by a big difference both because the regular RAV4's AWD has its shortcomings and because Toyota doesn't seem to tune its hybrids as meticulously as Acura has its NSX and Sport Hybrid models. But I'm confident a buyer would be happy with either one of these. Considering that it's the same AWD system as the non-hybrid — with no additional motor for regeneration — it raises the question of why Honda doesn't have a FWD CR-V Hybrid for higher mpg. Honda says it's not out of the question, just not this year. 
The RAV4 Hybrids run a bit more expensive than the CR-Vs — $29,470 to $38,000 versus $28,870 to $37,070 — but the hybrid premium is $200 cheaper than the CR-V's: $1,000 more than a non-hybrid RAV4 of the same trim level. 
CR-V in the Market
That the CR-V is one of the top sellers is no mistake, and I have every reason to believe the hybrid will continue its success. Room for improvement definitely remains, but the market is notoriously slow to learn. By all means, test-drive the CR-V, but be sure to sample some competitors, as well, because there are aspects where it needs to catch up.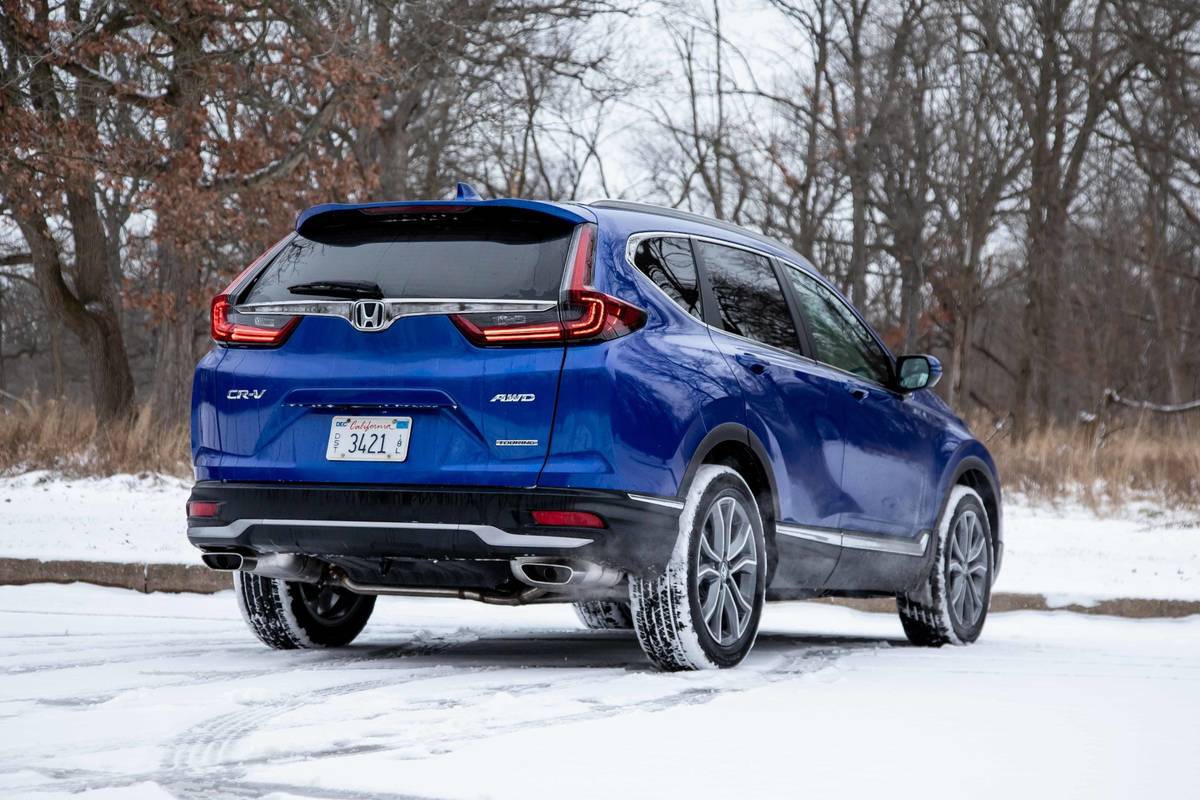 Cars.com's Editorial department is your source for automotive news and reviews. In line with Cars.com's long-standing ethics policy, editors and reviewers don't accept gifts or free trips from automakers. The Editorial department is independent of Cars.com's advertising, sales and sponsored content departments.