2020 Hyundai Sonata Review: Not Out of the Game
When certain types of products become less popular, the manufacturers that don't abandon them altogether sometimes starve them of resources and hasten their decline by focusing on more popular product types. Apply this reality to today's automotive market, and the less popular style is the mid-size sedan, where manufacturers who have abandoned them or are in the process are Chrysler, Dodge and Ford, and there will be more. As for the sedan models being starved of resources, I'm not naming any models yet, but we have our eyes on a few, and it's inevitable.
A day of driving the redesigned 2020 Hyundai Sonata proved the model that made Hyundai's name in the U.S. and beyond isn't one of them. If anything, the company has doubled down on its "carness" by reverting to the sleeker styling that was a big hit in the U.S. from 2011 to 2014 (but less so in the home market of South Korea) before a 2015 redesign delivered a superior car with what Americans deemed an inferior look. (If there's anything American consumers don't like, it's a product that doesn't stir them emotionally regardless of how objectively good it might be.)
Related: Hyundai Brings the Fight to Camry, Accord With Redesigned 2020 Sonata
The new Sonata even heralds the rollouts of such important features as the option to use a smartphone as a key, the ability to move the car forward and back while standing outside of it, and the Hyundai brand's first driver profiles and true lane-centering steering feature. How much Hyundai's devotion to the Sonata will cost buyers, however, remains unknown as of publication, because it's early (or perhaps Hyundai's late). I traveled to Montgomery, Ala., the home of Hyundai Motor Manufacturing Alabama, where the last of the 2019 Sonatas rolled off the factory floor recently and the start of 2020 production will begin a few weeks hence. I drove only pre-production versions of the top trim level, the Limited, so we'll have to follow up in a few months with more details on the lesser trims and base engine. (Per our ethics policy, Cars.com pays for its own lodging and transportation at such automaker sponsored events.)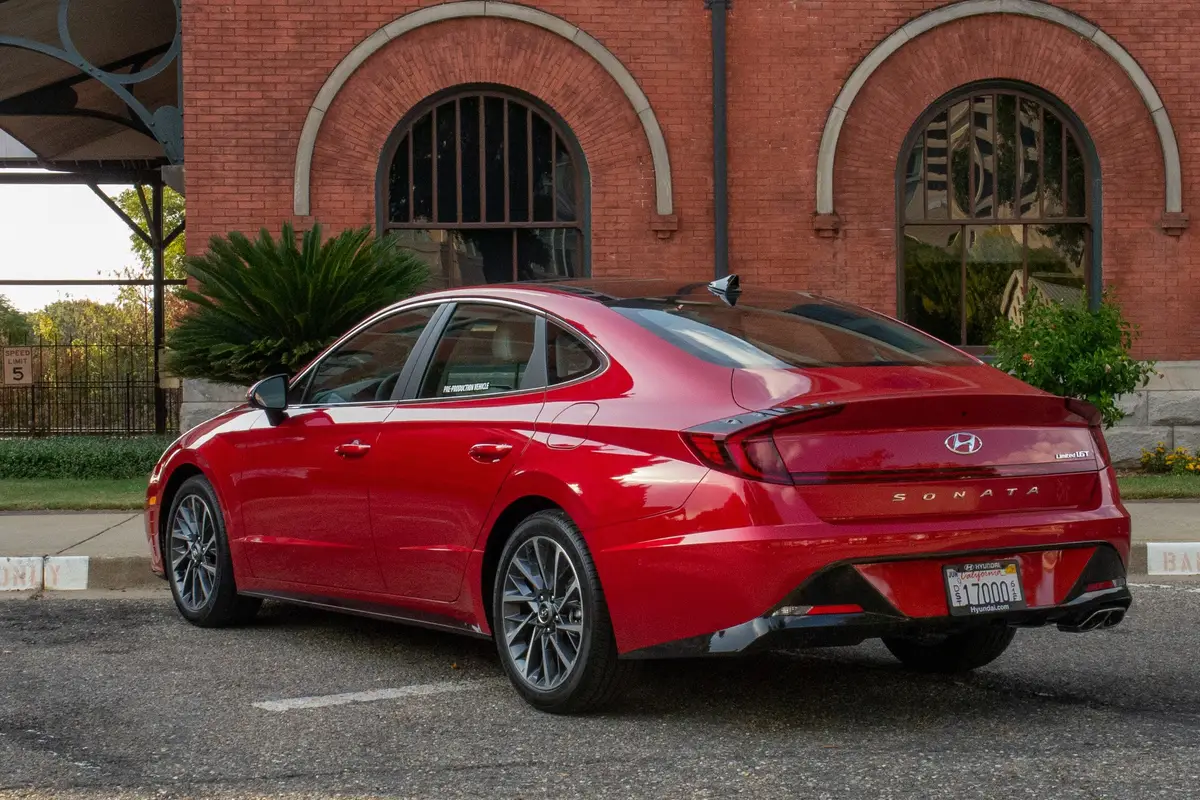 Being the top trim, the Limited had many exclusive features, including a 360-degree camera system, blind spot cameras, Matrix-style LED headlights, leather upholstery as standard, a four-way power passenger seat, parking sensors, ventilated front seats, the Sonata's first head-up display, a leatherette (imitation leather) dashboard and other features called out below.
How It Drives
The 2020 Sonata Limited drives nicely, especially on the quality pavement around Montgomery, and its behavior over the shockingly few instances of broken pavement I was able to find, as well as over railroad tracks, suggests that it will prove comfortable even on the mean streets of Cars.com's hometown of Chicago, be it with the as-equipped 18-inch alloy wheels, the 17s of the SEL or the 16-inch alloys of the Sonata SE.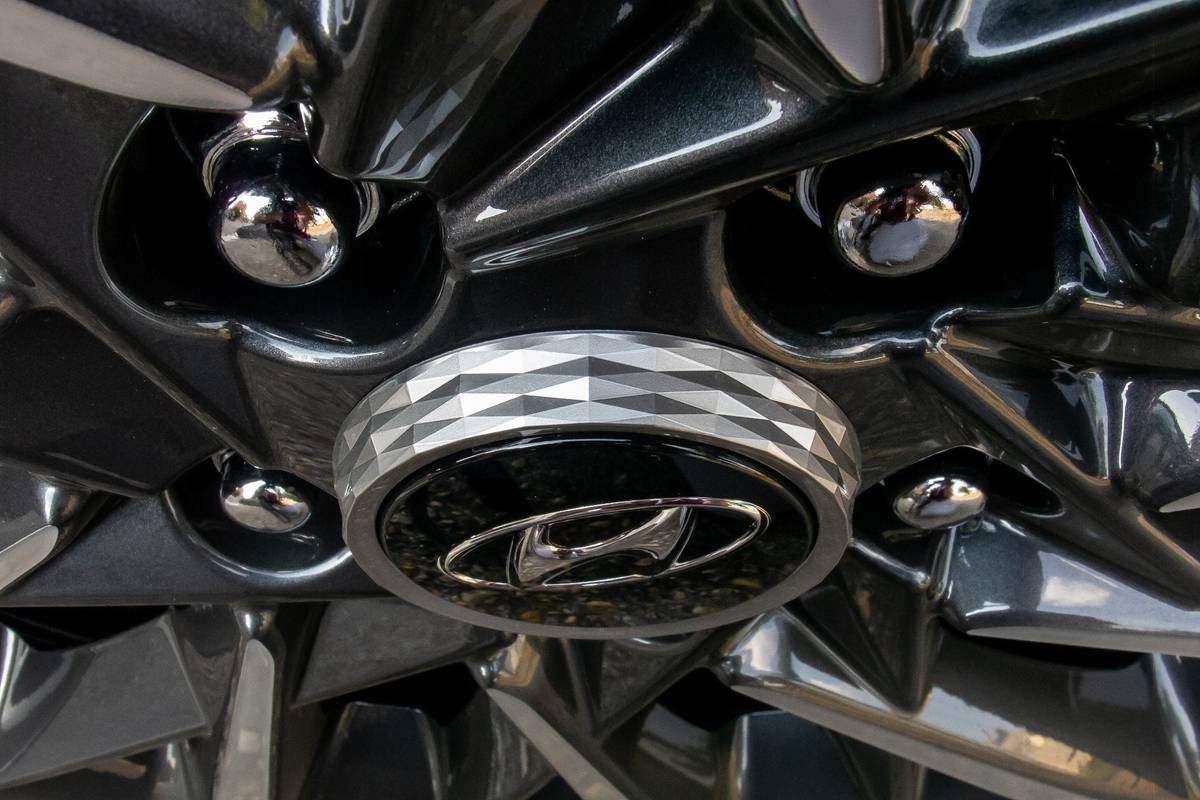 The car also handles competently, and while I wouldn't say it feels sporty, it seems to deliver more than adequately for the likely buyer. This is a new platform, and Hyundai's suspension design has come a long, long way since the generation people went craziest about, so it's not something I'd worry about as a shopper.
As for power, I experienced only the engine that comes in the SEL Plus and Limited, which is rated 180 horsepower and 195 pounds-feet of torque. It drives the front wheels through an eight-speed automatic transmission. It had modest power off the line but proved adept at moving the car forward incrementally once in motion without a lot of downshifting. Credit goes to the torque availability; torque, the instantaneous force that gets the car moving, peaks from 1,500 to 4,500 rpm. With all of the gears in play nowadays, sometimes the lag and hunting can be a drag, and Hyundai isn't immune to this, as we said of the otherwise top-rated, 2019 Mid-Size SUV Challenge-winning 2019 Santa Fe Ultimate 2.0T.
So, not having to downshift as much is a plus. Fortunately, when it did have to do so, the eight-speed was pretty well behaved. Overall, power is serviceable but not exceptional, especially for a higher trim level. Oddly, though its torque is impressive, this engine's 180 hp is lower than the base engine's 191 hp. It's horsepower that translates to quickness, so the base engine might prove quicker, especially as it's pushing lighter trim levels (specs aren't available yet, but fewer features means less weight). The base engine's torque is rated at 181 pounds-feet, but at a peak of 4,000 rpm rather than the Limited's broad 1,500-4,500 rpm.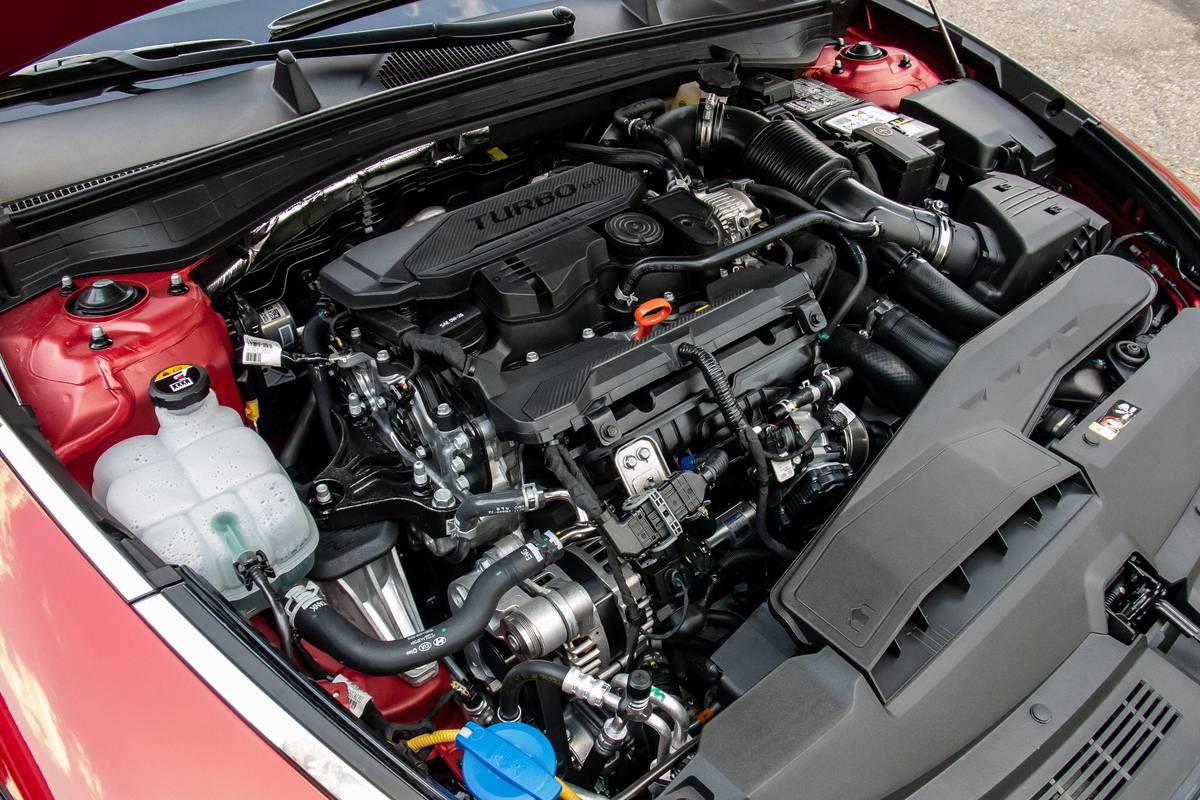 I didn't lead with engine sizes partly because we're getting to where it doesn't matter like it used to. The output specs are far more important. The engine I drove is a reengineered version of the turbocharged 1.6-liter four-cylinder previously used on the Eco trim level. The base engine on the SE and SEL is also new, now a 2.5-liter four-cylinder (it was formerly 2.4-liter). Both engines carry the name Smartstream and use regular gasoline. The EPA hasn't tested them yet, but Hyundai estimates combined ratings of 33 mpg for the 2.5-liter and 31 mpg for the 1.6-liter. The 33-mpg figure would mark a 4-mpg improvement over the 2019 Sonata SE's 2.4-liter.
If these engines seem oddly close to each other in output and oddly low when competitors offer well over 200 to 300 hp in their optional engines, you're not wrong. Missing is the 2019's optional turbocharged 2.0-liter four-cylinder that produced 245 hp. It's not coming back, but an N-Line version of the Sonata reportedly will, at an undetermined time, bringing considerably more than 245 hp with it. The Sonata Hybrid is also slated to return but will be a late addition to the 2020 model year.
How It Drives Itself
Hyundai has already been doing good work in the area of driver-assistance features like forward collision warning with automatic emergency braking and pedestrian detection, lane keep assist and adaptive cruise control with stop-and-go capability. Now it has an umbrella term for them (like most competitors), SmartSense technology, along with a new advancement for the Sonata.
We've long noted that the Hyundai (and Genesis) Lane Keeping Assist feature — ostensibly a lane departure prevention system, which in competing vehicles may pinball the car left and right between lane markings — actually centers the vehicles in the lane better than some competitors that have features called lane-centering. Finally, Hyundai has a feature it thinks is good enough to classify as lane-centering, which it has named Lane Follow Assist. I'd like to say it's even better, but I didn't notice much difference on gently curved roads, having been pretty impressed already with LKA — but I'm glad Hyundai's comfortable.
Combine this with Highway Drive Assist, which uses GPS to determine the vehicle is on a divided highway with vehicles moving in the same direction, and you have a very effective semi-autonomous experience where the car accelerates, brakes and steers, requiring infrequent assurance from the driver. (These features do work on other roads, but the driver's required to interact more.) If you haven't braved an urban commute with the assistance of an aid like this, you don't know what you're missing. These features are standard on all trim levels. Only enhancements like Rear Cross-Traffic Collision-Avoidance Assist is exclusive to the Limited, and Blind-Spot Collision Avoidance Assist is excluded from the Sonata SE.
The Return to Carness
You will decide within milliseconds whether the new styling works for you, so I won't belabor the description, but there are some key features and consequences from the change. It has grown by 1.4 inches in wheelbase and 1.8 inches in overall length, but there's some incremental shrinking as well, most notably a loss of 1.2 inches of height. The chrome strips that have run from either headlight along the fenders all the way to the back of the rear quarter windows since 2011 (named the Dynamic Lasso when it encircled the side windows) now begin inboard of the headlight clusters and have been laser-perforated to serve as daytime running lights that revert to chrome when the lights are off — pretty cool.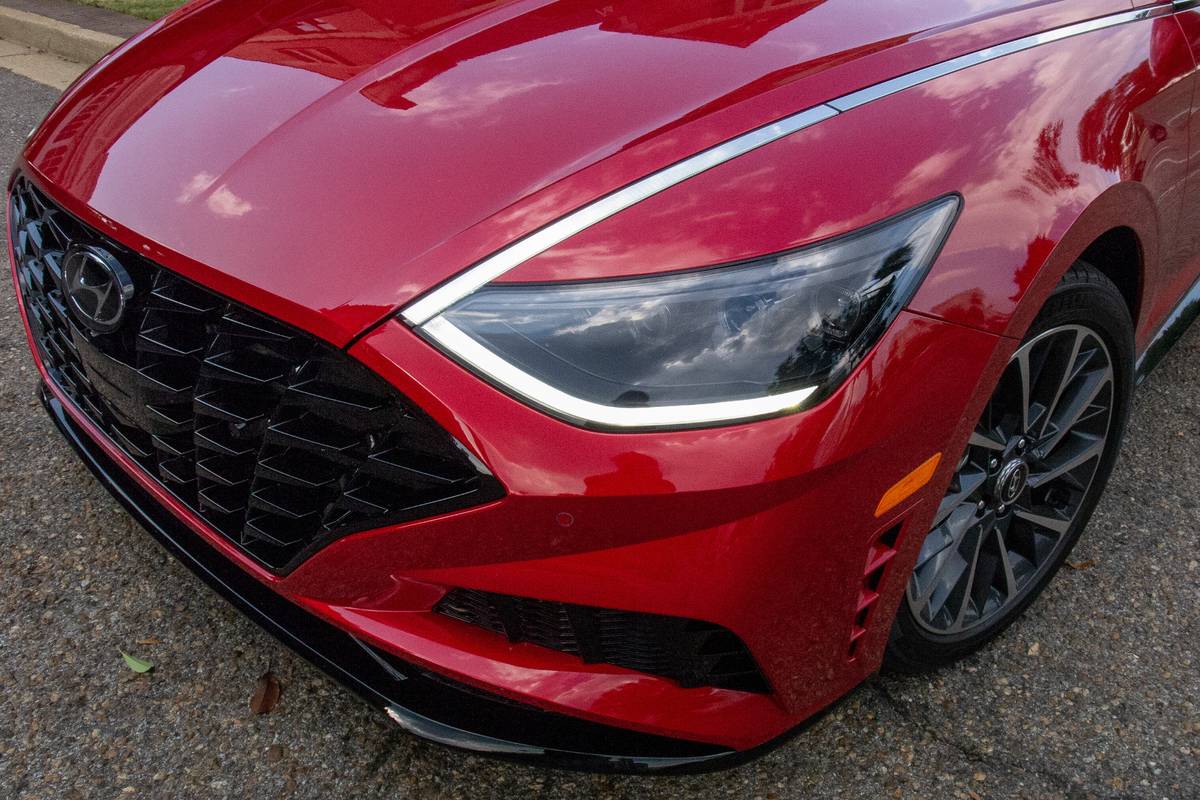 The completely reimagined rear end now has a trunkwide taillight segment joining side lenses that are integral to the lip spoiler. The lenses are topped by small fins. Don't like them? Tough. They're an aerodynamic element called vortex generators that break up the air as it separates from the moving car and prevents an efficiency-robbing low-pressure zone behind the car.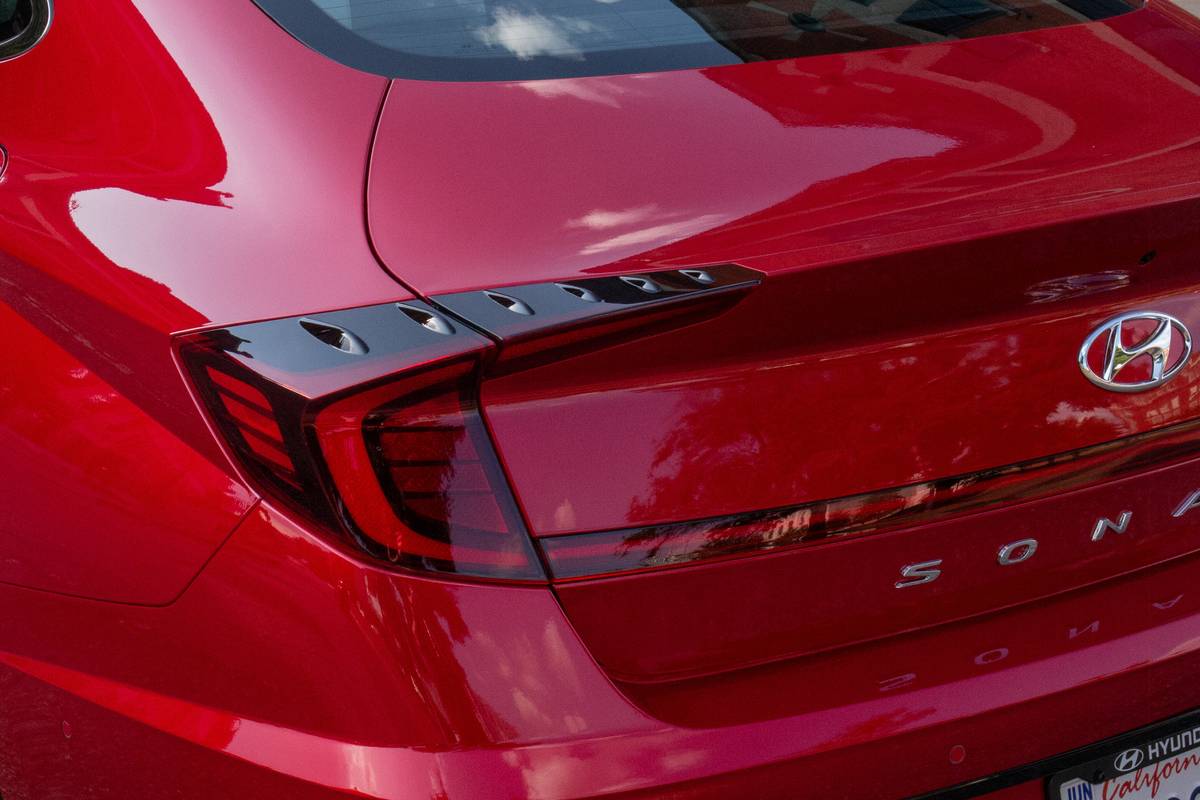 Fortunately, someone told us how to open the trunk from the lid without the key fob, or I'd still be in 'Bama.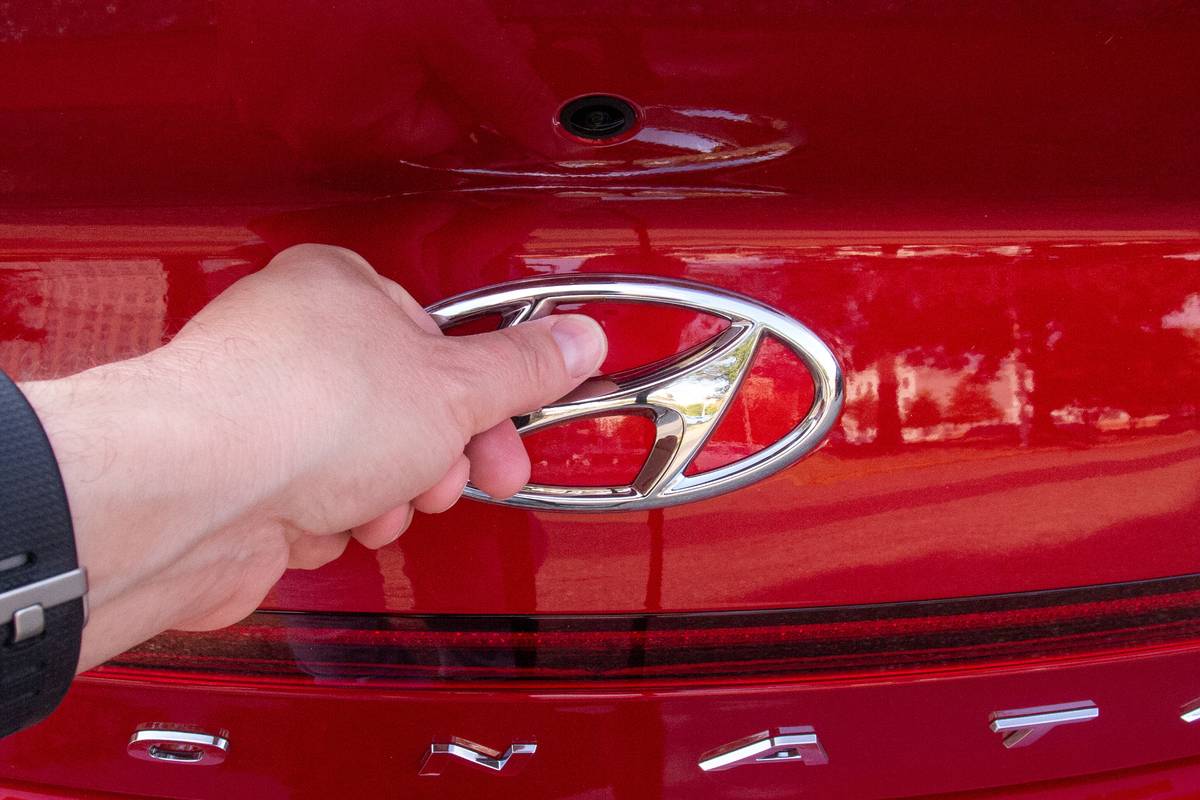 Speaking of getting into the Sonata, if you're a Hyundai owner, you're aware that to get into one using keyless access, you've always had to push a button on the door to unlock it first, even though many competing brands let you just grab the handle when the key fob is nearby. That changes with the 2020, which makes the jump to the one-step grab-and-open approach. To lock, you press the recessed part of the handle as on some other brands.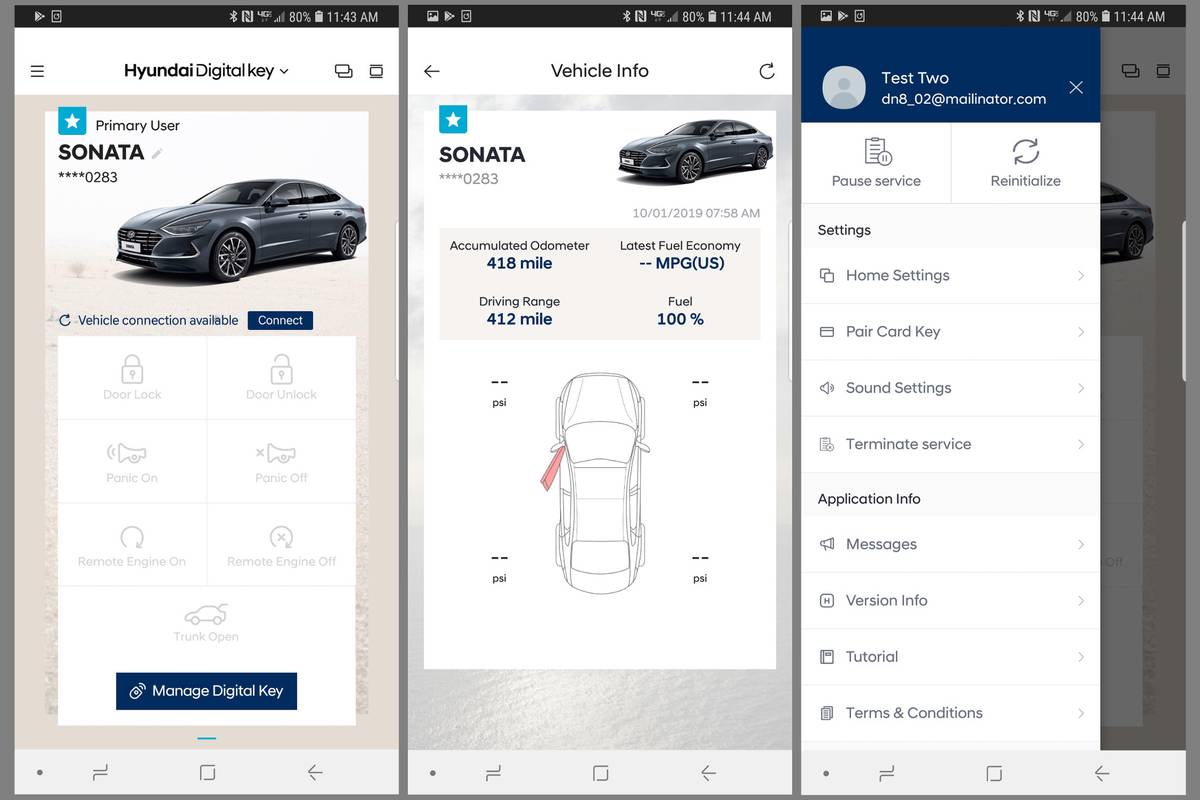 As if to make up for being late to this party, Hyundai jumped ahead with Digital Key, which lets your Android smartphone serve as a key. More than just an optional substitute for a keyless remote, Digital Key marks the first time the Sonata will support driver profiles, which some vehicles tie to a key fob but Hyundai never has. The profile can remember things like seat and mirror memory settings and audio presets, and Digital Key will support three of them. One of the neatest features is that each of these phone owners can share access with other people without handing over keys; anyone with the app can be granted access to get in and/or drive, under time or driving restrictions set by the profile owner.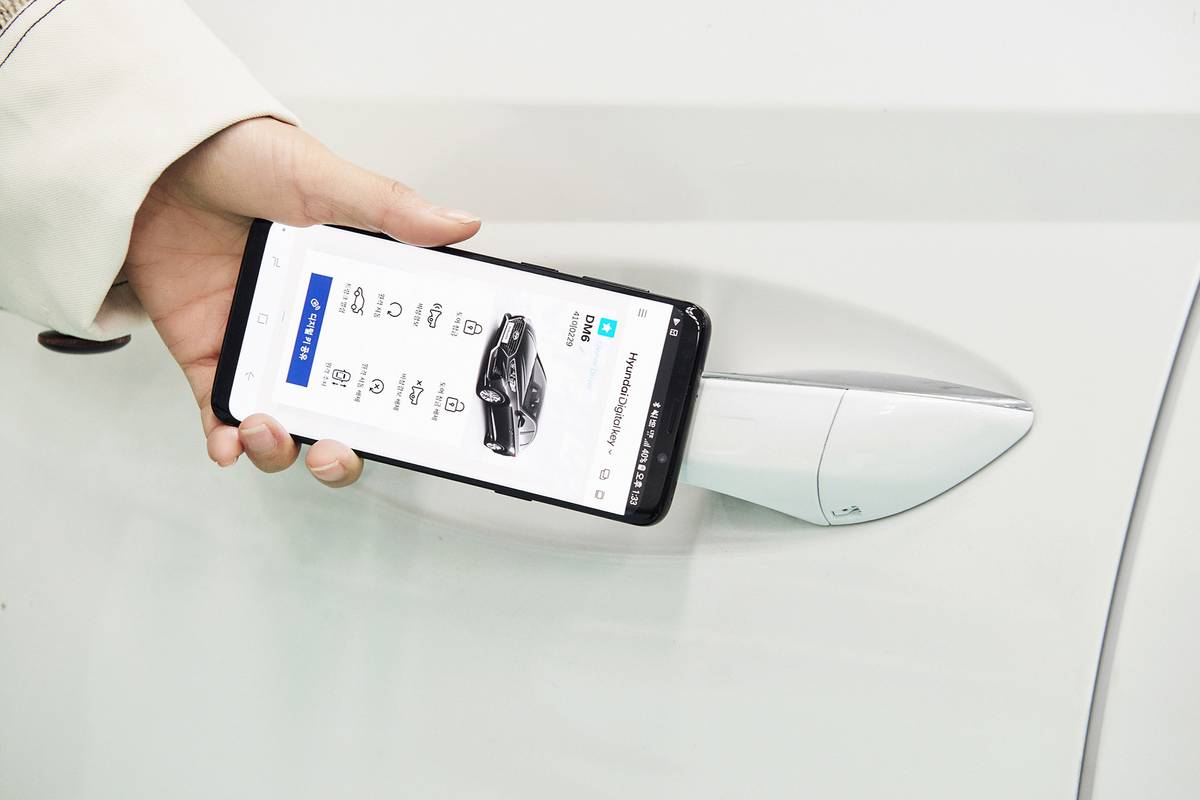 It works just like a key fob, for the same functions and from comparable distances, using Bluetooth Low Energy. But to unlock the car without pushing the button, you have to hold it up to the outside door handle where near-field communication does the job. One way or the other, you're taking the phone out of your pocket, which is a step back from the typical keyless access approach that lets you leave the fob in your pocket; on the other hand, you're more likely to be holding your phone than a key fob.
Tesla was the first to offer this functionality on the Model 3 and doesn't require the phone to be held to the door, but Hyundai says BLE's range is much farther than that of a key fob's keyless-access feature (30 feet or more) and as a result isn't as secure as the company requires. Like Tesla, Hyundai provides NFC cards (like hotel key cards) as a backup to get you into the car, identify you and start the engine in case your phone dies.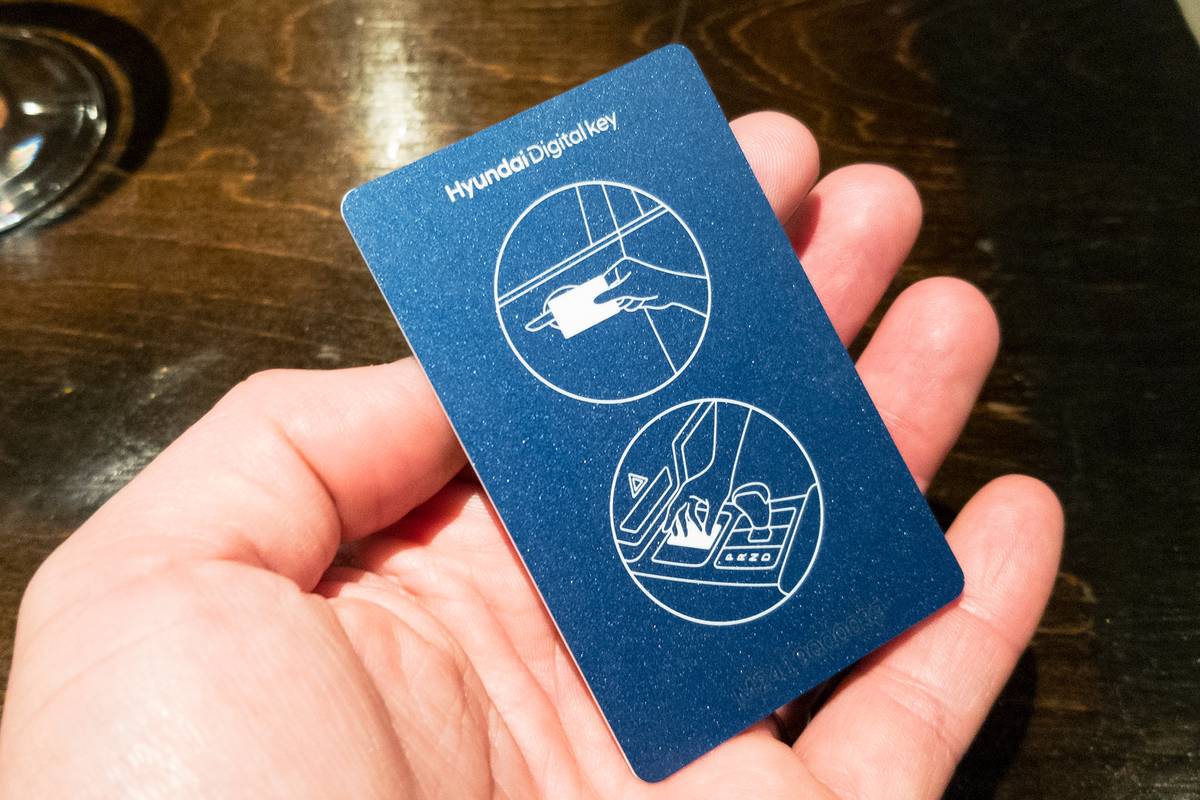 As for iPhones, they do include NFC technology, but Apple reserves it for apps such as Apple Pay. Hyundai and other companies are pressuring the tech giant to open it up for broader use.
Even if you don't go for Digital Key, Hyundai finally added remote engine start to the key fob, a welcome shortcut that spares you the trouble and delay of using the cellular-enabled Blue Link app (on all but the SE) when the car's within view.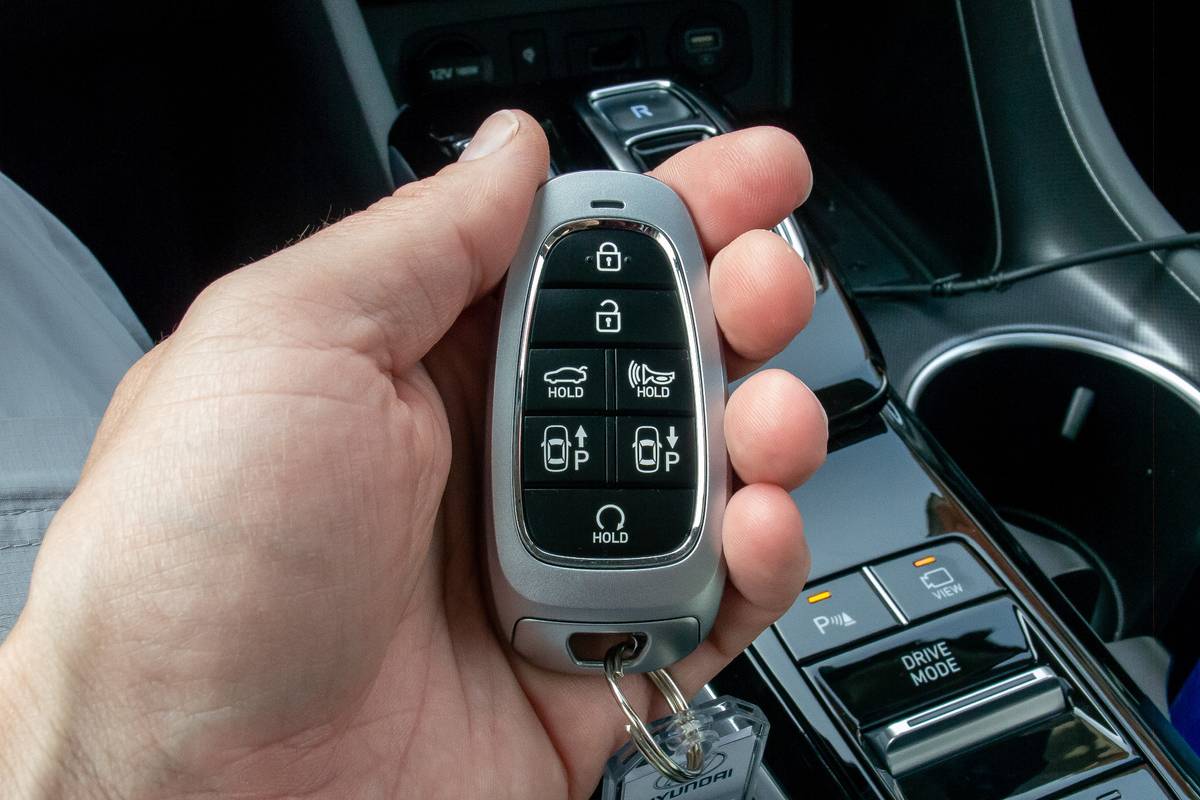 If you don't recognize the other new buttons with the Ps and the arrows, they're for Remote Smart Parking Assist, which lets you move the Sonata Limited forward or backward when standing outside of it — another feature seen on Teslas and a few other brands — that can help you get the car into or out of tight parking spaces. It can be used either after coming to a stop or by remote-starting. If you left your wheels turned, it will straighten them before moving.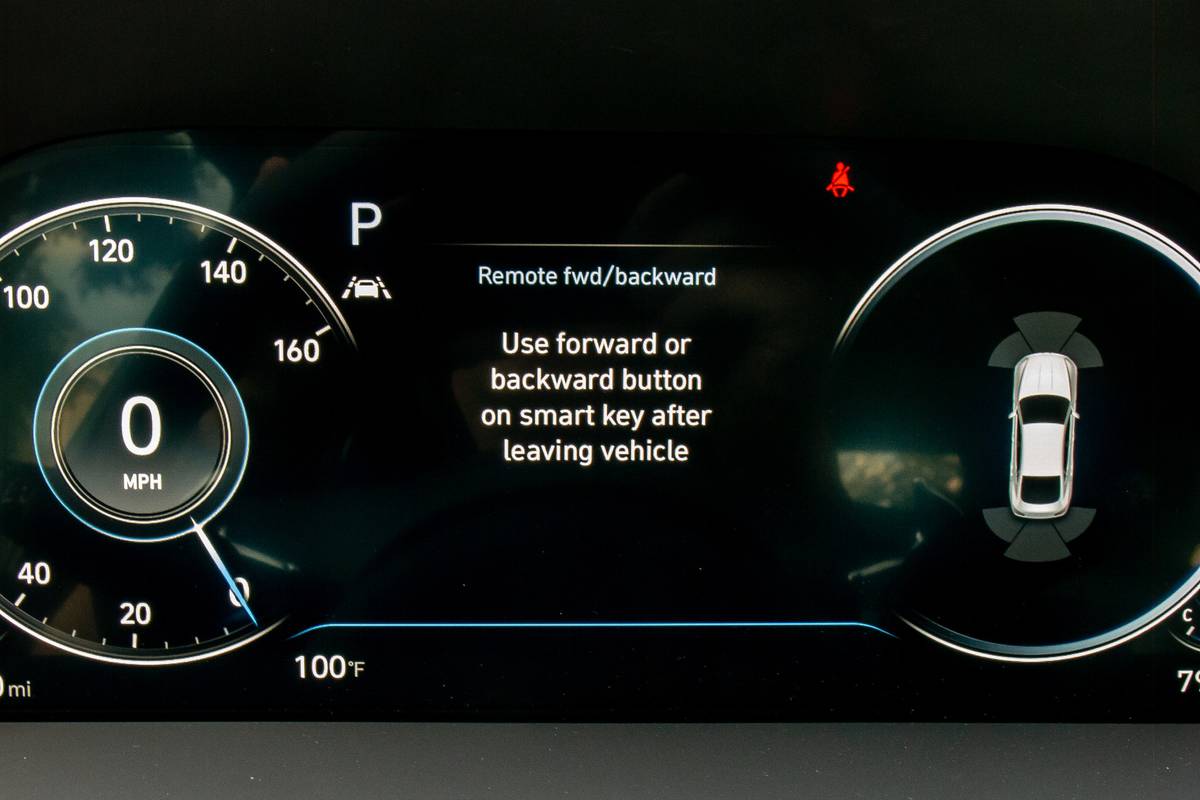 From the Driver's Seat
The view from the driver's seat is good. Though the roof was lowered, so was the hood. And though the aerodynamic shape puts the A-pillars out in front of the driver, they're reasonably narrow and not obstructive.
Despite the roof being lowered 1.2 inches, headroom isn't bad — just 0.4 inch lower than the 2019 in front. The 2019 was pretty generous versus class leaders in this regard, so even with the panoramic moonroof (standard in the Limited, optional in the SEL trims), which cuts more than an inch and a half of headroom in front, the new minimum spec of 38.4 inches remains competitive.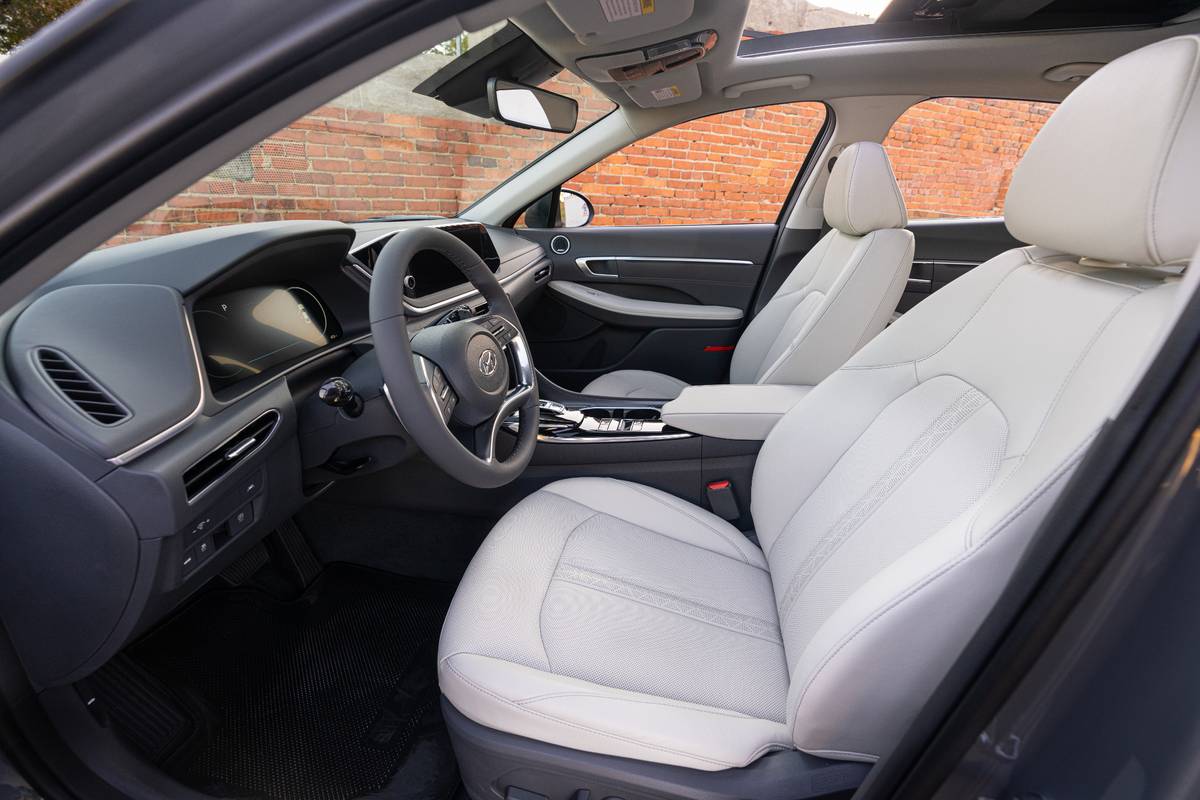 The backseat lost only 0.2 inch with the redesign and an additional 0.4 inch with the moonroof. Typically, automakers preserve backseat headroom by putting the bottom cushion too close to the floor, but Hyundai says it used a thinner cushion to make up some of the difference. At 6 feet tall, I had no headroom complaints and found my knees elevated a little more than I'd like, which is common in this class.
For 2020, though the front seats gained more than a half inch of legroom, the rears lost nearly 1 inch to 34.8 inches, which is lower than the class leaders by as much as 5.6 inches versus the Honda Accord. Again, in practice I found it more than workable, objecting more to the lack of foot room under the front passenger seat, which lost its height adjustment for 2020 (it will return for 2021). To me, that translates to a few inches of legroom lost.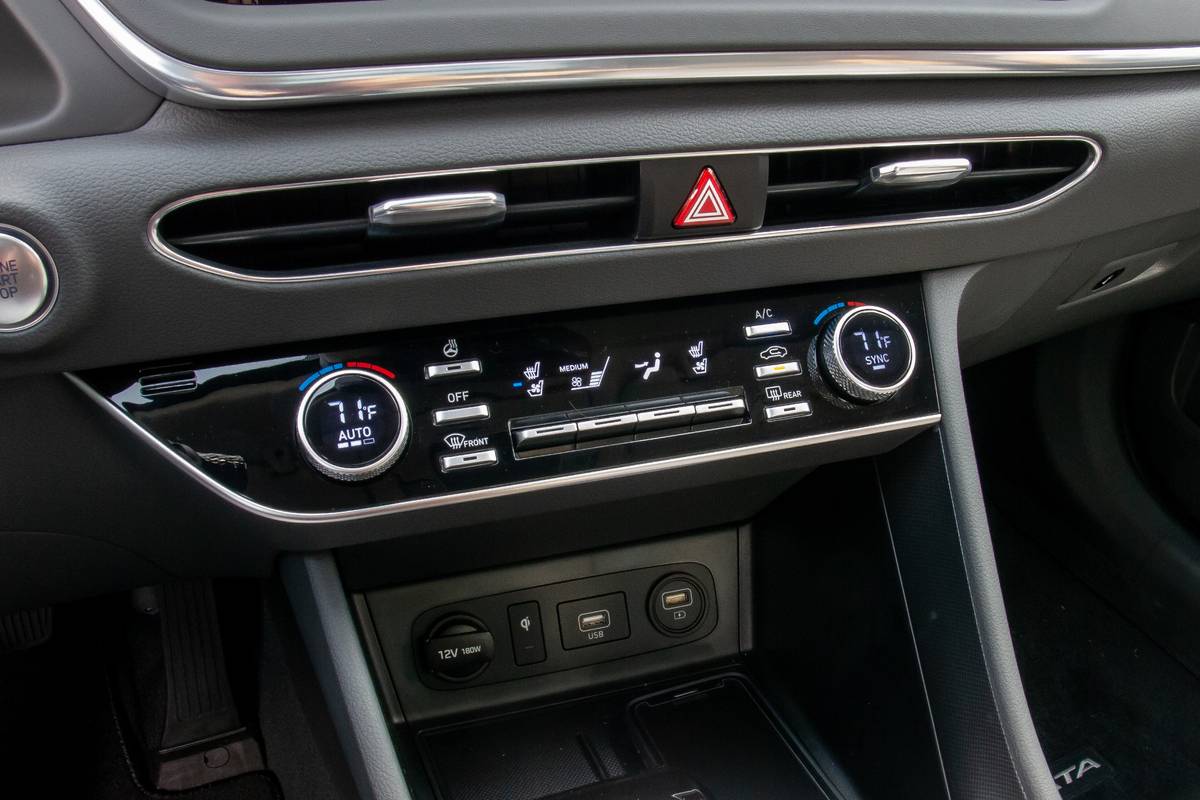 The ergonomics — something Hyundai's usually very good at — are mixed. High points include super-clear ventilation controls and long door armrests that cut deep into the door panels so their whole length serves as a handle for pulling the door closed. The main low point has to be the touch-sensitive buttons in lieu of mechanical ones flanking the touchscreen.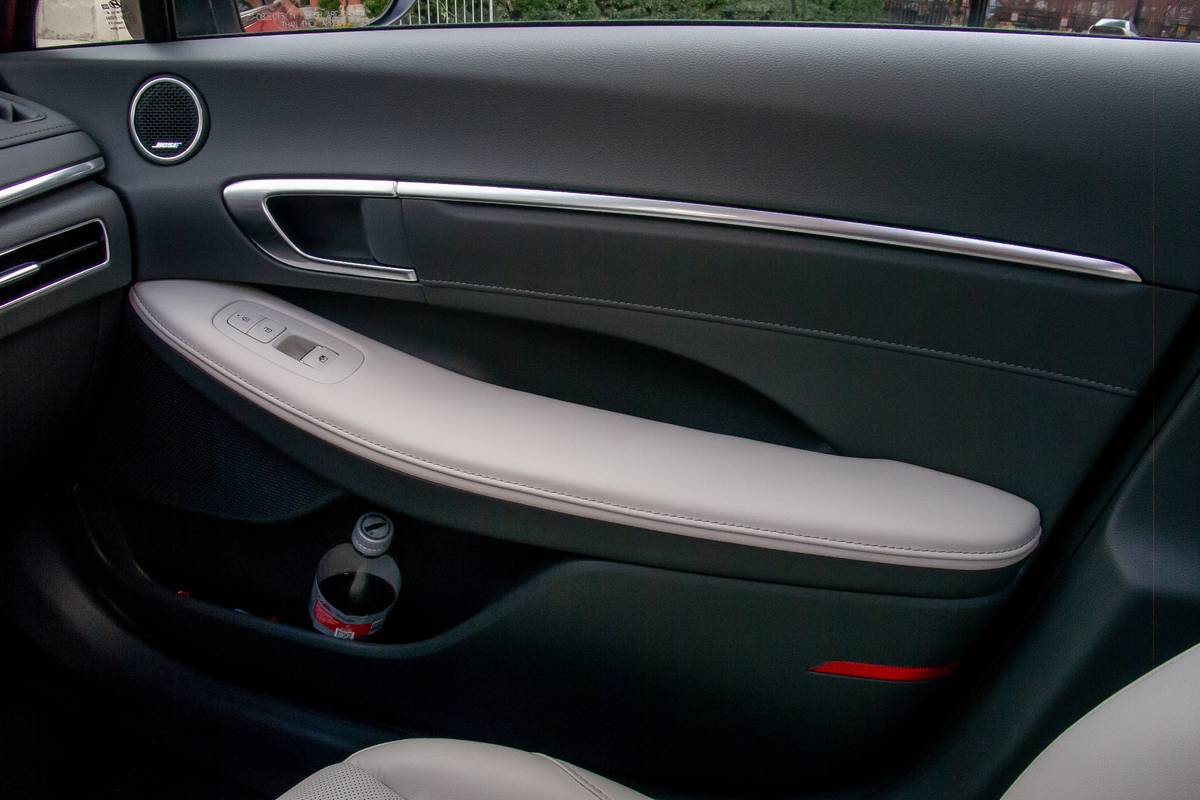 The Limited has a standard 10.25-inch widescreen display that's optional in the SEL and SEL Plus, in place of the standard 8-inch touchscreen. We've grown skeptical of overly wide or tall screens because sometimes the height or width proves more limiting than the overall area, but this one's not bad. It's tall enough that a map is adequately sized, and it can support two or three separate panels side by side.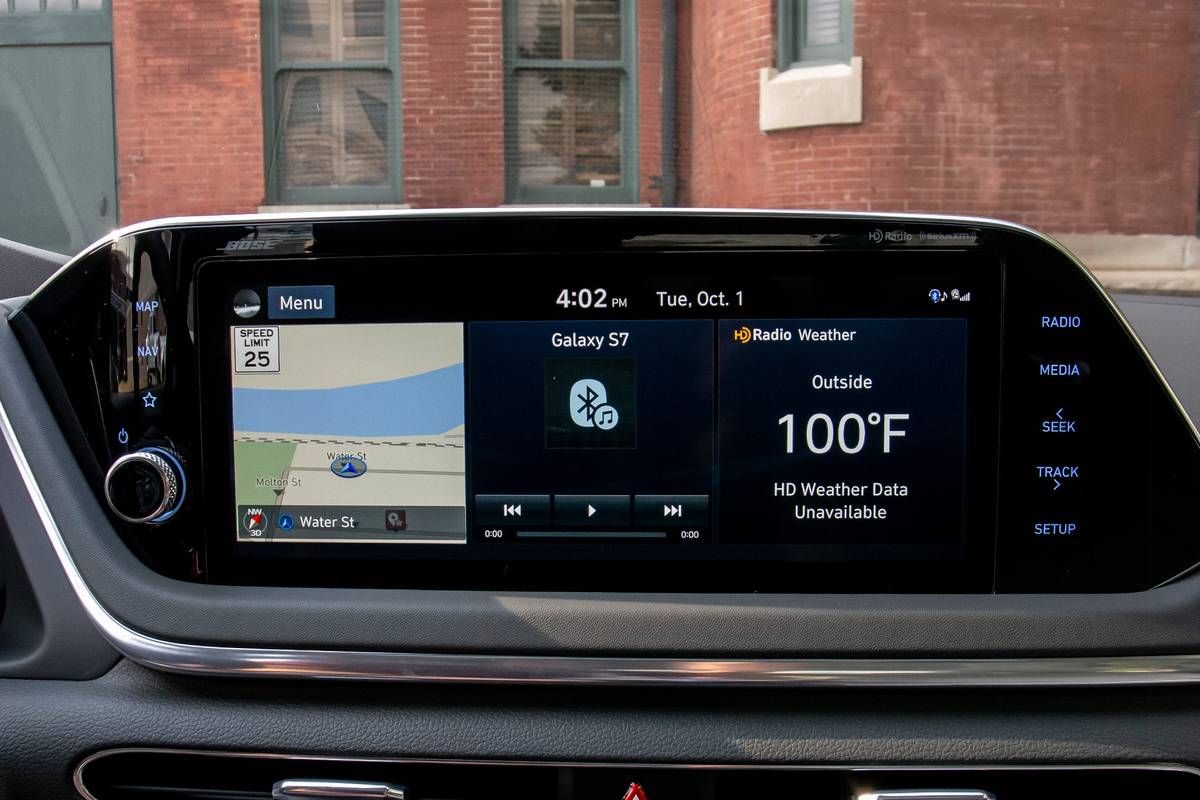 The standard Apple CarPlay makes good use of the whole screen, but standard Android Auto wastes more than a third of it (something a phone app update might address). The backup camera view is large, bright and adjustable, and the 360-degree overhead view isn't as large as I'd like, but it's better than on some widescreens I've seen.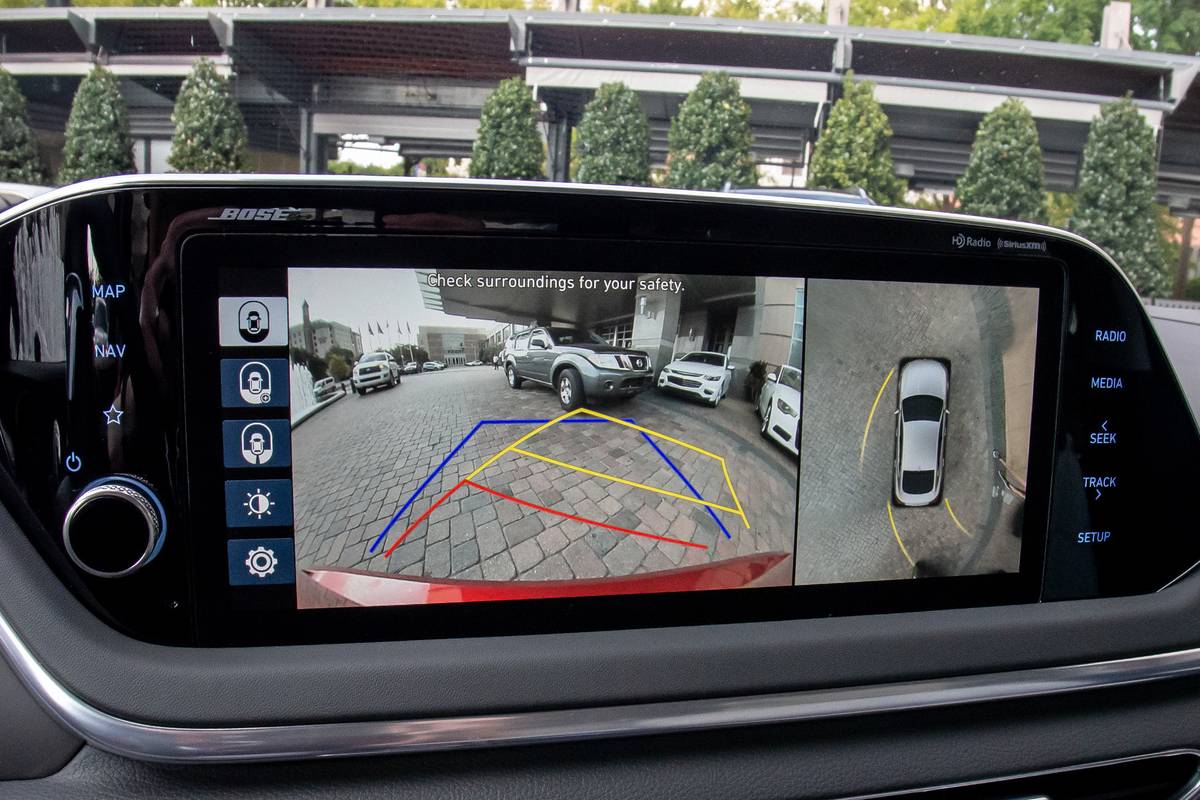 The touchscreen aspect overall is well executed and deserving of real supporting buttons instead of the capacitive-touch type, a sign of cost-cutting that isn't worth it in the long run. Speaking of buttons, that's how you control the transmission now, and though I prefer a rotary knob, the Sonata's approach (clearly shared with the new 2020 Palisade SUV) is smartly laid out.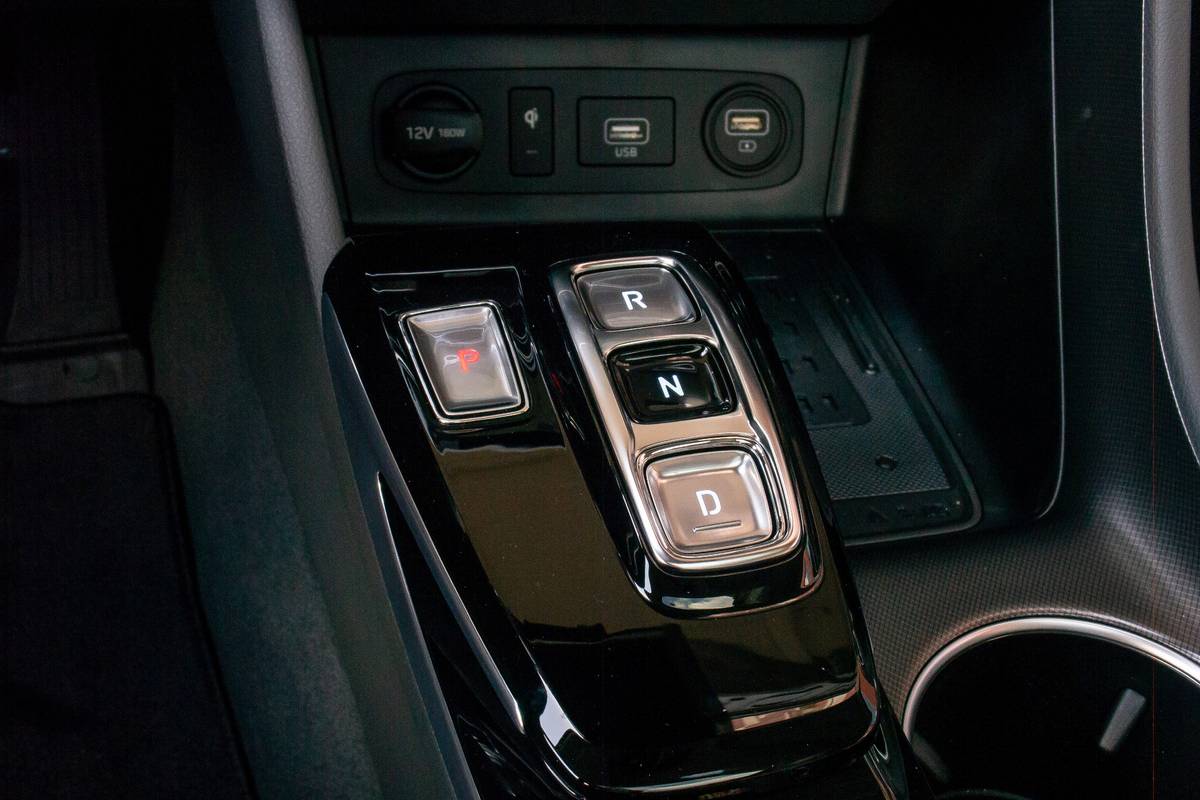 Unlike the Palisade, however, which exploits the elimination of a mechanical shifter linkage by providing extra storage space underneath the console, I'm not seeing much advantage here aside from eliminating the lever itself, which can be obstructive. To that end, the Sonata's buttons are higher and bulkier than seems necessary. Shift paddles are included only on the SEL Plus and Limited. With no way to manually downshift or choose a low gear, what happens when you descend a steep hill in the SE and SEL? You ride the brakes?
Interior Quality
Bearing in mind that this is the highest trim level, the interior design is quite sharp, and quality is good overall. In this car, the quality holds up well in the backseat (not a given in this class), but we'll have to see how good it is in lower trim levels. Is it premium enough for a top trim? That may depend on what you value. Hyundai decided not to include any wood trim, real or imitation. You can get dark chrome and faux suede, but wood has gone the way of the V-6 engine in 2011: For the Sonata, its time has passed.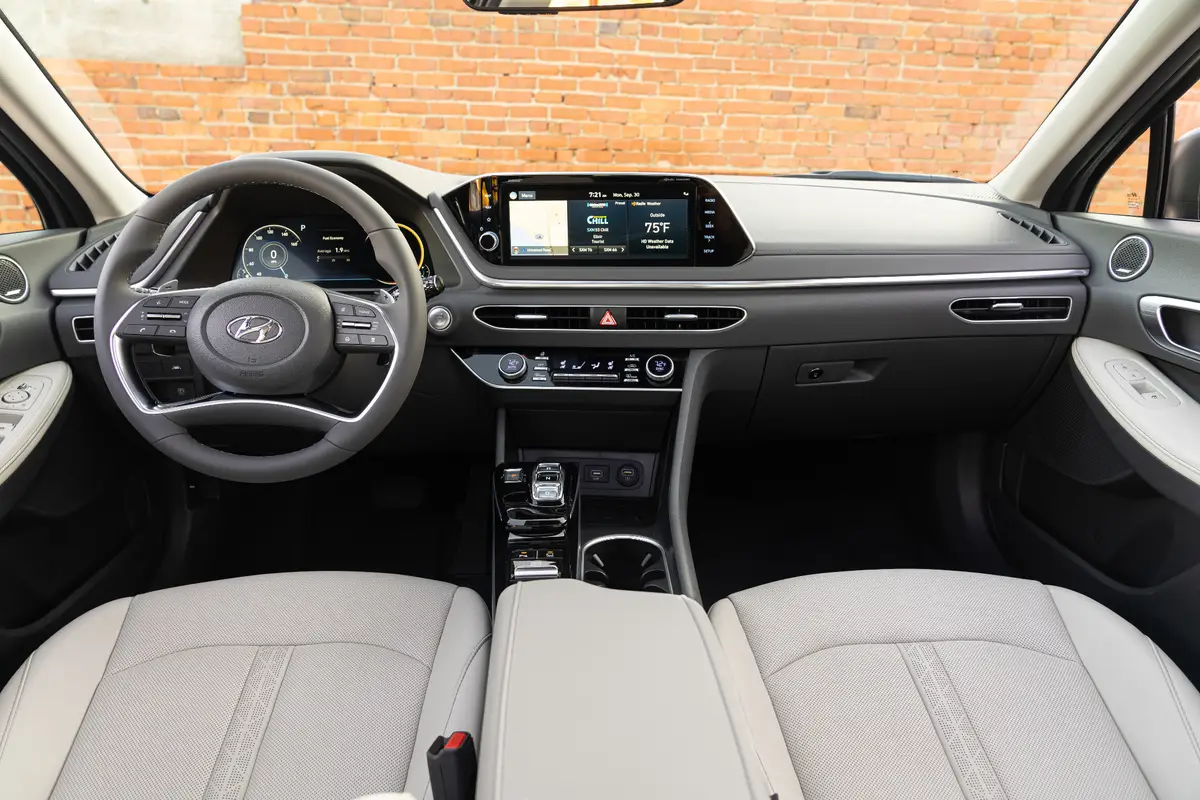 What boosts quality is the presence of the large touchscreen and 12.3-inch fully digital instrument panel display (standard on the top two trims and optional on the SEL) in place of conventional gauges and a 3.5-inch display. This unit is key to the Blind View Monitor images that appear in the virtual gauges when you use the Limited's turn signal.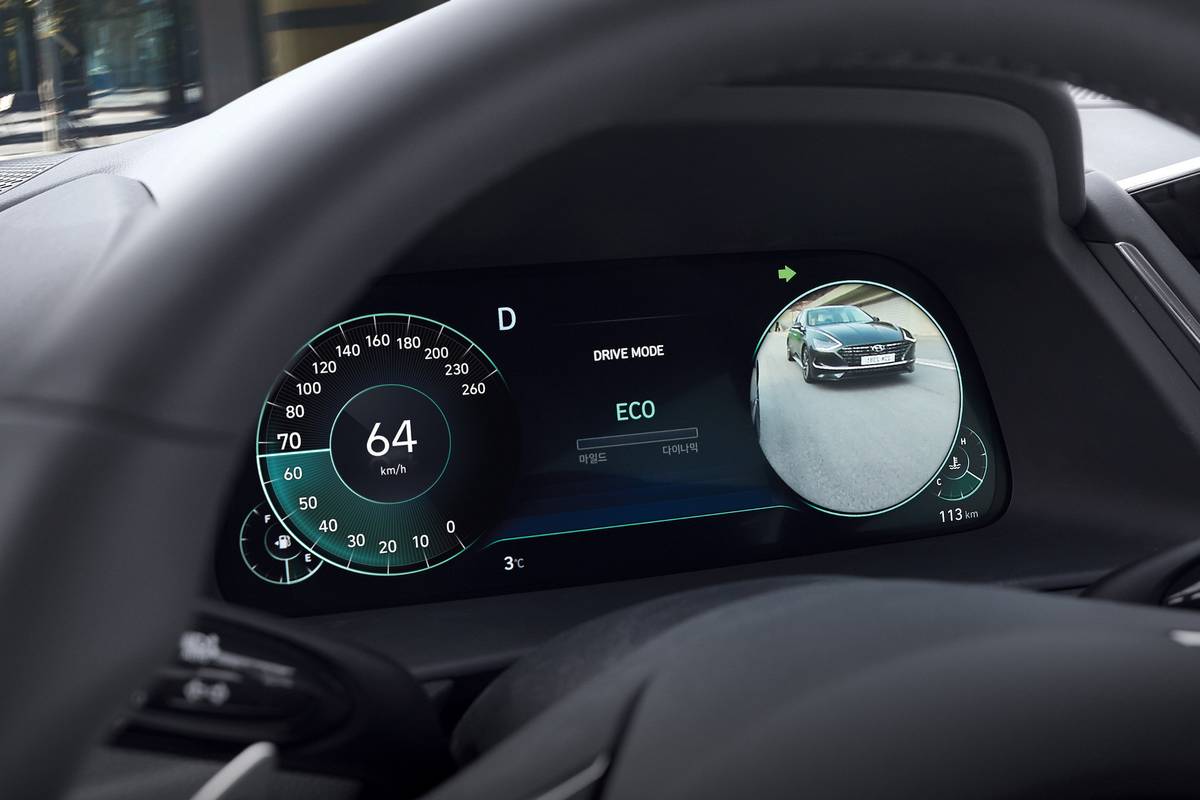 To my eye, the materials quality is good but not extraordinary. This being a pre-production sample, there's always a chance it will change, but the faux leather dashboard in my car was unconvincing, and the steering wheel's horn pad had a low-rent sheen. The real leather was more impressive.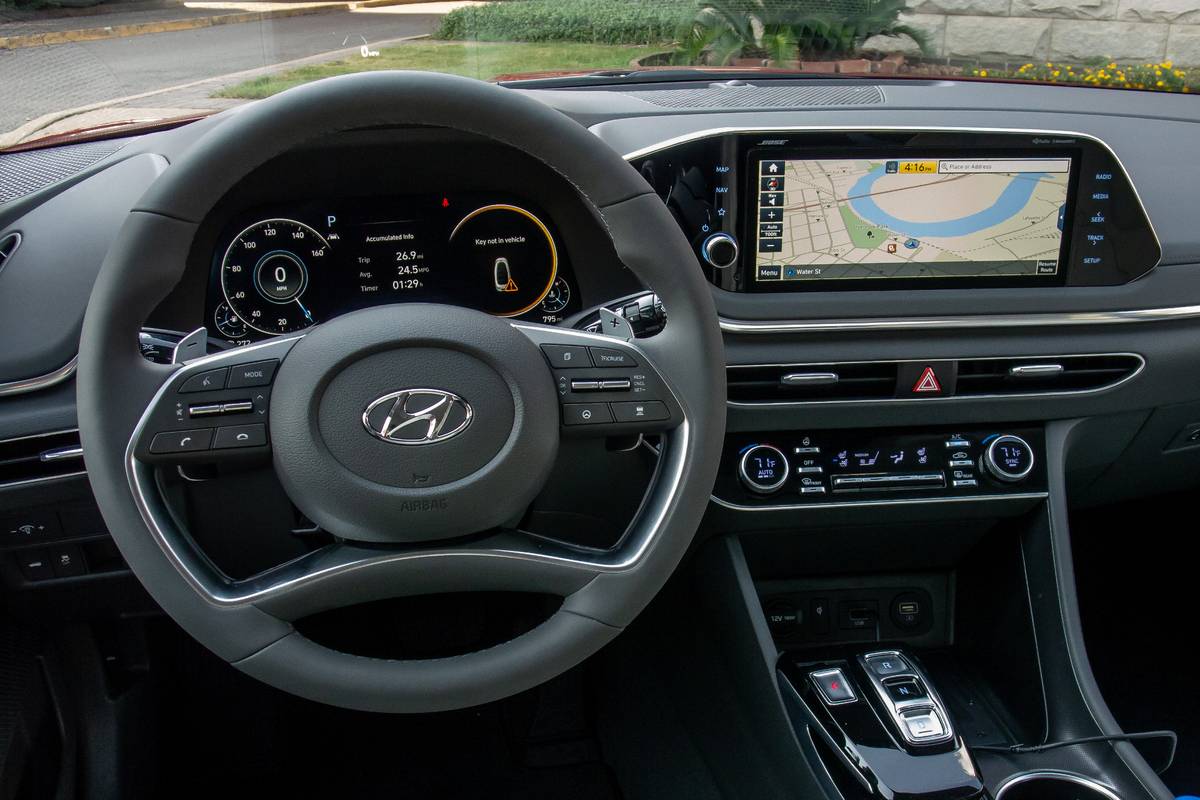 The most impressive thing about the Sonata is the switch back to the approach that's unapologetically a car. There's probably some pressure in the industry to make cars more like SUVs — not just to make vehicles like the Hyundai Kona, which arguably are cars, but to make even the car models a little taller and roomier and add all-wheel drive. That sounds like a good way to make a car that appeals to no one. Though some mid-size sedans offer AWD, making it an option adds weight and cost even to front-drive versions, and Hyundai chose not to do it. If you want an SUV, they have a full slate for you.
Cars.com's Editorial department is your source for automotive news and reviews. In line with Cars.com's long-standing ethics policy, editors and reviewers don't accept gifts or free trips from automakers. The Editorial department is independent of Cars.com's advertising, sales and sponsored content departments.