What's the Best Mid-Size SUV of 2019?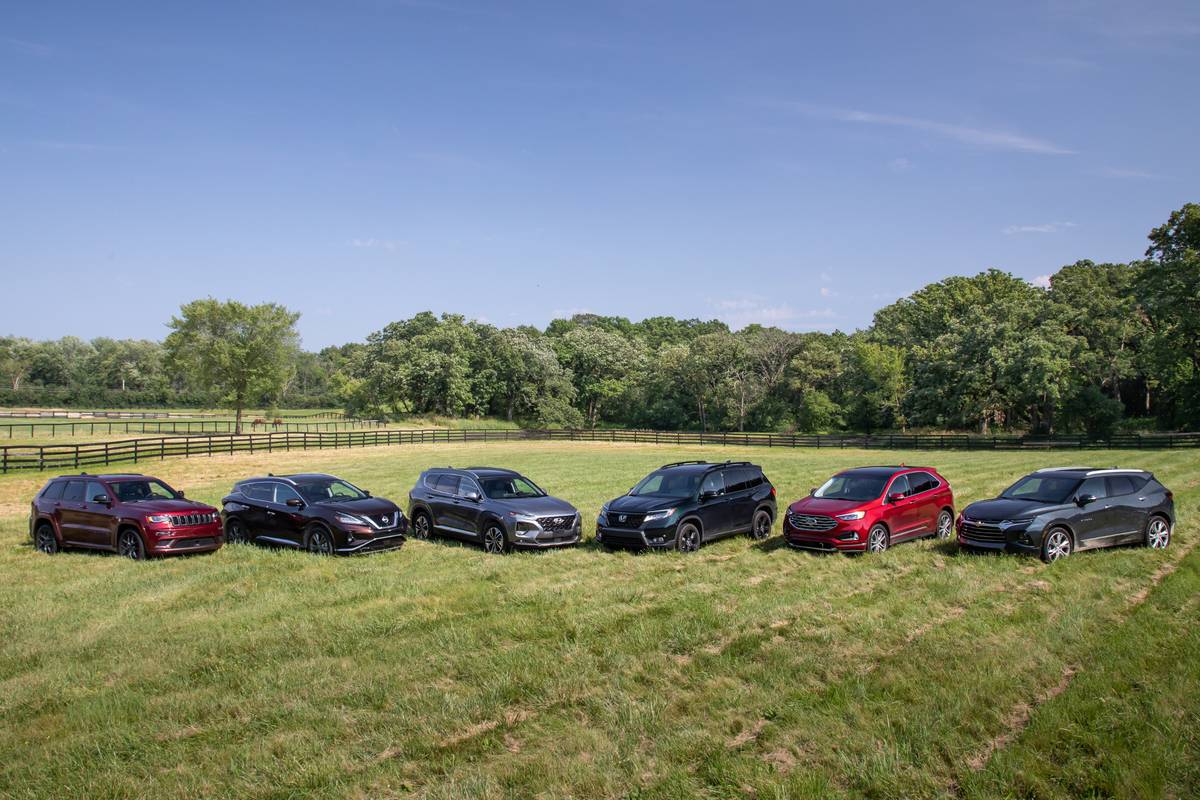 The class of mid-size, five-seat SUVs hasn't been the hottest over the past decade as automakers have expanded the extremes of their SUV lineups — three-row models at the top and both compact and subcompact SUVs at the bottom. But the mid-size market is definitely heating up, as evidenced by the return of competitors such as the 2019 Chevrolet Blazer and 2019 Honda Passport and the redesign for 2019 of the five-seat Hyundai Santa Fe, formerly called the Santa Fe Sport (the three-row model continues without redesign as the 2019 Santa Fe XL). So we gathered these three along with old standbys including the Ford Edge, Jeep Grand Cherokee and Nissan Murano for a week of testing. (Unfortunately, due to its redesign as a 2020, the Subaru Outback wasn't available at the time of testing.)
2019 Mid-Size SUV Challenge
Results | Winner | How We Tested | Mileage Drive | Video
We requested models that offered many features, which resulted in V-6 engines for four contestants and turbocharged 2.0-liter four-cylinders for two others. All were top trim levels except the Jeep Grand Cherokee Limited X, which is now mid-level, and the Ford Edge Titanium that's less expensive than the performance-oriented Edge ST. Every SUV included four- or all-wheel drive, and sticker prices ranged from $39,905 to $51,975.
We determined the winner by scoring 17 separate categories including front and backseat comfort and amenities, interior quality, cargo space and provisions, powertrain, child-safety seat fitment, safety and driver-assistance features, ride quality, handling, braking and value. Five models call for regular gasoline, and one, the Ford, can run on 87 octane regular but is rated for maximum power on 91 octane premium, which required us to consider fuel costs along with mpg, as detailed in our fuel economy results. In an attempt to account for the many ways drivers control their vehicles apart from the steering wheel and pedals, we created a category called vehicle user interface to account for everything from conventional buttons to touchscreens, separate from our accounting of multimedia and connectivity that addresses audio, smartphone mirroring like Apple CarPlay or Android Auto and other considerations.
Each vehicle is evaluated as equipped and priced, and though these are relatively loaded representations, our results cannot represent their respective model lineups as a whole. You can read more about our testing methodology and categories in our How We Tested article.
How the mid-size SUVs finished:
1. 2019 Hyundai Santa Fe Ultimate 2.0T AWD
2. 2019 Honda Passport Elite AWD
3. 2019 Ford Edge Titanium AWD
4. 2019 Nissan Murano Platinum AWD
5. 2019 Chevrolet Blazer Premier AWD
6. 2019 Jeep Grand Cherokee Limited X 4×4
Judges for this Challenge were:
Kelsey Mays, Cars.com senior consumer affairs editor
Fred Meier, Washington, D.C., bureau chief
Brian Normile, production editor
As always with today's vehicles, there isn't one fully baked winner on top, one completely dreadful model on the bottom and a series of balanced gradients in between. A balance of different strengths and weaknesses determine how the contestants rank overall, so take a look below to find out where each model is strongest and weakest and decide what's most important to you.
6 2019 Jeep Grand Cherokee Limited X 4×4, 300 points (out of a possible 540 points)
The verdict: Age has left the Jeep Grand Cherokee somewhat behind its competition, though its few outright victories include impressive ride quality, easy-to-use controls and the best off-road resume.
Our Test Vehicle
As-tested price: $51,975
Powertrain: 295-horsepower, 3.6-liter V-6; eight-speed automatic transmission; four-wheel drive
Estimated city/highway/combined mpg: 18/25/21
Observed mpg: 22.2
The Jeep Grand Cherokee, which hasn't been redesigned since 2014, ranked or tied for last in two judging categories and second to last in nine more. Its one category win was in ride quality, however, and it rated modestly above average in a few other categories. To the Grand Cherokee's credit, as explained below, it's the only truly off-road-capable model here.
The Good
Ride quality: The Grand Cherokee's only category win was in ride quality, where it edged out the Edge. "It devours bumps and road imperfections and isolates passengers better than its competition," said Normile.
User interface: Judges rated the Jeep's controls second behind the Santa Fe largely on the strength of the Uconnect touchscreen system, which Meier called "fast and easy to use, with a large screen positioned for easy reach." Normile praised "crisp, clear graphics" and said, "The rest of the Grand Cherokee's controls are similarly straightforward and have the most gentle learning curve of the vehicles in our test."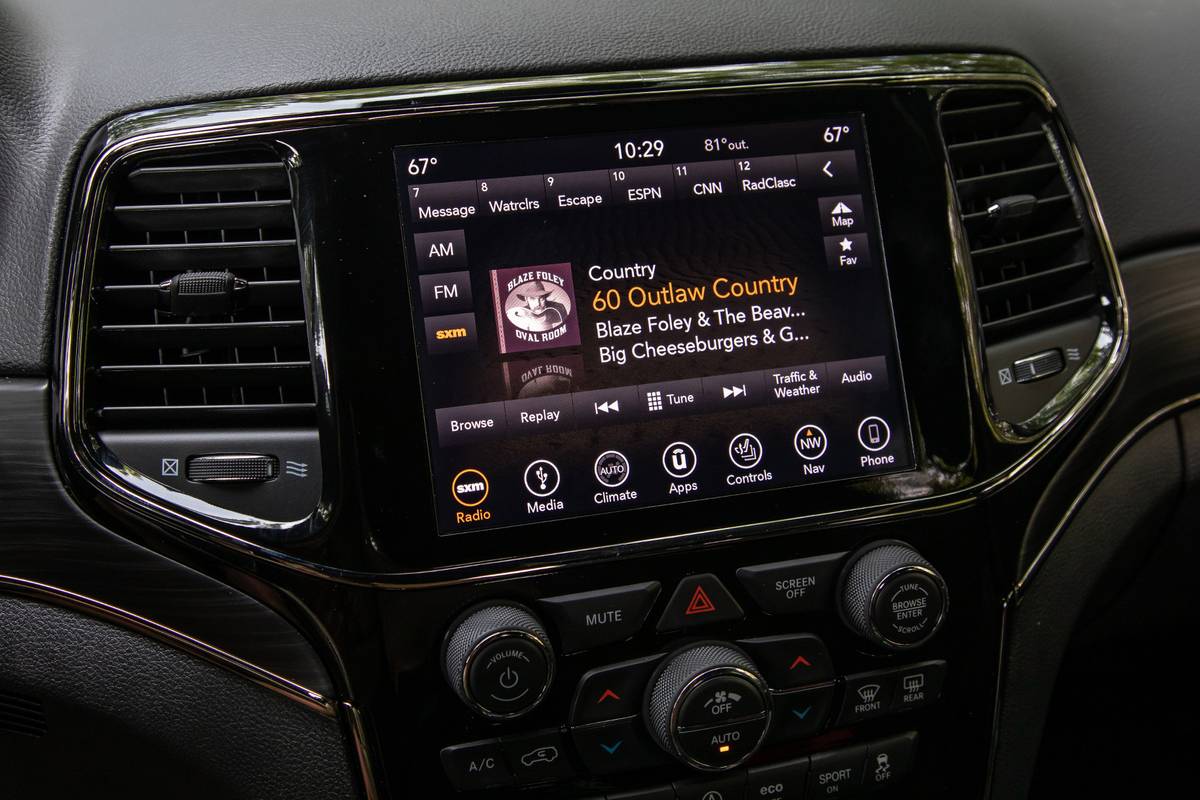 Powertrain: "Prodigious curb weight keeps overall acceleration modest," said Mays. "But at least the 3.6-liter V-6 delivers consistent, linear power." The Jeep's powertrain rated above average but behind the Chevy and Honda.
Off-road capability: All three judges tipped their caps to the Jeep's superiority in this regard. "Its more sophisticated four-wheel-drive system and beefy chassis will take you places the competition will not," Meier said. We don't grant points for this because real off-roading is rare. Don't think of it as a family vehicle with extra skills we're ignoring; think of it as an off-roader that's lucky enough to sell many, many copies to families (Jeep probably prefers the sales over the points).
Rear-drive handling: The Grand Cherokee rated merely average overall for handling due to slow-ratio steering and excessive body roll, but being the only model based on a rear-drive platform earned it some praise from our judges. "Pile on the gas as you accelerate through a corner and most rivals answer with steady understeer — but not the Grand Cherokee, whose nose stays dutifully in line," Mays said.
Interior quality: This characteristic wasn't much of a differentiator among our competitors, but Meier pointed out that the Grand Cherokee's "materials and leather have a luxury feel versus the competitors — even though this is essentially a middle trim level and the others are top of the line."
The Bad
Child-seat fitment: The Grand Cherokee's distant last-place finish in its accommodation of child-safety seats was due to several shortcomings. Its Latch anchors required muscle to find and connect, its seat belt buckles are recessed, its top tether anchors aren't clearly marked and its fixed head restraint can interfere with car-seat installation. See all the details and photos in the Grand Cherokee's full Car Seat Check.
Gas mileage: With an observed mileage of 22.2 mpg in our real-world test covering more than 200 miles, the Jeep essentially tied for the lowest mileage with the Chevy Blazer's 22.1 mpg, although the Edge scored lower in the category due to its premium-fuel recommendation for maximum performance. By contrast, the top-rated Nissan Murano achieved 26.4 mpg.
Cargo: The Grand Cherokee was the only contestant with no hands-free aspect to its powered liftgate, and no cargo-area folding-seat releases. Its backseat also doesn't slide, all of which contributed to a low cargo ranking, just above the last-place Murano. As for its overall volume and utility, "A narrow cargo floor with a high liftover means it's not the best choice here for Home Depot runs," Meier said.
Backseat: "Like squatting? Sit in back of a Grand Cherokee and you'll do plenty of it," Mays said. "The bench is uncomfortably low to the floor, especially versus competitors like the Edge." Meier called the cushion short and thinly padded, and this was the only contestant lacking a heated backseat.
Front seats: Like the rears, the front seats were rated second to last. Normile found them cramped due to a large dashboard and wide center console. Meier also noted overall snugness and Mays called the seats themselves stiff and flat, though both of the latter judges praised the adjustment range.
Value: The Jeep ranked second to last for value, though it wasn't as harshly scored as the Blazer. "At nearly $52,000, our Grand Cherokee was some $5,200 more than the group's average as-tested price and more than $12,000 beyond the Hyundai," said Mays. "For all that, you don't get a lot extra." Normile added, "The ocean of black plastic atop the dashboard doesn't really belong in a vehicle that costs more than $50,000."
Research the 2019 Jeep Grand Cherokee | Search Inventory | Car Seat Check
5 2019 Chevrolet Blazer Premier AWD, 303 points
The verdict: Far and away the most fun-to-drive SUV in the competition, the Blazer suffers from the second-highest price in our test combined with the fewest advanced safety features. A mixed-bag interior only makes matters worse.
Our Test Vehicle
As-tested price: $49,290
Powertrain: 308-hp, 3.6-liter V-6; nine-speed automatic; all-wheel drive
Estimated city/highway/combined mpg: 18/25/21
Observed mpg: 22.1 (lowest in test)
A judge favorite for its drivability, especially as equipped with the more sophisticated all-wheel drive that comes on the Premier and RS trim levels, the Blazer finished near the back of the pack due in part to a dismal score in the safety and driver-assistance tech category — not only this model's worst loss, but arguably the biggest single flub in the whole test. It was bad enough that these important features were missing, but no one told the Blazer's relatively high sticker price, which resulted in a double whammy in the value scoring. Though it placed just four points ahead of the Jeep, the Chevy actually lost more categories outright: four total. Yet it offset them with three definitive category wins.
The Good
Handling: "The Blazer is the closest any of the SUVs got to being legitimately fun to drive, which is impressive for a large SUV," Normile said, and this is due mostly to its handling, which the judges ranked first. "Handling is tight and carlike for an SUV, and body motion is well controlled." Meier said. Mays added, "The steering has a quick ratio and good feedback, and the available twin-clutch AWD earns its keep. Accelerate out of a sweeping corner, and the nose-heavy understeer that plagues most rivals is largely absent."
Powertrain: "The venerable GM 3.6-liter V-6 delivers plenty of grunt, and the nine-speed automatic transmission is well-tuned to get the most out of it with crisp shifts and willing kickdowns," Meier noted. Mays said, "The Blazer easily feels like the quickest car here — not just off the line, but in passing maneuvers, too."
Braking: Braking mostly went without notice in this group, but this was a cut above. "The Blazer has the most confident braking feel in the Challenge," Normile said. Mays called the brakes "strong in panic stops, with no undue body movement or suspension dive."
USB ports: "A Challenge-topping six USB ports, including four in the rear, show that Chevrolet recognizes more is better for the modern family," Normile said. Half of the ports are the newer USB-C type.
In-cabin storage: "The interior has lots of clever cubbies in convenient places to keep your devices and other gear organized," Meier said.
The Bad
Safety and driver-assist tech omission: "You're charging nearly $50,000 and this SUV doesn't even have adaptive cruise control?" Normile asked. Mays spelled out that "our otherwise well-equipped Blazer lacked automatic emergency braking, which demonstrates GM's stinginess on a critical safety feature. You can't get it on four out of six Blazer trims, and it's still optional — not included — on the remaining two," he said.
Value: "The deficiencies came on a car priced at nearly $50,000 — second only to the Grand Cherokee and $9,385 more than the cheapest-as-tested Santa Fe," Mays said. Though it's the only contestant to include a year of free oil and filter changes and tire rotations, judges found little in the way of other features to help bolster the Blazer's value score.
Gas mileage: An observed mileage of 22.1 mpg in our real-world test covering more than 200 miles was a practical tie for last with the Jeep's 22.2 mpg, but at least it pays off in the Blazer having the top-rated powertrain.
Ride quality: "The price for very composed handling is a bumpier ride on rough pavement than the cushier SUVs in the group," said Meier of the Blazer, equipped with optional 21-inch wheels for our test. This last-place rating tempered the first-place handling praise.
Backseat: The Blazer's backseat was rated last for many reasons. "The low seat leaves adults' knees elevated, and headroom was scant with our vehicle's optional panoramic moonroof," Mays said. Normile added, "It feels claustrophobic due to a very high beltline and small rear windows," and Meier agreed, "Comfort stinginess even extends to just one setting for the rear seat heaters."
User interface: Though the touchscreen fared OK in the judges' view, the Chevy's more conventional controls dragged the score down to just above the last-place Honda. "Ventilation buttons are difficult to see in direct sunlight and are placed below a lip of the dashboard, such that taller drivers can't fully read them without looking down. Chevrolet seems unaware that tall people — taller than I am! — exist," 6-foot-1 Normile explained. "There's also no tuning knob, and the tuning push buttons aren't the most responsive: They can make changing radio stations or skipping tracks more annoying than it needs to be."
Interior quality: The points spread wasn't wide in this category, yet all three judges mentioned the Blazer's overall materials quality as marginal once you look past the eye candy to items like hard plastic on the door panels and diminished quality in the backseat.
Research the 2019 Chevrolet Blazer  | Search Inventory | Car Seat Check
4 2019 Nissan Murano Platinum AWD, 317 points
The verdict: The Murano is luxurious and improbably fuel efficient, but it feels outdated compared with newer competitors in respects ranging from some basic features to interior design.
Our Test Vehicle
As-tested price: $46,420
Powertrain: 260-hp, 3.5-liter V-6; continuously variable automatic; all-wheel drive
Estimated city/highway/combined mpg: 20/28/23
Observed mpg: 26.4 (highest in test)
The Murano lost more subjective judging categories outright than any other model (six), but kept its head above water on the strength of family-friendly results like gas mileage, child-safety seat fitment, and safety and driver-assistance technology. Its one big subjective win, three years after it ranked first overall in our 2016 mid-size SUV comparison, remains its interior quality, though its interior design is starting to look outdated.
The Good
Mileage: "Contrary to the narrative that smaller, turbocharged engines are tops for fuel economy, the Murano's big V-6 proved efficient, returning a best-in-group 26.4 mpg in our mileage loop." Mays said.
Child-seat fitment: Another strong first-place finish, the Murano accommodates child-safety seats better than all other contestants, winning straight A's in the Murano's Car Seat Check.
Interior quality: In a field where scores didn't vary much, the Murano rose above. "A winning factor during our past mid-size SUV comparison, the Murano's materials quality remains head and shoulders above the pack," Mays said. "Generously padded surfaces adorn everywhere your arms or knees rest, while lush, low-gloss finishes evoke a luxury badge — even if certain chintzier-looking controls bring things back down to earth."
Safety and driver-assist tech: Rated second behind the Edge for safety and driver-assist tech, the Murano is the only contestant equipped with rear automatic braking and a 360-degree camera system.
Powertrain: By the numbers, the Murano's powertrain scored mid-pack, but the judges made a point of warding off preconceived notions about its non-turbo engine and CVT. Mays said, "Versus the powertrain lag in some of the others, the Murano's accelerator response is welcome. Press the gas, and it leaps to attention." Normile added, "That its V-6 power allows the Murano to merge and pass slower vehicles without issue doesn't seem like a big deal — until you get behind the wheel of a competitor that can't."
Front seats: "The front seats are large and well-padded, and extra points are due for the padding on the center console where you knee rests," Meier said. Mays added, "The backrests are accommodating. Long-haul comfort isn't up with the Passport or Edge, but it's above average."
USB-C ports: "The inclusion of USB-C ports front and rear is a nice touch and ahead of the curve compared with all but one other vehicle in the competition," Normile said.
The Bad
Cargo: "The smallest cargo area in our test makes the Murano less than ideal for large families or over-packers," said Normile. Mays noted that "other cargo-aiding provisions are sparse, with no sliding backseat or significant storage space under the load floor." Meier piled on: "The utility of the cargo floor is degraded by a sloping roof that cuts into the space."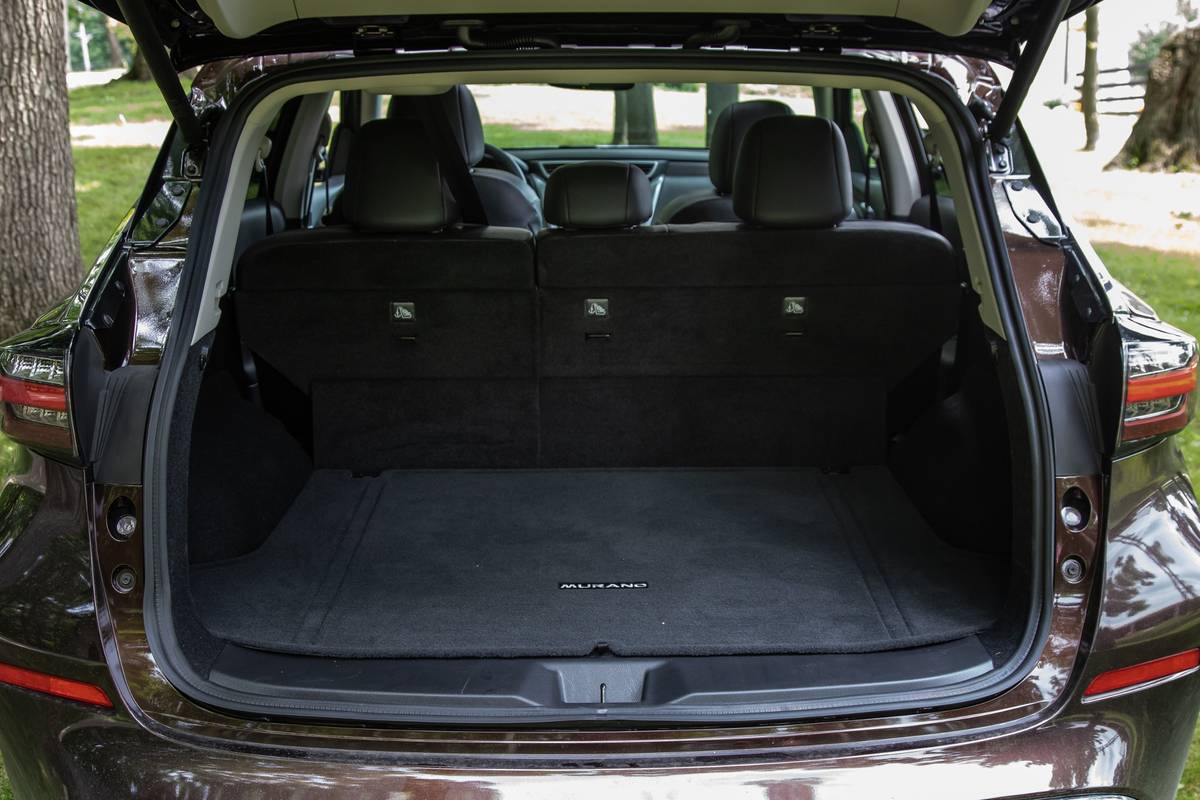 Handling: The Murano had the lowest-rated handling, mainly due to excessive body roll and outdated hydraulic power steering. "The steering is ridiculously heavy, especially at low speeds, and there's no payoff in steering feel or handling prowess. It's just … heavy," Normile said.
Braking: Rated last of six, the braking "has linear pedal action, but the Murano exhibits excessive lateral movement during panic stops," Mays said.
In-cabin storage: "There's not enough interior storage even if you travel light," Meier said. "The console bin is small, and what's with a 'device cubby' that's neither the size nor shape of a phone?" Mays noted that few storage areas are easily accessible to the driver.
Visibility: The Murano was rated lowest in the test because "forward visibility is hampered by a raked roof and large A-pillars," Normile said, and because — as Mays put it — "The view out back is a mess. All three head restraints encroach, as does the ceiling-mounted center belt — one of two SUVs in the test that store it there, not in the seat itself."
Multimedia and connectivity: The Murano's USB-C ports couldn't save it from the lowest score here, as it lacked wireless smartphone charging and something all others had: a household outlet.
Ride quality: Rating the Murano's ride below average, judges deemed it sloppy and jittery.
Transmission: Though it's better-behaved than many CVTs, Meier said, "It still is not the driver's choice over a well-tuned conventional gearbox."
Research the 2019 Nissan Murano  | Search Inventory | Car Seat Check
3 2019 Ford Edge Titanium AWD, 328 points
The verdict: The Edge combines ride and handling better than any other contestant, piles on the safety features and performs adequately for a vehicle last given a significant redesign four model years ago, but its powertrain is a soft spot.
Our Test Vehicle
As-tested price: $48,210
Powertrain: 250-hp, turbocharged 2.0-liter four-cylinder; eight-speed automatic transmission; all-wheel drive
Estimated city/highway/combined mpg: 21/28/23
Observed mpg: 25.6 (premium gasoline)
The refreshed 2019 Edge has few scoring superlatives but performed strongly enough, broadly enough to rank third overall by a decent margin. It won two scoring categories outright, including safety and driver-assistance tech, which is impressive for a vehicle five years into its current generation. It's also a Ford characteristic to deliver good ride and handling without expensive technology. The Edge's greatest weakness, a literal one, is unfortunate: It's the only powertrain available without stepping up to the Edge ST, which is a very different vehicle overall, with a sportier pedigree and a higher price. The turbocharged 2.0-liter's premium gasoline preference (for maximum performance) is an unfortunate characteristic in a non-luxury vehicle.
The Good
Safety and driver-assist tech: "The Edge gives you a hand even in heavy traffic as the only SUV with adaptive cruise control that provides lane-centering steering that works all the way to a stop," Meier said. This feature and exclusive pivoting headlights helped the Edge top all others in this category.
Front seats: "The Edge is especially comfortable, with lots of cushioning for both driver and front passenger as well as the most adjustability in the competition," said Normile. Mays added: "Good headroom, even with the seat raised all the way, and our test car had effective cooled seats — a rarity, as I usually find the feature as useful as season eight of 'Game of Thrones' (yes, I'm still bitter)."
Ride and handling: Rating second in both categories rather than sacrificing one aspect for the other, "The Edge had some of the most carlike ride and handling in the competition, like an oversized hatchback," Normile said. Mays called out "polished shock absorption and good high-speed isolation," and Meier added, "handling feels tied down, and the steering is quick and precise."
Touchscreen: Judges didn't love the Edge's mechanical controls, but "Sync 3 is quick and the touchscreen is sharp and responsive to the touch," Meier said. "Voice control also was the most accurate of the SUVs here."
In-cabin storage: "Storage is terrific, with a big bin ahead of the gear selector, open slots around the cupholders and a bonus receptacle atop the dash," Mays said.
Gas mileage: If you're looking solely at the mpg and ignoring the fact that more expensive, premium gasoline is what achieved it over more than 200 miles of driving, the Edge's 25.6 mpg was less than 1 mpg behind the leader Murano "without subjecting us to a CVT," Meier said. But this subject arises again below …
The Bad
Powertrain: All three judges evoked the terms "overmatched" or "overtaxed" in describing the Edge's engine. "Thrust is peaky and uneven," Mays said, "and the transmission's downshift lag is excessive if you step on the gas after coasting or braking." This powertrain rated second to last behind the Santa Fe. The fact that we find the Edge's power borderline when running on premium gasoline shouldn't be ignored, because regular can only diminish its power. Though temperatures were in the 90s during our testing — one of the conditions in which Ford says 91 octane makes a difference — our vehicles were empty and driving on flatlands very close to sea level, far from a worst-case scenario.
Fuel costs: Despite its high mpg, the Edge rated last in the fuel economy contest due to its higher fuel costs. Typically, engines designed to run on regular or premium don't exhibit dramatic differences in gas mileage, so running on regular should provide some cost relief, but as explained above, drivers might find themselves relying on premium more than expected.
Child-seat accommodation: Earning straight B's in the Edge's Car Seat Check isn't enough to keep up in this bunch. The Edge's shortcomings mostly had to do with Latch anchors that are set into cutouts in the stiff leather upholstery, which makes them difficult to work with, plus the fact that the belt buckles are recessed and tougher for kids to use without assistance.
Visibility: Proving how different drivers value different characteristics, Mays called out "chunky A-pillars that sit out in your field of view, incorporating big sail panels for the attached side mirrors, which themselves are curiously small," where Normile noted that "the shorter, downward-sloped hood of the Edge assists with getting it in and out of tight spaces." The Edge rated on the low end for overall visibility.
Interior quality: "The interior doesn't feel up to the price, mixing nice touches with a lot of cheaper materials," Meier noted. All judges zeroed in on the center control panel, which Mays said "still seems like an eleventh-hour design change from the prior-generation Edge's disastrous MyFord Touch system. The surrounding expanse of flat-gray plastic looks cheap."
Controls: The above complaints extended to function. "The center dashboard controls are an odd mix, with a fancy lighted volume knob but cheap-feeling plastic buttons for other functions," Meier said. "A simple knob would have been a better solution than the little bar-shaped tuning buttons." Normile added: "The push-button gear selector in the Passport is bad, but the rotary one in the Edge is worse."
Backseat shortcomings: "I found the backseat somewhat cramped, and its inability to slide doesn't help things," said Normile. Neither does its lack of USB ports; there are just two, in front.
Research the 2019 Ford Edge  | Search Inventory | Car Seat Check
2 2019 Honda Passport Elite AWD, 352 points
The verdict: Superior visibility, a wide-open cabin, tons of storage space and the commanding seating position of a more old-school SUV help overcome a confounding touchscreen system and a shortfall in the latest safety features.
Our Test Vehicle
As-tested price: $44,725
Powertrain: 280-hp, 3.5-liter V-6; nine-speed automatic; all-wheel drive
Estimated city/highway/combined mpg: 19/24/21
Observed mpg: 24.9
The Honda Passport scored a healthy 24 points above the third-ranked Edge and came within just one point of first place thanks to three category wins, two of which were decisive, and five second-place finishes. It did so in spite of a giant loss in the new vehicle user interface category due to the much-hated Honda touchscreen system and a push-button gear selector that answers a question no one asked. All told, the top two models are more well-rounded, as expected, so if you don't mind the main shortcomings we highlight, they should cover all other bases well.
The Good
Visibility: "An upright windshield and lots of glass around back give it easily the best sightlines — not just among these pillboxes, but in general," Mays said. The Honda led its closest challenger by almost three points on average.
In-cabin storage: "Storage is incredible, with a gigantic bin between the front seats and two compartments on each rear door," Normile said. This was another decisive, three-point win.
Cargo: "The cargo provisions are good, sullied only by a high load floor with a lowest-in-group 16 inches to the top of the seatbacks," Mays said. Only the Santa Fe scored higher in this category.
Backseat: "The only SUV in our test without a panoramic moonroof still felt incredibly spacious in the rear seat, with more than enough legroom and headroom for taller passengers," Normile said. Mays said, "Amenities set it apart. Our SUV had a sliding backseat (one of three with the feature), rear sunshades (one of two) and a separate rear climate zone with dedicated controls (the only one)."
Front seats: Rated a close second to the Edge, "The front seats are wide and supportive, the clear choice here for larger drivers," Mays said. "The low center console lends a dramatic sense of openness. If you hate the cockpitization that's overtaken so many SUVs, this is a breath of fresh air."
Powertrain: "Despite the awkward gear selector, power is delivered smoothly and without complaint," Normile said of the second-ranked powertrain.
Value: Honda may not be viewed as a purveyor of value, but our Passport scored second behind the Santa Fe for being appropriately priced for its feature and quality levels.
Controls: "The touchscreen system aside, the Passport's other controls are logically arranged, easy to use, and the knobs and switches have a quality feel," Meier said.
The Bad
Touchscreen system: "All but the base trim level get Honda's Display Audio touchscreen, from which a tuning knob is missing; the touch-sensitive shortcut keys are distracting to operate, and the navigation system had some latency we didn't observe elsewhere," Mays said. Judges also noted that the screen is angled upward, shiny and prone to glare. One more familiar complaint: "We probably sound like a broken record at this point, but where's the tuning knob?" Normile asked.
Push-button gear selector: The judges had nice things to say about some of the conventional buttons and switches, but another aspect dragged the Passport's vehicle user interface score to the bottom. "The push-button gear selector is unintuitive, and it doesn't save any space — the ostensible reason to adopt such things — versus a conventional shifter," Mays said. Normile added, "It's still one of the worst executions of an 'alternative' gear-selection method."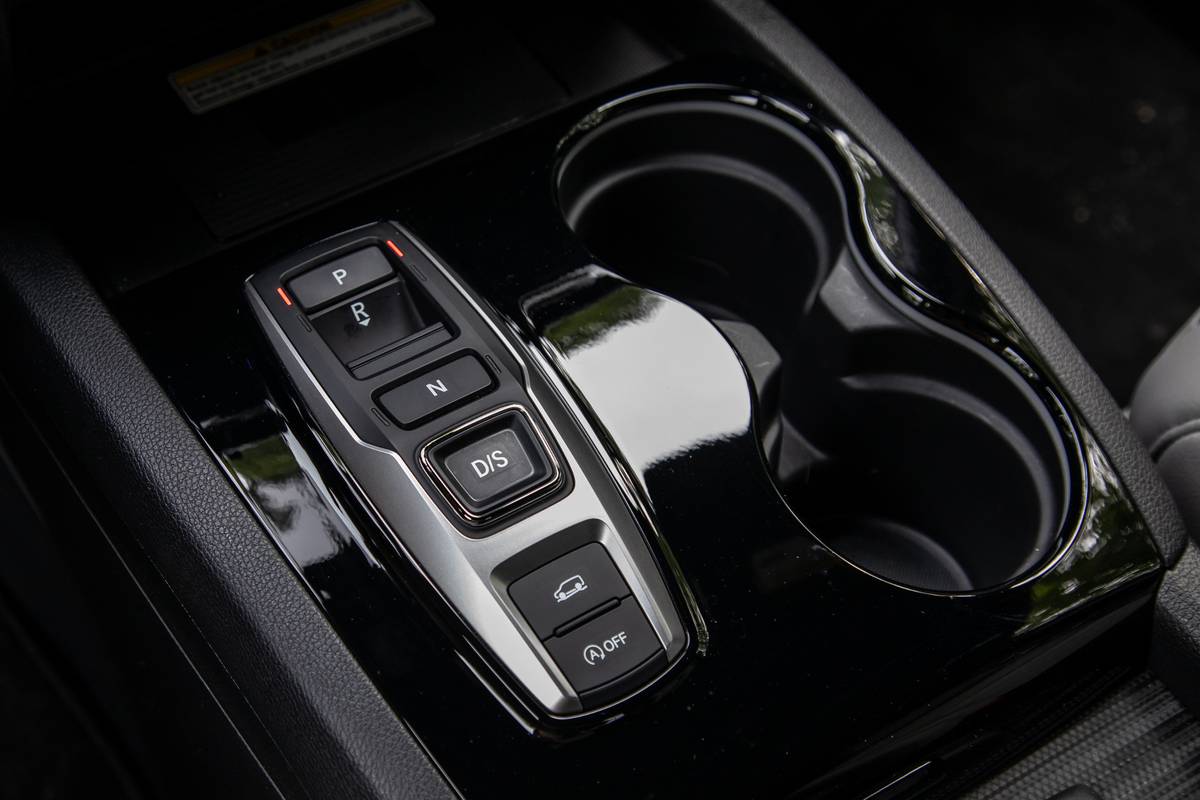 Ride quality: "The Passport exhibits a busy highway ride and, at lower speeds, excessive lateral movement over bumps," Mays said. It rated second to last behind the Blazer.
Handling: "More than the rest, the Passport handles like a big, tall SUV, with lots of corner lean and body motion, yet it doesn't pay back with a cushy ride," Meier said. Additionally, Mays said, "Steering feels twitchy at highway speeds, possibly due to the interaction between crosswinds and the SUV's boxy shape." Again, the Passport rated fifth out of six here.
Safety and driver-assist tech: "It wasn't a no-show like the Blazer, but the Passport still had among the weaker scores for safety and driver-assist tech. Adaptive cruise control doesn't work down to a stop, and technologies like curve-adaptive headlights, 360-degree camera systems and rear automatic braking are unavailable," Mays noted.
Interior quality: Rating below average, "Cabin materials feel industrial, with lots of cheap, grainy plastics at eye and arm level," Mays said. "In typical Honda style, materials quality drops noticeably from front to rear," Normile added.
Small annoyances: Judges noted that the 115-volt household outlet is two-prong only, the roof-mount center rear seat belt is inconvenient and the driver's seat height adjustment range is too limited.
Research the 2019 Honda Passport  | Search Inventory | Car Seat Check
1 2019 Hyundai Santa Fe Ultimate 2.0T AWD, 353 points
The verdict: Stupendous value, strong cargo versatility and straightforward controls led a strong overall showing to overcome a downer of an optional powertrain and put the Santa Fe on top.
Our Test Vehicle
As-tested price: $39,905
Powertrain: 235-hp, turbocharged 2.0-liter four-cylinder; eight-speed automatic transmission; all-wheel drive
Estimated city/highway/combined mpg: 19/24/21
Observed mpg: 25.2
Like many Hyundais, the Santa Fe's strongest selling point is value, which helped drive its narrow one-point win over the Passport. It provided loads of features and the longest warranty — five years or 60,000 miles bumper-to-bumper and 10 years or 100,000 miles for the powertrain. Yet it was the least expensive model in the Challenge as equipped, a full $12,070 less than the Jeep. It also won two other judging categories outright and placed well in others. It brought up the rear in two, including a fundamental aspect: the Santa Fe Ultimate 2.0T's balky powertrain. Perhaps one mitigating factor for shoppers is the fact that the turbocharged 2.0-liter four-cylinder is optional; those who can get by with 185 hp rather than 235 hp might find the non-turbo 2.4-liter more agreeable, and it seems there's nothing you can't get with the base engine that you could with the 2.0T apart from larger wheels. All the same, we'd like to see the 2.0T powertrain improved. Hyundai can do better, and should.
The Good
Value: "The Santa Fe is a home run for value, with the most generous buffet of luxury features and advanced tech in this mid-size group for the lowest price by a lot — barely more than some top-trim compact SUVs," Meier said. Best-in-class basic and powertrain warranties are "the cherry on top," Mays said.
User interface: The Santa Fe dominated this new category, from the most basic controls to add-on tech. "Dashboard controls are straightforward, with all the essential knobs and buttons present," Mays said. Meier called the touchscreen design "a master class for others, with a wide screen, fast response, line-of-sight placement and real shortcut buttons and knobs packaged around the screen." Normile added, "The inclusion of a head-up display is a bonus, especially because it's so good — the inclusion of blind spot warnings enhances your sense of safety, and graphics quality for both the multimedia system and HUD are top-notch for the class."
Cargo: "The Santa Fe is the cargo champ, with unsurpassed scores in our measurements of cargo space and liftgate angle, plus a wealth of other cargo-friendly features," Mays said. Though the Passport's features were almost a direct match, it didn't have quite the Hyundai's overall space.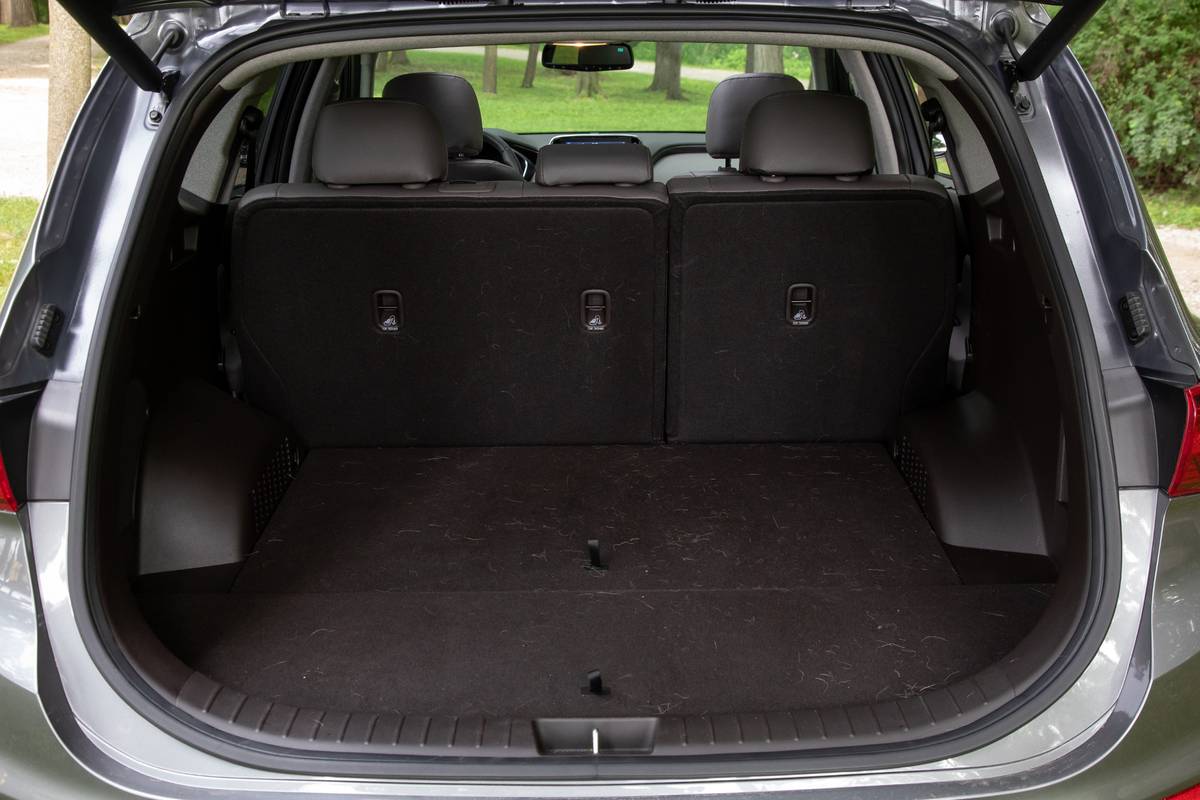 Visibility: "It's not as good all-around as the Passport, but the forward view is very good, with slim and upright windshield pillars, side mirrors mounted back on the doors and an extra triangle window in the front door," Meier said.
Gas mileage: Achieving 25.1 mpg in our 200-plus-mile drive, it was close enough to the Murano (26.4 mpg) and Edge (25.6 mpg on premium gas) to distinguish itself.
Interior design: "The Santa Fe has pleasant, modern styling that likely won't seem dated after a year or two of ownership," Normile said. Though its overall interior quality score was just below average, Mays found "some nice quality touches in our well-equipped test car, like fabric-wrapped roof pillars and leather seats with few obvious stretches of vinyl," he said.
Safety feature execution: "While a couple of competitors had unique features and higher scores in the category, the Santa Fe had the essential safety and driver-assistance tech and, more important, it all worked easily and seamlessly," Meier said. "The 360-degree camera system is clear and sharp, and it offers multiple split-screen views. It's a gift for city streets and tight parking garages."
The Bad
Drivetrain: "Lag from a stop is objectionable," Mays said. "Stand on the pedal from a stop and almost nothing happens — for nearly a full second." Meier added, "The turbo-four and eight-speed automatic act like friends who bring out the worst in each other. The transmission gearing and slow kickdown accentuate substantial turbo lag and modest power output. It's harder to drive smoothly than the others." Additionally, Normile noted that "the transmission holds high gears far too long, often lugging the engine."
Front seats: The Santa Fe's front seats earned the fewest points, though there was dissent. "The seats are on the firmer side of the spectrum and don't seem ideally suited for longer trips," Normile noted. Mays cited "lumpy cushioning and too much lumbar." But Meier said, "Unlike the others, I liked the front seat padding and shape a lot, and I made good use of the adjustable driver seat's thigh support."
Handling: Though it scored mid-pack overall, "The Santa Fe was squirrely in a typical evasive maneuver, with lots of side-to-side movement and tire scrub — unexpected because in most normal situations, the handling was fairly well controlled and even a little firm," Meier said. Mays added, "The steering settles in OK at higher speeds, but on-center feel is a little vague."
Mixed interior quality: "While the interior is stylish, materials quality seemed somewhat mixed, particularly on the door panels where a giant patch of hard plastic surrounds the door handle," Normile said.
Brake feel: "Braking strength is ultimately secure," Mays said. "But the pedal feels a bit mushy."
Research the 2019 Hyundai Santa Fe  | Search Inventory | Car Seat Check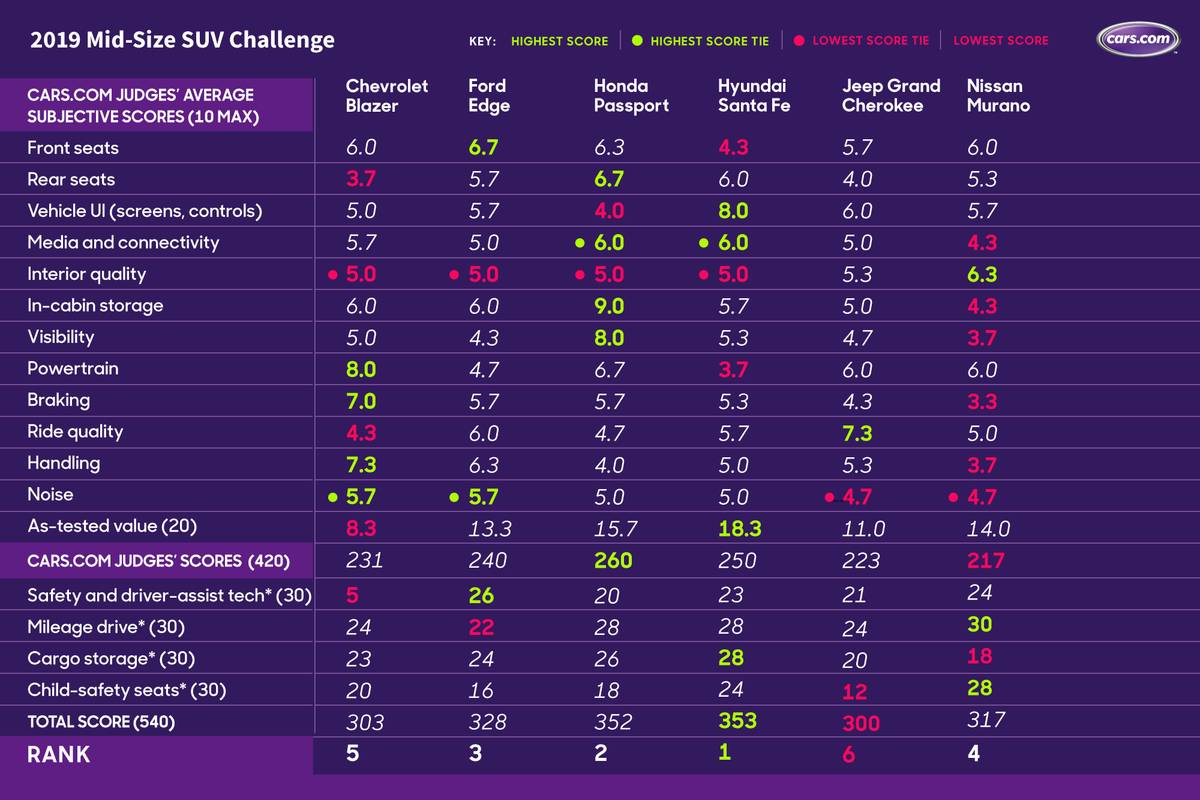 Cars.com's Editorial department is your source for automotive news and reviews. In line with Cars.com's long-standing ethics policy, editors and reviewers don't accept gifts or free trips from automakers. The Editorial department is independent of Cars.com's advertising, sales and sponsored content departments.