EXPERT REVIEW
2020 Land Rover Range Rover Evoque Review: Form Over Function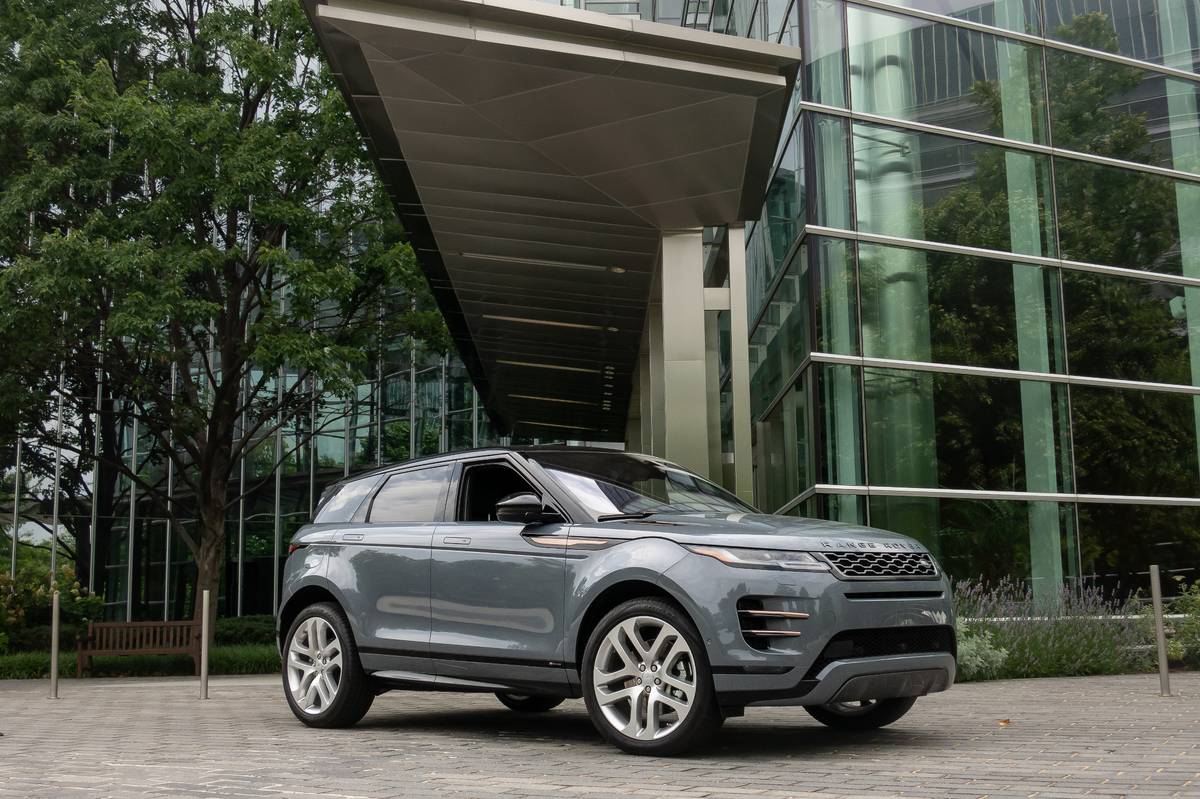 The verdict: The Evoque is stylish, nimble and capable — and that may be enough for many to overlook its lack of space, hard-to-use multimedia system and controls, and balky powertrain.
Versus the competition: The Evoque has the interior space of a subcompact and the pricing of a luxury compact SUV, but it stands out in terms of looks and off-road chops.
Land Rover's second-generation Range Rover Evoque SUV rides a new platform for 2020, but with only a gentle evolution of the basic design that's made the luxury compact a style leader since it arrived in the U.S. for 2012.
There was no reason to dilute the distinctive styling and classy interior — not to mention the off-road credibility — that have helped sell 772,000 Evoques worldwide. Also, the SUV is a key product for expanding the brand's demographic appeal; compact luxury SUVs are popular with female buyers, and the Evoque has brought women to Land Rover, with a customer base that's risen to 62 percent women over the past three years. The Evoque's rivals in price — if not necessarily interior space — include the Mercedes-Benz GLC, BMW X3 and Audi Q5. Compare them here.
Gone for 2020 are two-door hardtop and convertible Evoques. The four-door offers the base Evoque models with the P250 engine in S and SE trim levels, while the sportier R-Dynamic line in S, SE and HSE trim levels have the more powerful P300 engine with a new 48-volt mild-hybrid system. Also offered just for a year is a First Edition special model with the base engine as well as its own gray paint option, adaptive suspension, black roof with fixed panoramic glass, R-Dynamic appearance package and a buffet of standard features. Cars.com tested a First Edition as well as a P250 SE.
Still Not a Lookalike — Except to the Previous Evoque
Land Rover says the new Evoque's bodywork is all new, but the dramatic sloping roof and rising beltline are immediately recognizable as an Evoque. The grille and LED headlights and taillights are slimmer and more modern, and the design has become even more minimalist, with less trim and cladding and almost no brightwork. The First Edition and sportier R-Dynamic models include interesting copper-color trim on the hood, fenders and bumpers. But you can also go full Darth Vader with an all-black exterior trim package and black wheels.
The Evoque's clean lines are accentuated by flush door handles, though I worry about a time down the road when they might not pop out to grant entry. The 2020 also keeps its city-friendly dimensions, though the wheelbase has grown by 0.8 inch. Roof options include contrasting paint and both fixed and sliding panoramic moonroofs.
Interior Long on Looks, Short on Space
The minimalism extends to the interior's horizontal, rectilinear design. The Evoque both looks and feels great inside, with authentic materials in the coverings, headliner and trim. While the buttery leather will please most buyers, there's also a non-animal Eucalyptus Textile offered, made from natural materials and recycled plastics, as well as a wool blend option.
The front seats have sufficient space and comfortable seats (extra adjustments and massage are optional). Some shorter occupants, however, found the front head restraints more forward than they would like, while at 6-foot-2, I wanted the steering wheel to tilt lower — both aspects shoppers should check out.
The quality holds up in the backseat, but the space does not. Small door openings and a low roof make getting in a little cumbersome, and once inside there's just enough room for two. The 2020's backseat has slightly more legroom than the previous generation thanks to the longer wheelbase and redone front seats; it was enough that I could just fit behind the driver's seat (adjusted for me), with my toes under the front seat and my knees against the seatback. Headroom was sufficient, but the high beltline and sloping roofline — which left me looking partly at the headliner — added to a closed-in feel.
Those attributes, along with big back pillars and a tiny rear window, limit visibility so much that I'd call the optional wide-angle, unobstructed video rearview mirror a necessity for city driving.
The interior has sufficient storage, including space under the forward section of the center console. Most spaces have covers, in keeping with the clean design, but I found that made them less convenient and less clean to look at when in use. Cargo space is small for the class but sufficient for weekend trips (as long as Costco isn't on your itinerary). Land Rover says there's 21.5 cubic feet behind the backseat; that's 6 percent more than in the 2019 but still only about as much as a BMW X2 hatchback, and much less than the nearly 29 cubic feet in an X3, which is a more direct rival. With the Evoque's 40/20/40-split rear seat folded, maximum cargo space is 50.5 cubic feet.
Tech Upgraded, Not Intuitive
No need to worry about the quality of the Land Rover's knobs and switches — there are almost none. There's a volume knob (but not one for tuning), plus a pair of multifunction climate dials on the center control panel. The steering wheel has clean-looking but confounding multifunction controls and touch-sensitive buttons — not what no-look steering-wheel controls ought to be.
Most Evoques use Land Rover's latest InControl Touch Pro Duo infotainment and control system, which has a pair of stacked 10-inch touchscreens in the center. The system also integrates a 12.3-inch configurable instrument and information display and an optional bright head-up display.
The futuristic digital array adds to the SUV's clean look, and its coordinated fonts and graphics are slick, but using it can be frustrating. Those cool typefaces are too small and fine to be quickly legible in some light conditions even after tilting the upper screen. The bottom display handles climate and other settings (including a complex screen just for drive modes), but it can require multiple actions for simple tasks. It's also slow to boot up initially and can have a frustrating lag between touch and result. At least the familiar Apple CarPlay and Android Auto interfaces are standard. Up to six USB ports and a Wi-Fi hot spot are available, and there's an interesting option for the backseat: built-in device holders with USB power on the front seatbacks.
Handling Pleases, Powertrain Disappoints
The Evoque is a nimble, small SUV that handles more like a compact sports sedan. Steering is quick and precise with good weight, and the optional adaptive suspension on both vehicles we drove was a must-have. All-wheel drive is standard, with selective braking to aid cornering. (Our test vehicles did not have the more sophisticated electronic torque-vectoring rear differential that's included with AWD on P300 variants.) Optional 21-inch wheels with lower-profile all-season tires offered good grip. The ride was also comfortable, though with some body motion on uneven city pavement.
The Evoque's agile handling was let down, however, by a balky powertrain. Power was adequate from the standard turbocharged 2.0-liter four-cylinder, which put out 246 hp and 269 pounds-feet of torque with a nine-speed ZF automatic transmission. But the powertrain's overall behavior was decidedly unpolished: Accelerator lag is embarrassingly bad, and the accelerator is touchy. From a stop, first nothing happens, then you give it more gas and it lurches forward. Not a recipe for smooth city driving. Neither was the SUV's automatic engine stop-start system, which was both rough and a beat slow — an invitation to turn it off, though you'll have to find the right screen to do so since there's no handy button. Meanwhile, the transmission was reluctant to kick down when trying to accelerate at speed, then unsure when it finally did, often taking one step down, then a second to find the right gear.
P300 models use a turbo 2.0-liter with 296 hp and 295 pounds-feet of torque, also mated to the problematic ZF nine-speed transmission. This version includes the new 48-volt mild-hybrid system that improves city gas mileage by storing energy on deceleration and allowing the engine to shut off at less than 11 mph when braking; it then assists with restarting and initial acceleration. I wasn't able to test this engine, but the system's extra juice could improve on the base engine's  behavior off the line, as well as with its shuddering stop-start.
Gas mileage is competitive but not impressive: the 246-hp engine is EPA rated 20/27/23 mpg city/highway/combined, while the 296-hp version is rated 21/26/23 mpg. Both are down from base and more powerful 2019 Evoques (rated 25 and 24 mpg combined, respectively). See it in detail in the EPA's ratings comparison.
Off-Roading Not Likely (Though You Could)
The Evoque is still a Range Rover, and it holds up the brand's credibility for off-road prowess even if it's more likely to roam urban concrete canyons. Ground clearance is 8.3 inches, and the front and rear overhangs are short for good approach and departure angles. The SUV's AWD includes, for the first time, Land Rover's Terrain Response 2 system with five modes (General, Eco, Sand, Grass-Gravel-Snow and Mud & Ruts) as well as an Auto mode that lets the system pick the best setting for the conditions and terrain. Hill descent control and an ascent hill-hold feature are also included.
The 2020's maximum fording depth is up to 23.6 inches, even if the closest most Evoque drivers will get to a water hazard is on a golf course. If you really want to wade into nearly 2 feet of water in an expensive SUV, though, you should opt for the Evoque's novel side mirror sensors that display water depth on the dash screen. Likely more useful to most buyers, though, is a new ClearSight Ground View camera that displays what's ahead not of the front bumper, but rather the front axle, be it challenging terrain or a challenging parking lot berm.
Safety and Driver Assist Tech
Standard safety and driver assistance tech on S trim levels includes a forward collision warning system with low-speed automatic emergency braking, lane keep assist (though not lane centering) and a driver attention monitor. Available are high-speed automatic braking (up to 100 mph), automatic high beams, a blind spot monitor, an oncoming traffic door exit alert, rear cross-traffic alert and adaptive cruise control. A quirk of that feature, however, is that while it works down to a stop, it can't be activated — nor will it reactivate after a stop — until you reach 13.6 mph, so it's not useful in stop-and-go traffic.
Value Depends on What You Value
The Evoque has high style and a rich luxury presence, as well as serious off-road chops. But it's also small on the inside and lacks tech and powertrain polish. The former has to outweigh the latter for you to justify a price that goes head-to-head with mostly roomier luxury compact SUVs, such as the Q5, X3 and GLC. Evoque P250 models range from $43,645 to start up to $57,845 for a First Edition (all prices include destination). P300s add a nearly $4,000 premium, starting at $47,595 for an R-Dynamic S and $56,795 for an R-Dynamic HSE, though a full load of options can push that north of $70,000.
Cars.com's Editorial department is your source for automotive news and reviews. In line with Cars.com's long-standing ethics policy, editors and reviewers don't accept gifts or free trips from automakers. The Editorial department is independent of Cars.com's advertising, sales and sponsored content departments.