EXPERT REVIEW
2020 Mercedes-Benz CLA250 Review: Fancy but Flawed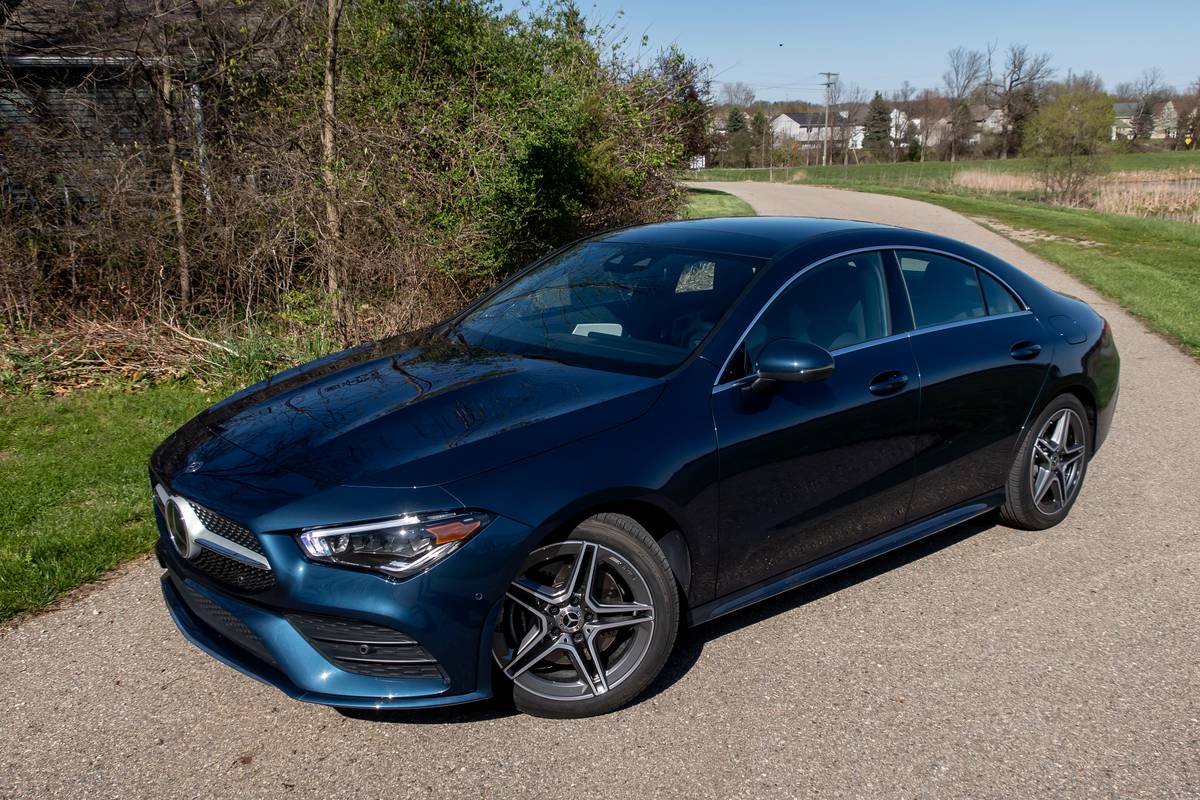 The verdict: Like expensive ladies' footwear or haute couture fashion clothing, looking good means suffering a little discomfort.
Versus the competition: The BMW 228i Gran Coupe is almost a carbon copy of the CLA250 — stylish, cramped, not overly quick and expensive. 
It wasn't that long ago that the idea of a front-wheel-drive Mercedes-Benz would have been sacrilegious to fans of the brand. True luxury-brand cars were supposed to have rear-wheel drive, and while the Japanese brands — like Acura and Infiniti — began to change some of those perceptions, the Germans steadfastly stood their ground. But you can't hold back the tide forever, and after Audi survived its foray into front-drive cars, Mercedes-Benz and BMW eventually gave in and started coming up with front-wheel-drive models of their own. The cars slot into entry-level positions in the automakers' lineups at relative bargain prices, allowing new generations of buyers to get into a luxury brand earlier in life. 
The CLA-Class is meant to appeal to those buyers, people just starting an ownership journey that Mercedes-Benz hopes will become a lifelong relationship. Starting these buyers off in something relatively inexpensive, undeniably stylish and packed with the same kinds of amenities as much larger and more expensive models seems a good bet. The refreshed 2020 Mercedes-Benz CLA250 4Matic you see here is meant to be exactly the hook that drags in today's catch.
Related: 2020 BMW 228 Gran Coupe Review: Little, and of Little Point
Stylish to a Fault
What immediately hooks passersby is the CLA's style. Under the skin, it's almost identical to the A-Class sedan Mercedes brought to the U.S. for the first time in 2019, but the bodywork is unique to the CLA. It's another example of the controversial "four-door coupe" the German brands keep trying to convince the world is a real thing. Since two-door coupes have fallen out of favor globally, the hope is the styling of a two-door with the convenience of a four-door will prove popular; it hasn't sold in great numbers, but for people interested in looks over functionality, it works. And there's no denying it does look good — swoopy and low, with a squat greenhouse and long roofline that makes it look racy and fast. The comparable A-Class sedan also looks good but has a much more formal, upright roofline, enabling the backseat to be used by fully formed adult humans. The CLA, not so much.
The first problem with the CLA's space is getting in and out. Because this is a four-door with not a whole lot of room between the wheels, the B-pillar is quite far forward. It makes it challenging to get in and out of the front seats, as you have to pull yourself around that B-pillar that sits forward of your left shoulder. It's a bit of a contortionist's act, requiring you to duck under the steeply raked windshield and low roofline and still make it around that thick B-pillar. And when you want to get out, you almost have to physically pull yourself out of the car. The backseat isn't any better: Not only is the door opening tight, but the roofline is low and there's barely any legroom. This car really should have been a two-door coupe; longer front doors with the B-pillar moved back a good 6 inches would have made for a much more comfortable experience. The rear seats are vestigial and unlikely to be used often anyway; may as well relegate them to "sometimes" status rather than worrying about making them so accessible. 
At least it has decent cargo room. The trunk is a trunk, not a hatchback, but it holds the most cargo of any of its immediate competitors. The CLA is rated at 13.1 cubic feet of trunk space, while the BMW 228i Gran Coupe comes in at 12.0 cubic feet. On the smaller end are the Audi A3 Quattro (10.0 cubic feet) and Cadillac's new CT4 (10.7 cubic feet). The Benz is big enough to fit a full-size suitcase, and with its folding rear seats, it's a usable compartment. 
Thankfully, despite how cramped the CLA's interior is, it truly is a premium cabin and a pleasant place to be. Materials are best-in-class, and none of the switches or controls look like they've been pulled from lesser-brand vehicles, as you'll see in some Lexus, Genesis and Cadillac models. Everything looks, feels and actuates with the same premium precision you'll find in Mercedes-Benz's bigger, more expensive models, such as the E-Class or even the S-Class.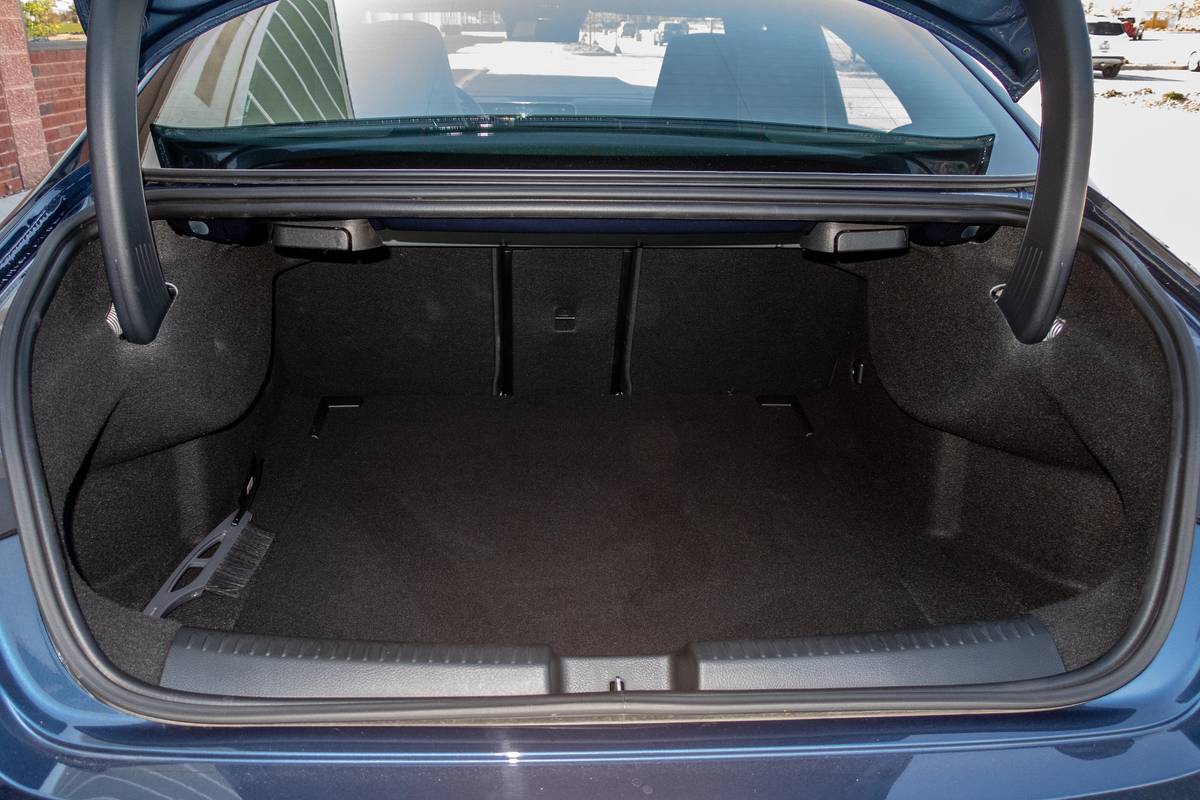 The design looks fantastic, as well, with a modern look to the twin-screen dashboard that feels fully 21st century in its execution. It's loaded with the same Mercedes-Benz User Experience multimedia system you'll find in the brand's more expensive cars, featuring the same slick operation and augmented-reality features for its navigation system. It also features the same annoying accidental activations of the "Hey Mercedes" verbal command functions, so you're not actually able to say the word "Mercedes" in the car without it loudly responding, "Beep — how can I help you?" This leads to inevitable cursing as you spend 10 seconds trying to get the system to cancel itself and go back to sleep. This annoying, recurring feature, along with Mercedes-Benz's continuing desire to make its steering-wheel controls increasingly difficult to use properly, are the only two bugaboos in the car's multimedia functions — and they're not unique to the CLA-Class by any means. 
Fun to Drive, Mostly
Powering the CLA250 is a turbocharged 2.0-liter four-cylinder engine making a healthy 221 horsepower and 258 pounds-feet of torque. It's enough to really move the CLA250 4Matic when you call for some acceleration or passing power. That said, it's on the low end of the output spectrum versus competitors like the BMW 228i xDrive Gran Coupe, the Cadillac CT4 and the Audi A3 Quattro, but only the Audi is lighter; the other models are heavier. The bigger problem is that the CLA's power is delivered through a seven-speed dual-clutch automatic transmission that feels terrible. I'd hoped this would have been addressed with the recent refresh of the car, as it's the same behavior I noted in the original CLA a few years ago, but it hasn't been improved. At low speeds, it feels like there are rubber bands connecting the accelerator to the rest of the car: Press the gas and it takes a half-step to wind up and start moving. 
Coming to a stop and then accelerating again, the weird lag and delay become troublesome, making it difficult to drive smoothly — as evidenced by the bobbing of passengers' heads. Sport mode doesn't help any; it just keeps the transmission in a lower gear, making the car feel more frenetic and jumpy. Once speeds have moved into higher ranges (say, for highway duty), the transmission performs just fine. It's just the slow-speed, around-town behavior that's very difficult to dial in smoothly. A conventional automatic transmission or a manual shifter would likely be a lot more pleasant. 
I have no complaints with the ride and handling, however. The CLA's chassis tuning is superb — it feels like a bigger, more substantial, heavier car. That's not to say it isn't nimble and agile as is. The steering feel and feedback are excellent (and adjustable), and you could feel how well damped the suspension is over Michigan's broken and cratered roads. It's the combination of the classy, upscale interior and sophisticated body control that sell the car, helping drivers overlook the cramped environs, fussy multimedia controls and funky transmission behavior. 
Fuel economy isn't too shabby, either. It's rated 23/33/27 mpg city/highway/combined for the 4Matic all-wheel-drive model and 25/35/28 mpg for the front-wheel-drive base model. My week with the car covered a couple of hundred miles and returned a respectable 28.7 mpg combined, beating the combined rating for the AWD version. The 228i xDrive Gran Coupe, itself a front-wheel-drive-based AWD four-door coupe with a 228-hp, turbocharged 2.0-liter engine and eight-speed automatic transmission, is rated an identical 23/33/27 mpg. You could make a case for the Audi A3 Quattro being thrown into this group even though it's really more a competitor for the Mercedes-Benz A-Class; for reference's sake, it's rated 22/30/25 mpg. As one would expect with high-powered turbocharged four-cylinder engines, premium fuel is recommended for all of these models except the A3, which uses regular. 
Safety Tech — for a Price
As is typical with a lot of German luxury brand cars, a stunning amount of semi-autonomous driving aids and safety technology is available — if you're willing to pay for it. Systems that are becoming standard in mass-market vehicles are still optional in most of the luxury classes, either out of some confusing idea that some people just don't want certain items or merely the fact that manufacturers can get away with it. 
The CLA comes with forward automatic brake assist, keyless start, an attention monitor and a backup camera — but distance-keeping cruise control, active brake assist with cross-traffic function, active steering assist, blind spot assist, lane keep assist and more are all lumped into an expensive option package. Automatic parallel and perpendicular parking assist are also extra. 
The 2020 Mercedes-Benz CLA-Class has not yet been crash-tested by the National Highway Traffic Safety Administration or the Insurance Institute for Highway Safety at the time of writing.
The Question of Value
Starting price for the 2020 CLA250 4Matic is $39,645 (including destination). My test car included a whopping $13,545 in options, some of which you could easily forgo ($720 for blue paint, $1,950 for the AMG Line styling package, $310 for 64-color ambient lighting) and some of which frankly should be standard equipment in a car this expensive ($2,250 for a Driver Assistance Package, $1,030 for heated and ventilated seats). But what's most egregious is that keyless entry isn't standard. That's right: Keyless start is but not keyless entry, meaning you still have to pull the fob out of your pocket to unlock the doors before putting it back in your pocket to start the car. I find it another offensive example of luxury brands charging for things that more often than not come standard in lesser brand models — and it's especially offensive when it comes to electronic safety equipment. 
The CLA's competition isn't any better in this regard, but all of them do start out cheaper. Least expensive is the Audi A3 Quattro, which rings in $2,150 less than a CLA250 4Matic and includes keyless entry and a real leather interior versus the CLA's (and every other competitor's) faux leather. The Mercedes' most direct competitor, BMW's 228i xDrive, starts at $38,495, while the AWD Cadillac CT4 Sport, a newcomer to the party that replaced the ATS, is closest in price at $39,590. None of the CLA's competitors have an interior as nicely trimmed as the CLA's, but all feel similar in terms of being cramped and limited. Evidently, the idea is that you must suffer for your style, like those expensive high heels or haute couture fashion. If you're cool with that, the CLA will fit into your wardrobe nicely. 
Cars.com's Editorial department is your source for automotive news and reviews. In line with Cars.com's long-standing ethics policy, editors and reviewers don't accept gifts or free trips from automakers. The Editorial department is independent of Cars.com's advertising, sales and sponsored content departments.