2020 Toyota Supra First Drive: More Than the Sum of Its Parts
There comes a moment in any good sports car where the specifications in your head are replaced by how it feels from the driver's seat. With the all-new 2020 Toyota Supra, that moment came on a quiet two-lane road in West Virginia.
Related: 2020 Toyota Supra: Second Coming of Supra Answers Enthusiasts' Prayers
Curious to see how its automatic transmission would respond in a passing situation, I floored the gas pedal and the car immediately hunkered down and lunged forward, shoving me back in my seat as the turbocharged straight-six dished out a tidal wave of power.
It was further evidence of how much Toyota got right with this car, which is a thrilling new entrant in the sports car class. At Toyota's invitation we traveled to the Washington, D.C., area to drive the new Supra on the street and at Summit Point Motorsports Park. (Per our ethics policy, Cars.com pays for its own lodging and airfare at such automaker-sponsored events.) Though it hasn't gotten much attention, what used to be known just as the Supra is being marketed as the GR Supra. The GR refers to Toyota's amusingly named GAZOO Racing (capitalization theirs), but for simplicity's sake we'll just call it the Supra.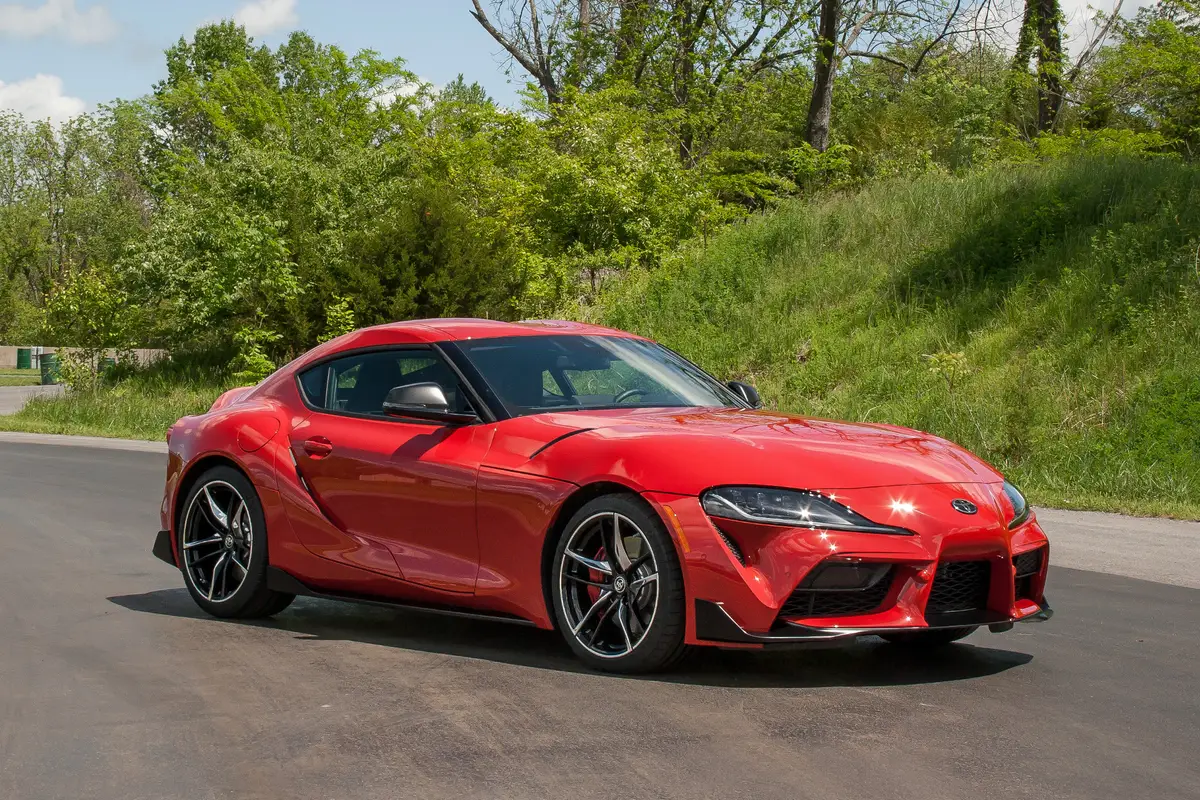 A Delightful Drivetrain
The Supra's BMW-sourced turbocharged 3.0-liter engine is exceptional. The inline-six-cylinder's numbers alone are compelling — 335 horsepower at 5,000 rpm and 365 pounds-feet of torque from 1,600 to 4,500 rpm — but the way that power is delivered keeps the fun-factor high. Chief Engineer Tetsuya Tada said fuel efficiency wasn't a factor when developing the Supra, and that comes through in a few ways, from how responsive the gas pedal is in Sport mode to the way the car forcefully accelerates out of corners and down straightaways. Even so, EPA-estimated mileage is still a respectable 24/31/26 mpg city/highway/combined on required premium gas.
An eight-speed automatic is the only transmission offered, but it's a good one that makes extremely quick shifts during aggressive driving. Porsche's PDK dual-clutch automatic long has been a benchmark for shift speed, but the Supra's conventional automatic felt just as quick on the track, making fast, firm and refined upshifts. I like manual transmissions as much as the next driving enthusiast, but I didn't miss one in the Supra because its automatic is so good. (Heresy, I know; send your hate mail to the email address below.) The car's Normal drive mode offers more relaxed transmission responses.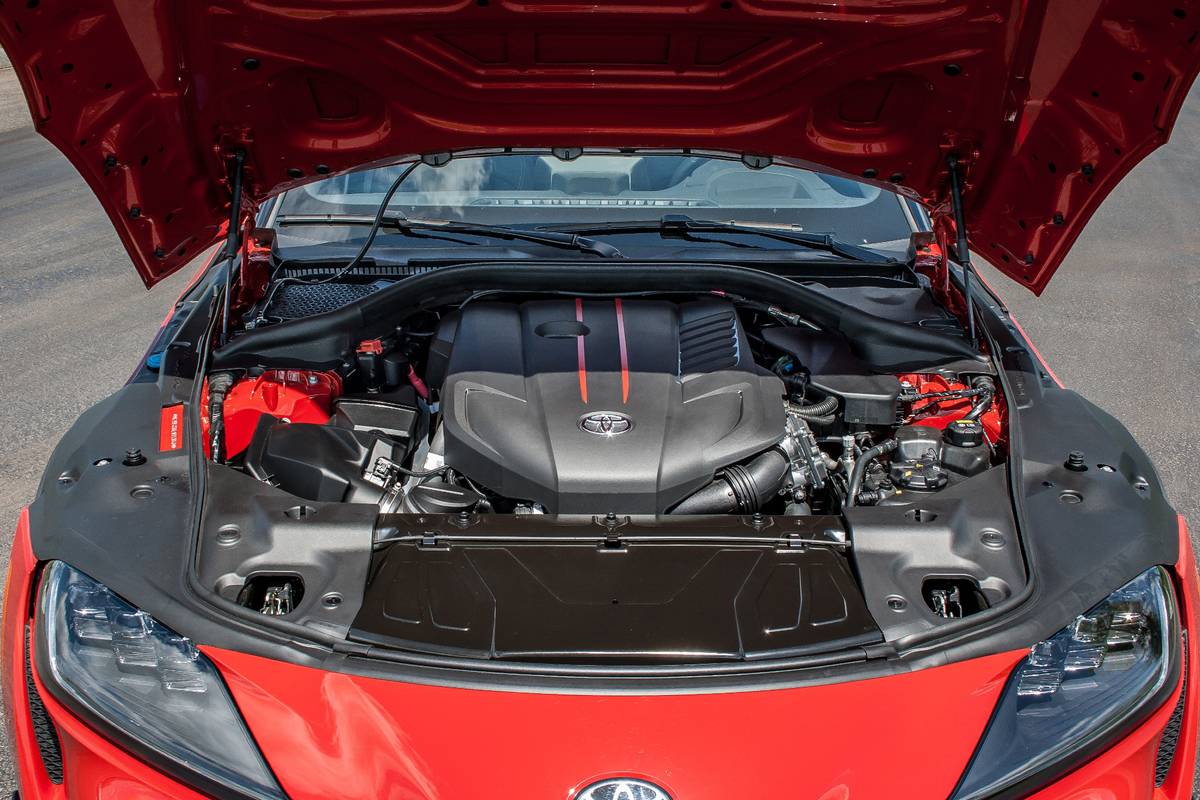 Fun on the Track — Or the Street
The Supra was loads of fun on Summit Point's twisty Shenandoah Circuit. It's nimble and eager, with an urgency to the car's personality that prods you to go faster and push harder. It's a feeling that owners will get to experience, too; all Supras will come with one day of high-performance driving instruction through the National Auto Sport Association.
Key to the car's track performance are its Michelin Pilot Super Sport summer tires, which deliver a ton of grip while also being predictable at their limits; you can feel when the front tires begin to lose traction through the feedback-rich steering.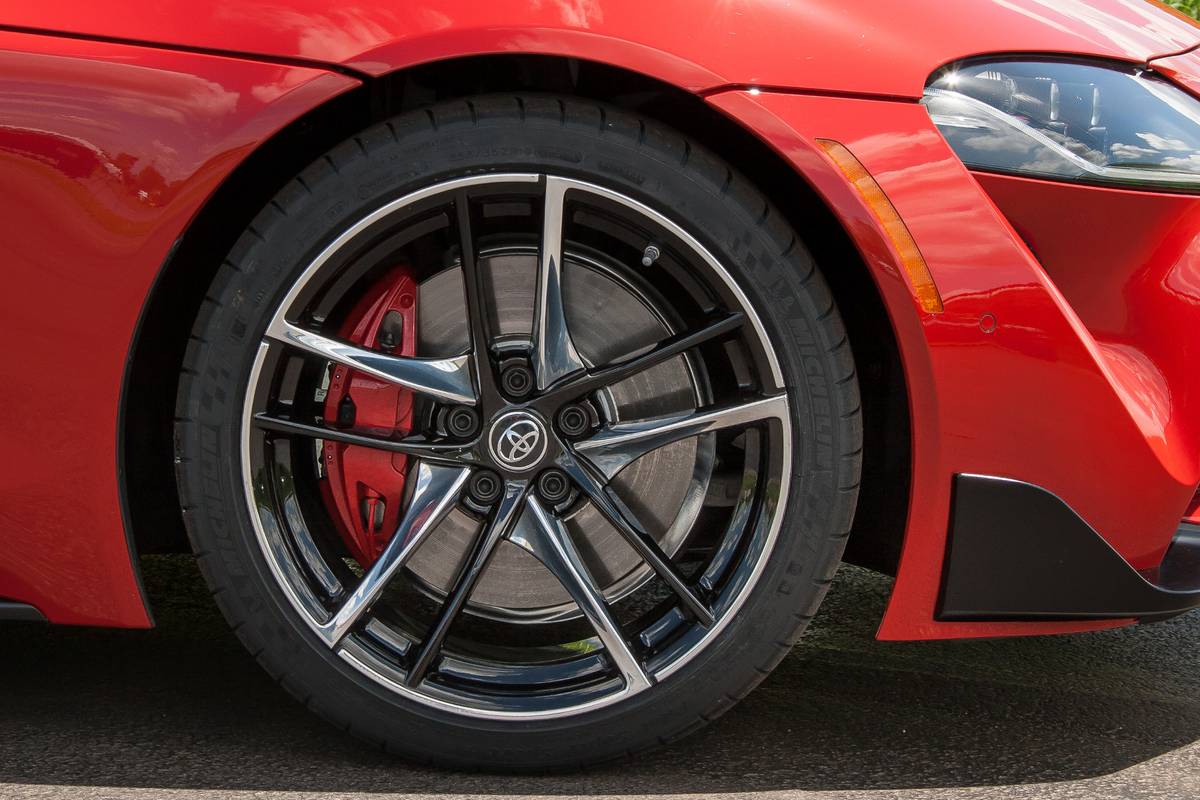 Toyota says the tuning of the electric power steering and standard adaptive shock absorbers varies between Normal and Sport drive modes, but the differences are much less noticeable than with the drivetrain. In Sport, the steering has a tad more heft and the suspension is a bit firmer, but at track speeds there was still more body roll than I expected. Locking the car down a little more would make the track experience even more enjoyable.
The involving driving experience carries over to the street, where the suspension is constantly reading the road. Most of the roads we drove were smooth, but the occasional rough patch offered a reminder of how firmly the suspension is tuned — even in the car's Normal mode. While it was fine here, it might get irritating if the roads you normally drive are in poor repair.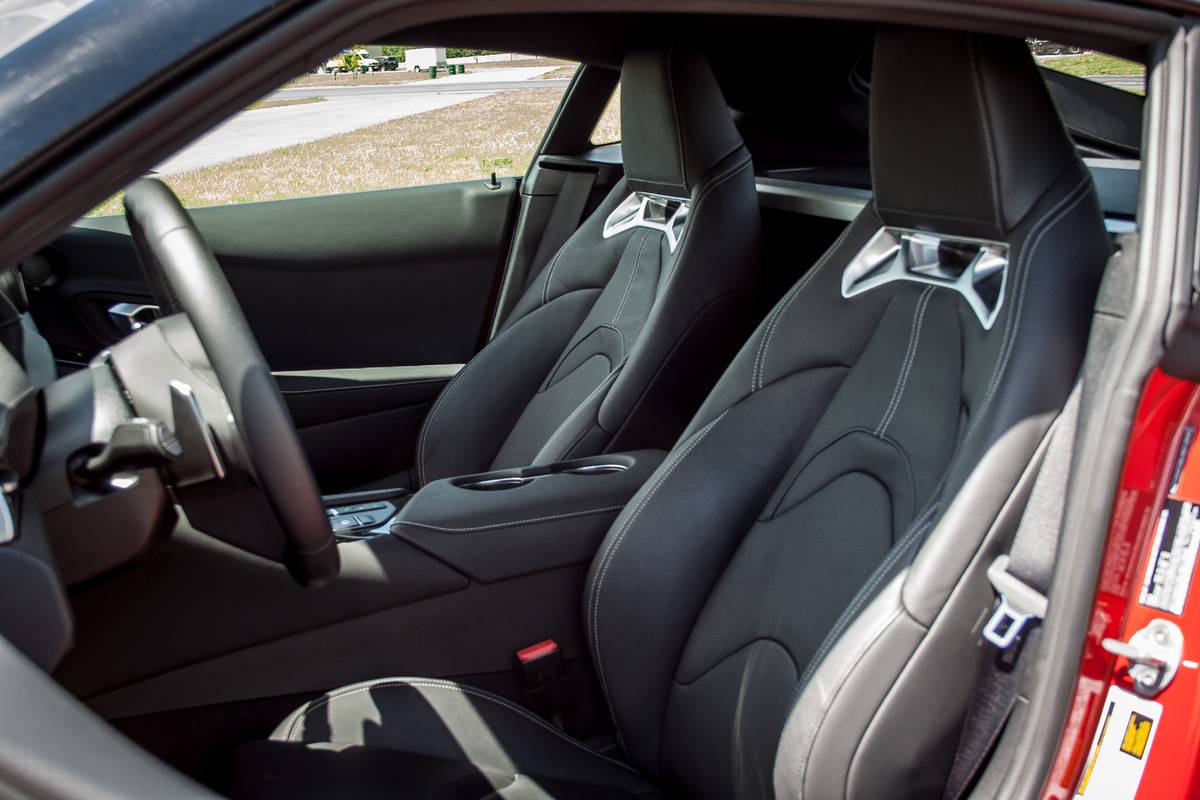 Tall Drivers Can Apply
The Supra's cabin is even more enveloping than that of its sibling, the Toyota 86, which feels airy by comparison. That said, it's big enough for taller drivers to get comfortable thanks to a long-travel driver's seat and decent headroom with the double-bubble roof. The driver's seat has power-adjustable side bolsters for customized support, but they squeezed my lower back more than my sides. With a helmet on, I had to set the driver's seat lower than I otherwise would have to avoid bumping my head against the roof.
Final Word
Following a legend like the fourth-generation Supra of the '90s isn't easy, and the challenge only grows when the successor is the result of a partnership with another automaker. It's not surprising then that the skeptics were out in force earlier this year at the car's Detroit auto show debut, me included.
While many of the criticisms from then still hold, their significance has been greatly diminished by the Supra's excellent driving performance. Even if you don't care for its looks or BMW lineage, find a way to drive one. You'll be glad you did.
Cars.com's Editorial department is your source for automotive news and reviews. In line with Cars.com's long-standing ethics policy, editors and reviewers don't accept gifts or free trips from automakers. The Editorial department is independent of Cars.com's advertising, sales and sponsored content departments.