EXPERT REVIEW
2021 Cadillac Escalade Review: Expensive, and Worth It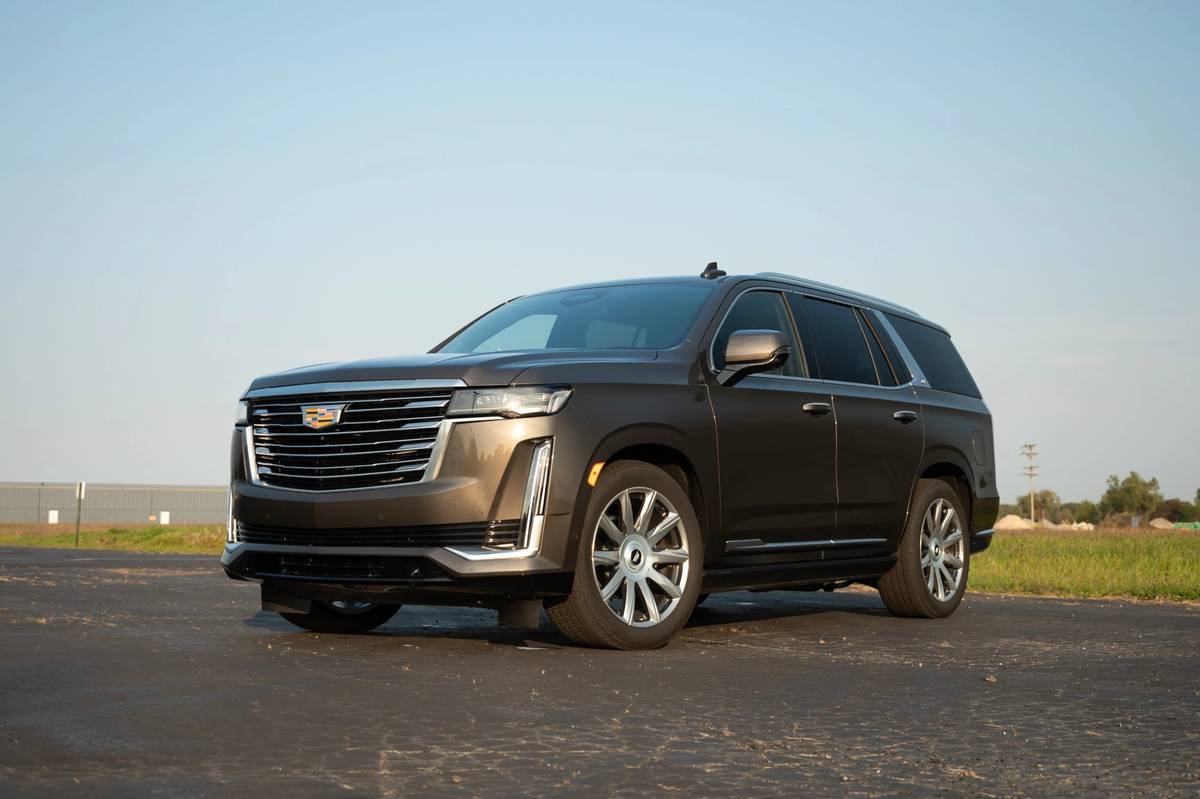 The verdict: The 2021 Cadillac Escalade is a technological showcase, a coddling limousine and a worthy claimant of the flagship American luxury vehicle title.
Versus the competition: The new Escalade easily challenges the Lincoln Navigator for American luxury supremacy, and it even provides a legitimately refined, technologically advanced rival for BMW, Land Rover and Mercedes-Benz.
Behold, ladies and gentlemen, the absolute pinnacle of the modern American luxury vehicle: the all-new 2021 Cadillac Escalade. Gone is the garish, cringeworthy styling, the oversized features, the questionable chrome. Gone are the cheap plastics, the laughable switches and the cramped third row. In its place, we have style. Poise. Actual honest-to-God refinement. Technology and power and equipment that makes the Escalade a fully competitive, modern luxury vehicle. At first glance, it seems the Cadillac team has reinvented the Escalade, leaving behind the rebodied badge job of past models and creating something fresh and impressive. But have they? Or is this new Escalade's beauty only skin deep?
Related: 2021 Cadillac Escalade: Very Good, But Good Enough?
Newfound Style, Outside and In
The new '21 Escalade is the last of GM's three big SUVs to get a redesign, joining the 2021 Chevrolet Tahoe and GMC Yukon, sitting on an all-new platform that's bigger in almost every dimension, inside and out. The Escalade has received all-new styling to go with it, and it's a refreshingly clean and modern take on what traditionally has been something of a garish hot mess. Yes, there's still plenty of chrome on the new Escalade, especially on the top-of-the-line Platinum trim, but it's been added in tasteful strips and accents, not slathered on in sheets. And if you'd rather not have any chrome, you can opt for the blacked-out Sport trim, which brings a truly menacing, murdered-out look to the Escalade. The front end swaps the old Escalade's vertical headlight orientation for a more horizontal look, making it seem wider and lower. Out back, the signature super-tall, slim LED taillights carry over from the old model, stretching up from the bumper to the roof. The overall look is fully in keeping with the latest Cadillac design aesthetic, which has taken most of its inspiration from the 2016 Cadillac Escala concept car. It looked good on that concept and it looks good here, too.
Inside is where the new Escalade really sets itself apart from the old one and makes you start to wonder if Cadillac has finally produced a luxury SUV that can be compared with the likes of Mercedes-Benz and Range Rover without a bunch of "yeah, buts." The centerpiece of the cabin is the massive new curved organic light-emitting diode touchscreen and gauge display that extends from in front of the driver to mid-dashboard. It's 38 inches (diagonally) of some of the clearest, sharpest digital display I've ever experienced regardless of venue — automotive, personal electronics, flatscreen TV, anything. It's not just that the icons are big, but they're easy to read and pop off the impossibly deep-black background even in bright, direct sunlight.
On your left is a digital touch panel that controls aspects of the trip computer, head-up display and central gauge cluster. The instrument-panel area is reconfigurable to show traditional gauges, a full-width navigation map, an optional night-vision display or a new augmented reality camera navigation system that overlays virtual signs and prompts over a live view forward. It's all easy to use, positioned high enough not to be distracting, and low enough not to block your view outward. The screen to your right is a full multimedia touchscreen that allows a level of control and customization to the Escalade that is new to the brand, and it finally delivers on the promise of a unique, Cadillac-oriented multimedia system to set it apart from GM's lesser brands. Simply put, the display technology in the Escalade goes a long way toward justifying the price premium the Escalade commands over a loaded GMC Yukon Denali. It is gorgeous, remarkable and beautifully executed.
The rest of the interior is finally representative of a proper luxury SUV. High-quality leather wraps the seats, dash, doors, even that curved digital display. But it's not all touch-sensitive panels; Cadillac tried that route already and understands now that luxury is conveyed through precision mechanical movement of switches and buttons, not just nice-to-touch but immobile materials. The climate control display panel looks and feels as good as anything you'd find in a Mercedes-Benz, which I personally hold up as today's benchmark for a luxury interior.
The stunning technology extends to the audio system, as well, with a standard 19-speaker AKG Studio audio system or what this model has — the optional 36-speaker AKG Studio Reference premium audio system. Yes, that's right: 36 speakers. They're everywhere. The roof, the pillars, the doors, the cargo area, even in the head restraints just inches from your ears. It sounds amazing — easily a rival for the equally stellar top Revel system that you'll find in the latest Lincoln Navigator. And it sounds amazing from every seat in the Escalade, even in the surprisingly comfortable third row.
There's a bunch of other impressive technology, too, like an electronic conversation aid that broadcasts people's voices using microphones and the Escalade's speakers, and illuminated USB ports at every seat. Eventually, Cadillac's Super Cruise semi-autonomous driving system will return to the showroom in the Escalade (it wasn't quite ready at the time of our test drive). And it's not just the technology that's impressive: The extra 10 inches of legroom for the third row and sliding second-row seats mean there isn't an uncomfortable seat anywhere. Between the massive influx of flagship technology and the vastly improved interior packaging and comfort, Cadillac's starting to back up the Escalade's lofty price with some true justification.
The Engine Is Irrelevant
The driving experience only reinforces that idea. To start, all Escalades will be powered by a standard 420-horsepower, 6.2-liter V-8 that's the top optional engine in the Chevrolet Tahoe and GMC Yukon (a turbo-diesel 3.0-liter six-cylinder is a no-cost option). Rear-wheel drive is standard; four-wheel drive is optional. The big V-8 comes mated to a 10-speed automatic transmission, and it's silky smooth in its always-ready power delivery. The transmission is perfectly tuned to this engine, never hunting for a gear, always ready to launch the Escalade without drama or fuss. It's kind of a shame that there's no more power here than you'll find in the Chevy, but honestly, the changes to the Escalade have largely made what's under the hood … sort of unimportant.
The idea seems to be that the engine shouldn't matter much if you can't hear or see it, and as long as there are no complaints about its performance, why give it more power just to give it more power? Cadillac is counting on buyers not really giving the engine much attention — between the noise cancellation efforts, the astonishingly quiet cabin's lack of wind or road noise, and the whisper quiet exhaust when cruising along at highway speeds, the engine just isn't what you focus on when driving the Escalade.
Instead, the new Escalade's luxuriously serene, silent cruising operation makes piloting this massive land yacht an experience in nostalgic American luxury. Driving the Escalade is effortless, relaxing and coddling in ways that luxury cars haven't felt in years. The ride quality is exceptional thanks to an air suspension and GM's magical Magnetic Ride Control shock absorbers, and while you'll feel some of the road's surface imperfections transmitted into the cabin because of the enormous wheels, they're by no means going to disturb your zen. The steering is nicely weighted, not floaty, and the body control is flat in corners. You're not going to attack a twisty stretch of road with gusto in this Escalade — it's much too heavy and isolating for that — but neither are you going to make yourself or your passengers sick when transitioning from your home high in the Hollywood hills down to lunch with your agent in Malibu. The Escalade feels well controlled and just nimble enough to further feed that sensation of effortless, luxurious serenity that Cadillac engineers have successfully created.
It's Still Expensive but Finally Feels Worth It
None of this newfound serenity and sophistication comes cheap in the Escalade. The entry price for a base model Escalade Luxury trim is $77,490 (prices include destination), but if you start ticking the options off with a heavy finger, you'll quickly arrive at this Platinum 4WD's as-tested price of $109,965. That's not even where it tops out; choose a long-wheelbase Escalade ESV Platinum 4WD with every possible option and your new flagship Cadillac SUV will easily top $122,000.
I drove the new 2021 GMC Yukon Denali a few weeks prior to driving this latest Escalade and came away mightily impressed with the GMC. I said then that Cadillac had better come up with something truly dynamite to justify the extra cost of the Escalade over the already high price of the outstanding Yukon Denali. After experiencing what Cadillac has created in the new Escalade — an exceptionally refined, technology-packed, outstanding American flagship luxury vehicle — I can finally, finally say that the Escalade feels like it's worth the kind of money Cadillac wants you to pay for one.
Cars.com's Editorial department is your source for automotive news and reviews. In line with Cars.com's long-standing ethics policy, editors and reviewers don't accept gifts or free trips from automakers. The Editorial department is independent of Cars.com's advertising, sales and sponsored content departments.