EXPERT REVIEW
2021 Mercedes-AMG GLE63 S Review: AMG? More Like OMG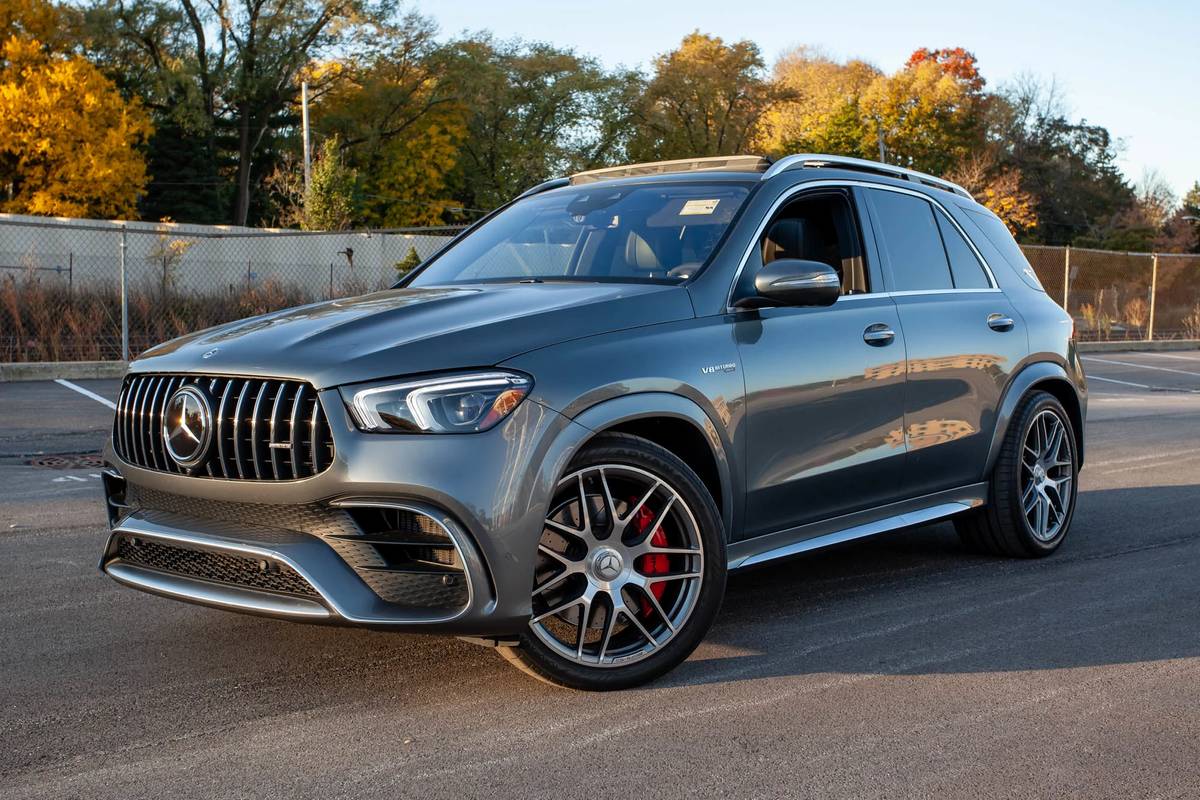 The verdict: The AMG GLE63 S delivers the motion-blurring acceleration and luxurious interior you'd expect from a $100,000-plus luxury performance SUV, leaving buyers feeling like they got their money's worth. 
Versus the competition: For all its opulence and slick technology, the AMG GLE63 S is perhaps most defined by its boisterous exhaust — more barroom brawl than ballroom gala. 
If the idea of a 600-horsepower luxury SUV that can give you a relaxing, heated back massage while channeling the sound of a top-fuel dragster appeals to you, you're in the right place. The 2021 Mercedes-AMG GLE63 S is a posh people hauler with a heaping dose of raunchiness thanks to a twin-turbocharged V-8 making 603 hp and 627 pounds-feet of torque. The engine helps the SUV go from 0-60 mph in a claimed 3.7 seconds, topping out at an electronically limited 174 mph. 
Related: 2021 Mercedes-AMG GLE63 S and GLS63: Big, Blingy Speed 
The full range of Mercedes' GLE mid-size SUV (an SUV version of the mid-size E-Class sedan) consists of the GLE350, 450, 580, AMG 53 and the hot rod I tested, the AMG 63 S. That's a lot of alphanumeric soup to swallow, so just know that the AMG GLE63 S sits atop the GLE lineup in price and performance (along with character count).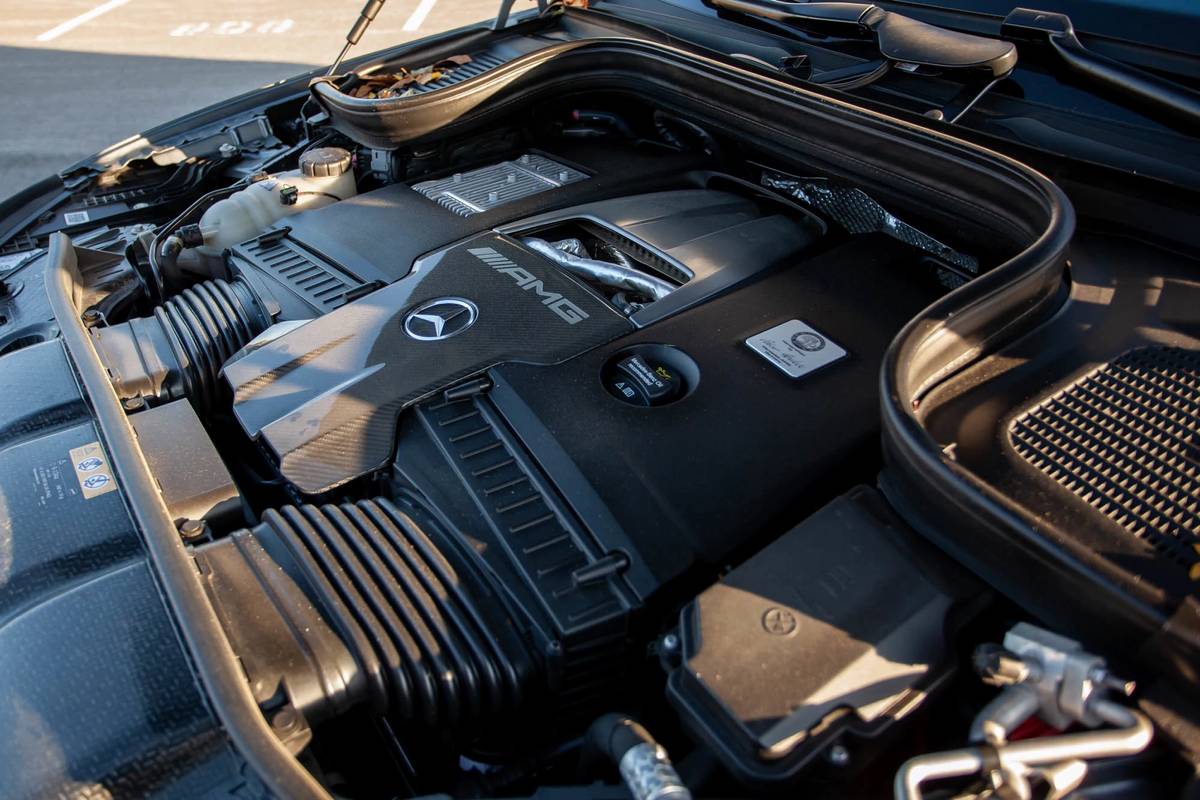 The AMG 63's V-8 uses a pair of turbochargers atop the engine, nestled between the cylinder banks, to huff horsepower into four liters of engine displacement. The 2021's predecessor used a 5.5-liter twin-turbocharged V-8 to make 577 hp; for 2021, the smaller 4.0-liter's turbos aren't the only boost driving the GLE AMG 63 S to sports-car-like acceleration. Assisting the engine's 603 hp is a 48-volt mild-hybrid system Mercedes calls EQ Boost. It uses an electric motor between the engine and transmission to temporarily jolt up to 21 hp and 184 pounds-feet of torque through the drivetrain. EQ Boost operates within the rated power of the gas engine, versus boosting the claimed maximum output numbers, and fills output gaps of the gas engine — most notably at launch, before the turbochargers reach their maximum charge pressure, though it can also assist during passing. 
As at home as the AMG GLE63 S looks in the carpool lane — it doesn't sport any crazy wild body flares or scoops — this ultra-high-performance SUV wouldn't be out of place in a drag-strip staging lane. The GLE63 S has the gut-wrenching acceleration of a limited-use sports car, but with all-wheel drive, generous room for five people and heaps of cargo space compared with most things that move this quickly. Punch it from a standstill and the AMG GLE63 rears up, accelerating hard with no sign of things falling off at the top end. The Mercedes-claimed 0-60-mph time of 3.7 seconds is a few tenths quicker than the Mercedes-AMG GT coupe's 3.9 seconds and a half-second faster than the SUV's 2019 counterpart, which was rated at 4.2 seconds.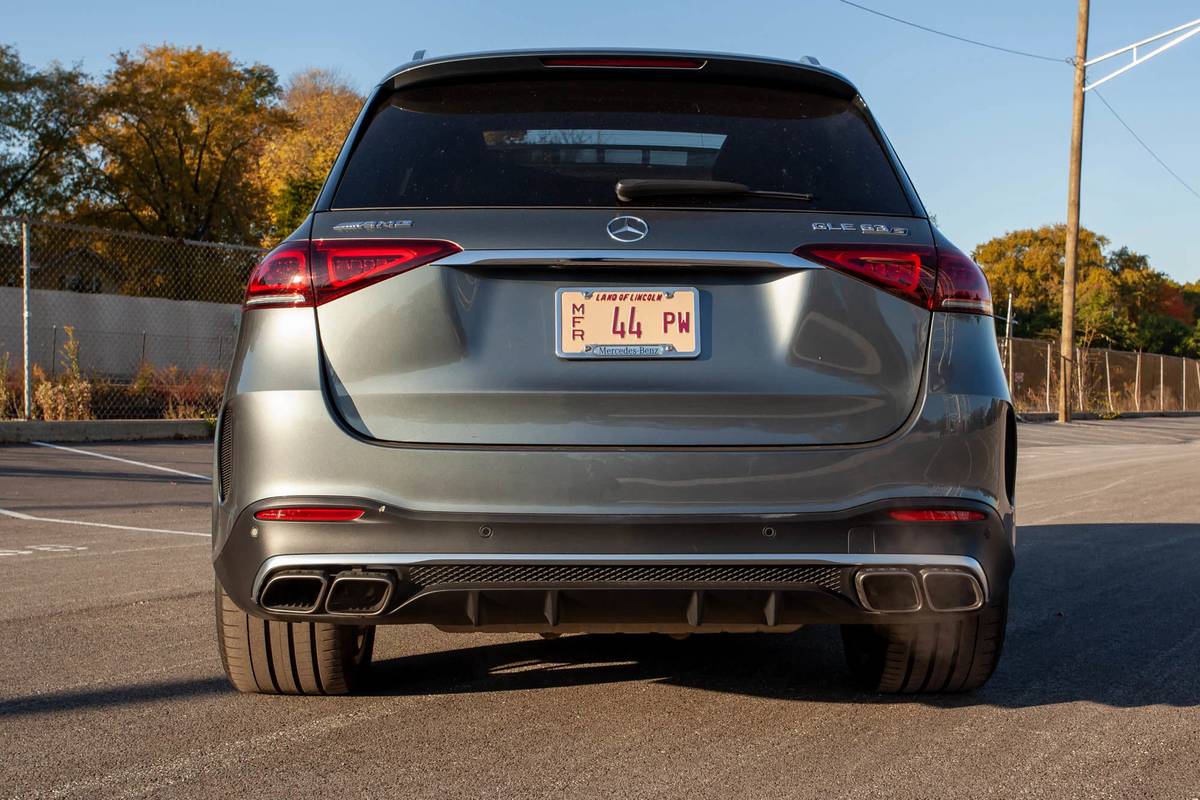 The AMG GLE63's attitude is defined by its exhaust, which has an angry, snarling and totally unsuspecting aggression blasting from the pipes of this modestly styled mid-size SUV. The adjustable-volume exhaust mechanically varies its punch (there's no electronic cabin augmentation) via drive modes, or through a selectable configuration you can bring up using electronically programmable steering-wheel-mounted buttons — which are among the most innovative drive mode selectors out there (SUV or otherwise). The sound this thing makes is in stark contrast to the Tesla Model X EV, which beats the GLE's acceleration (Tesla says the Model X Performance takes just 2.6 seconds to get to 60 mph) with only a whisper of whine from its all-electric powertrain — nothing like the voluminous bass that comes from the AMG.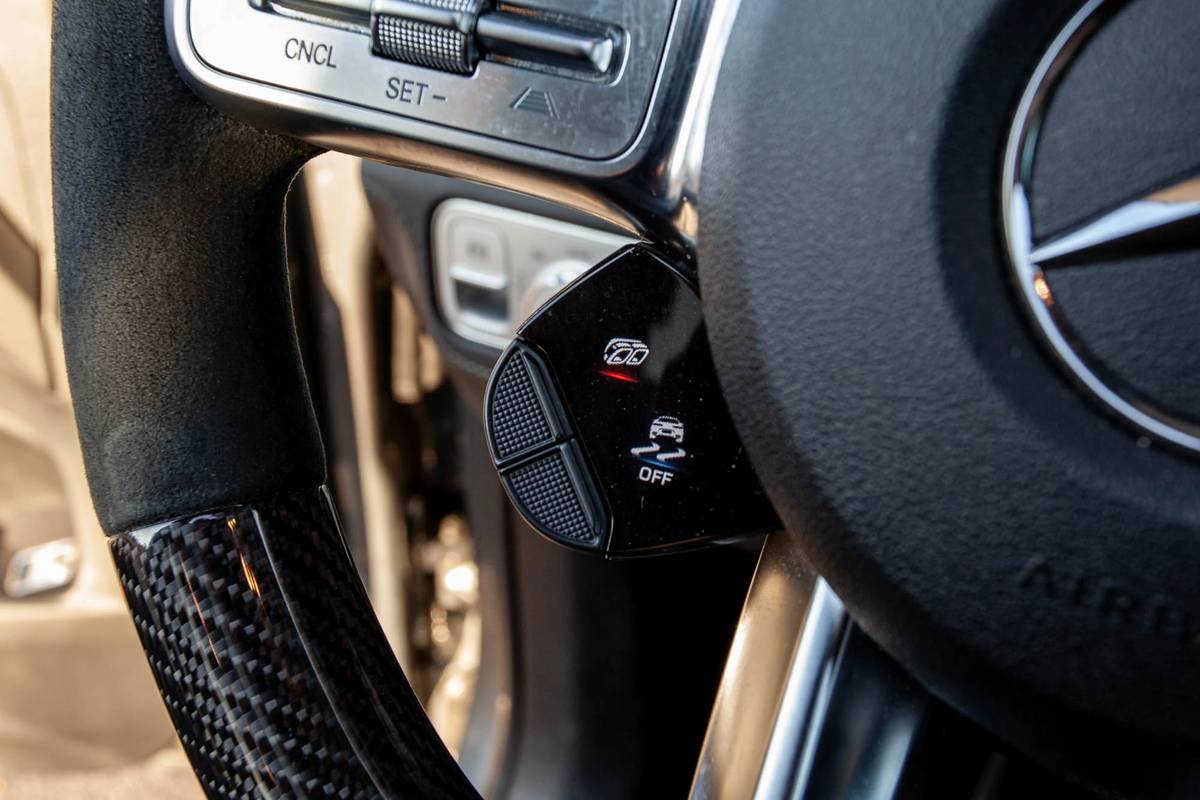 I favor the Tesla for its directness; there's no traditional stepped multigear transmission, but rather a single gear and loads of torque that reacts instantly to accelerator inputs with no delay or balkiness between shifts because there are no shifts. The GLE63 S' ornery nine-speed automatic transmission is a sore mark on the car, sometimes lazily dumping upshifts in automatic or manual modes. Manual gear changes via steering-wheel-mounted paddle shifters have neither the responsiveness of the dual-clutch transmission in Mercedes' top sports car nor the directness of the excellent eight-speed automatic in the BMW X5.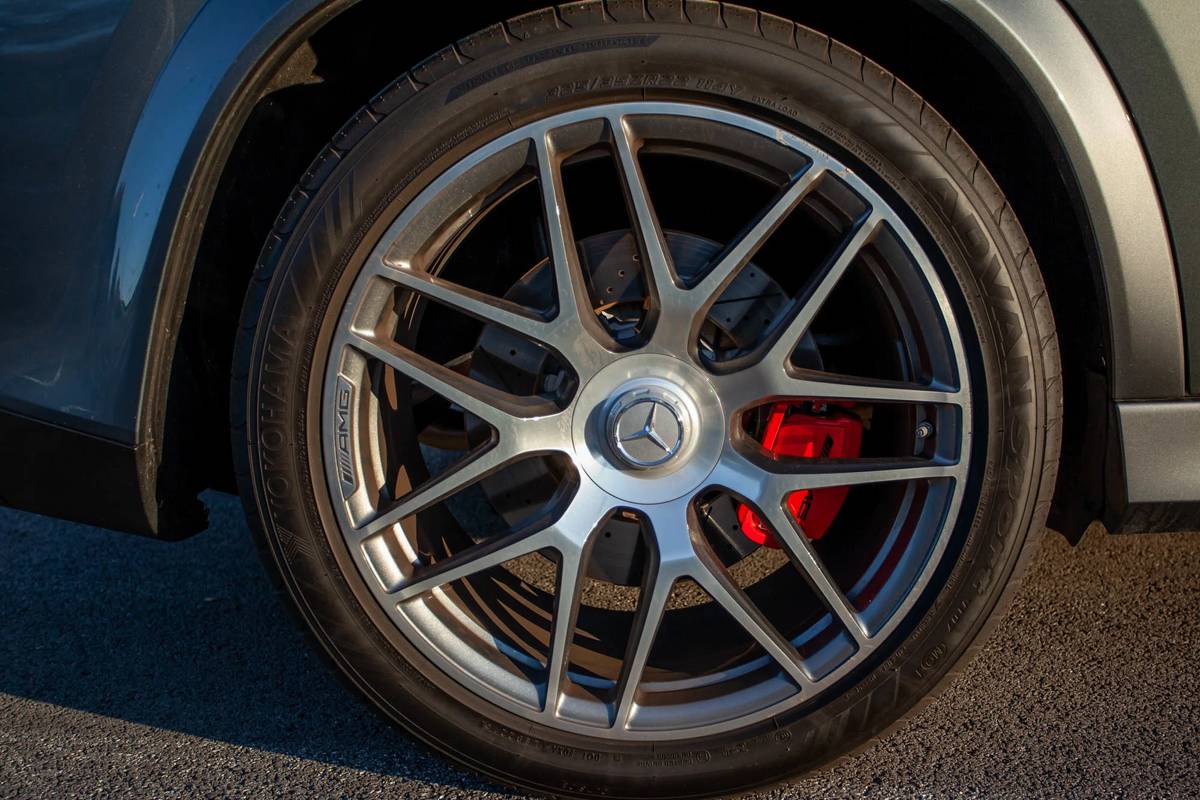 The GLE63 S I tested wore massive optional 22-inch wheels with Yokohama Advan Sport summer tires sized 285/40R22 up front and 325/35R22 in back. Despite an air spring suspension (usually touted as comfort-oriented), the AMG's ride is taut even in the most comfortable drive mode, and the large wheels mean ride quality is busy, though acceptably so for a performance-minded car; you want road feel in your sports car? You got it here.
During my week in the SUV, the weather began approaching temperatures in which you should question driving a car with summer tires: mornings starting in the 30s and highs in the low 50s. Those conditions, combined with the car's standard wide summer tires, resulted in front tire chatter during low-speed maneuvers until the tires warmed up, and the back end was a little squirrelier than expected when laying down power. In these conditions, the AMG with its electronically lockable rear limited-slip differential would wag its tail on wide-open-throttle downshifts or when powering out of corners. The squirelliness was entertaining, though a tad unnerving given body control through its air springs and adaptive shock absorbers means it's not the most hunkered down, but it was still fully respectable by most SUV's standards.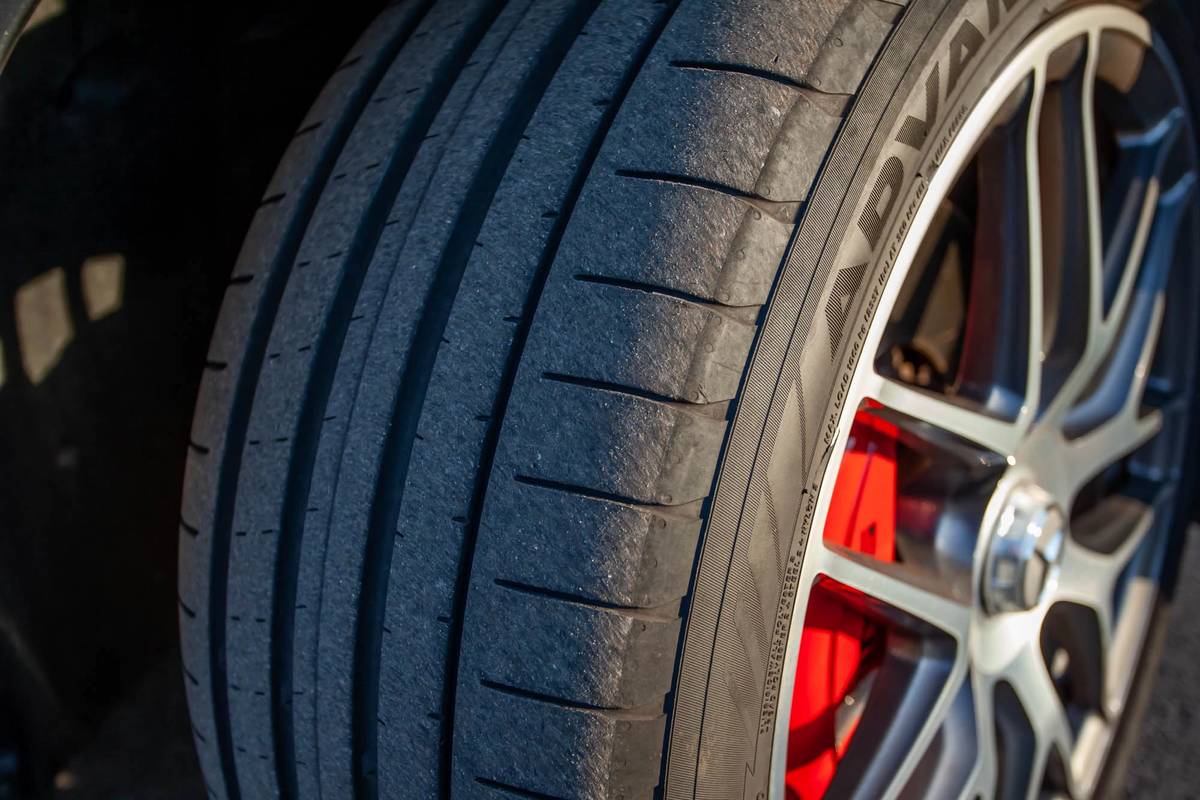 Driving on the edge of adhesion isn't totally foreign to the GLE63, and there's acceptable steering response, feedback and a feeling of connectedness that means it doesn't seem uncontrollable. The lesson, though, is that all-season or winter tires should be top of mind for owners who drive this SUV in cool or wintry conditions — and also that a 600-hp SUV wiggling for traction at wide-open throttle is completely bonkers.
Giddy performance is only one part of the AMG GLE63 S. The other is the opulence in which occupants are enveloped. Much of the SUV's luxury trimmings and technology are similar to a non-AMG GLE, which was redesigned for 2020 and elevated the SUV to new heights. One change from the regular GLE stable to the AMG is that there's no optional third row because of the packaging differences, as the lower rear of the SUV needed to accommodate the AMG 63's unique all-wheel-drive system.
The GLE feels so appropriately appointed, with genuine metal, leather or carbon accents, that I didn't bat an eye at its $100,000-plus price. That's a new take versus its predecessor, which at the end of its lifespan struggled to differentiate its interior from that of a $50,000 GLE.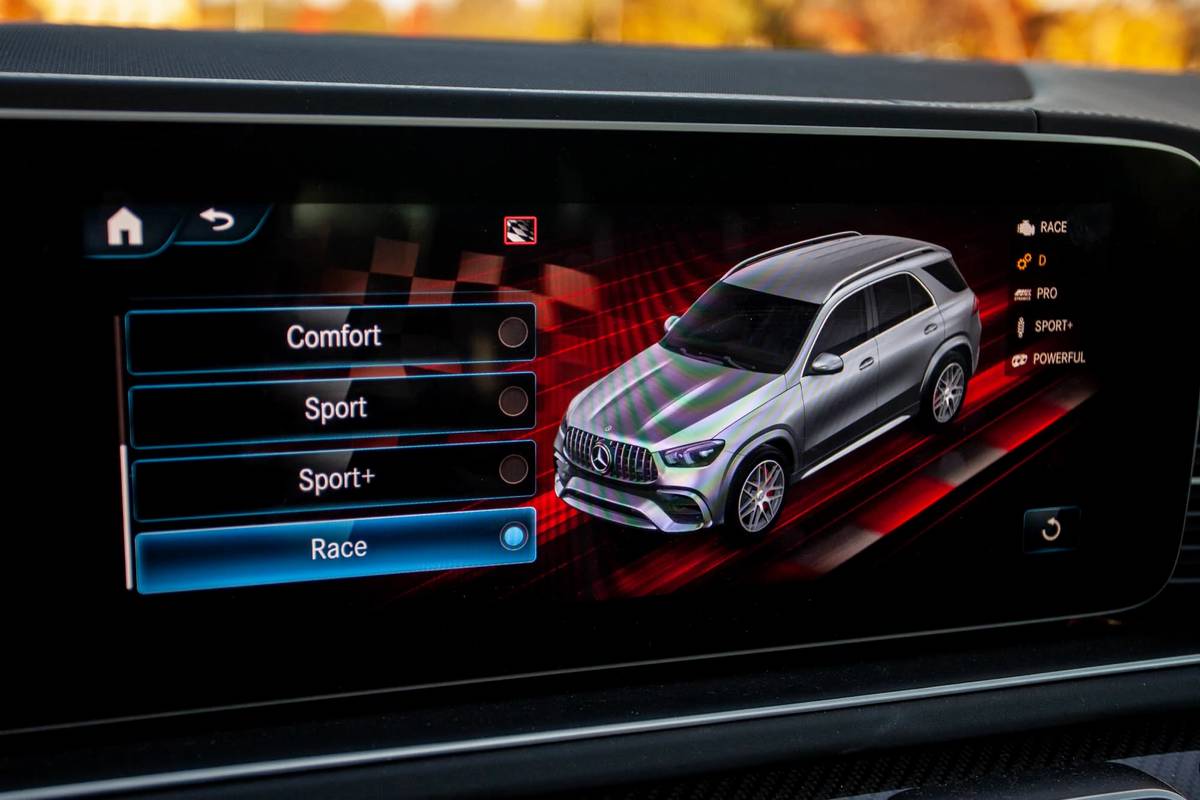 Fully transformative from the old SUV are the dual 12.3-inch digital screens for the instrument panel and media touchscreen. Their high-end graphics and simple menu structure are top-of-the-game, integrating the GLE's various technologies and making them readily usable. Unlike many factory navigation systems, the GLE's native navigation has an exclusive feature that convinced me to use it instead of Apple CarPlay or Android Auto: optional augmented reality navigation that uses a front camera feed to overlay navigation arrows and street names in the media screen. It's truly a sight to see, especially driving in the dark, where street signs aren't as easy to read. (Of course, another factor in using the native navigation was that my iPhone wasn't compatible with the Mercedes' USB-C outlets and I didn't have an adapter on me.)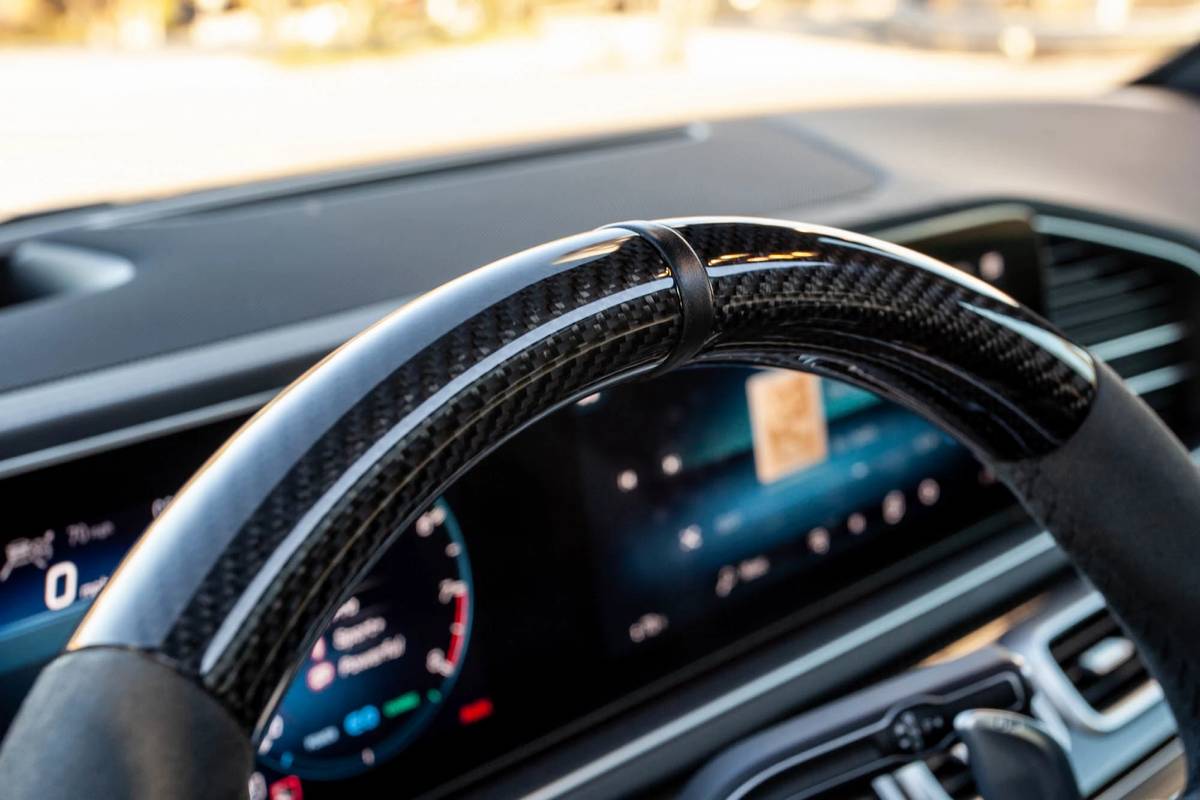 The SUV's high-end tech is complemented by carbon-fiber add-ons that slather the interior with racy, authentic trim on the door panels, dashboard and steering wheel. The optional steering wheel is especially sporty, with carbon trim accented by standard Dinamica suede-like microfiber and aluminum paddle shifters, but like other sueded steering wheels, I found the fabric portion a little slippery when barehanded (versus wearing a driving glove, which would be ridiculous in this family SUV); luckily, it's only partially covered in this material.
About That Price
An entry-level GLE350 starts around $55,000 and has little in common with the doubly priced AMG GLE63 S, which starts just below $115,000. Plus, the GLE63 S I drove had these options:
AMG carbon-fiber trim: $1,750

AMG carbon-fiber engine cover: $1,500

AMG Performance steering wheel in carbon fiber: $400

22-inch AMG cross-spoke forged wheels: $2,750

Rear side airbags: $700

Panoramic sunroof: $1,000

Four-zone automatic climate control: $860

MBUX Interior Assistant: $200

Pre-wiring for rear seat entertainment: $170

Magic Vision Control: $350

MBUX Technology Package (with that trick augmented navigation system and a head-up display): $1,450

Driver Assistance Package Plus: $1,950

Warmth & Comfort Package: $1,050

Energizing Comfort Package Plus (including some of the best massaging seats I've ever experienced): $1,650

Acoustic Comfort Package: $1,110


Even at an as-tested price of $131,880, though, I honestly can't put its stratospheric price in the "Cons" list; the lunacy of the whole thing just seems to justify its price.
Cars.com's Editorial department is your source for automotive news and reviews. In line with Cars.com's long-standing ethics policy, editors and reviewers don't accept gifts or free trips from automakers. The Editorial department is independent of Cars.com's advertising, sales and sponsored content departments.