My Car Has a USB-C Port. Is It Better? What Do I Do?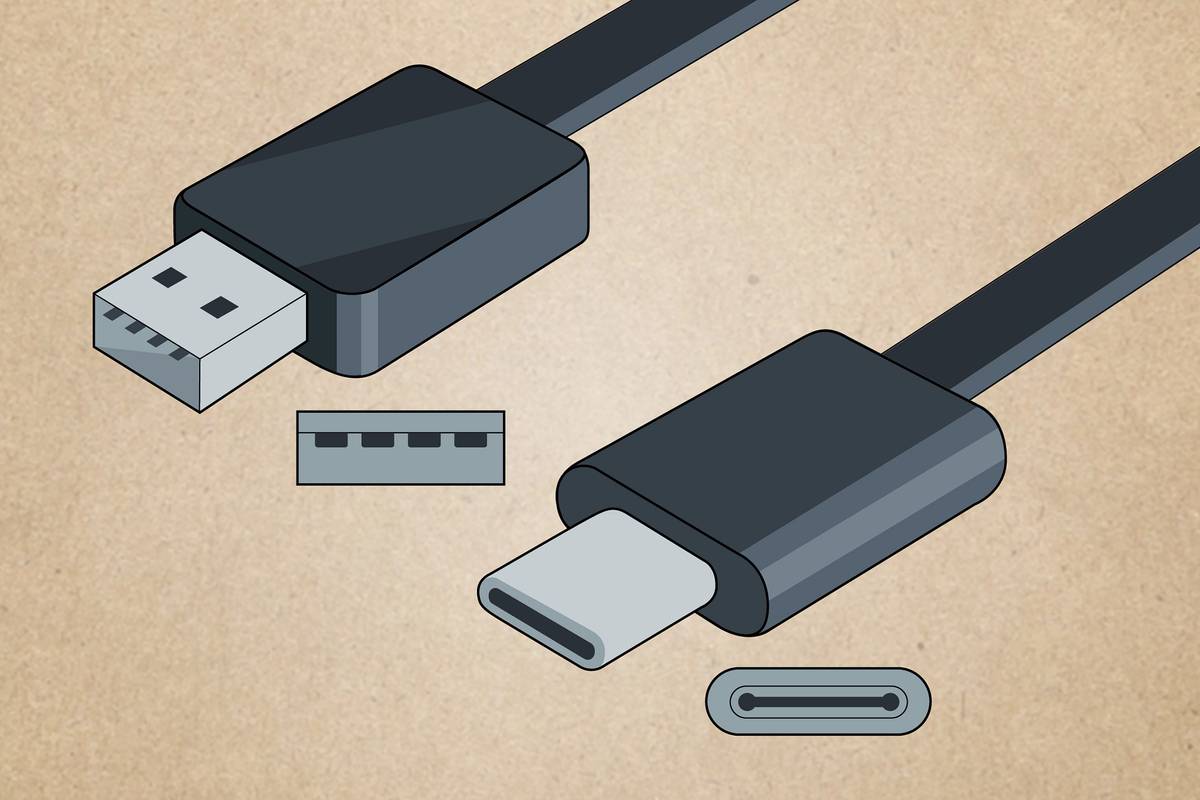 If you've purchased a car and found it had an oval USB-C port — either exclusively or in addition to the more familiar rectangular USB-A port — you probably have a lot of questions. We'll answer as many as we can.
Related: Phones and Cars: Why Choosing the Right Cable Matters
Vehicles as mainstream as the Ford Explorer and Ram 1500 now offer a USB-C port, and some luxury models from brands like Mercedes-Benz and Porsche have only USB-Cs. Just 3% of new vehicles worldwide had such ports in 2019, IHS Markit estimates, but more than a quarter of all vehicles will have them by 2025.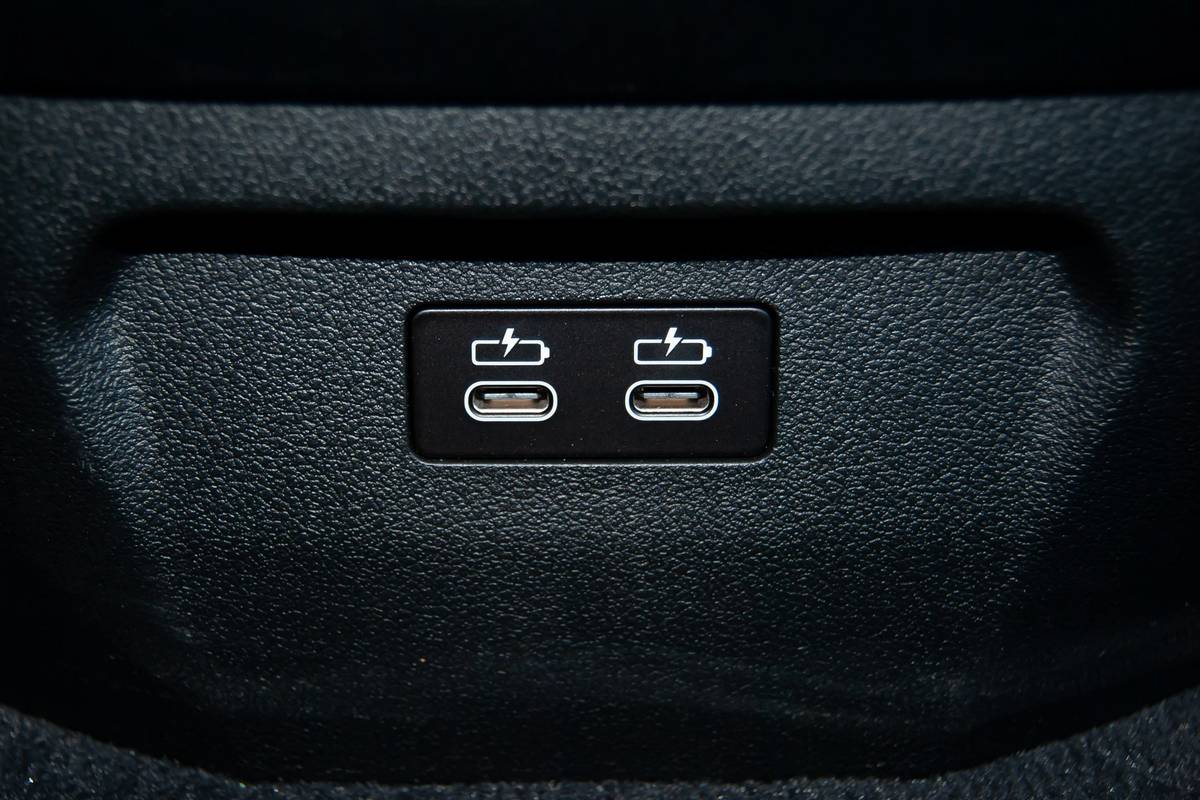 Do I Need a New Phone for USB-C?
Not at all. USB-C is just a different connector, but it's still compatible with existing mobile devices if you get the right cord or adapter.
Is USB-C Better?
USB-C is better in one way: It doesn't have a right-side up like an older USB-A jack, which often requires you to flip the plug 180 degrees after your first insertion attempt. In this regard, USB-C is more like Apple's Lightning connector than either USB-A or micro-USB, the type of port most Android phones have used recently. (Some Android phones, including the popular Samsung Galaxy family, have begun to employ USB-C ports instead of micro-USB, eliminating this source of frustration.)
Beyond that, current in-car USB-C ports aren't much better than USB-A, and they definitely aren't a plus if you have an older phone. Even if you do have a "compatible" phone, the promised advantages of the USB-C standard have been slow to appear, and cars aren't the place to expect them earliest. An oval hole doesn't mean the underlying circuitry is running the latest USB data specification, or that it has more juice on tap for charging your phone. But it might …
Connecting a Mobile Device That Has a USB-C Port
If you have a USB-C port in your vehicle and a device with a C port of its own, you're theoretically best off connecting it via a cord with compatible USB-C plugs on both ends. This eliminates the need for an adapter, though our experimentation with one (detailed below) suggests that doesn't always matter. The other advantages the USB-C protocol and USB-C cords boast are mostly theoretical at this stage because no cars (and few mobile devices) are equipped to exploit them. Still, we gave it a try.
Many vehicles that include a USB-C port also still have USB-A, so we connected a nearly depleted phone to both port types in three different vehicles, and we got different results. We used a Samsung Galaxy S10 that kindly displays the time remaining until a full charge, which enabled easy comparisons.
In a 2020 Nissan Sentra, there was no difference in predicted charging time between the USB-A port (with the supplied Samsung A-to-C cord) and the car's C port (with a C-to-C cord of equal length). Ditto for a 2020 Alfa Romeo Stelvio. (Again, both cars had both USB-A and USB-C ports.)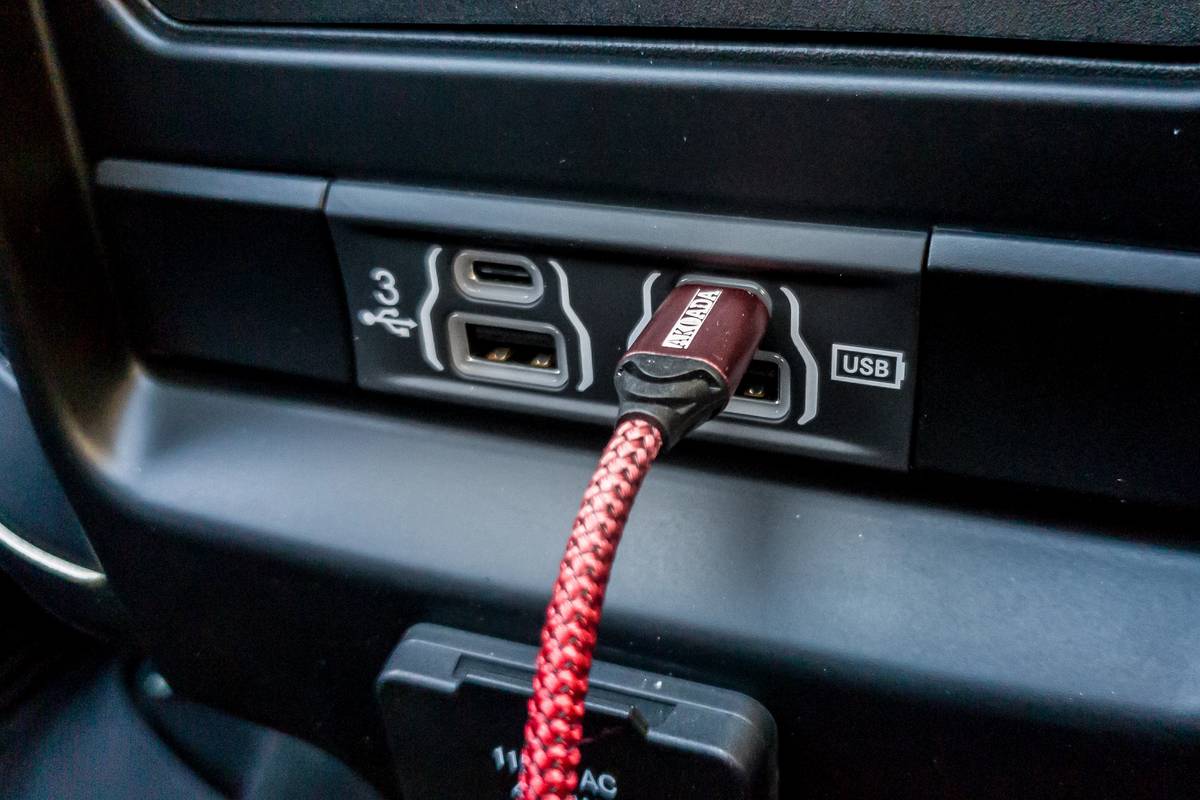 In a 2020 Ram 1500 Rebel that provided three pairs of data ports — one USB-A and one USB-C per pair — there was again no difference in the front two or a third pair in the backseat. However, when we tried the backseat's charging-only pair of ports, the phone predicted its time to a full charge at 2 hours, 16 minutes when connected via USB-A and 2:09 via USB-C. Not a big difference, but it's a slight advantage to the C port.
This makes sense because the USB-C standard supports up to 3 amps at 5 volts — more than the typical vehicle's USB-A charging port, which maxes out at 2.4 amps.
What About USB-C Power Delivery Fast Charging?
The USB-C standard allows for a feature called Power Delivery, where an additional data wire missing in USB-A allows two devices to negotiate how much power should be provided and which one is charging which, providing many times more power than a USB-A port.
Unfortunately, Power Delivery is one of the USB-C promises that's been slow to materialize. Fiat Chrysler Automobiles, one of the most aggressive purveyors of USB-C ports in vehicles, confirmed that its ports don't support Power Delivery and run USB 2.0 with a modest data rate of 480 megabits per second. FCA isn't alone: As we write this, no vehicle we've encountered with USB-C ports backs them up via USB-PD.
Connecting a Mobile Device That Doesn't Have a USB-C Port
If your mobile device has a micro-USB port, iPhone Lightning port, mini-USB port or anything else that uses a cord with a normal USB-A plug on the other end, you have two choices if your car has only a USB-C port: Try a USB-A-to-C adapter or buy a new cord that has a USB-C plug on one end and your device's compatible plug on the other. We detail both below.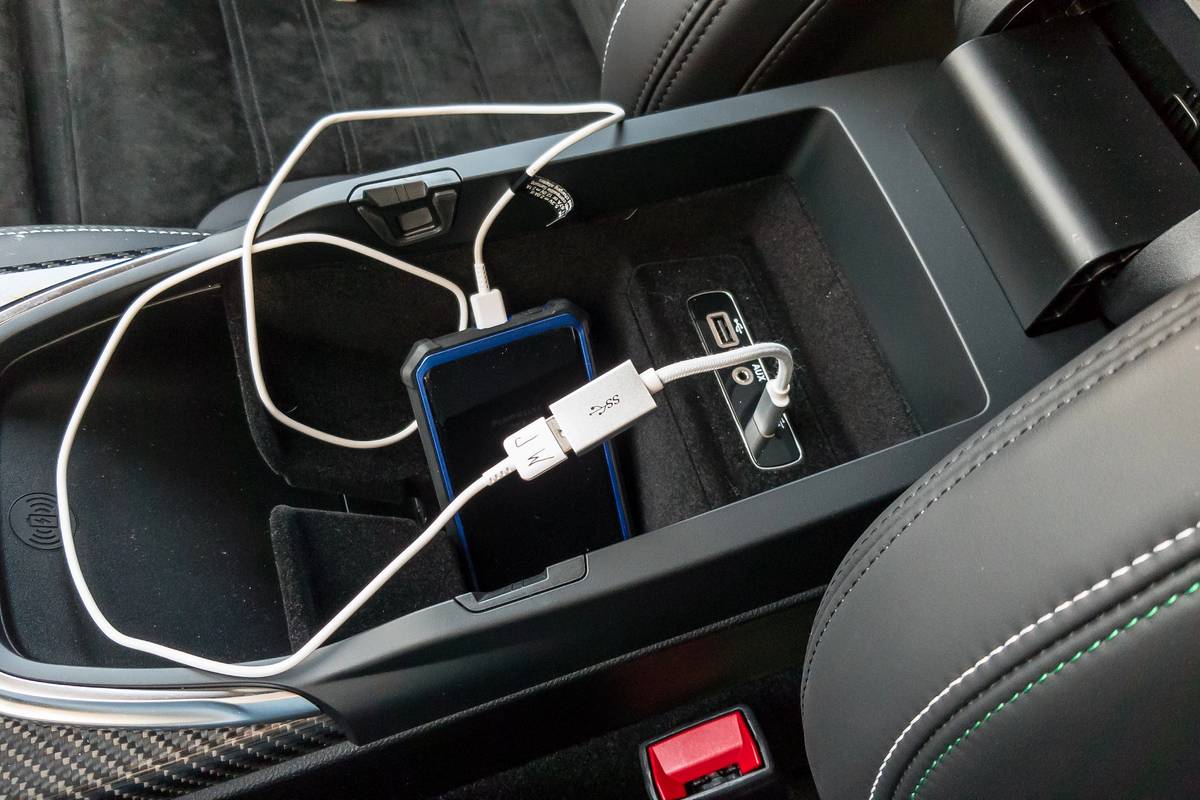 If charging speed is your priority, however, note that dedicated charging ports, often found in the backseat, can be more powerful than data ports. And though some car ports we've tested come close, few charge as quickly as our Galaxy S10's provided Samsung charger, which plugs into a household outlet. That means having a household-style outlet in your car is sometimes well worth it. (Note that the Samsung Galaxy phones and chargers have long supported voltages higher than 5 volts, however, so there's no guarantee that your phone's supplied charger will improve on a car's USB port.) Some 12-volt chargers also can be the solution for slow built-in USB ports.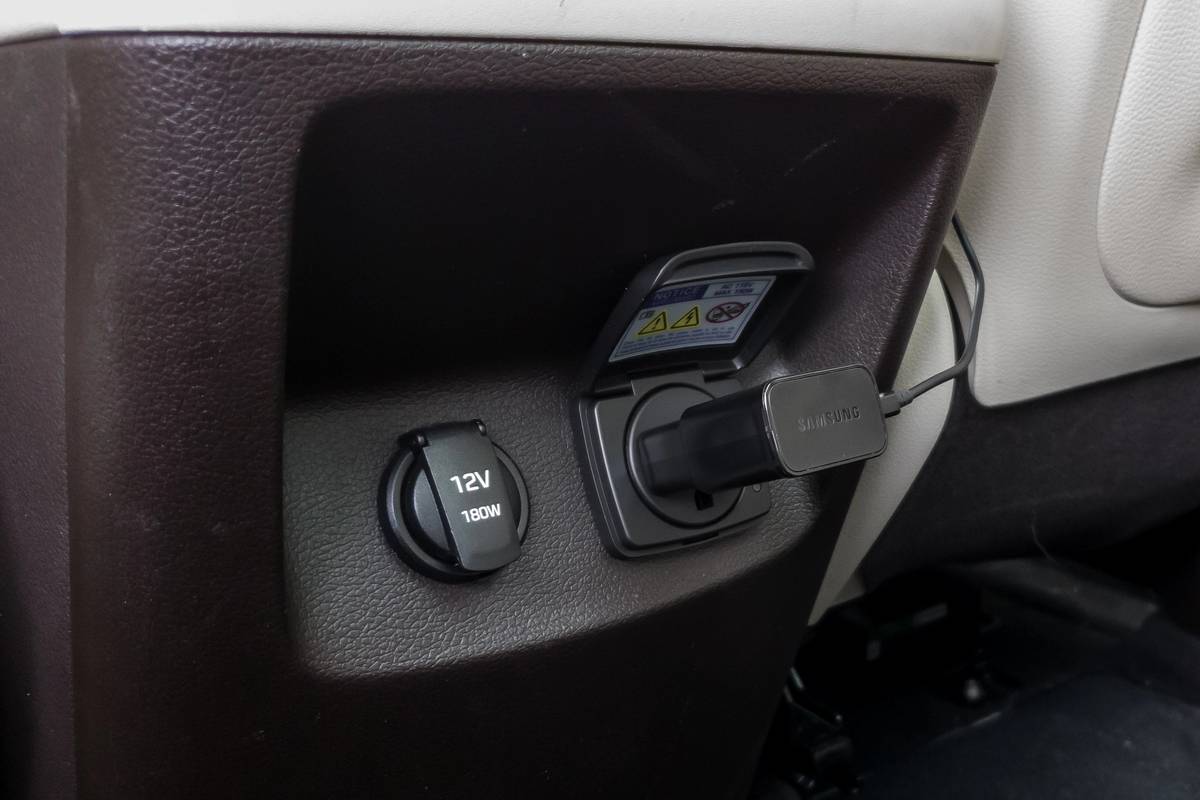 How About Using an Adapter?
An adapter (i.e., a short, intermediary cord between your phone's charging cord and the USB-C port) can work fine for a mobile device that can't take advantage of a USB-C's additional pins anyway, especially if the adapter is short and high-quality, for reasons we explain here. But that puts four connections between the car's port and your device rather than two, and it introduces the potential for signal degradation and slower charging simply because any connection point is prone to oxidation, damage or interference from dirt or lint. In theory, the fewer connectors you have between the USB-C port and your device, the better.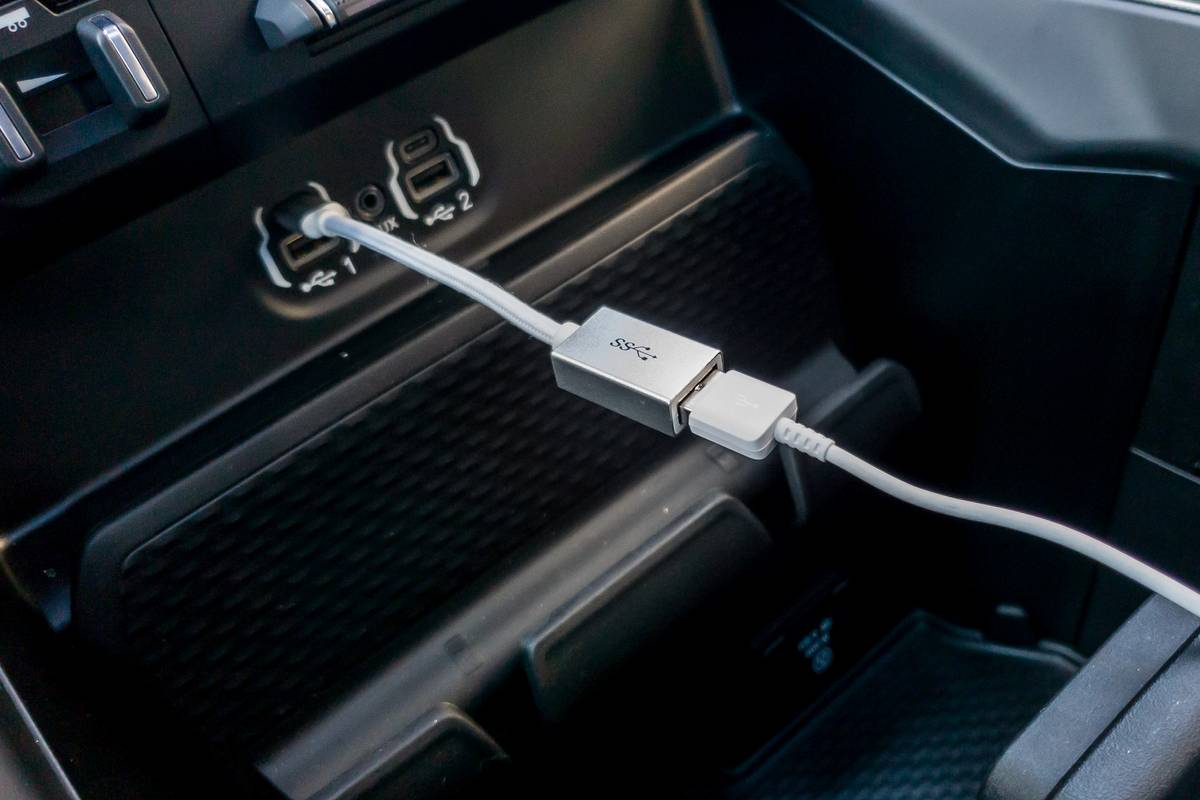 In the five model-year 2020 vehicles we tested with both an adapted A-to-C cord (thus, two cords) and a single cord with USB-C plugs on both ends, four models — an Alfa Romeo Stelvio, Infiniti QX80, Nissan Sentra and Porsche Macan — showed no difference in charging time. But then there was the Ram 1500 Rebel: In the backseat charging port, the cord plus adapter  resulted in a predicted charging time of 2:53, versus 2:16 for the single C-to-C cord. It gets trickier: At two different data ports, we measured a smaller difference at one — only 16 minutes — and no difference at the other. (If you can't understand why it varies from one car or port to the next, see our primer on choosing the right cable.) So, depending on the vehicle, the port and the cords, it's possible that using an adapter will compromise your connection somewhat.
More From Cars.com:
That being said, it also might not. If your family has plenty of USB-A cords and you don't want to spend a small fortune replacing them all, we recommend you start by buying yourself a single high-quality adapter; perhaps go for a known brand and avoid the cheapest option, too. See how it works. If you find your devices and new vehicle get along, then everything will be fine until you replace your devices with ones that come with USB-C cables.
If you have trouble with slow charging or data glitches on any device, however, you might want to invest in a quality cable that has a USB-C connector on the far end and a micro-USB or lightning connector on the phone end and see if it helps. Every phone, cord and port within the same car is different, so you might not have to buy new cords for all members of your family.
Cars.com's Editorial department is your source for automotive news and reviews. In line with Cars.com's long-standing ethics policy, editors and reviewers don't accept gifts or free trips from automakers. The Editorial department is independent of Cars.com's advertising, sales and sponsored content departments.