EXPERT REVIEW
2022 Ford F-150 Lightning Review: Lightning in a Bottle Is Too Cliche, But Damn if We're Not Impressed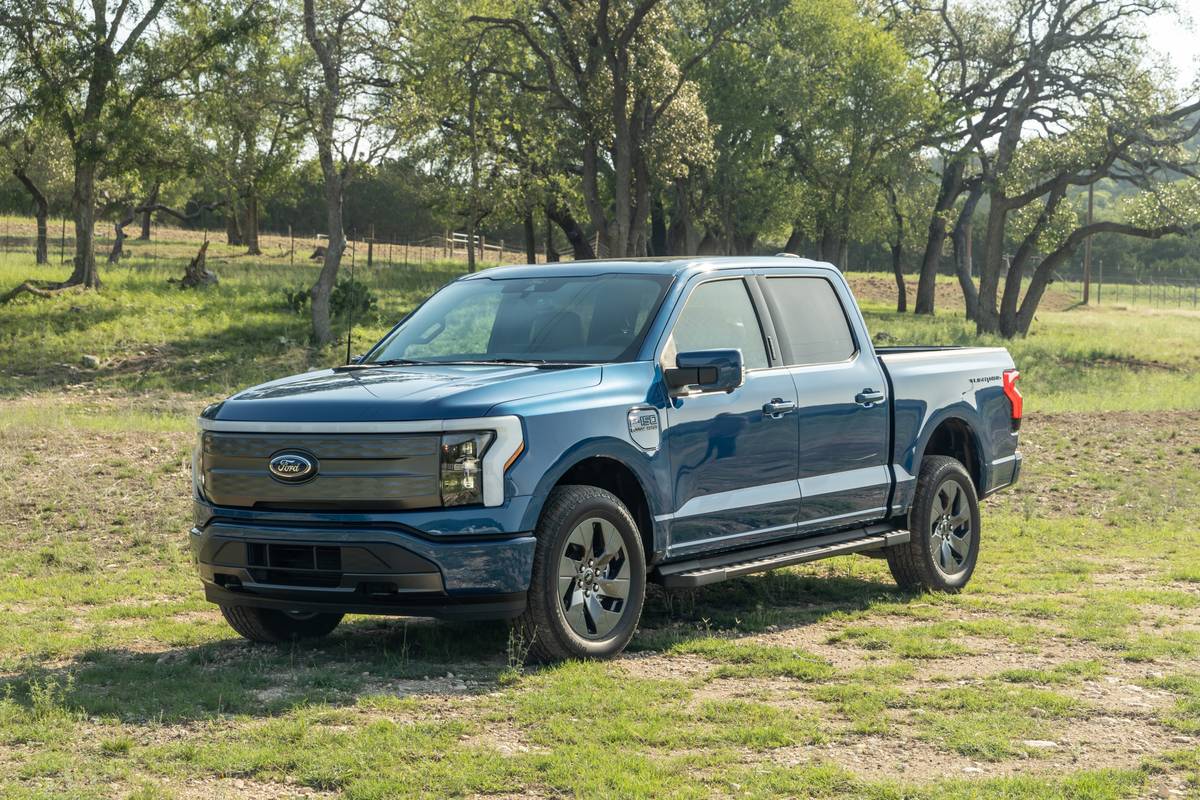 The verdict: The F-150 Lightning makes the most out of an all-electric truck by combining impressive power and useful innovations with many of the characteristics that make the F-150 the bestselling vehicle in North America.
Versus the competition: The F-150 Lightning doesn't have much competition now, but more is coming; its more traditional interior and exterior styling may make it more appealing than futuristic offerings from competitors.
Describing the all-new 2022 Ford F-150 Lightning as "the F-150, but electric" feels like a disservice, but after getting a chance to drive the Lightning in San Antonio, that observation rings mostly true (per Cars.com's ethics policy, we pay for our flights and lodging at these events).
Related: ​​Up Close With the 2022 Ford F-150 Lightning: Substance Over Style
The F-150 Lightning is currently available in four trim levels: Pro, XLT, Lariat and Platinum. All come with standard four-wheel drive and dual electric motors, and there are two battery choices: standard- (in Pro, XLT and Lariat) and extended-range (XLT, Lariat and Platinum). Standard-range models are EPA-rated at 230 miles of range, while the extended-range XLT and Lariat are rated at 320 miles. The loaded, extended-range-only Platinum has a rating of 300 miles.
I spent most of my time in an extended-range Lightning Lariat — which has an eye-watering $81,099 price tag (all prices include destination) — while also towing an 8,300-pound boat and trailer combination in an extended-range XLT. I came away quite impressed with the Lightning, though there are some large caveats that will require further testing before I can give it a full-throated recommendation.
Not So Different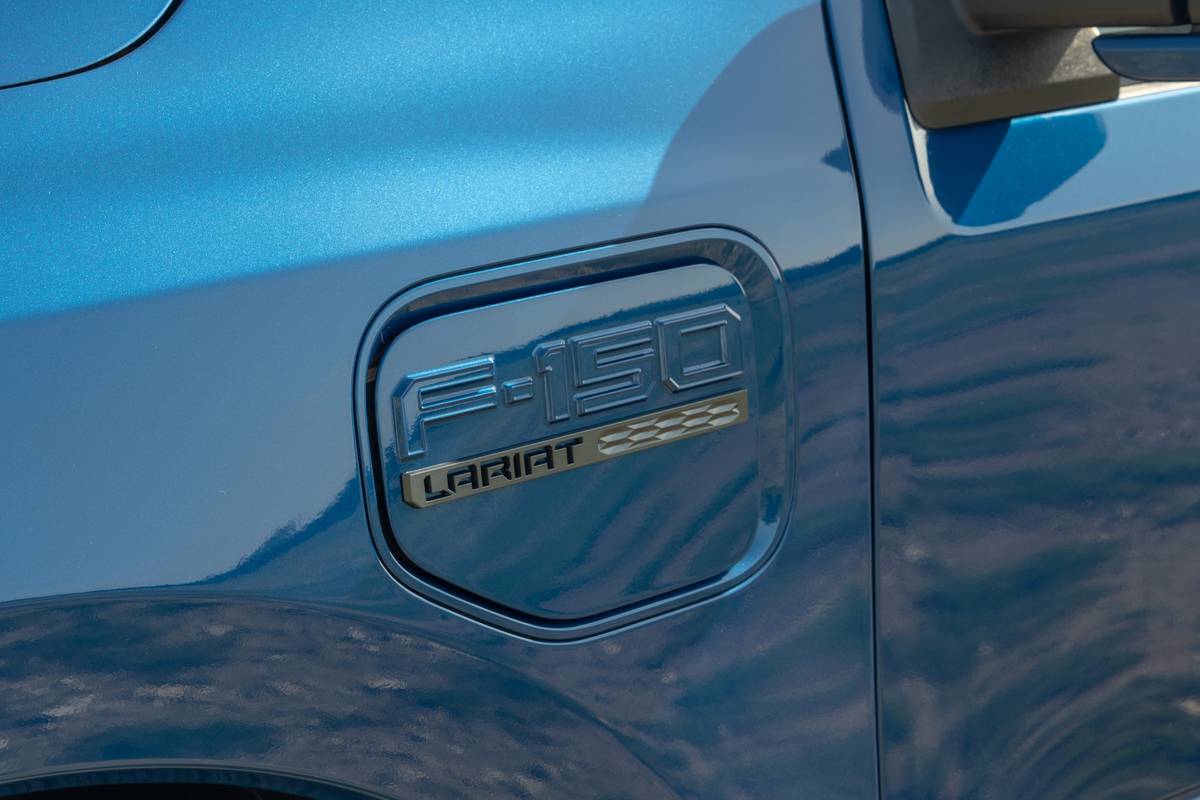 That the Lightning is so similar to the internal-combustion F-150 is, at least in my book, a huge point in its favor. After all, the redesigned 2021 F-150 swept both our Best Pickup Truck and Best of 2021 awards, and we still have an F-150 Limited hybrid in our long-term test fleet. Besides some new tech, which I'll address in a moment, the Lightning should feel extremely familiar to those who have driven any of the last few generations of F-150.
It will also look quite familiar, with some new lighting designs that stretch from headlight to headlight and taillight to taillight (except on the Pro) and Lightning-specific badging and wheel designs. It's a different tactic than the upcoming 2024 Chevrolet Silverado EV, which might not share more than a similar-looking body panel or two with the existing Silverado, and perhaps the upcoming electric pickup from Ram. I think sticking to the familiar shape and design language of the F-150 may make it more appealing to traditional truck buyers but likely comes at the cost of some efficiency.
That familiarity extends to much of the Lightning's driving experience, too. Ride quality feels like driving a regular F-150 with a decent-sized payload in the bed; still trucklike and bouncy but more settled than an unladen F-150. The Lightning uses an independent rear suspension, a first for any F-150, but in my relatively short drive it was difficult to attribute any improved ride quality to the new suspension layout alone. The Lariat I drove the most also wore 20-inch wheels, and Cars.com's F-150 Limited rides on unnecessarily large 22s — another factor in the improved isolation and reduced impact harshness I experienced compared with our truck.
I expected handling to be improved with the new suspension setup and much lower center of gravity thanks to the Lightning's battery packs, and while it may be a little improved, it still handles like an F-150 — i.e., not that great. There's still a lot of body roll in sharp corners, though the Lightning never leaned then slammed back to level like our long-term F-150 tends to do in sharp, low-speed corners. Steering feel also tends towards the vague, trucklike end of the spectrum; absolutely appropriate for a truck but not for spirited driving. While the Lightning feels like it could be a great platform for a street-oriented sport truck from the factory, what you can buy right now won't be right out of the box.
Lightning Quick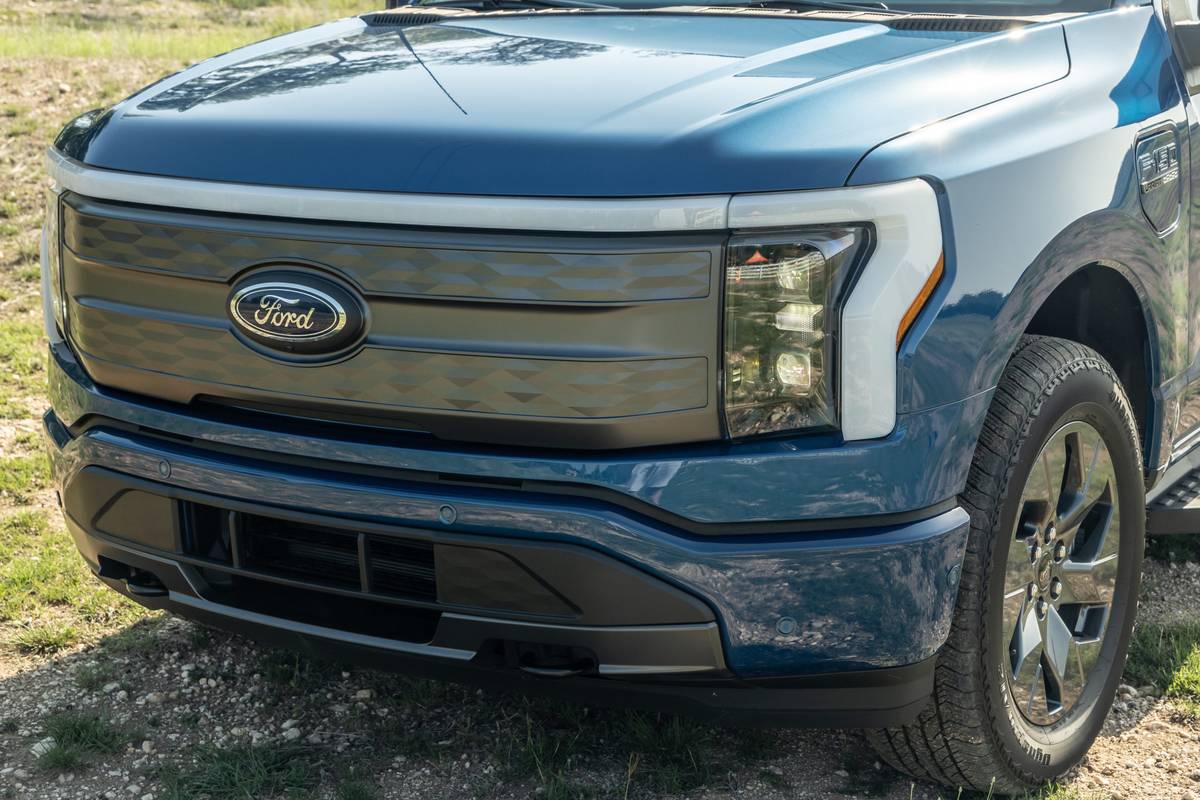 A point in favor of the Lightning feeling like it could be a great street sport truck is that, in the extended-range versions I drove, it is quick. We've measured our F-150 Limited hybrid's 0-60 mph acceleration in 5.74 seconds, and Ford estimates that standard-range Lightning models will have a 0-60 time in the 5-second range, while the extended-range will drop that to the "mid-4-second" realm. It doesn't seem like they're wrong, either. Stomp on the accelerator and 775 pounds-feet of instantly accessible torque will push you back into your seat. Just as important, there are gobs of power immediately available at higher speeds for merging and passing.
Where the Lightning's performance was a letdown in my driving experience is in the communication from its pedals. Both the brake and accelerator pedals provide a less-than-intuitive feeling that makes modulation more difficult. There's lots of braking power, but it was hard to find a way to access it without lots of abrupt stops. Throttle modulation wasn't as easy as I would've hoped, either, and with one-pedal driving (a feature that applies braking force as you ease off the accelerator) turned on, it was even more difficult. One-pedal driving in the Lightning has lots of bite and no adjustability, and in my driving time I couldn't quite get the feel for operating it smoothly. I think more time behind the wheel would give me that, but it's a steeper learning curve than I've experienced in other electric vehicles
Towing a Breeze, But There's a Catch
Pulling 8,300 pounds' worth of boat and trailer behind a Lightning XLT with the extended-range battery wasn't effortless — it's 8,300 pounds — but it didn't seem to trouble the powertrain. Range was significantly impacted, but Ford claims that impact is not unlike what happens to a gas-powered truck when towing. It's hard to accurately gauge just how range was affected after a quick driving loop. At about half battery charge, the range estimate was roughly 80 miles, but the truck had also been left idling to keep it from becoming uncomfortable in the Texas heat. The Lightning uses Ford's available Onboard Scales feature to estimate trailer or payload weight, which is used as a data point to update the range prediction while towing or hauling. For now, let's just be clear that the available range is much less when towing heavy loads.
Here's the thing: Despite an unclear picture of the precise impact towing has on the Lightning's range, for those towing long distances, this is probably not the truck for you. If a full charge is giving you under 200 miles of range to start, you'll probably need to charge often. That means many stops, taking longer than it would take to fill up a fuel tank or tanks. And, now, charging stations aren't really designed for long vehicle and trailer combos the way many off-highway gas stations and truck stops are, so charging likely means decoupling the trailer from the truck. If you're just, say, pulling a heavy trailer around town for business and charging at home or at a fleet garage, the Lightning may still have what you're looking for.
The Lightning also can be equipped with all the towing aids of the regular F-150, including Ford's Smart Hitch technology, Pro Trailer Backup Assist and much more. Its maximum towing capacity is 10,000 pounds, and there's a Max Towing Package (just like a regular F-150) that adds things like an additional battery chiller to reduce the likelihood of overheating.
The F-150 Interior of the Very Near Future
Like the exterior, the interior of the Lightning should be very familiar to those with time in internal-combustion F-150s. In lower Lightning trims with the landscape-oriented 12-inch Sync 4 touchscreen display, the control layout is nearly identical to that of current high-level internal-combustion F-150s. It's easy to use and my preferred configuration.
Lariat and Platinum Lightnings get Ford's latest Sync 4A system with a portrait-oriented 15.5-inch touchscreen. This replaces nearly every physical control with a touchscreen one, which can be aggravating for adjusting things like climate settings. Sync 4A doesn't have a significant learning curve, but settings that could and probably should be single, physical buttons (heated and ventilated seats, one-pedal driving) can be located sometimes multiple menus deep. It's unnecessarily complex, and I'll be sad when it makes its way into more Ford products; the Expedition and Edge SUVs, along with the Mustang Mach-E, already have it available. That likely means it's coming for the F-150.
Front and rear seating remains excellent. Ford says the Lightning has the same interior measurements as the internal-combustion F-150, which means plenty of passenger room. My knees are slightly raised in the backseat, which can be uncomfortable on longer trips, but there's plenty of legroom to stretch and spread out. Materials quality in the Lightning models I drove felt comparable to the F-150, meaning that it feels somewhat upscale but still below the standard set by the luxurious Ram 1500.
Something that makes the F-150 Lightning a unique Ford pickup is its Mega Power Frunk, a front trunk that's as useful as it is terribly named. There are additional power outlets and drain plugs inside, and it's roomy enough for multiple bags (it also counts towards the Lightning's payload capacity, which maxes out at 2,235 pounds). We've praised the frunk already, but this analysis feels far more accurate than talking about how many bags the Lightning can carry up front.
Free of Charging, for Now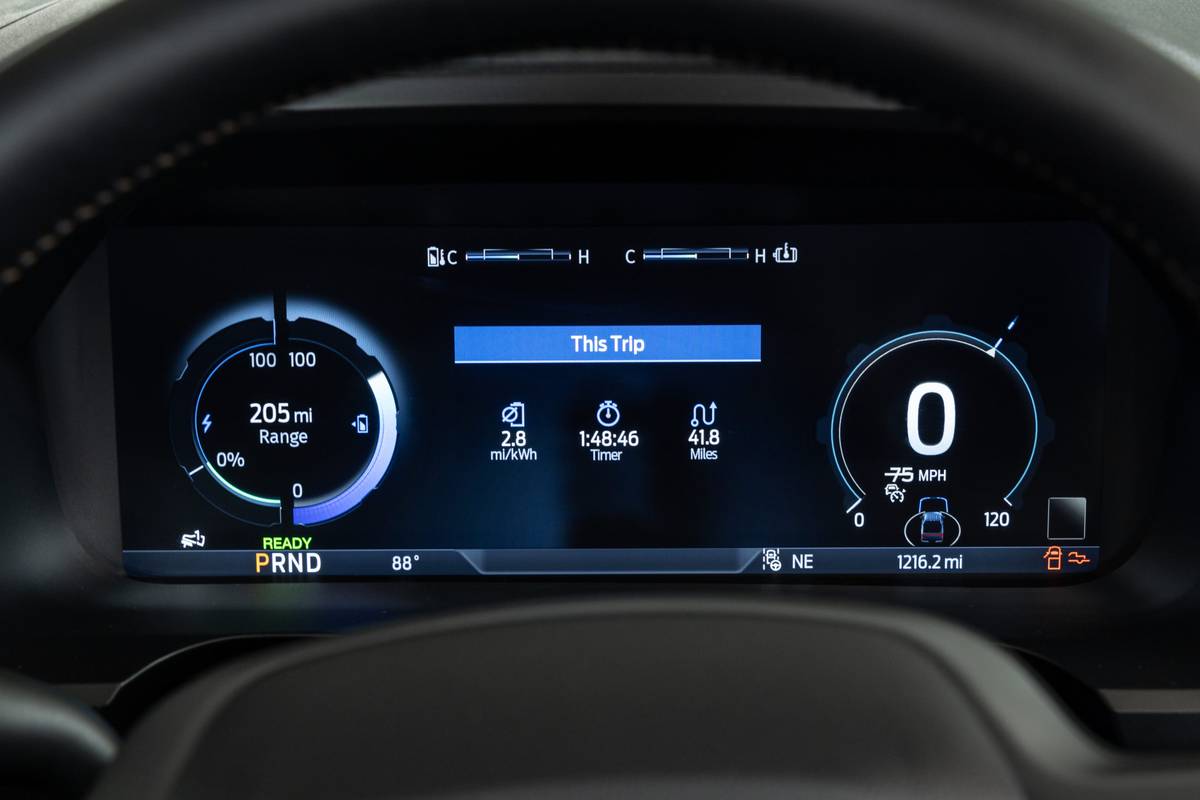 The biggest issue with reviewing an EV at an event like this is the inability to get a good sense of the charging experience. I never got a chance to plug it in.
Ford's charging claims for the Lightning aren't unimpressive, but they will likely lag competitors. The standard-range battery has a maximum 11.3-kilowatt onboard AC charger, and the extended range battery has a 19.2-kW onboard AC charger. Using the included Mobile Power Cord and Level 2 charging at 30 amps, standard- and extended-range Lightnings add approximately 13 miles of range per hour (12 for the Platinum). Upgrade to Ford's 48-amp Level 2 wall charging station, and those numbers jump to 19 and 20, respectively. For comparison, a Rivian R1T can replenish its battery at a faster rate of 25 miles of range per hour at 11.5 kW when charging at 48 amps, according to Rivian.
The second charging station, Ford's 80-amp Charge Station Pro, unlocks the full home charging potential of the extended battery's 19.2-kW dual onboard chargers that add 30 miles per hour to extended-range trucks.
The Lightning can also take advantage of 150-kW DC fast charging, adding an estimated 41 or 54 miles in 10 minutes and going from 15% to 80% charge in as little as 41 minutes. Keep in mind that there are many factors — weather, battery temperature and charging station power delivery — that can affect these numbers, none of which we were able to verify. We'd like to get a Lightning in for a more thorough test as soon as we can.
A potential shortcoming for the Lightning is its charging abilities relative to competitors. The Rivian R1T can currently fast-charge at around 200 kW, and both the GMC Hummer EV Pickup and the upcoming Chevrolet Silverado EV should be able to take advantage of 350-kW fast charging. That disparity is mitigated somewhat by the current dearth of 350-kW charging stations, but more should be coming online in the future as more vehicles with that capability hit the market. Given that having Level 2 home charging should be part of your ownership experience of the Lightning (or any EV), the lower fast-charging rate becomes less important. There's no denying, however, that the Lightning's charging abilities trail the competition.
We also didn't get a chance to test one of the Lightning's coolest features: Intelligent Backup Power. When combined with the Charge Station Pro and additional equipment installed in partnership with Sunrun, a solar energy company, Ford says the Lightning can function as de facto backup power, powering a home when traditional power sources are out. You can read all the details here, but this is an even harder feature to test. We don't and likely won't have the Charge Station Pro in our hands, and we really don't want to cause a power outage.
With our existing familiarity with the Pro Power Onboard generator system, I didn't focus on that during my time with the Lightning, but it's worth noting that the Lightning's Pro Power Onboard is the most powerful Ford has yet offered, at 9.6 kW available via 10 120-volt outlets and one 240-volt outlet. Our hybrid F-150's 7.2-kW system was previously the most powerful you could get.
More From Cars.com:
What About Blue Cruise?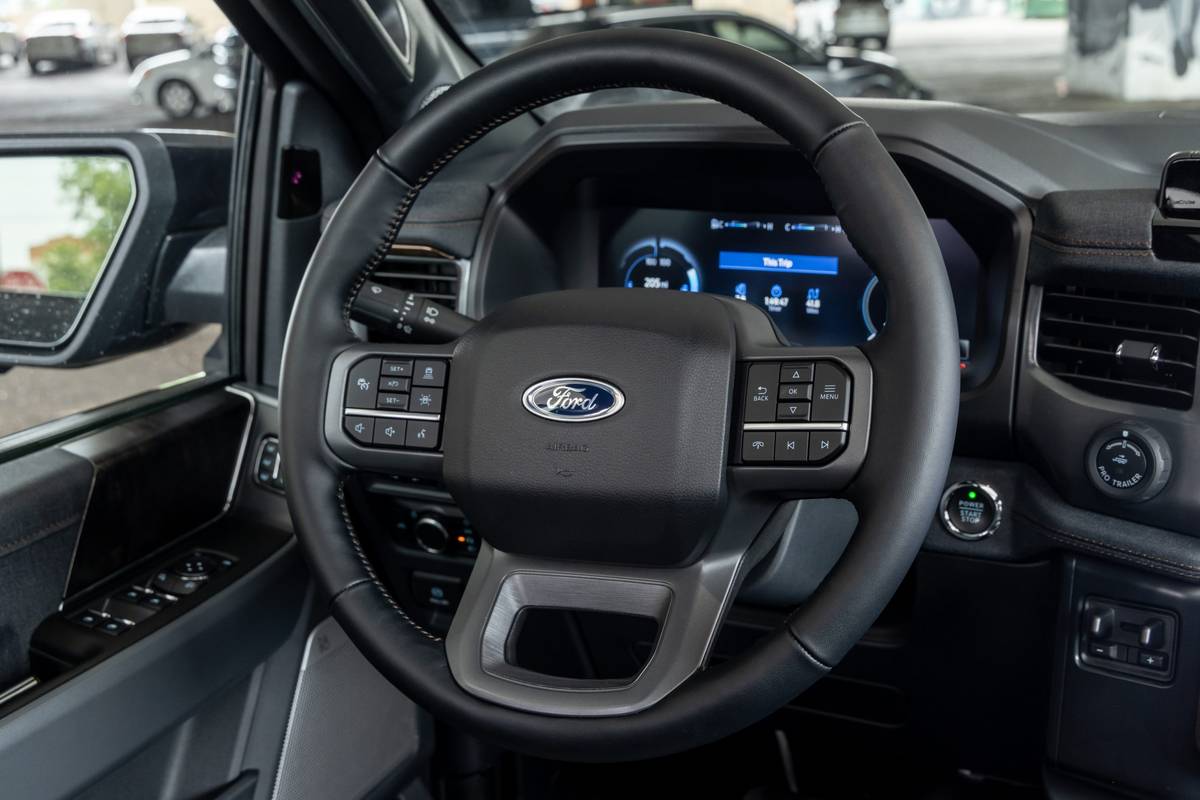 Both the Lightning Lariat and Platinum can be equipped with Blue Cruise (it's standard on the Platinum), Ford's hands-free semi-autonomous driving system. Like GM's Super Cruise, Blue Cruise is available on premapped stretches of highway. It worked moderately well when I used it, though it did turn off — with ample warning to take the wheel — quickly when lane markings became a bit vague. I really don't enjoy hands-free driving systems because I don't like ceding that much control to a vehicle and, like Ricky Bobby, don't know what to do with my hands while the systems are active, but it's available if you want it.
Is the Lightning Worth It?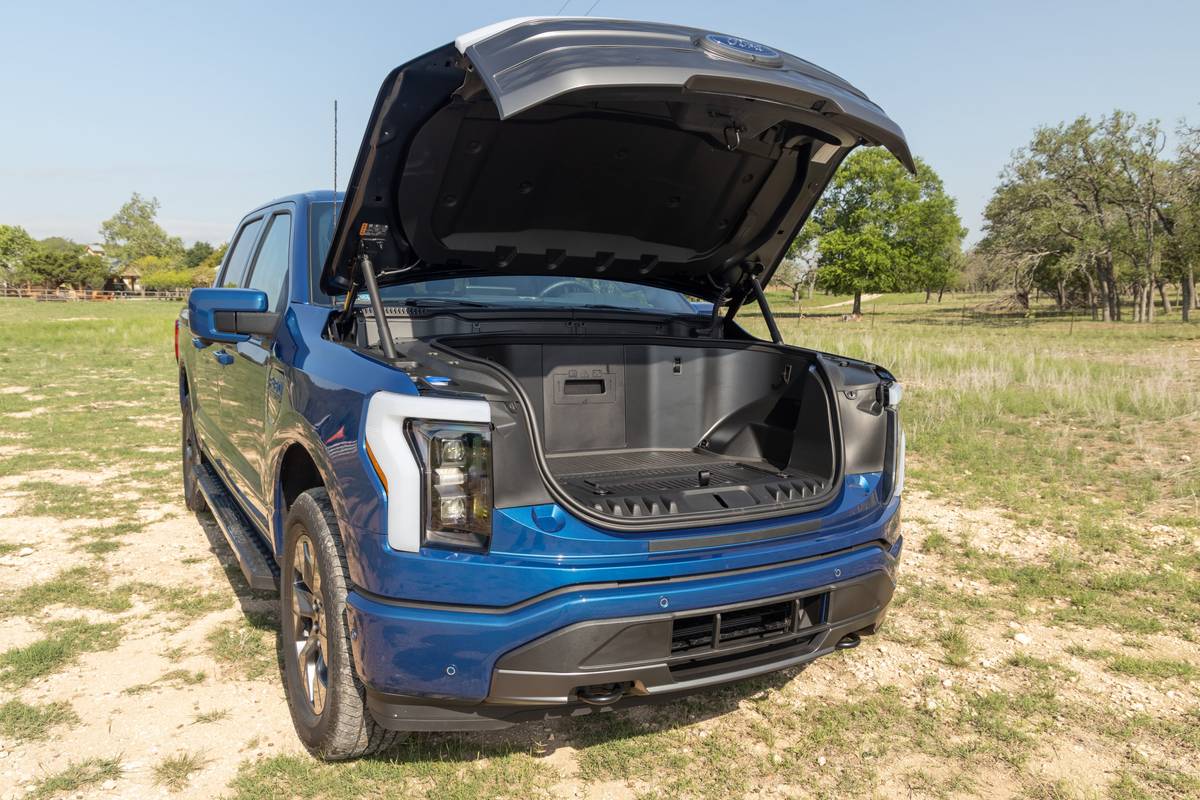 If you don't already have a reservation, getting a Lightning will be difficult. Ford significantly ramped up production to meet demand, but supply chain issues are still very much a problem, and unclaimed trucks will likely be sold at a premium.
That premium may give buyers pause; the Lightning can be expensive. Before the available tax credits, up to $7,500, a Pro starts at around $40,000, but the Platinum is over $90,000. The extended-range XLT I drove for towing was priced at $76,384. Before other options, a gas-powered crew-cab F-150 XLT 4×4 costs just under $50,000. There's a significant premium to pay to make your F-150 all-electric.
Despite some slight exterior design differences, the Lightning still very much looks like an F-150, and it drives like an F-150 with one notable exception — its prodigious, push-you-into-your-seat acceleration. That quickness may be what makes the Lightning appealing, or things like the peace of mind of Intelligent Backup Power. If having the fastest-charging EV pickup isn't your top priority, and you're not planning to tow or haul long distances, I think the Lightning is worth your consideration, despite its hefty price premium.
Related video:
Cars.com's Editorial department is your source for automotive news and reviews. In line with Cars.com's long-standing ethics policy, editors and reviewers don't accept gifts or free trips from automakers. The Editorial department is independent of Cars.com's advertising, sales and sponsored content departments.