NEWS
2022 Rivian R1T Quick Spin: The First Very Real Electric Pickup
By Joe Wiesenfelder
October 26, 2021
If we wrote about every proposed model from every startup manufacturer, especially those dedicated to electric vehicles, we'd waste a lot of our time (and yours) on products that never came to be. So we hold back until we know a vehicle is more than merely vaporware. After a quick spin in Rivian's R1T electric pickup truck, it was clear to fellow Cars.com editor Kelsey Mays and me that the R1T is not only real, but really compelling.
Related: Here Are Electric Pickup Trucks Expected in the Next 5 Years
The opportunity came to us as jurors for the North American Car, Truck and Utility Vehicle of the Year awards and unfortunately involved no off-road or towing tests, which is sure to fuel the debate over whether the R1T is a "real" pickup. Having recently sat through a tedious presentation that attempted to convince us another vehicle with a pickup bed is not a pickup truck, I'm confident in two conclusions: First, all individuals can make their own decisions. Second, mine is that having an open cargo bed is all any vehicle requires to be called a pickup. Let's move on.
The truck we drove was a Launch Edition, with a base price of $74,075 (all prices include destination). Though it's sold out, the Adventure Package scheduled for January delivery will be similar, and all R1Ts share what Rivian calls a Large battery pack good for 314 miles when equipped with 21-inch wheels. Rivian's documents say you lose 5-10% of that range with 22s and 10-15% with the 20-inch Pirelli Scorpion all-terrain tires our test truck had. All trucks also have a claimed 0-60 mph time of 3 seconds, though that's also "depending on your tire selection."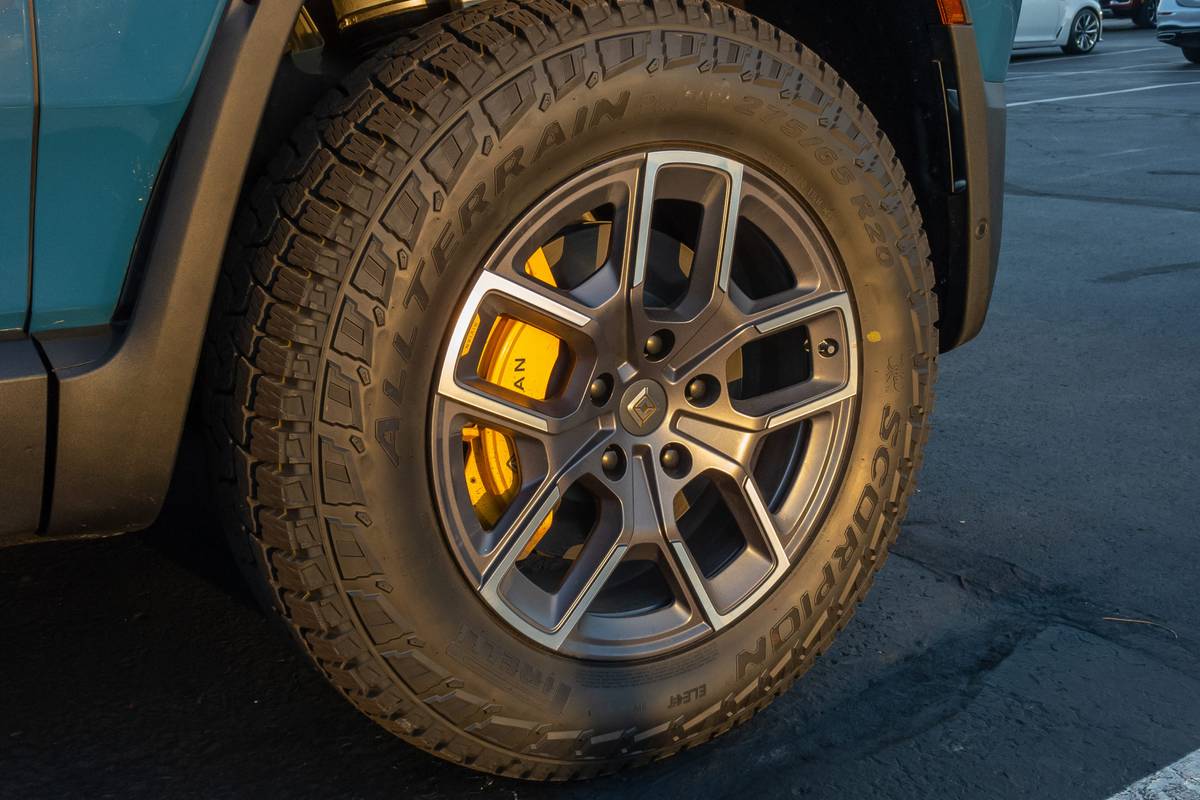 I'm guessing our 20-inch tires were also the "slow" ones, but they sure didn't feel that way with the R1T switched to Sport mode and each of the four standard drive motors giving it their all. I'm accustomed to EV acceleration, but you never get used to the kind of thrust we're starting to see from the most powerful all-wheel-drive EVs. In this mode, the truck also hunkers down on its standard air springs and firms up both its adaptive shock absorbers and electro-hydraulic stabilizer bar that also employs a variable-rate damper. The R1T corners admirably flat and doesn't ride too firmly in Sport mode when moving in a straight line. The air springs provide 6.5 inches of height variability, according to Rivian, for ground clearances of 7.9 to 14.4 inches. (That maximum is bonkers; a Jeep Wrangler Rubicon maxes out at 12.9 inches.) In the Rock Crawl mode, one of a few modes for off-road use, the stabilizer bar essentially goes soft to maximize wheel articulation.
But, as mentioned, there were no off-road opportunities. I spent most of my time in All-Purpose mode, which rides comfortably and quietly. Rivian seems to be taking many cues from Tesla, because the R1T includes no idle-creep when you're off the brake pedal and provides generous regenerative braking — enough for effective one-pedal driving when you're in its most regenerative setting.
Everything from how you activate the Highway Assist feature (a steering column stalk) and its graphics on the instrument display to the associated Lane Change Assist functionality recall Tesla's Autopilot. Ditto for the combination of thumbwheels and switches on the steering wheel spokes, which are the way you adjust the side mirrors and tilt/telescoping wheel after calling up the appropriate menu on Rivian's 16-inch dashboard touchscreen. It always seems to irritate people when mirrors don't have their own controls, but the ability to store multiple profiles should help make that a one-time hindrance.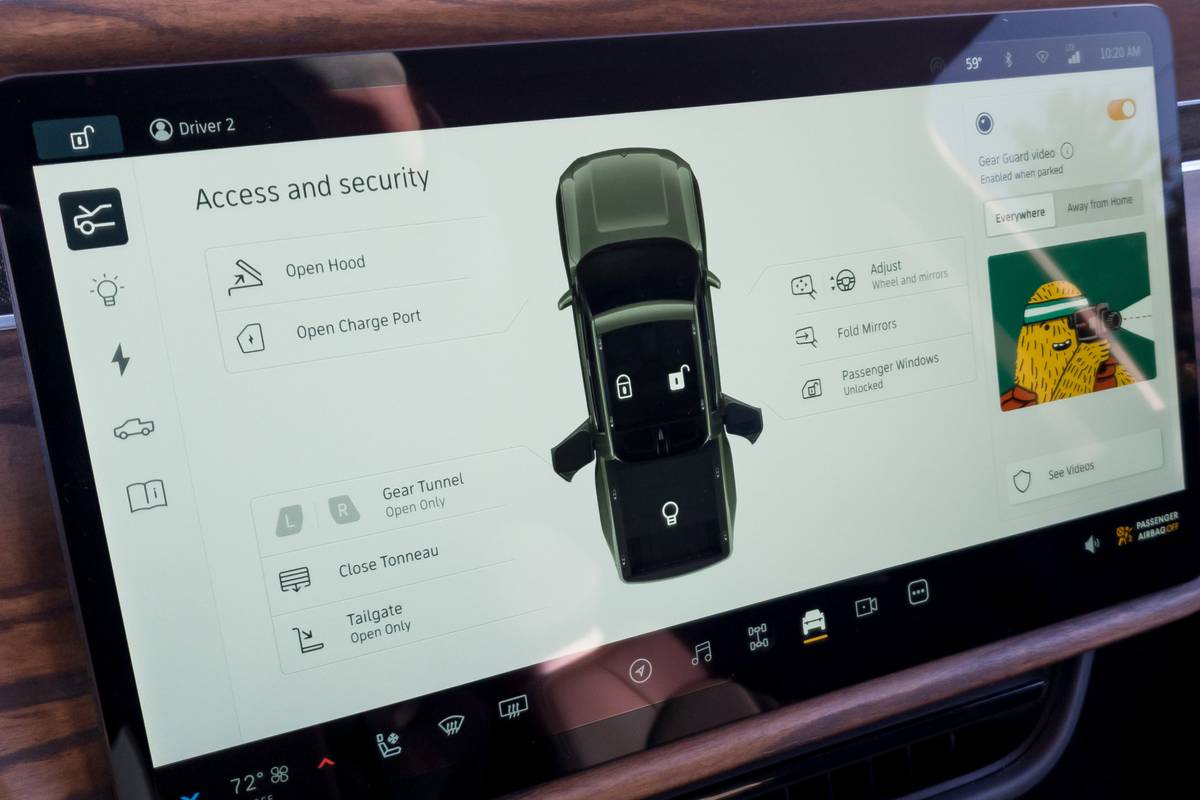 Like Teslas, the R1T relies heavily on its touchscreen for control, with precious few hard buttons or switches elsewhere. Fortunately, Rivian seems to have put a lot of thought into the interfaces, as well.
The cabin proved a pretty roomy and comfortable place both front and rear, with materials that impressed even Kelsey, who has far better taste than I. The seats are upholstered in vegan leather that looks and creases like the real thing, and there's little hard plastic to be found, even low on the doors. The ash wood trim is genuine.
There's lots of storage space in the center console, even with the removable, rechargeable Bluetooth Camp Speaker that docks and charges in the front.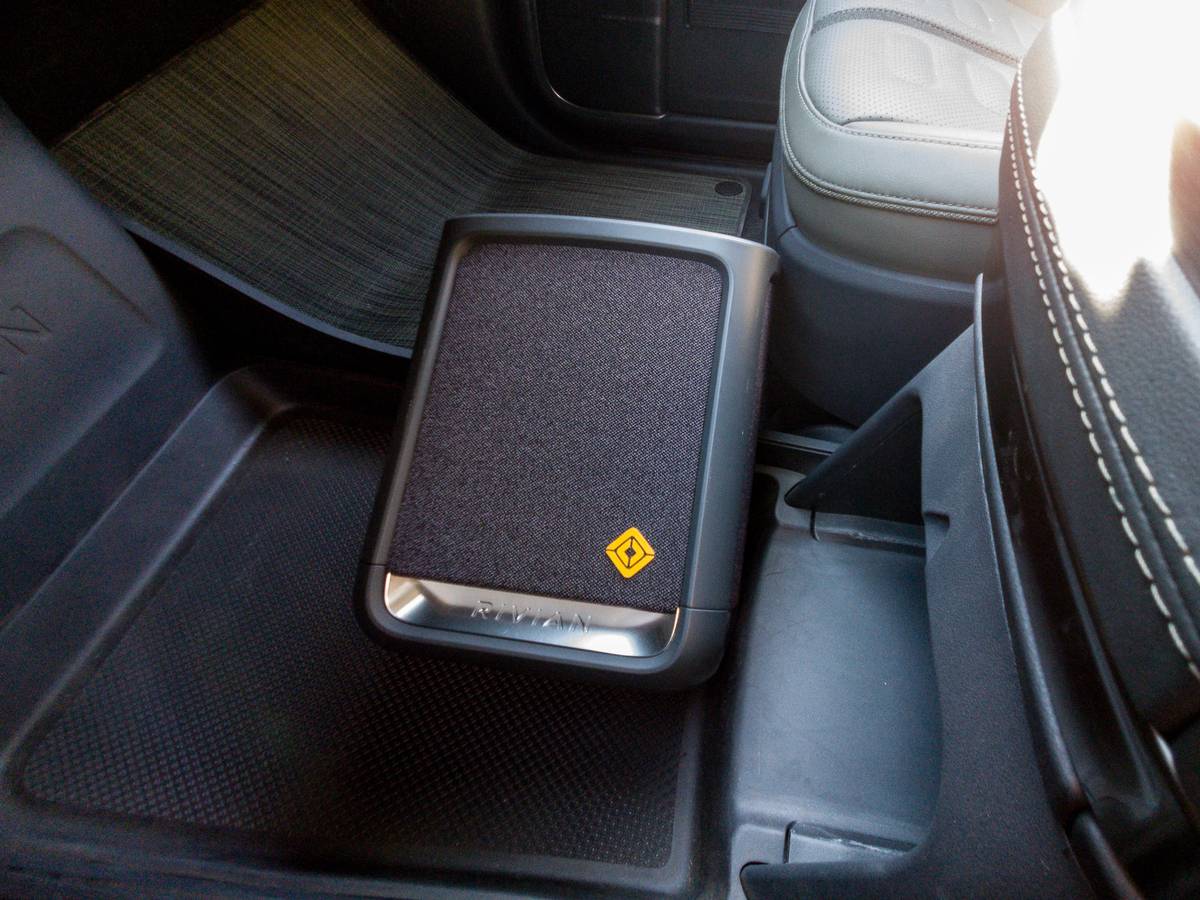 The pickup bed is more than 4 feet wide and 4.5 feet long when closed, but almost 7 feet long when the tailgate is lowered thanks to an articulated hinge that extends it farther than its height alone — a neat trick. There's room for a full-size spare tire under the cargo floor. The bed has four D-rings and two cleats atop either side rail. One bed wall includes a nipple for a built-in compressor so you can fill your tires out on the trail. There are also two 120-volt outlets rated at 15 amps — not quite the 20 amps of our Ford F-150 hybrid's Pro Power Onboard generator system, much less Ford's 240-volt outlet (or those of the upcoming F-150 Lightning). But they're good enough for most appliances, unlike most household outlets you see in vehicles. There's another outlet at the back of the center console for the backseat and one more inside the Gear Tunnel described below. The Launch Edition and Adventure Package include a powered tonneau cover that turns the cargo box into a weather-resistant trunk.
If the bed doesn't do it for you, there's also a bilevel front trunk good for 11 cubic feet, according to Rivian, and a Gear Tunnel (11.7 cubic feet more) that makes use of space between the cab and the rear wheels. Its flip-down doors double as seats with a 250-pound rating. And if you find loading it too awkward, Rivian offers a sliding Gear Tunnel Shuttle platform I wish had been installed so I could see if it's worth $1,500. Likewise for the inductive electric stove that slides and folds out of the space in another option package.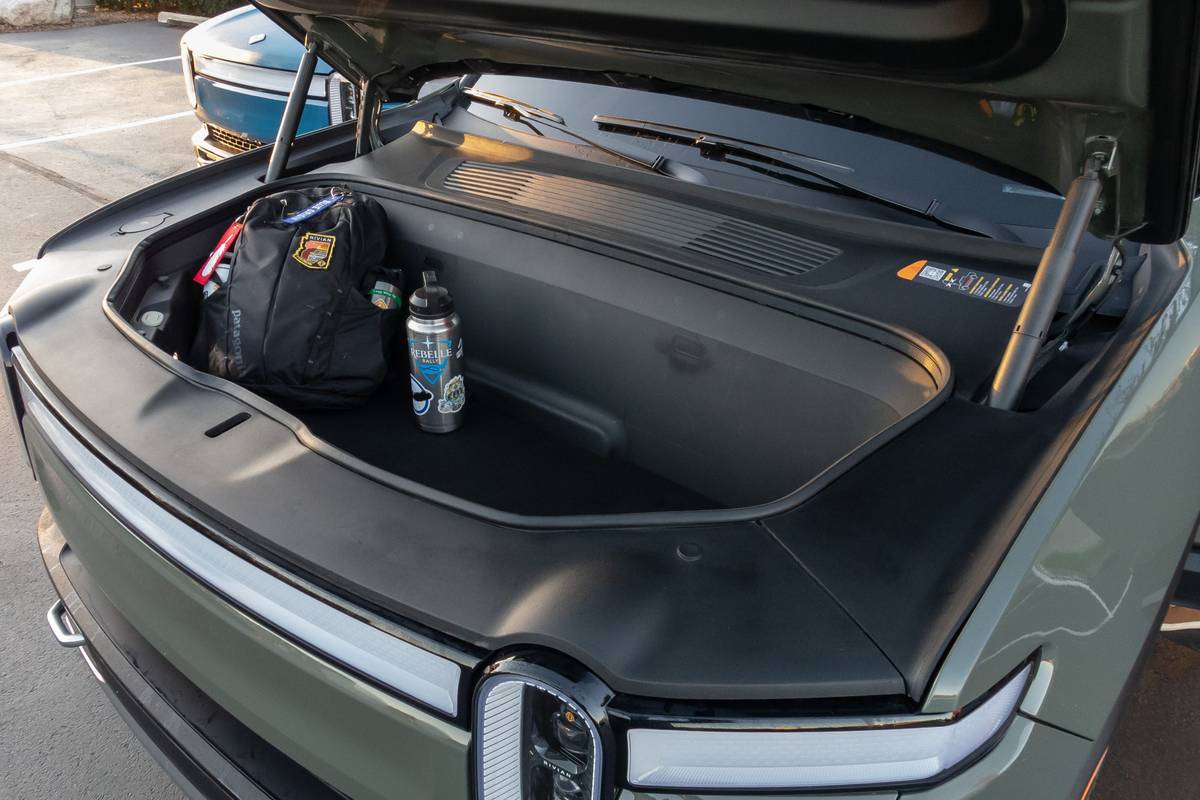 Under the false floor of the frunk is a mobile Level 1 or 2 charger that provides 32 amps at 240 volts for up to 7.7 kilowatts of AC charging. You might get by with this much power in a car, but given that the R1T's Large battery pack is 135 kilowatt-hours and 314 miles of range, it could take more than 19 hours to charge fully (Rivian estimates 16 miles per hour of charging). So you'd be better off going with the truck's maximum AC charging rate of roughly 11.5 kW, which would fill a totally depleted big pack in more like 12.5 hours (25 miles per hour). Of course, these times are all theoretical; we prefer to test such things for real and hope to do that soon. That's likewise the case for public DC fast charging, which Rivian says maxes out at 200 kW, providing a claimed 140 miles of range in 20 minutes.
Note that the R1T is a 400-volt vehicle, so it won't accept the higher rates we're starting to see among new models, but the company says the current rate will increase with over-the-air updates.
More From Cars.com:
Is It a Real Truck?
The R1T is undeniably a real product, but is it a real pickup truck? As I hinted before, I find the question somewhat irritating. There's no question that if you want a pickup for contractor work, more appropriate options exist. On the flip side, pickup truck sales didn't skyrocket because suddenly everyone became a contractor or farmer. Many trucks are purchased for recreational usage, and the R1T is optimized for just that. Its mid-size classification alone reflects its likely use. As for the tow rating, 11,000 pounds seems pretty robust, though we're as dubious about what towing would do to the R1T's range as we are for any EV that's rated to tow.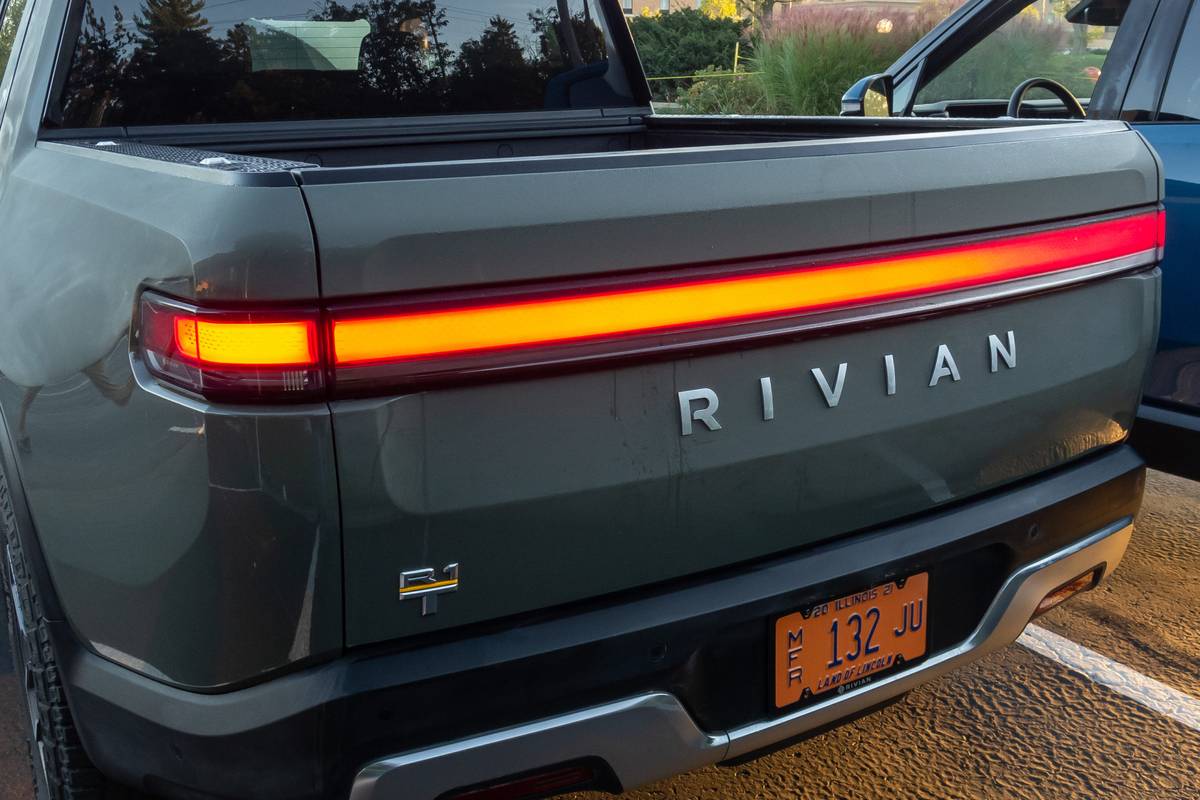 Once you experience the R1T, even the price doesn't seem bad for an EV that's eligible for a $7,500 tax credit. Our own 2021 F-150 Limited hybrid, admittedly larger, cost just under $78,000. Come January, a $68,575 Rivian R1T Explore will have the same pack and powertrain but a manual tonneau cover, simpler audio system and more modest interior. Technically, an R1T can be purchased anywhere direct from the manufacturer; like Tesla, Rivian's brick-and-mortar locations are merely showrooms. As for maintenance and repair, Rivian says it will provide concierge service and piggyback off the infrastructure that will support its Amazon delivery vans. It's worth noting that although 100,000 of those vans have been ordered, there's no known deployment timeframe, and we suspect they will be concentrated in specific areas along with the supporting infrastructure.
We look forward to spending more time with the R1T and its R1S sibling, an SUV, as soon as possible.
Related Video:
Cars.com's Editorial department is your source for automotive news and reviews. In line with Cars.com's long-standing ethics policy, editors and reviewers don't accept gifts or free trips from automakers. The Editorial department is independent of Cars.com's advertising, sales and sponsored content departments.