$28,000 Compact SUV Challenge: The Results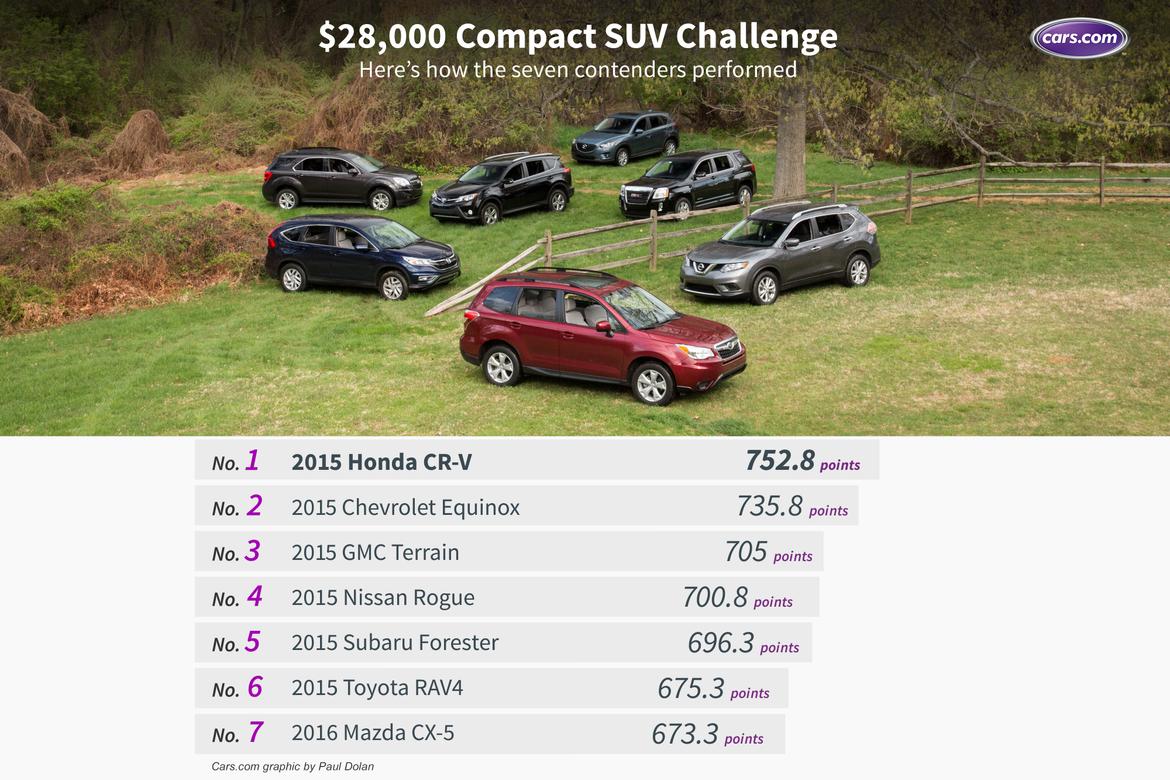 CARS.COM — Compact SUVs are hot, hot, hot among consumers today. Shoppers like how much cargo they can carry, their relatively decent fuel economy and their usefulness. In 2015, buyers can get all sorts of features that might not have been available just a few years ago: Bluetooth streaming audio, blind spot monitoring and even adaptive cruise control.
$28,000 Compact SUV Challenge
Index | What the Judges Said| Mileage Test
To pull together this Challenge, we opted for compact SUVs that cost less than $28,000, including the destination fee, and achieved EPA combined city/highway mileage ratings of at least 26 mpg. That left us with eight potential competitors (in alphabetical order):
2015 Chevrolet Equinox
2015 Ford Escape
2015 GMC Terrain
2015 Honda CR-V
2016 Mazda CX-5
2015 Nissan Rogue
2015 Subaru Forester
2015 Toyota RAV4
All the automakers except Ford were able to find SUVs for us to test. Ford said it was unable to find one in its press fleets that met our requirements.

We picked the price based on Cars.com's listings for compact SUVs that came with the features we know are popular with families. After four days of testing outside of Baltimore with experts from Cars.com, USA Today and "MotorWeek" as well as a real-life family, here's a video on how each car performed:

As you may have noticed in our scoring, less than 80 points separates No. 1 from No. 7. That reflects how closely the judges ranked these cars. If you're looking to buy one of these compact SUVs, check how they fared in each individual category in the gallery below. If you're more concerned with fuel economy than cargo space, let those scores guide you. If you're more worried about ride than tech and entertainment, the same applies. Clearly, there was not a dog in this group, and your needs may well be different from those of our judges or other shoppers.
Cars.com photos by Evan Sears; Graphics by Paul Dolan
What You Get
Cars.com graphics by Paul Dolan