$28,000 Compact SUV Challenge: What the Judges Said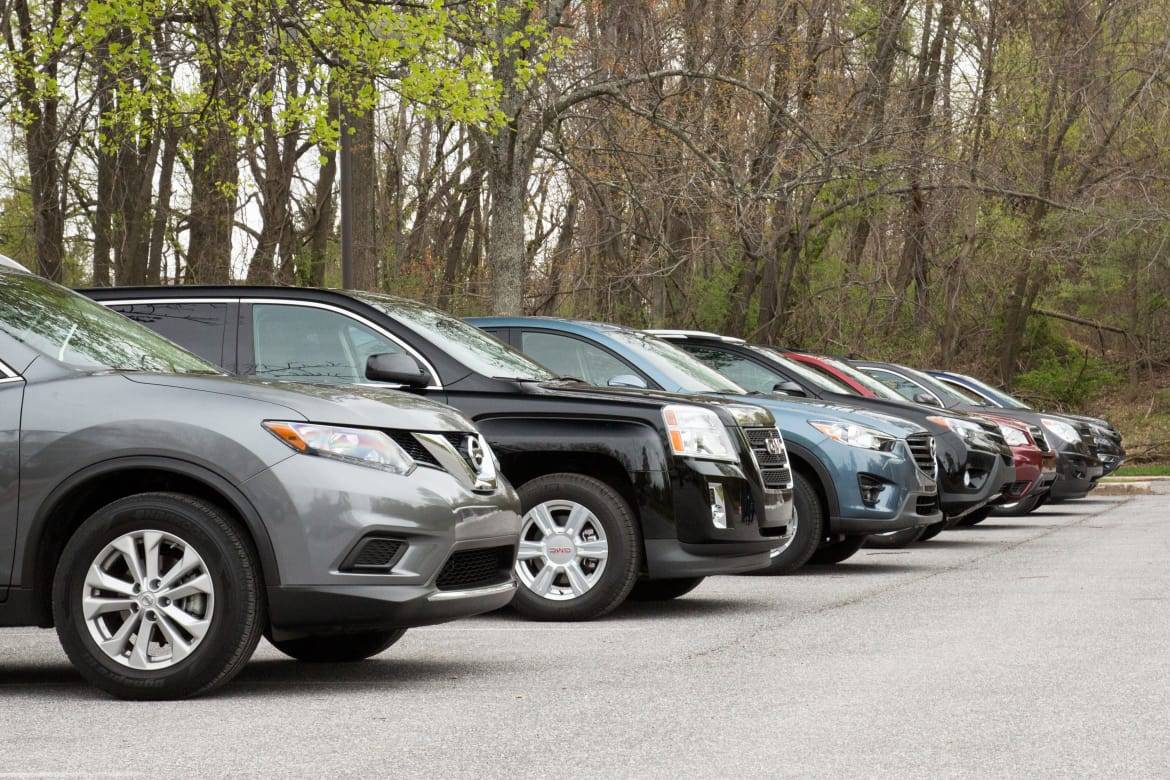 We set a maximum price of $28,000, including a destination charge, and each car had to get at least 26 mpg in combined city/highway EPA ratings. Eight SUVs fit that bill (in alphabetical order):
2015 Chevrolet Equinox
2015 Ford Escape
2015 GMC Terrain
2015 Honda CR-V
2016 Mazda CX-5
2015 Nissan Rogue
2015 Subaru Forester
2015 Toyota RAV4
Unfortunately, Ford was unable to provide an Escape for our Challenge.
$28,000 Compact SUV Challenge
Index | Results | Mileage Test
To evaluate our compact SUVs, for the better part of a week we put them through a battery of tests in and around Baltimore:
We took them on a 100-mile drive to judge real-world fuel economy; the route mixed bumper-to-bumper city traffic, 30-40 mph roads, and wide-open interstates and two-lane highways.
 
On another day, the experts drove all seven SUVs over the same route, back-to-back, to judge ride and handling, acceleration and braking.
 
We brought in a real-life family — Holly and Andy Davenport, 47 and 49, respectively, and their two young sons, Levi and Bentley (photo below) — to help us evaluate these cars. Andy works for a company that builds trade-show displays, while Holly works for the state of Maryland. They live north of Baltimore, near the Maryland-Pennsylvania border.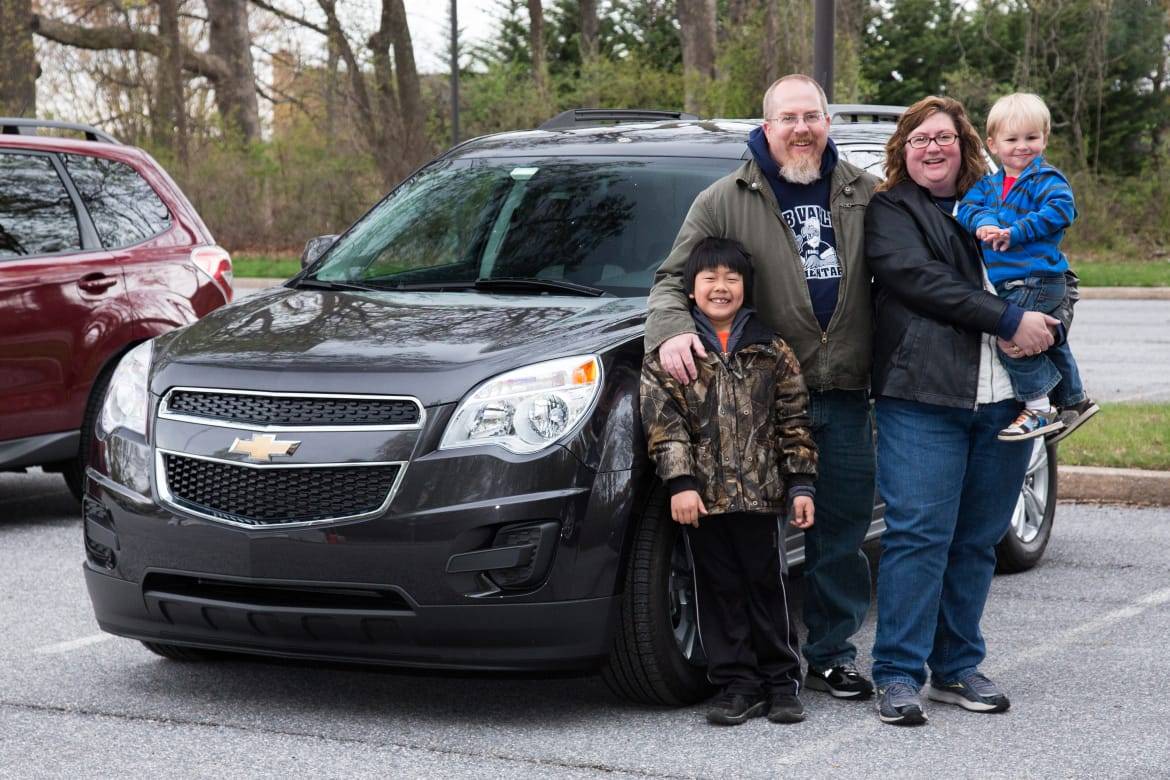 The Davenports joined our judges:
Bill Jackson, Cars.com assistant managing editor
Kelsey Mays, Cars.com senior editor
Kristin Varela, Cars.com senior editor
Jim Healey, auto writer for USA Today
Fred Meier, auto editor for USA Today
Brian Robinson, producer for PBS's "MotorWeek"
2015 Honda CR-V
Research | Car Seat Check | Inventory
The verdict: "The CR-V provided the best blend of good interior room, excellent visibility and a surprisingly rewarding driving experience to power it to the top of my scorecard," Jackson said.
What they liked: Most of the positive comments for the CR-V focused on creature comforts for our judges. "I love the easy-to-fold seats," Robinson said, "and I love the low load floor." "You get a lot of extra features for the money," Meier pointed out: all-wheel drive, sunroof, heated seats and LED lighting "from a brand that's not typically the price leader." "The air vents in the back of the center console help rear-seat passengers heat up or cool down quickly," Varela said. "And those heated seats were much appreciated when the snowflakes started falling." The release handles in the cargo area fold the backseat in a graceful sequence of head restraints, cushions and backrests," Mays said. "You might only use it once a year, but it's still awesome." The CR-V has a continuously variable automatic transmission, and its use in the CR-V drew raves. "The CVT could fool you for an automatic transmission," Mays said. "Nissan and Subaru could learn a thing or two." "Honda proves that a gas-stingy CVT tuned right can also be pleasing to drive," Meier said.
What they didn't: While several judges found the interior improved in this generation, it wasn't without its flaws. "The door trim, in particular, remains econobox quality," Mays said. "The interior looks a bit dated in comparison to others in the test," Varela said. "Need proof? Check out the gray fabric door-panel inserts and then imagine grimy hands brushing against them every … single … day. How would you clean those, anyhow?" But the biggest criminal in the CR-V is its entertainment system. Robinson went off on it: "The new infotainment system is a little easier to use than before, but it has come with the elimination of all knobs. I absolutely hate volume rocker switches. I need a knob." While many judges liked the CR-V's CVT, several found it to be "sluggish," and its handling "only adequate."
2015 Chevrolet Equinox
Research | Car Seat Check | Inventory
The verdict: "A graceless interior shows the Equinox's age," Mays said, "but fundamentals like passenger space and ride composure can't be beat."
What they liked: The GM cousins share an advantage over much of the rest of this class: They're a little bigger and that translates into more space for passengers. "GM's big-boy chairs make the other cockpits seem like economy-class tickets," Mays said. "It's extra width makes it feel a half-size larger," Meier said, "and it has limo-like rear space with a sliding and reclining seat, no seat hump and wide doors for easy entry." "That sliding second row makes the interior flexible enough to handle rear-facing infant seats," Varela said, "or my three tween/teen daughters and their backpacks!" She also had praise for, of all things, the cupholders. "The grippy, rubber-lined cupholders do something novel," she said. "They hold cups. Amazing! Others are too shallow, allowing cups to tip out at every turn, or too wide, causing cups to rattle loudly." "I love, love, love that the child [safety] locks are accessible from the center console," Holly said. "I can turn it on and off whenever I want." That, among other reasons, helped the Davenports choose the Equinox as their favorite in our Challenge. The Equinox's ride also won near-universal praise. "It absorbs bumps very well," Jackson said. "It offers a smooth ride without sloppy handling," Meier said. "Its ride quality and noise levels reveal above-class composure, especially on the highway," Mays said.
What they didn't: But the Equinox wasn't always a smooth player. "That ride is great over smooth roads," Robinson said, "but the suspension is really harsh over rough roads." The Equinox is one of the oldest SUVs in this space, and it definitely showed in the interior, the judges said. "The interior just doesn't look rich, as there's a lot of exposed hard plastic," Jackson said. And, he noted, "Chevrolet needs to chill out on the number of buttons it puts in the center stack." Mays agreed: "The hodgepodge of buttons below the multimedia system seems designed by Picasso." "It's got a serious shortage of sex appeal," Meier said, and he and several other judges dinged the Equinox for poor visibility. "Fat windshield pillars and a narrow windshield cut your forward visibility," Meier said, while Mays noted the "small windows toward the rear create dismal visibility." "The power and acceleration could be better in the Equinox," Robinson said, and several judges agreed, with one pointing out that it's among the heaviest contenders. "I'm not wild about the way the car downshifts and how it revs up first," Andy said. For Varela, the key setup was baffling. "While the Equinox has remote keyless entry, it's really pointless because I have to use the key to start the car. Huh?" She also pointed out a potential problem for smaller drivers. "The brake pedal was designed for someone with much larger feet than my size 6.5 feet. To brake, I have to lift my whole leg to get leverage on the brake pedal."
2015 GMC Terrain
Research | Car Seat Check | Inventory
The verdict: "The Terrain is easily the most rugged-looking of the group," Robinson said. "It's probably the only one that looks like a traditional SUV, but, unfortunately, it also rides like one as well, and that kind of stands out in this class of very car-like rides."
What they liked: The Terrain shared many compliments with its corporate cousin, the Equinox: roomy, big seats and a sliding second row. But it drew some praise for its own achievements, too. That rugged look was one of them. "The fact that it stands out stylistically isn't a bad thing," Varela said, and she wasn't alone. "Love it or hate it," Meier said, "the Terrain has a distinctive design in a lookalike category." In addition to having big seats, Mays said, "only the GMs have good seating height. Taller adults don't have to sit with their knees elevated." "I like this upholstery better than the Equinox," Holly said. "It won't snag." "Despite all the room given over to passengers," Jackson said, "it still manages to have a large cargo area." "The deep, narrow center console is the biggest of the group," Varela noted, "and it's definitely large enough to keep my electronics out of sight while I'm running errands."
What they didn't: "Knowing that the Terrain can't back up its rugged looks with its performance," Robinson said. In addition, even though both GMs offer 4G LTE WiFi connectivity, which the Davenports' 8-year-old son loved, the Terrain did not offer Bluetooth streaming audio. "Inexplicable," Meier said. Mays added: "The Terrain's multimedia system puts shine over substance, pairing a snazzy touch-screen with confusing buttons and no Bluetooth streaming audio." As with its accolades, the Terrain shared some of the same complaints that the Equinox received: It's heavy, lumbering and offers poor visibility. Jackson called out the Terrain's interior: "It manages to look less rich than the Equinox, and GMC is the more premium brand."
2015 Nissan Rogue
Research | Car Seat Check | Inventory
The verdict: "Not the most fun to drive, but the extra features for the price make this easily the value leader in this group," Meier said.
What they liked: And there are plenty of features to like. "The Around View Monitor kicks butt when it comes to squeezing into and out of tight parking spaces," Varela said. Not to mention that "a power liftgate, blind spot warning system, lane departure warning and Moving Object Detection take the Rogue up to the top of my list." "The cabin materials are lush: Now, these are proper armrests," Mays said. "Toyota and Honda should take note." And, he added, "The cargo area has an embarrassment of riches with movable partitions, stackable shelves and lots of hidden under-floor storage. Epic win, Nissan." But it's not just about features. "The handling is confident and steering is precise," Meier said. And Jackson found the Rogue to be "fairly quiet, both in terms of road and wind noise as well as engine noise."
What they didn't: But Varela didn't share his impression of the CVT's sounds. "If you press the gas to get more response, you get a whiny groan before anything else," she said. "With three daughters, I experience enough whining as it is. I don't want my car to talk back as well." Mays described the Rogue's CVT as "a mess," despite the automaker's experience with that drivetrain. "The otherwise competent chassis loses composure on broken pavement," Meier said. And Jackson took the seats personally: "Someone at Nissan stays up nights designing seats specifically to hurt my back," he said. "It's uncomfortable." Andy also had issues with the seats. "I felt the metal frame on the outside of the seat cushioning when I got into the passenger's seat," he said. "That makes me think the seating foam would wear down quickly." And while many liked the Rogue interior, Robinson worried it might be skin deep. "Like a lot of Nissans, the interior looks great, but when you start touching stuff, it feels very cheap."
2015 Subaru Forester
Research | Car Seat Check | Inventory
The verdict: "The Forester has the best visibility of any car in this test; it's surprisingly fun to drive, but it's a very loud cabin, and it can get pitched around in crosswinds more than the others in the test," Jackson said.
What they liked: The Forester had two clear advantages over the others in the field: "Visibility, visibility, visibility," as Robinson put it, and an all-wheel-drive system that also drew applause. "There aren't many things in life that you can trust as much as Subaru's all-wheel drive," Varela said, and both sentiments were echoed by most of the other judges. "The Forester aims to be sturdy and practical, down to its heavy all-weather floormats," Meier said, "and doesn't pretend to be otherwise." Subaru's EyeSight crash-avoidance system on the Forester had its fans as well. "I got the most use out of EyeSight telling me when the car ahead of me has moved," Varela said. "I generally think I'm a very attentive driver, but clearly this system is more on the ball than I am." And Mays like the value proposition with the Forester. "For similar cash as the others," he said, noting that only about $800 separated the most expensive SUV from the least expensive, "our Forester had all-wheel drive, a giant moonroof and Subaru's excellent EyeSight system. That's value, people."
What they didn't: Although the EyeSight system is cutting edge, the same can't be said for the Forester's entertainment options. 'The retro infotainment system is complicated to operate," Meier said, "and the sound quality is muddy." Varela asked, "Is that a fly on my dash? No! It's the world's tiniest backup camera image." Holly found she "just couldn't get comfortable in this car," she said. "I feel like I'm sitting too tall even when I move the seat down." And "while it feels more solid than the previous generation, it still doesn't feel rugged at all," Robinson said. "The interior may be easy to clean," Meier said, "but there's a lot of hard plastic."
2015 Toyota RAV4
Research | Car Seat Check | Inventory
The verdict: "The RAV4 is not a bad choice," Meier said. "It's a competent vehicle that's good at everything, but not really the best at any one thing."
What they liked: That competency revolved around how easy the judges found the RAV4 to drive. "It's probably the best here at delivering both a good ride quality and decent handling," Robinson said. Varela agreed: "It was the best of the bunch to drive for extended periods. It was comfortable on a variety of road surfaces, smoothed out harsh bumps and didn't create a lot of driver fatigue." Mays enjoyed the RAV4's center controls. "They had a wealth of features, from dual-zone automatic climate controls to a touch-screen stereo with navigation." "The entertainment system was easy to use and quickly paired with my phone for audio streaming," Jackson said. "I can put the windows up and close the sunroof even when the ignition is off," Holly said. "That's a good thing." Several judges applauded how quiet the RAV4's ride was, and Jackson noted "the cargo area is enormous for a car that's not particularly large on the outside."
What they didn't: But he also pointed out that, "while the cargo area is huge, up front in the cabin, there's not a lot of cargo space." Meanwhile, Mays found that "Toyota spruced up the dash with a ribbon of stitching … and phoned it in everywhere else. From rickety climate dials to cardboard-quality headliner, this is a study in cost-cutting," he said. "The bean counters spared nothing." Varela said, "The backseat is very stiff, hard and flat. I would not want to get stuck back there." And Meier said that the RAV4's "Sport mode had no discernible effect on the driving experience."
2016 Mazda CX-5
Research | Car Seat Check | Inventory
The verdict: "The CX-5 is kind of unspectacular for me," Varela said. "While it definitely features some niceties above and beyond the others, with rear cross-traffic alerts for example, it just doesn't shout, 'take me home and drive me for hours on end every single day.' "
What they liked: Its quickness. "Mazda's beefy four-cylinder won't fool anyone for a V-6," Mays said, "but it pairs with a responsive transmission to turn the CX-5 into a capable highway passer." "The handling felt tied-down and more like a sedan than a tall crossover," Meier said. Meanwhile, the interior quality also drew raves. "The backseat was plusher than many of the others," Varela said, "something my daughters would definitely appreciate." 'The seat comfort is very good," Robinson said, "and the interior layout is refreshingly simple." "The technology – pairing phones, playing music – is easy to use," Jackson said. "The blind spot warning came in handy for those tricky merges onto the highway," Varela added.
What they didn't: But that quickness led to other issues. "Power aside, the CX-5 is not a slam dunk in the fun department," Mays said. "The steering is weighty but somewhat numb, and the brakes feel muddy in the first inch of pedal travel." "The trade-off for its handling is a ride that will be too firm for many," Meier said. "Yeah, I know everyone likes zipping around in this fun-to-drive car, but if you're going to drive it as a daily hauler," Varela said, "something with a little more give to the suspension would be more enjoyable." For the family, more everyday concerns popped to the fore. "I like the center control, but I'm also nervous about it," Holly said. "I'm concerned that I'll spill stuff on it and break it." And, Jackson noted, "including a button that says Nav when you do not, in fact, have a navigation system, is just mean."