6 Features Our Genesis G70 Doesn't Have That We Wish It Did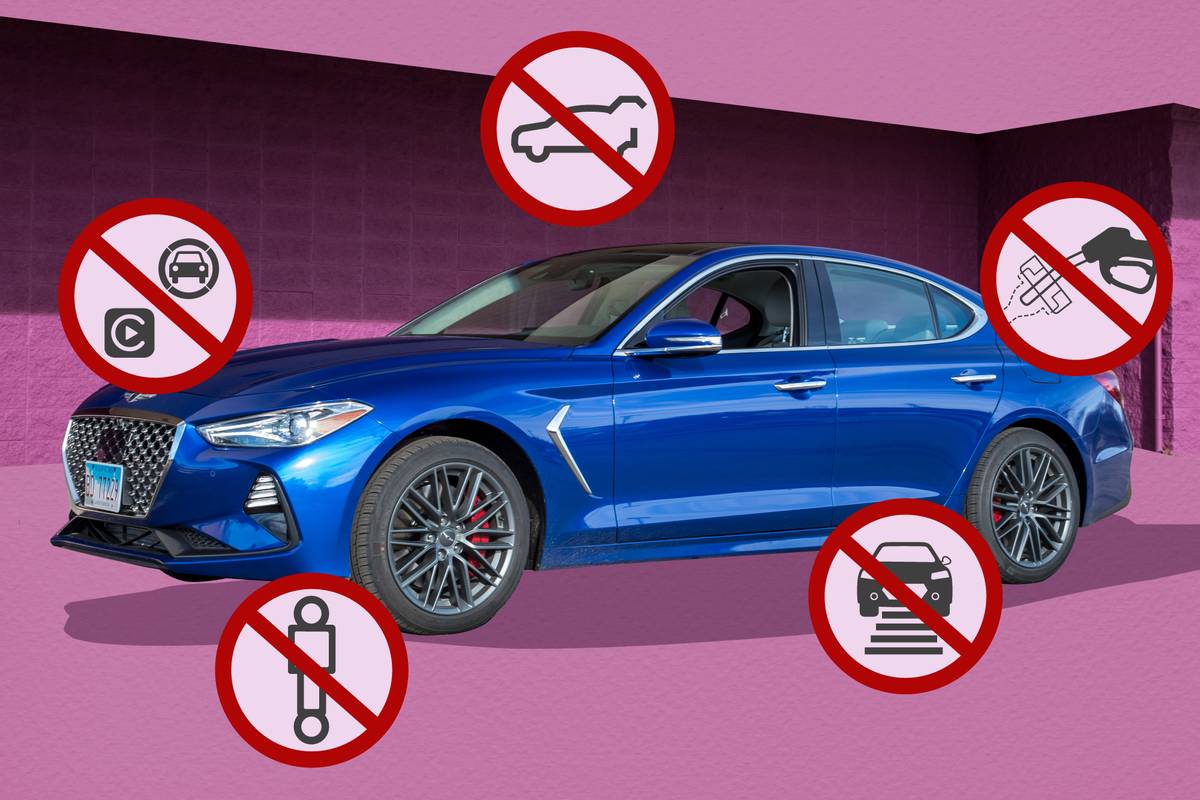 It's rare to walk away from any big purchase and feel like you got the right end of the deal, but the 2019 Genesis G70 is one of those feel-good stories because it's a heck of a lot of car for the money. Even so, Cars.com's long-term G70 lacks a few features we wish it had, some of which are offered on rival luxury sedans.
Related: We Bought a Genesis G70: Here's What We Paid
1. No Adjustable Suspension On Non-Dynamic/Sport Versions
We laud the G70's taut ride and quick handling reflexes with our 3.3T's standard sport suspension, but sometimes we'd like a smoother ride for straightaways and highway travel. An adaptive suspension with adjustable firmness settings is available, but it only comes on 3.3T G70 Sport and Dynamic and Sport models with larger (19-inch) wheels and summer tires. This isn't uncommon, as BMW and Audi offer adaptive suspensions only on the performance-oriented M340i and S4, respectively. But ride comfort isn't the G70's strongest suite, and we wish Genesis offered a version with the adaptive suspension and smaller wheels. Maybe we wish we just got the adaptive suspension, but we'd also have to shell out more money for a set of all-season or winter tires.
2. Proximity Keyless Access
The G70's proximity key unlocks the doors when the key is in your pocket and you press an unlock button on the front door handle, but what you can't do is walk up, tug the handle and unlock for button-free access, a provision many competitors offer. And you're out of luck if you go straight to the back doors for entry: You'll have to push the front-handle button twice to unlock the rear doors. A 2019 Ford F-150 pickup truck we recently tested had a smarter keyless entry system with button-free, pull-to-open access. But that's not entirely a fair comparison — the F-150 we tested was $20,000 more expensive than our $51,000 G70. (Yes, trucks are pricey.)
3. No Wireless Apple Carplay
The 2019 BMW 3 Series is one major competitor with wireless Apple CarPlay, but it's still something we want to see proliferate throughout the luxury and non-luxury class, and into the G70. It's a convenience feature that works well in BMWs even without a corded connection.
4. Power Trunk Lid
The G70's trunk pops open with an electronic release, but it won't close on its own — so pedestrian, are we right? There aren't many cars in this class that do as it's typically reserved for more expensive sedans, but the Mercedes-Benz C-Class offers a full-power trunk as an option even in its least expensive guise on the C300.
5. Low-Speed Lane Centering
The G70's lane centering is commendable for how tightly it keeps the car in its lane during slight highway curves, but it doesn't work below 35 mph. Low-speed lane centering is available in the Volvo S60's Pilot Assist, BMW 3 Series' Extended Traffic Jam Assistant (BMW's system even allows it with provisional hands-free functionality) and Tesla Model 3's Autopilot. Genesis' system is so good when it does work, however, that if the feature worked at low speeds as well as it does at higher speeds, it could be among the best in the class.
6. Capless Fuel Filler
Luxury cars are all about offering a unique, premium experience and doing things for you — self-driving features, memory seats, power trunks. But you still have to untwist your own gas cap in the G70. That's par for the course among many competitors, though rivals like the Acura TLX have a capless fuel filler where you simply insert the nozzle straight into the exposed filler neck. An increasing number of non-luxury cars (Ford, for example) offer the same convenience. It's one of those little things that makes a big difference.
In the grand scheme, these are relatively small quibbles on how the G70 is equipped. A small luxury sedan that includes all of these features for the G70's price doesn't exist. If it did, we might have to give it an award, too.
More From Cars.com:
Cars.com's Editorial department is your source for automotive news and reviews. In line with Cars.com's long-standing ethics policy, editors and reviewers don't accept gifts or free trips from automakers. The Editorial department is independent of Cars.com's advertising, sales and sponsored content departments.