Boss Pricing: 2008 Chevy Corvette Z06 $10,000 Off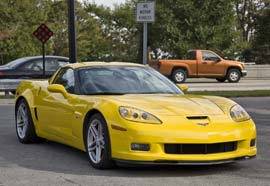 During most sales events like GM's current employee pricing madness — we know, we're inundating readers with these posts, but we want to make sure shoppers are well-informed — high-performance cars like the Chevy Corvette and its more powerful big brother, the Corvette Z06, aren't included. Not this time.
The Corvette Z06's base version, called the 1LZ, starts at $72,125. After the employee pricing discount, it's $62,653. Yep, that's almost $10,000 off.
The other two trim levels are discounted slightly more than $10,000. All prices are what's available in the Chicago area, and your region's discount may vary. Check GM's website to see. Also, we called a local Chevy dealer to make sure they were indeed following the employee pricing deal for this model, and we were told they are. We found dozens of 2008 Corvette Z06s in just a search of our area on Cars.com's new-car inventory page.
Employee pricing ends Sept. 2. And if you want a refresher on the Z06 check out my video from last year below.