Cars.com's 2016-17 Car Seat Honor Roll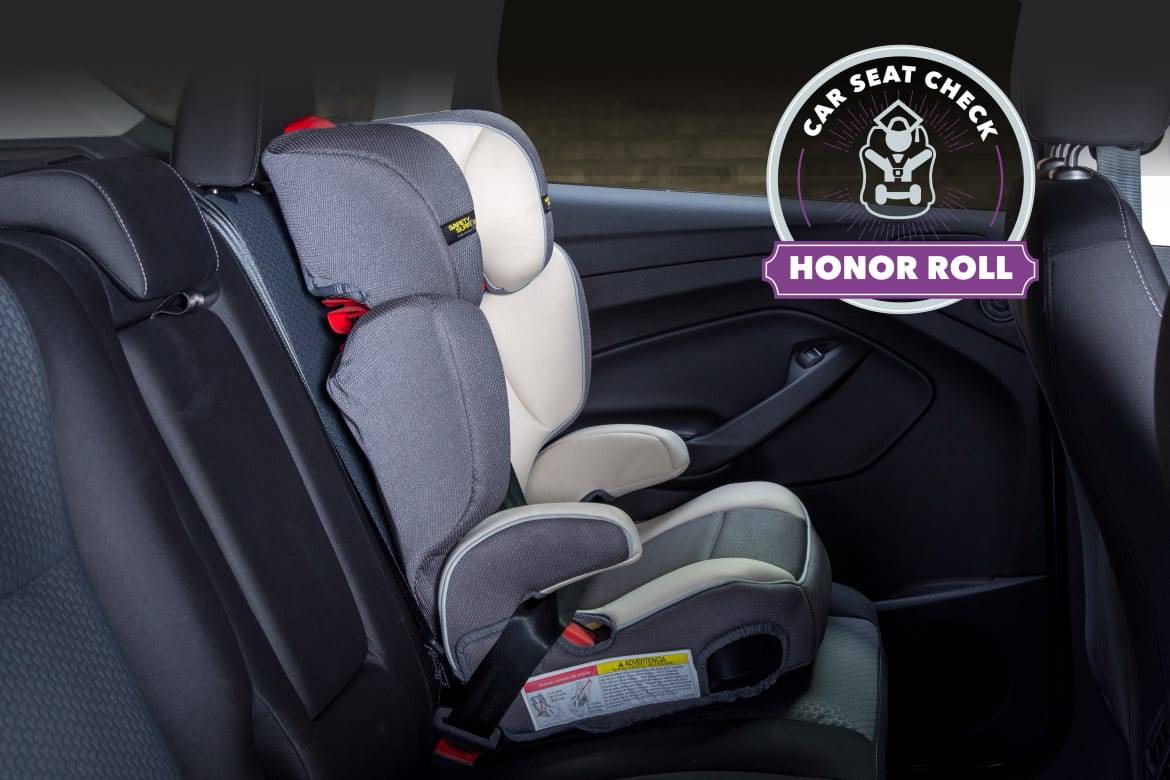 CARS.COM — Out of 84 model-year 2016 and 2017 vehicles tested in our Car Seat Checks, only six have made the Cars.com's Car Seat Check Honor Roll. These six cars earned the top score of A in all of our Car Seat Check categories, setting them apart as the best for car-seat installation.
Child Passenger Safety Week begins on Sept. 18, a week that helps to educate parents and caretakers about the importance of car-seat safety. At Cars.com, we have three certified child passenger safety technicians who install and write our Car Seat Checks. At these checks, we investigate a car's Latch system, which is supposed to make car-seat installation easier but oftentimes doesn't, as well as how different car-seat styles fit into a car.
Our Honor Roll recognizes the cars we've tested that make car-seat installation easier for families. They are:
The 2017 Escape has a lot to crow about. Not only has it made Cars.com's Car Seat Check Honor Roll, but it also earned top honors as the winner of our 2016 Compact SUV Challenge. This five-seat compact SUV makes quick work of car-seat installation with its easy-to access Latch anchors, removable head restraints and reclining rear seatbacks. With a starting price of $24,495 (all prices include destination fees), it's within reach for many small families.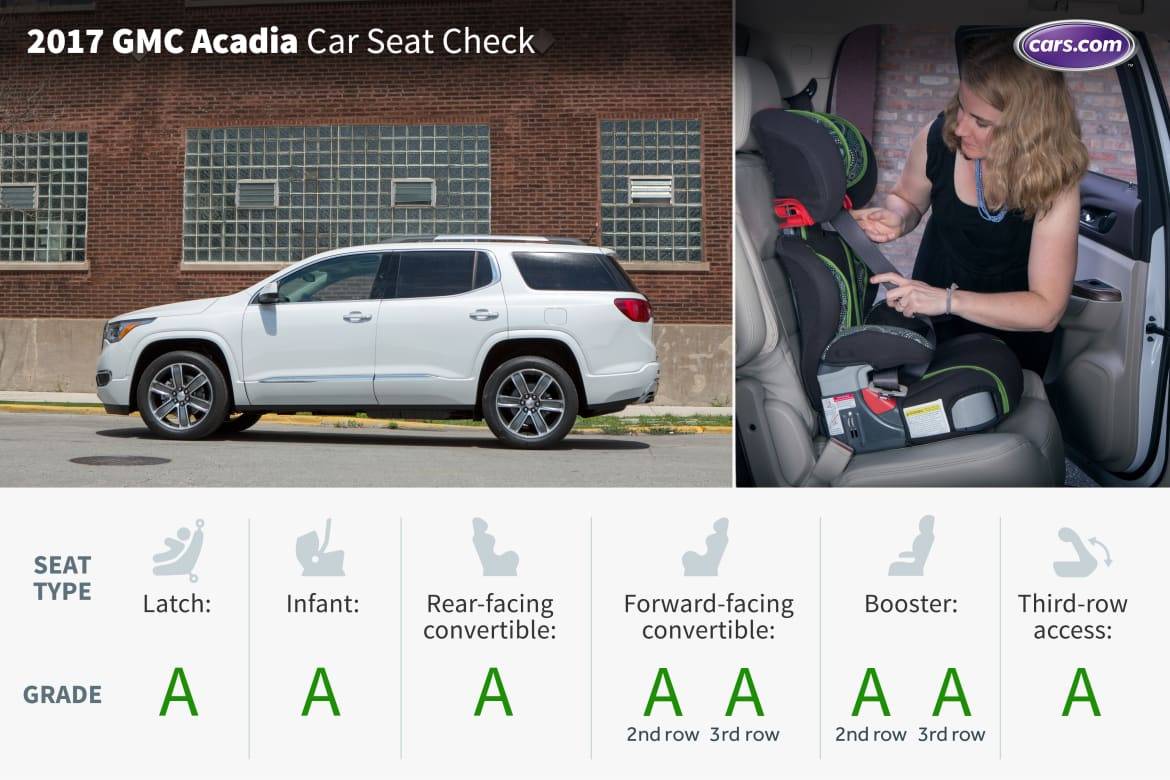 We were shocked when the redesigned 2017 Acadia, which shrunk more than 7 inches in length and 3 inches in width, earned our top grade of A in all Car Seat Check categories. No longer a full-size SUV like its predecessor, this midsize SUV is available with two rows or three; we tested the latter. With a starting price of $29,995 for a three-row Acadia, larger families can travel in style and comfort.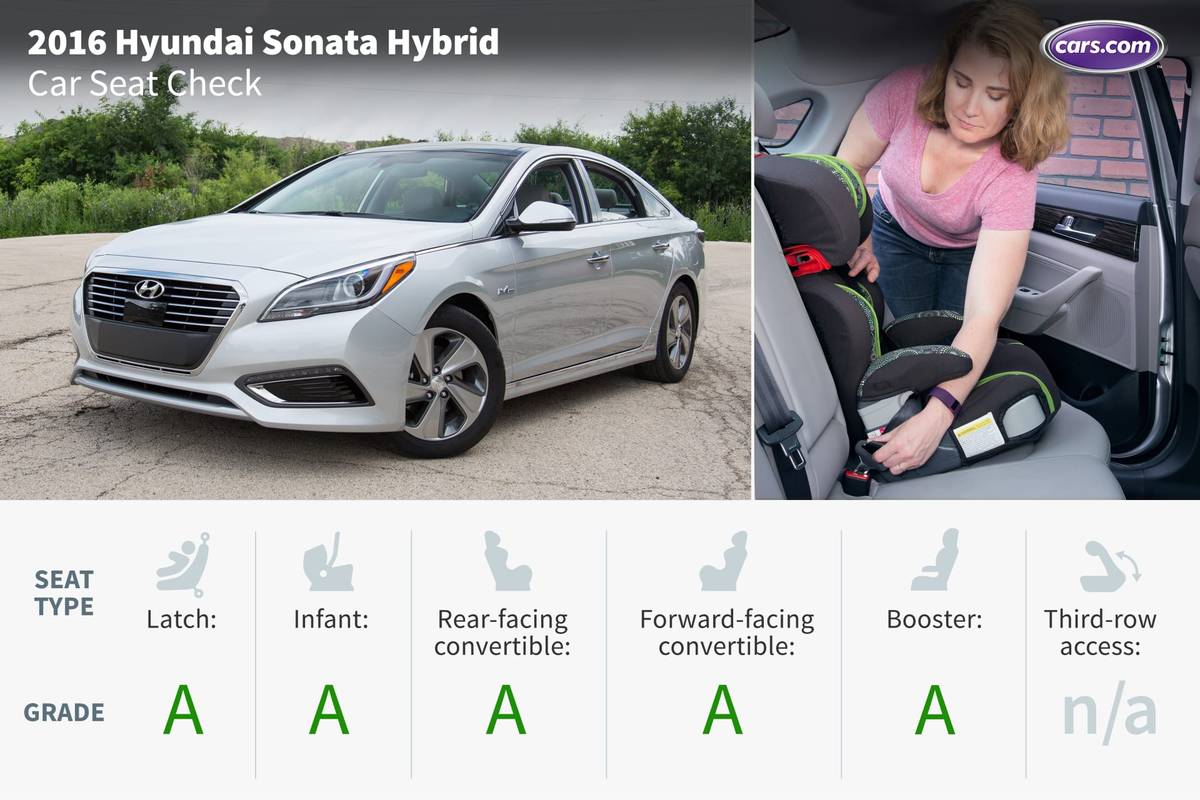 For families that put a premium on eco-friendly cars, the 2016 Sonata Hybrid could check all your boxes. This redesigned midsize hybrid sedan gets 39/43/41 mpg city/highway/combined, which is more efficient than the 2015 Sonata Hybrid. It also features a roomy backseat with plenty of space for two rear-facing car seats and exposed Latch anchors for quick car-seat installation. The Sonata Hybrid starts at $26,835, making it wallet-friendly too.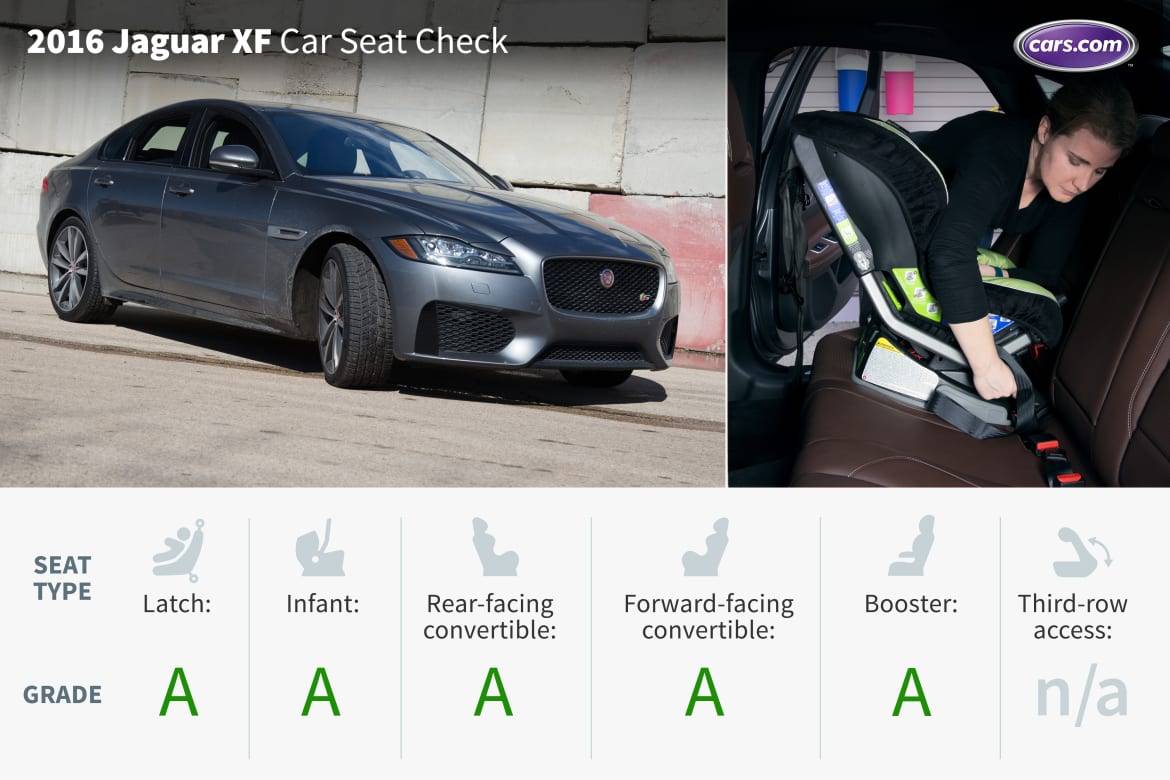 While Jaguar may not be the first automaker that comes to mind when thinking about family cars, it certainly knows how to treat a family well. The redesigned XF features one of our favorite style of Latch anchors: They sit behind removable plastic covers, making car-seat installation easy as pie, or maybe scones. The 2016 version of this midsize luxury sedan is slightly larger than its predecessor, adding 0.6 inches of rear legroom. That may not seem like much, but it made all the difference when installing rear-facing car seats. With a starting price of $52,895, the XF may not jump to the top of a family's car-shopping list, but for those who take a closer look, there's a lot to like.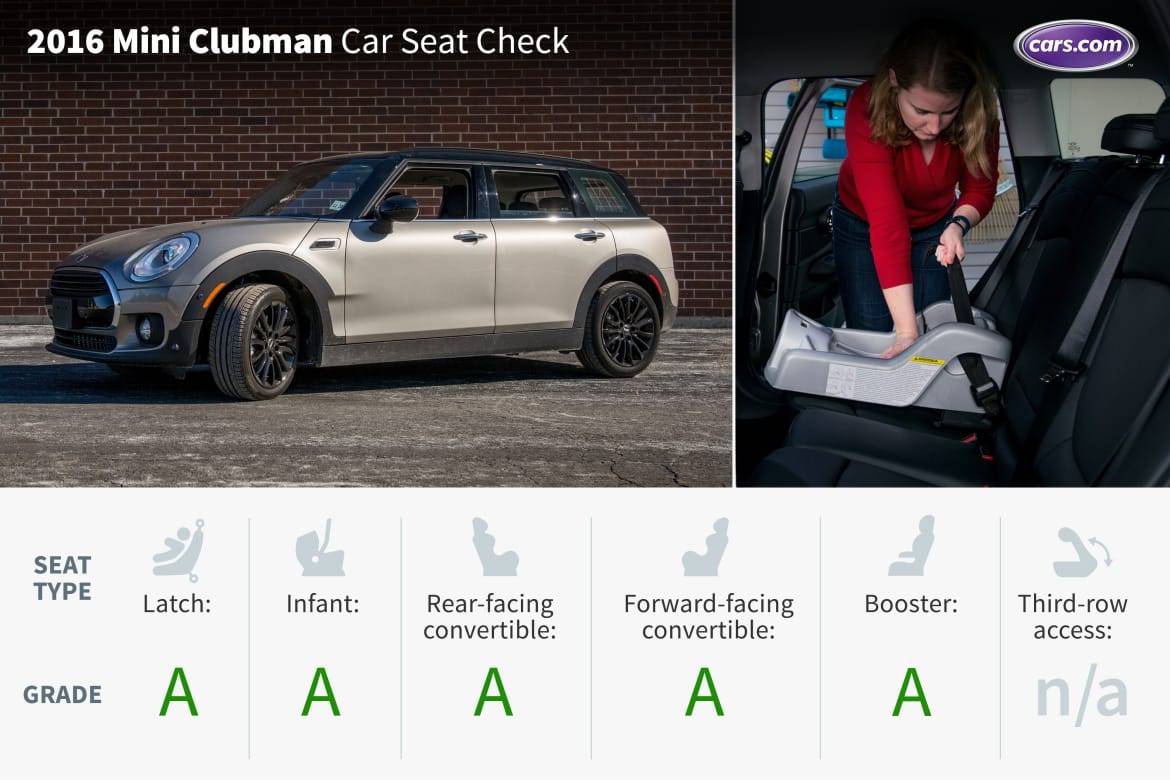 If you like to stand out in a crowd but still need a usable backseat for the kiddos, the redesigned 2016 Clubman fits the bill. This Mini isn't so mini anymore — the Clubman has grown a foot in length, helping it earn top honors in its Car Seat Check, but it also still manages to be fun to drive. With three rear seats in the 2016 version, the Clubman, which starts at $24,950, can work well for families of three or four.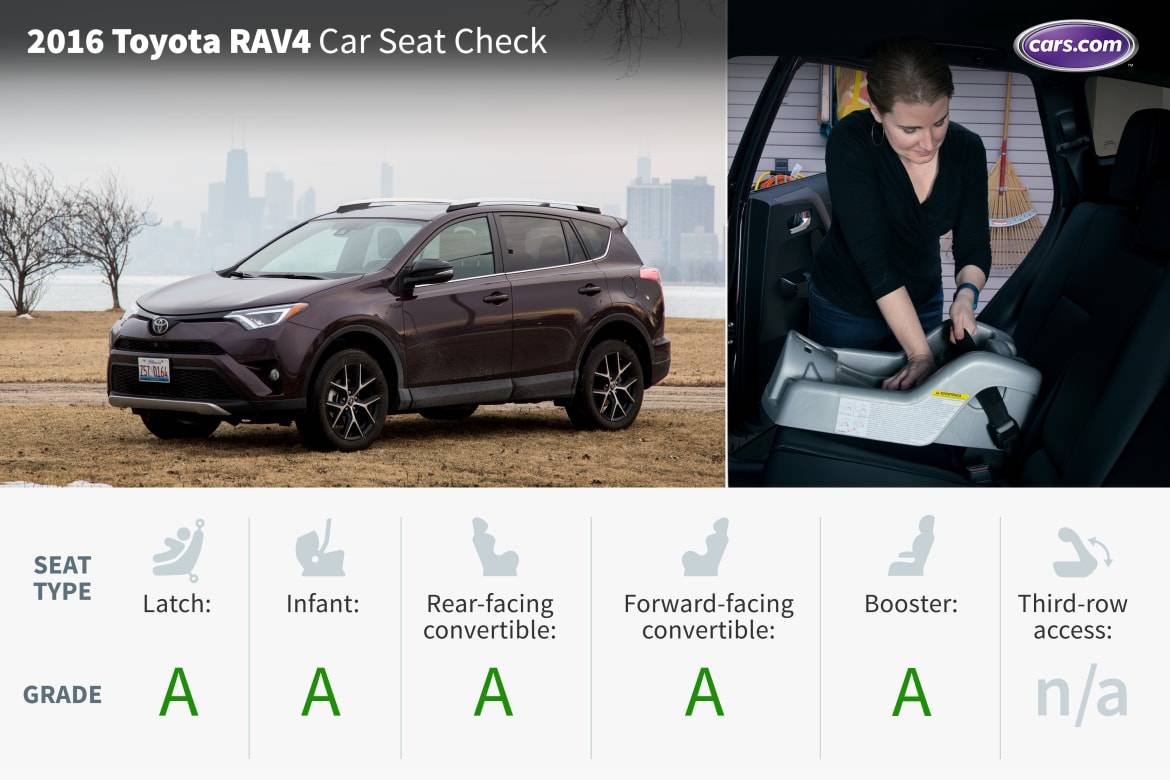 The 2016 RAV4 didn't fare as well as the Escape in the 2016 Compact SUV Challenge, finishing in fourth place out of five contenders. When it comes to car seats, however, it's clearly at the top of the class. Our Challenge judges praised the RAV4's "massive" backseat, which helps it easily handle those space-hogging rear-facing car seats. The best-selling RAV4 has a starting price of $25,250.