What's the Best Compact SUV of 2016?
CARS.COM — Compact SUVs continue to be a best-selling segment, and why not? They carry plenty of people, cargo, pets, whatever you need. Because they're so popular, Cars.com is now testing this category every year.
The 2016 Compact SUV Challenge
Results | Multimedia Winners and Losers
This year's version is the first stab at our new Champions & Challengers approach: We pit the winner from the last small SUV go-round (the 2016 Honda CR-V; Honda declined to provide one for testing, so we secured one from a car broker) and the segment sales leader (the Toyota RAV4) against all of the compact SUV crossovers that have been remodeled since our last test in May 2015 (the Hyundai Tucson, Kia Sportage and Ford Escape). The judges for this Challenge were:
Joe Bruzek, senior road test editor
Jennifer Geiger, assistant managing editor, news
Bill Jackson, assistant managing editor, data
You can see how we conducted testing below the results. Here's how they all finished:
5 2016 Hyundai Tucson, 661 points
The Verdict: "The Hyundai Tucson doesn't stink up the joint, although its transmission comes close. Unfortunately, it doesn't do anything well enough to recommend it over the other Challenge entrants," Jackson said.

What They Liked
Value proposition: As we often find with Hyundais, "the Tucson offers a lot of value, as it's one of two SUVs that meets our price cap and offers all-wheel drive," Jackson said. "Getting a power liftgate, a blind spot monitoring system and all-wheel drive are nice touches for the price," Bruzek added.
Punchy handling: "Its sporty nature makes the Tucson the standout, fun-to-drive SUV in this test," Bruzek said. "It's the athlete of the bunch," Geiger added. "Body lean is well-checked in corners and maneuverability is excellent."
Ride, most of the time: "Its road isolation is impressive," Geiger said. "Wind, road and engine noise are well-hushed." But, she cautions, "skip the Sport model's sport-tuned suspension; the ride is too firm, hopping over bumps with a brittle, jittery feel."
Getting around: "The dual-clutch transmission kicks down well and offers a lot of passing power," Bruzek said. "Its potent turbocharged 1.6-liter engine has punchiness the others lack."
And…: "Kids can be gross," Geiger noted from experience, "but forgotten milk spills and gooey snack drool have met their match with the Tucson's Yes Essentials stain- and odor-resistant upholstery." "This sucker is roomy, both up front and in back," Jackson said.
What They Didn't
Slow starts: The SUV that is so fun to drive at high speeds suffers at low speeds. "The transmission's behavior had me flashing back to driver's ed with its abrupt, lurchy shifts during low-speed driving," Geiger said. Bruzek found it to be "jerky and chattering," which made it "infuriating" to him, while Jackson found it to be "a pain."
On the small screen: "The multimedia system is the size of a deck of cards and the graphics don't look so hot," Jackson said. Bruzek went even further: "It's a joke compared with the larger, more robust screens offered at this price."
And…: "Cargo room in back is stingy compared with the best in class," Geiger said. "The rock-hard front and backseat cushioning is not very comfortable," Bruzek said. "The interior trim over the glove box had some deep scuff marks," Jackson noted. "That suggests that while the interior looks OK while it's new, it might not hold up so well after a few months."
Research the 2016 Hyundai Tucson | Search Inventory | Car Seat Check
4 2016 Toyota RAV4, 691 points

The Verdict: "The RAV4 is great," Bruzek said, "if your driving experience isn't important to your consideration. Once you're behind the wheel, it's immediately apparent there's room for improvement."

What They Liked
Storage galore: "The RAV4's cargo area is huge and there are plenty of in-cabin cubbies, too," Geiger said, "my favorite of which is a shelf above the glove box perfect for holding devices … or french fries." Jackson agreed about the shelf (although he did not mention any snacks).
Cabin quality: "This Toyota's high-quality interior has soft materials in every nook and cranny, and attractive accent stitching to boot," Bruzek said, and Geiger agreed.
Kid-friendly space: "The vehicle's absolutely massive backseat can fit your biggest buddies or provide separation between two feuding kids," Bruzek noted. "The RAV4 gets straight A's for car-seat installation with ample room and easy Latch connections," Geiger added.
And…: "I love that I can adjust the height of the power liftgate opening from the driver's seat," Jackson said. And Bruzek noted that "the 2016 version has made big improvements in quieting engine, road and wind noise and highway speeds."
What They Didn't
That noise: "That's only because Toyota's previous model was louder than a taxiway at O'Hare International Airport," Jackson said. "Its lack of road isolation got on my last nerve," Geiger said.
Rough-rider: "Its road manners need work, with its busy ride and numb, unnatural-feeling steering," Geiger said. "The suspension crashes over bumps and feels cheap compared with the refined ride of its competitors," Bruzek added.
No go: "The RAV4 is the pokiest of the small SUV bunch in the passing lane," Bruzek said, and Jackson agreed. "It kind of dawdles everywhere it goes," he said. "There's no driving pizzazz."
Behind the multimedia times: "The as-equipped midtier multimedia system lacks smartphone integration like the top system and neither of those systems offer Apple CarPlay or Android Auto," Bruzek said. "It's a mixed bag," Geiger added. "It's a mess visually, with a mix of knobs, panel buttons and a touch-screen, but there's no learning curve when it comes to using it."
And…: "Yes, the rear seat reclines," Jackson said, "but reaching over your shoulder to make it recline isn't so fun."
Research the 2016 Toyota RAV4 | Search Inventory | Car Seat Check
3 2016 Honda CR-V, 694 points
The Verdict: "The CR-V's roomy cabin and ample cargo room are appealing," Geiger said, "but its infuriating multimedia system and loud, slow powertrain are deal-breakers."

What They Liked
Plenty of room: "The passenger and cargo room is big enough to be borderline midsize-SUV territory," Bruzek said. "With the most legroom of the bunch, rear passengers will have ample space," Geiger added.
Engine performance: "There's good power from the CR-V," Jackson said, "especially when it comes to passing on the highway." "For a continuously variable transmission, its operation is nearly seamless, except for a slight lag from a start," Bruzek said.
Inventive features: "The CR-V's LaneWatch camera system is a favorite that not only displays vehicles in the passenger-side blind spot, but also cyclists and pedestrians," Geiger said. "The backseat folds flat easily with the pull of a cargo-area lever and its clever design makes it very flexible, able to carry different-sized items," she added.
Value: "You get a lot for your money with the CR-V," Jackson said. "Our test model was one of the few with all-wheel drive."
And…: "The CR-V has tight steering, which makes you feel connected to the road," Bruzek said. And "it has a high-quality interior that not only looks good," Jackson said, "but it also looks like it'd stand up to years of abuse."
What They Didn't
Multimedia nightmare: "The system is atrocious and doesn't belong on any car in 2016," Jackson said. "It lacks conventional knobs and dials," Bruzek pointed out, and Geiger found that "I've spent a lot of time using Honda's multimedia system and it never gets better."
Drivetrain issues: "The power takes its time spooling up and the CVT complains loudly the whole time," Geiger said. "There's an unpleasant sound there," Jackson said, "and I felt an occasional odd vibration at extended idle."
Punishing ride: "The ride quality is firm and busy, and there's no reward in the handling to make up for it," Bruzek said.
And…: "It's time for new designers," Geiger said. "The CR-V gets chunkier and more awkward looking with each redesign."
Research the 2016 Honda CR-V | Search Inventory | Car Seat Check
2 2017 Kia Sportage, 753 points
The Verdict: "The Sportage is the Goldilocks of this SUV class, with its just-right blend of comfort, style and power," Geiger said.

What They Liked
Plenty of go: "With the Sportage's no-nonsense powertrain, power is ample and delivery is smooth and prompt," Geiger said. "The 2.4-liter's acceleration is welcomed among the sometimes laggy turbocharged competition," Bruzek added.
Quite the ride: "No matter the surface, the Sportage feels composed," Jackson said. "Only the Ford Escape offers a cabin that's as hushed as the Sportage," he added. "It commendably balances a comfortable ride with lively handling," Geiger said.
Multimedia bliss: "Using the straightforward touch-screen system was a snap," Geiger said, "and connecting my phone to Android Auto provided seamless navigation." Bruzek found it "painless to use with tuning and volumes knobs, plus it has a large screen and great Pandora integration."
And…: "Supple and comfortable seat cushioning is covered with a stylish design and stain-resistant Yes Essentials fabric," Bruzek noted.
What They Didn't
Value misses: "Others in this Challenge offered a power liftgate but not our Sportage," Jackson pointed out. "A blind spot monitoring system is available but not equipped," Bruzek said, "though the Sportage came in $1,900 less than our price cap." Finally, Geiger noted that "shoppers will likely have a hard time paying more than $29,000 for an SUV without a push-button start."
The inside look: "With its bold face and chiseled lines, the Sportage's exterior styling nails the sporty vibe but the design-less black, plastic cabin is dull," Geiger said. "There's a lot of hard plastic in the interior and a particular piece of interior trim constantly hit my knee when I was driving," Jackson said.
Multimedia fail: "As an iPhone user, no Apple CarPlay is a big miss," Bruzek said, "and if it had been offered, it would have pegged the technology category's score." Given how close the Sportage was to the winner, it might well have put it over the top.
And…: "The sporty curves and sloping roofline look great," Geiger said, "but the sacrifice is rear visibility." "The big 2.4-liter engine is a little grainier sounding than the smoother turbocharged engines," Bruzek said.
Research the 2017 Kia Sportage | Search Inventory | Car Seat Check
1 2017 Ford Escape, 755 points
The Verdict: "The 2017 Escape is a great-driving small SUV, now with more features for the money," Bruzek said, "but there's still a lot of the old Escape's aged interior in it."

What They Liked
Infotainment system: This is a huge item because this had been a Ford sticking point for years. "The previous MyFord Touch system was likely a deal-breaker for shoppers but the Escape's new Sync 3 might actually be a deal-maker," Geiger said. "It's clean-looking and easy to use." Bruzek praised its "ease of smartphone integration," and Jackson said it was the "best multimedia system in the group; that it has Apple CarPlay makes it even better. A clear win for Ford."
A comfortable, quiet ride: "The Escape has the best driving dynamics and manages to feel responsive and composed over bumps," Jackson said. "If you're looking for a compact SUV with a quiet cabin, this one is at the top of its class." "Its refined, substantial ride makes the Escape drive like a larger, more expensive SUV," Bruzek added.
Help with the kids: "The backseat's exposed Latch anchors take the struggle out of car-seat installation," Geiger said.
And…: Bruzek liked "the numerous front storage areas for phones and other pocket items," while Geiger liked how "the powertrain is pleasant. Power builds steadily and smoothly, and never feels strained."
What They Didn't
Interior style and quality: "There's a sea of hard plastic and interior design that probably was futuristic when Ford first went to it years ago," Jackson said, "but it could use a rethink." It's "low on style and quality," Bruzek said, and Geiger said that "the cabin's materials feel cheap and the overall design is uninspiring."
Ride issues: Although the other judges liked the Escape's road manners, Geiger found them wanting. "Composure over bumps is a problem," she said. "There's more hop and wiggle than an Easter Bunny convention."
And…: "Ford said it improved interior noise levels with this model but there's more work to do," Geiger said. "The engine is loud and crude-sounding." "It has unimpressive fuel economy for a high-tech engine with only front-wheel drive," Bruzek noted. "The rear seats are hard, offer very little thigh support and there's not a lot of backseat room," Jackson said.
Research the 2017 Ford Escape | Search Inventory | Car Seat Check
How the Competitors Fared in Each Category
Judges' Average Score for Interior Quality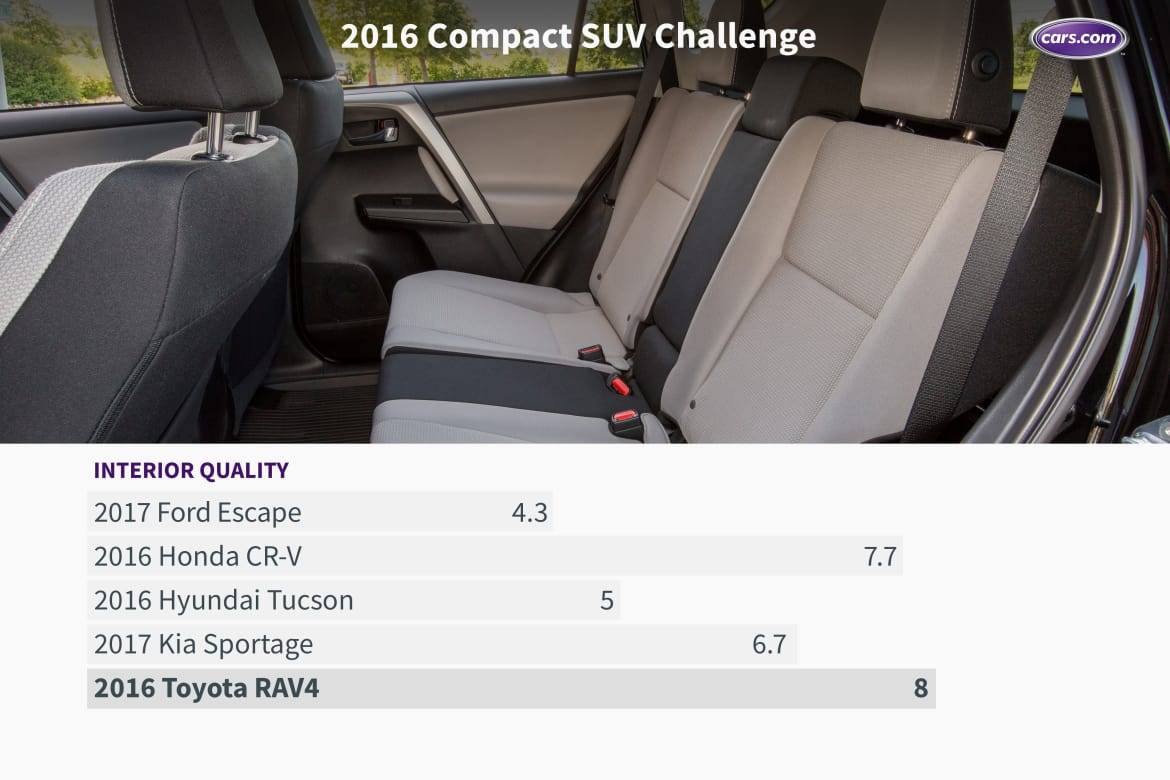 Judges' Average Score for Comfort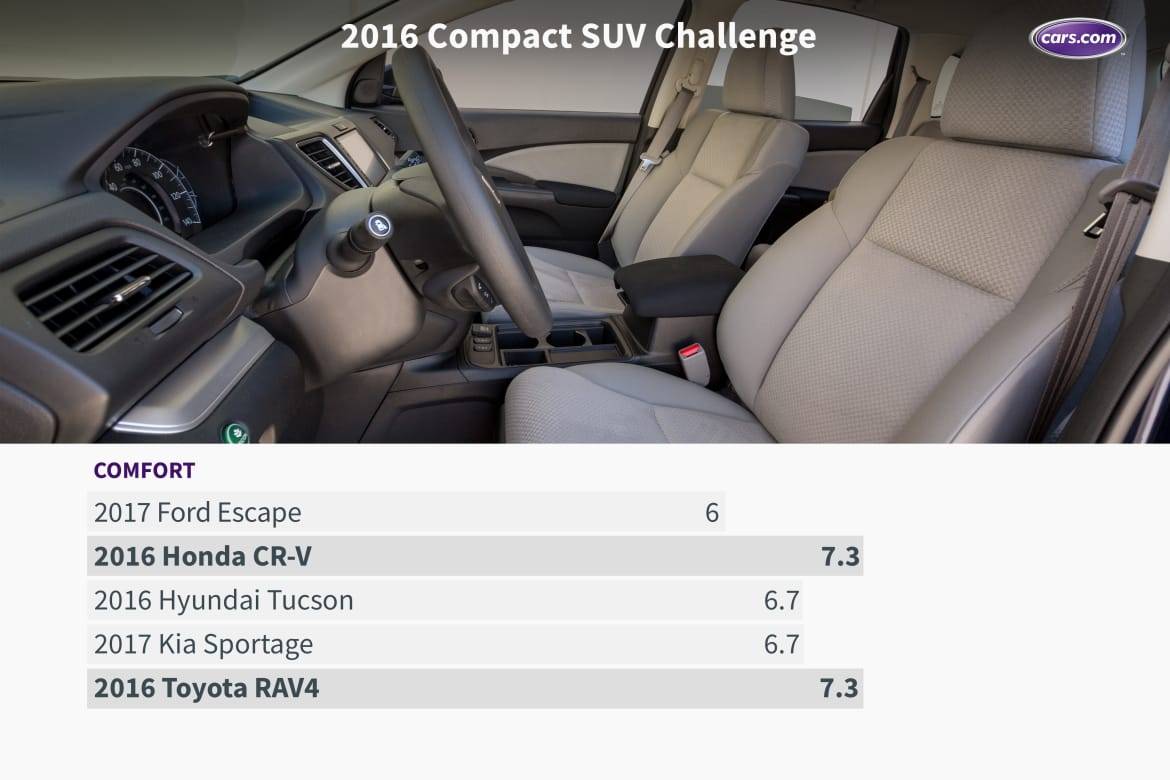 Judges' Average Score for Child-Safety Seats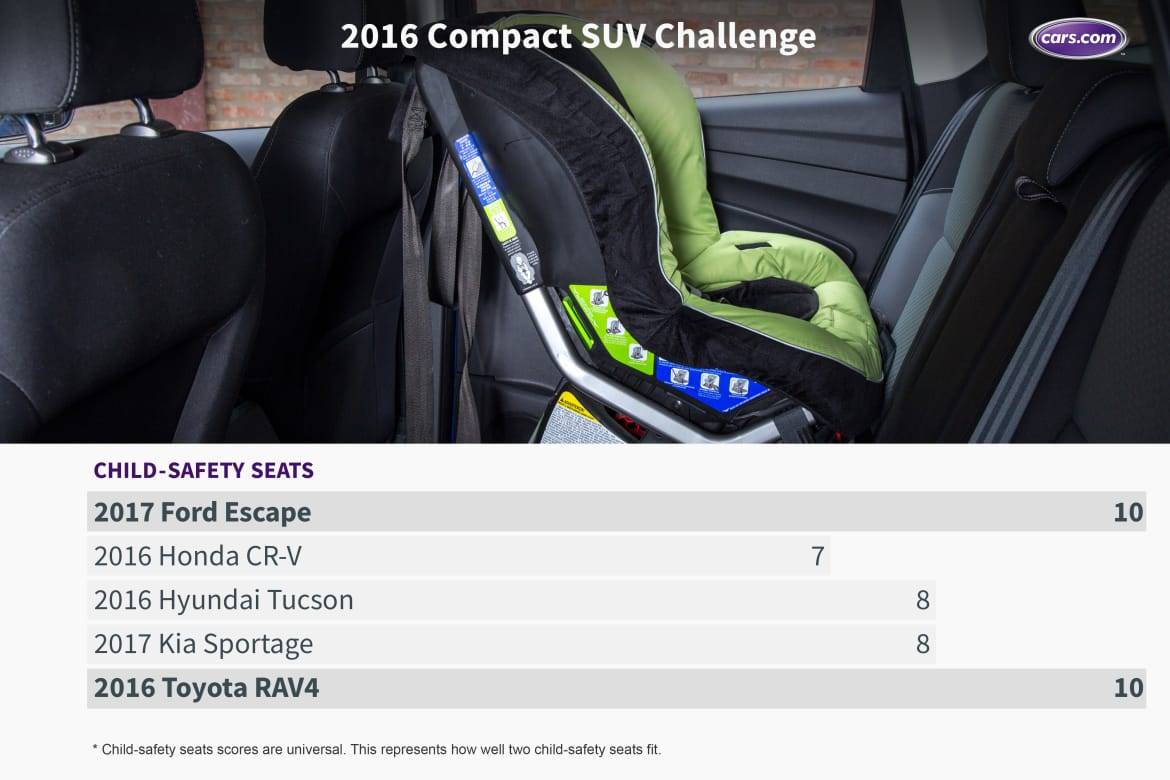 Judges' Average Score for Cargo & In-Cabin Storage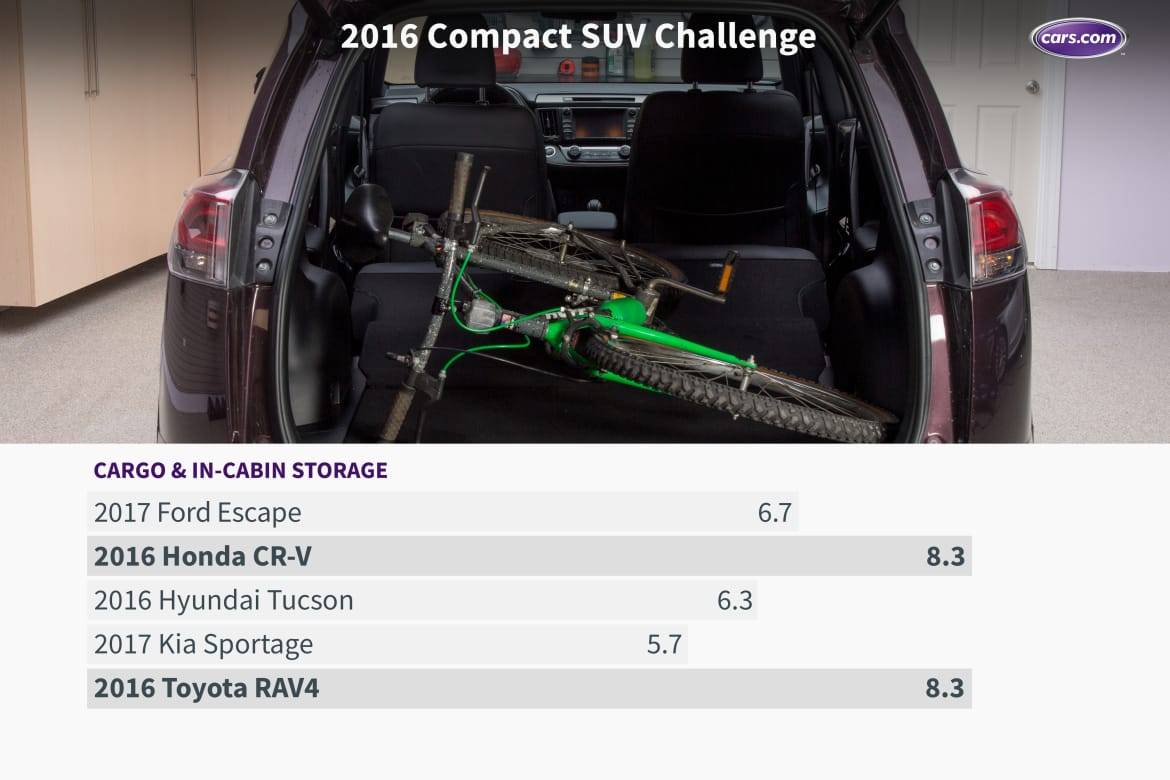 Judges' Average Score for Tech & Entertainment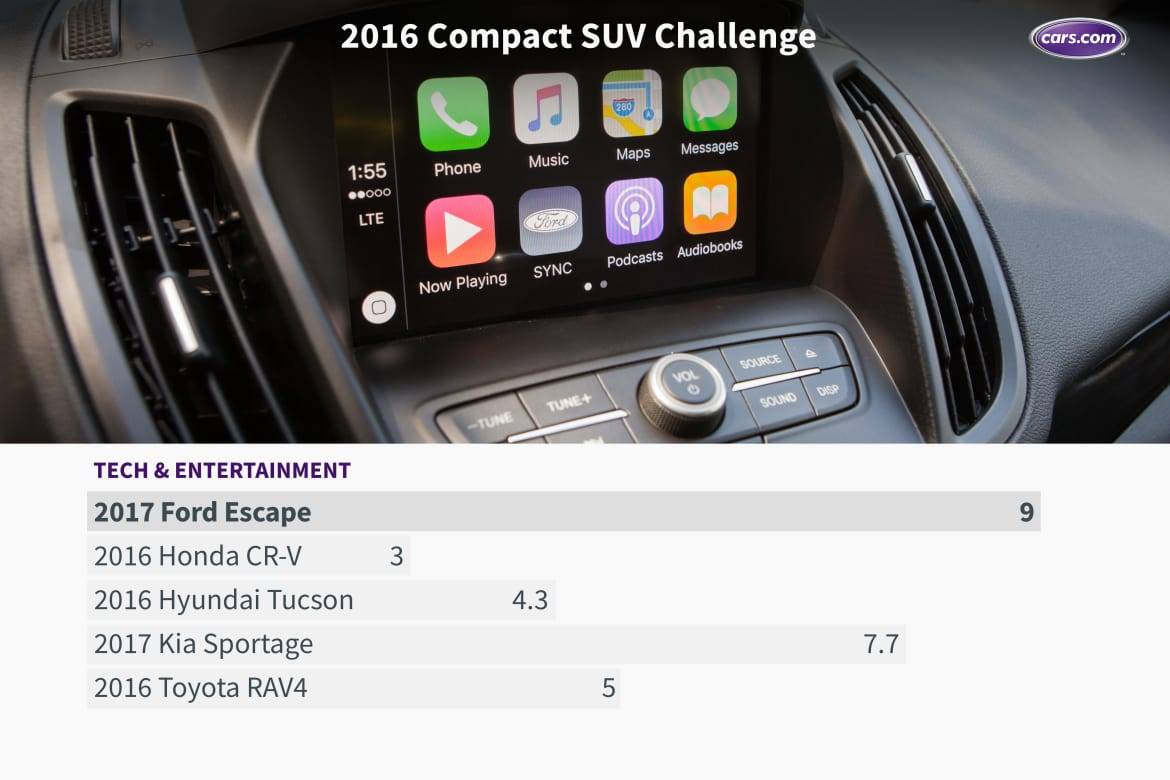 Judges' Average Score for Handling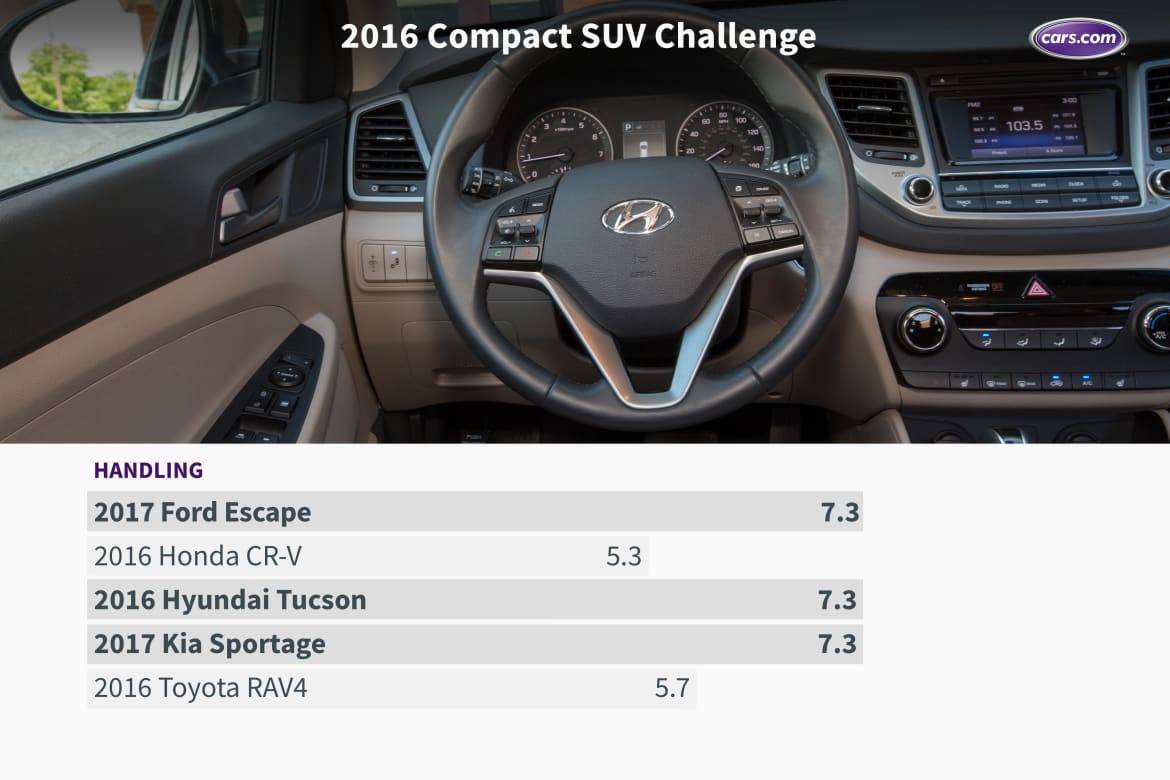 Judges' Average Score for Acceleration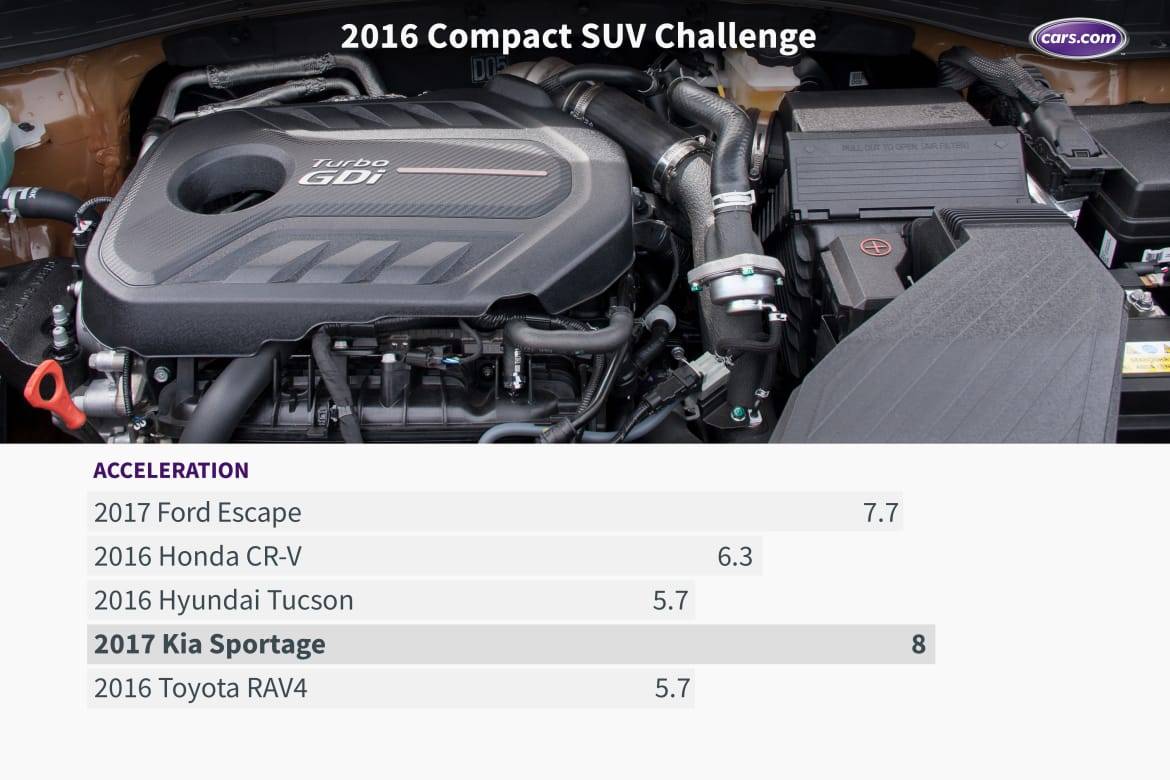 Judges' Average Score for Ride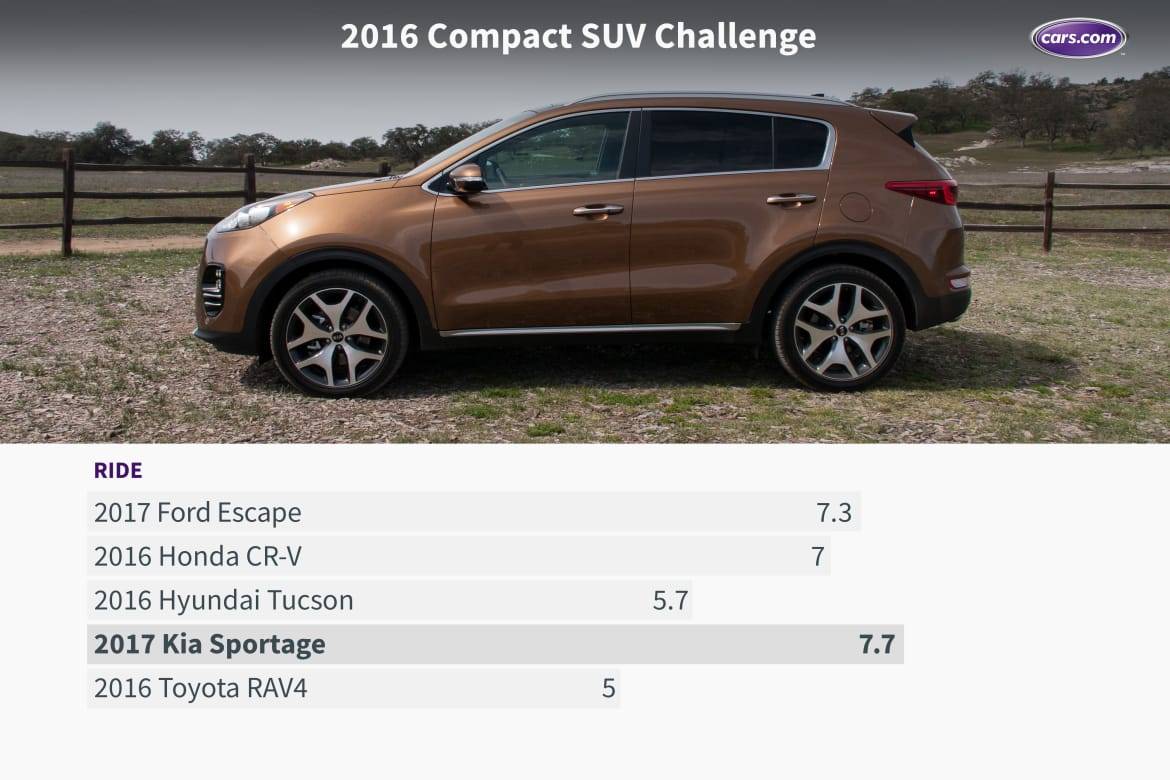 Judges' Average Score for Noise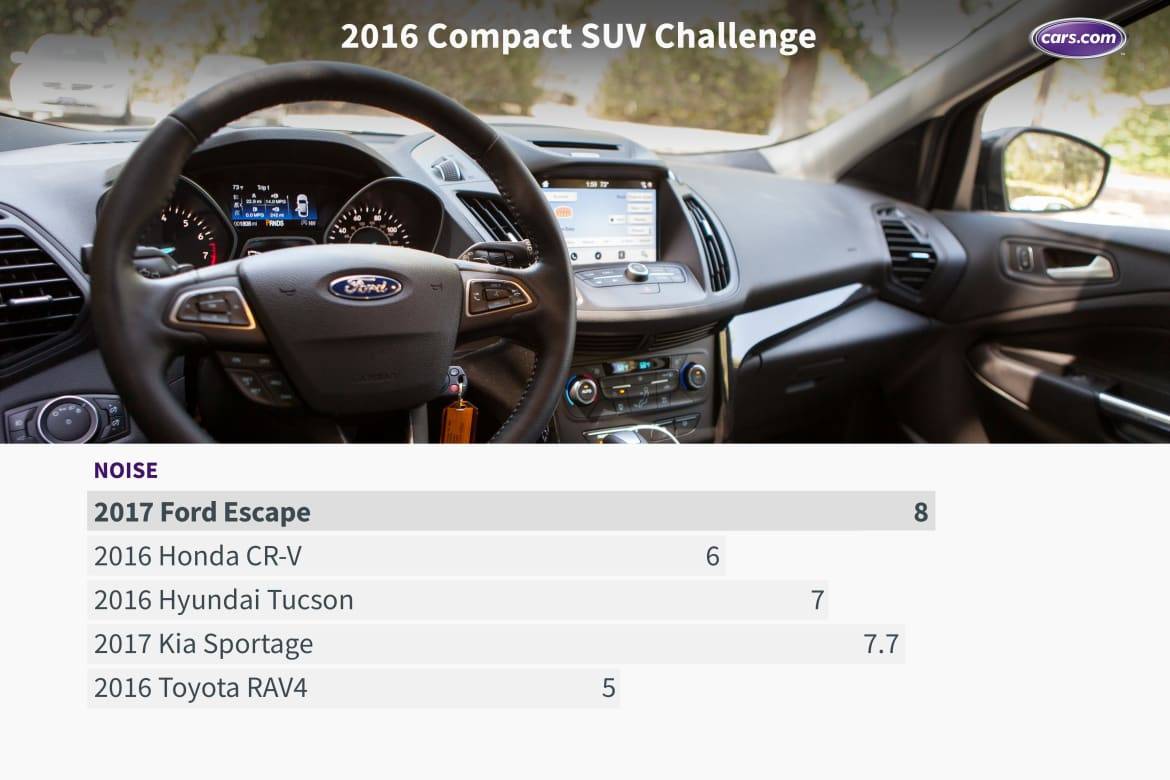 Judges' Average Score: Worth the Money?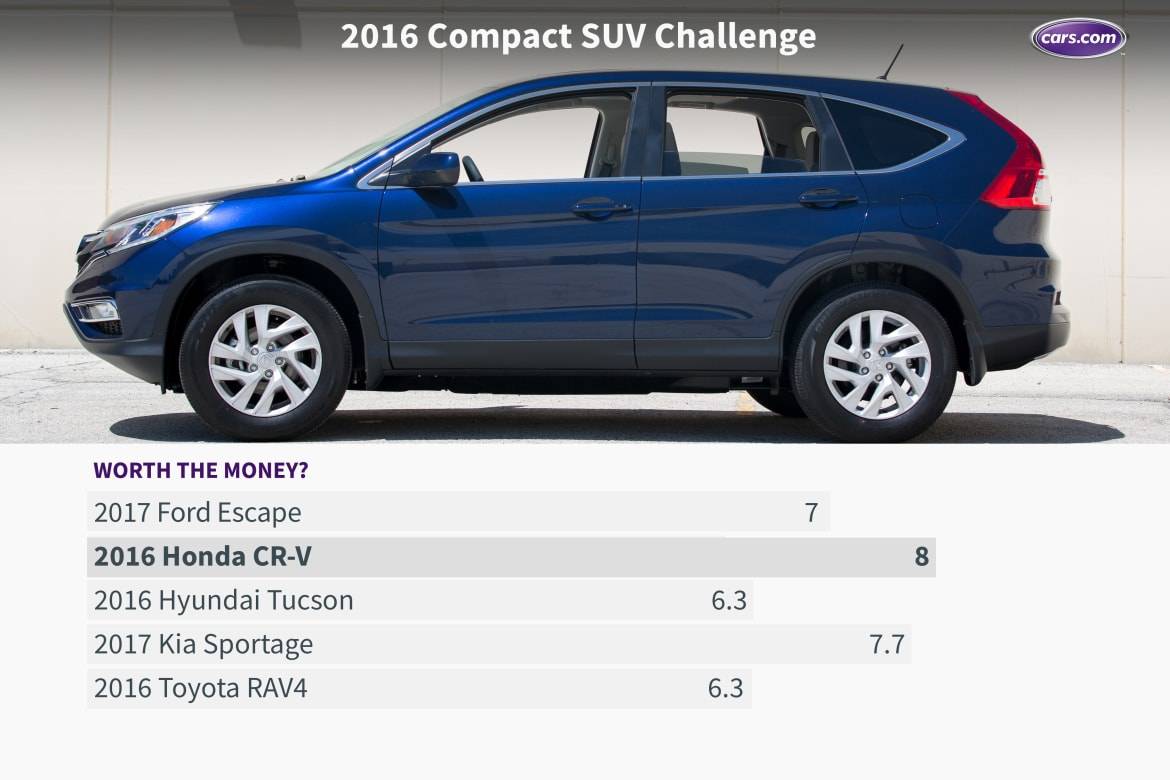 How We Tested
We compared them using roughly the same categories as our 2015 $28,000 Compact SUV Challenge with some of the same judges. The criteria for the 2016 Challenge were:
Price cap of $29,000, including destination
Automatic transmission
Minimum 26 mpg combined EPA rating
We put these SUVs through a shortened set of tests:
Mileage drive: We drove them on a 160-mile real-world mileage course in and around suburban Chicago and southern Wisconsin. These compact SUVs use very different engine and transmission technologies to reach very similar EPA ratings: The Escape, Tucson, Sportage and RAV4 are all rated at 26 mpg combined, while the CR-V is rated at 27 mpg. The Escape and Tucson use small-displacement engines with power-adding turbochargers, rather than the traditional, albeit larger, engines used by the others.
Transmission technology, however, is more diverse. The Tucson uses a dual-clutch automatic transmission, the CR-V a continuously variable automatic, and the Escape, Sportage and RAV4 traditional six-speed automatics. Those unique transmissions seem to have paid off: The CR-V and Tucson have all-wheel drive but still delivered higher fuel economy. The Escape came with an automatic stop-start system but, even though it's one of the less disruptive ones on the market, the limited stop-and-go traffic on our 160-mile route didn't help it much.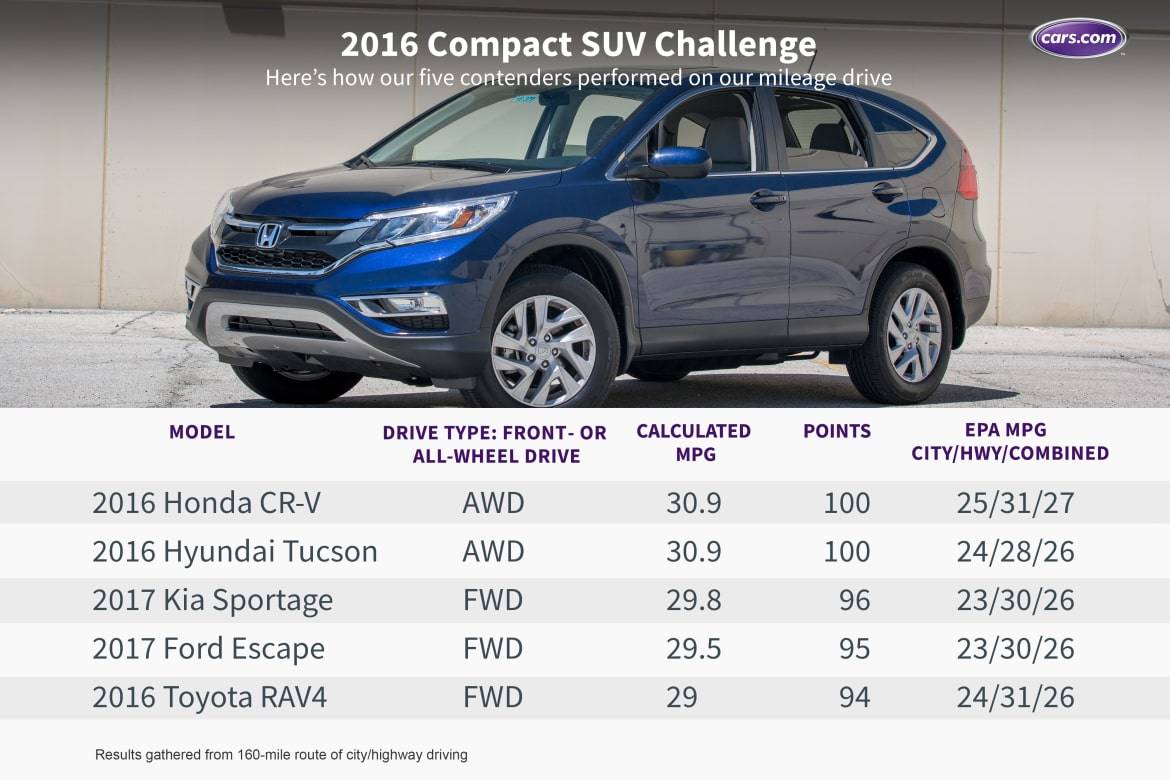 Round robin: We had our judges drive them back-to-back-to-back on the same pavement to evaluate ride, handling, comfort, acceleration and more. For this comparison, no family or outside experts joined us.
From all of the points we awarded in those tests, we found our winner. The scoring broke down this way:
90 percent from the judges' scoring
10 percent from the mileage drive
Joe Bruzek contributed to this report.