Center for Pet Safety, Subaru Test Pet Travel Seats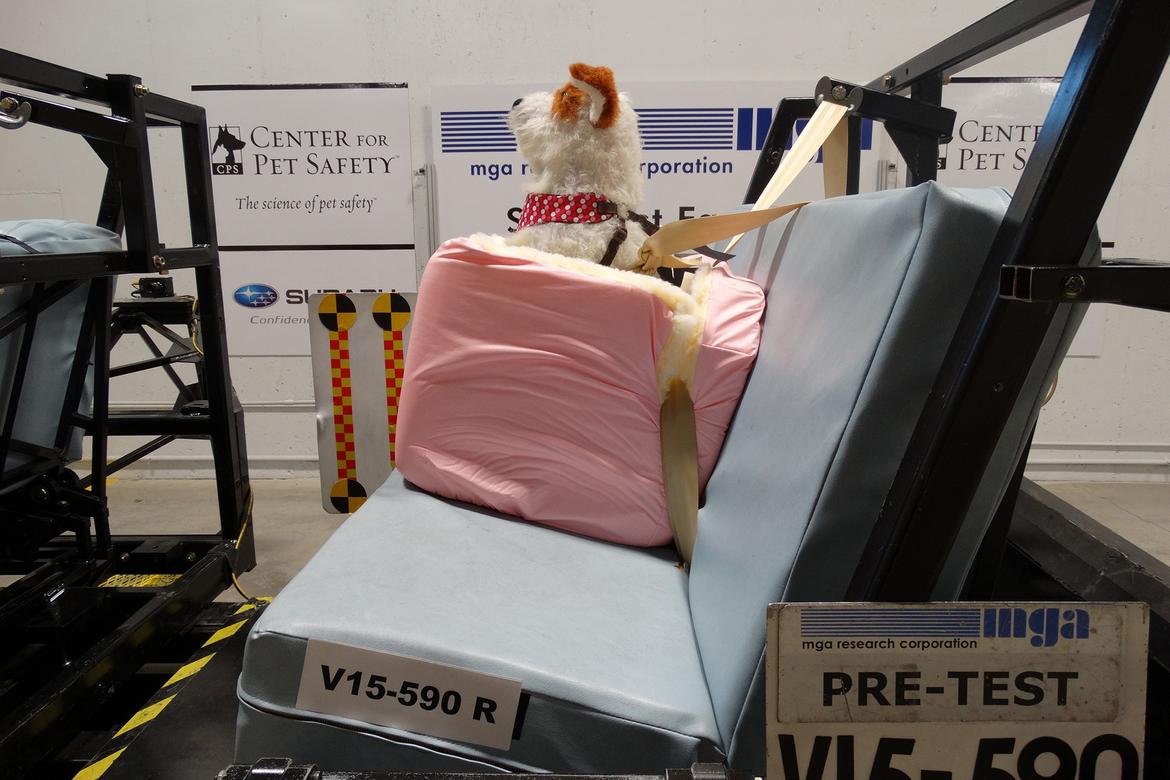 Close on the heels of their 2015 pet carrier and crate study comes Subaru of America's and the Center for Pet Safety's 2015 Pet Travel Seat Pilot Study. Continuing a partnership that began in 2011, this study examines the crashworthiness of portable seats that elevate and contain dogs in cars. The products are popular with owners of smaller dogs.
This latest study is significant because it concludes a three-phase examination of pet travel products frequently promoted as providing safety for pets and human passengers in vehicles. In reality, they often don't. Following the 2013 harness study, which designated only the Sleepypod Clickit Utility as a Top Performer in a test of seven harnesses, Subaru and CPS looked at pet carriers and crates. Completed earlier this year, that study found two carriers and one crate that met federal safety standards and were designated as Top Performers (CPS tests use federal criteria established for child-safety seats). The pet travel seat study was done in response to inquiries from consumers about the products' safety.
Related: Tested: Clickit Sport Dog Harness
CPS crash-tested four pet travel seats with high sales volumes or claims of crash-testing: PupSaver, Snoozer Lookout I, PetSmart Top Paw Booster Seat and Kurgo SkyBox Booster Seat. Using 25- and 30-pound specially made test-dog dummies, CPS followed manufacturer instructions for securing them to the pet seat and the pet seat to the crash-test bench. The travel seats required dog attachment via harnesses or collars depending on the brand. None of the seats earned the CPS Top Performer designation, a program that CPS CEO Lindsey Wolko likens to the Insurance Institute for Highway Safety's Top Safety Pick program. See videos of the crash tests here.
While the PupSaver remained attached to the test bench and the test dog stayed attached to the pet seat, a plastic buckle broke, releasing a strap; the seat and the dog rotated to their side. Additionally, PupSaver recommends placing the pet seat on a vehicle's front seat, something CPS takes exception to. "This is not the safest location in the car for your pet, exposing them to a) airbag deployment, and b) occupant compartment intrusion in frontal crashes," CPS said in its report.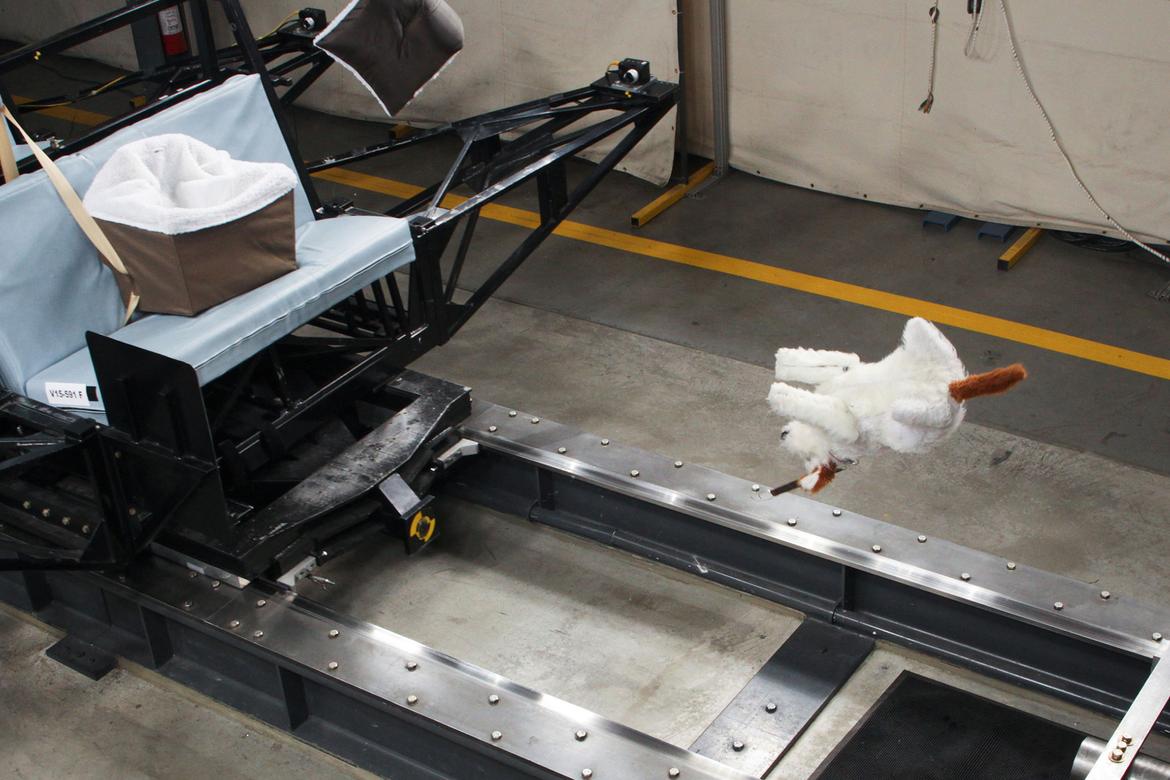 During the Snoozer Lookout test, impact caused the anchor strap attached to the test dog's harness to fail, turning the dog into an unrestrained projectile. The seat rotated but stayed on the test bench. Testing of the PetSmart seat also resulted in the test dog flying out of the seat unrestrained; the damaged pet seat remained attached to the test bench. Finally, the Kurgo SkyBox connections to the test bench failed, and the damaged pet seat became a flying projectile with the test dog in it.
The study led CPS to conclude several things:
Pet travel seats may offer driver-distraction prevention, but they will not likely offer crash protection.
Collars and walking harnesses are not safe connection options for any pet travel product; their use places pets at risk of injury or death in a crash.
Elevated pet seats place smaller dogs at greater risk of injury or ejection during a crash than if they are secured in a carrier rated as a Top Performer by CPS.
CPS recommends securing smaller dogs and cats in carriers that earned CPS Top Performer status: Sleepypod Mobile Pet Bed with PPRS Handilock or PetEgo Jet Set Carrier with ISOFIX-Latch Connection. Owners of larger dogs should consider the CPS-certified Sleepypod Clickit Sport harness or the Gunner Kennel G1 intermediate model tied down with strength-rated anchor straps.
CPS' safety studies have received mixed reactions from the pet product industry, Wolko wrote in an email: "Some manufacturers understand what Center for Pet Safety is working to achieve, others are not at all happy about our efforts. ... I think the thing that is most disappointing is that many manufacturers continue to use marketing tactics to get pet owners to part with their hard-earned money for products that can't stand up to the marketing claims.
Pet owners, she wrote, are appreciative of CPS' efforts, but they continue to buy into marketing claims and purchase unsafe products. She urged owners to vote with their wallets. "If pet owners don't step up — nothing will change," she wrote.
As to the future, Wolko would like to see the Top Performer program continue, perhaps revisiting each pet travel product category on a rotating basis to test new products against the Top Performer standards. It all depends on funding availability, she added, since CPS is a nonprofit, independent safety organization.
During the next year CPS will create protocol and rating guidelines for pet carriers and crates so those categories can be added to the CPS certification program. Wolko said several manufacturers have reached out to CPS about participating in the voluntary pet travel harness certification program, but "it takes time and a commitment to safety."
Ultimately, she said, "We hope pet owners understand that when they see the CPS logo on a product it means that the product meets our rigorous testing and performance standards." To find out more, click here.