Crash-Safety Goal Post Moved for 2019: Which Cars Scored Top Honors?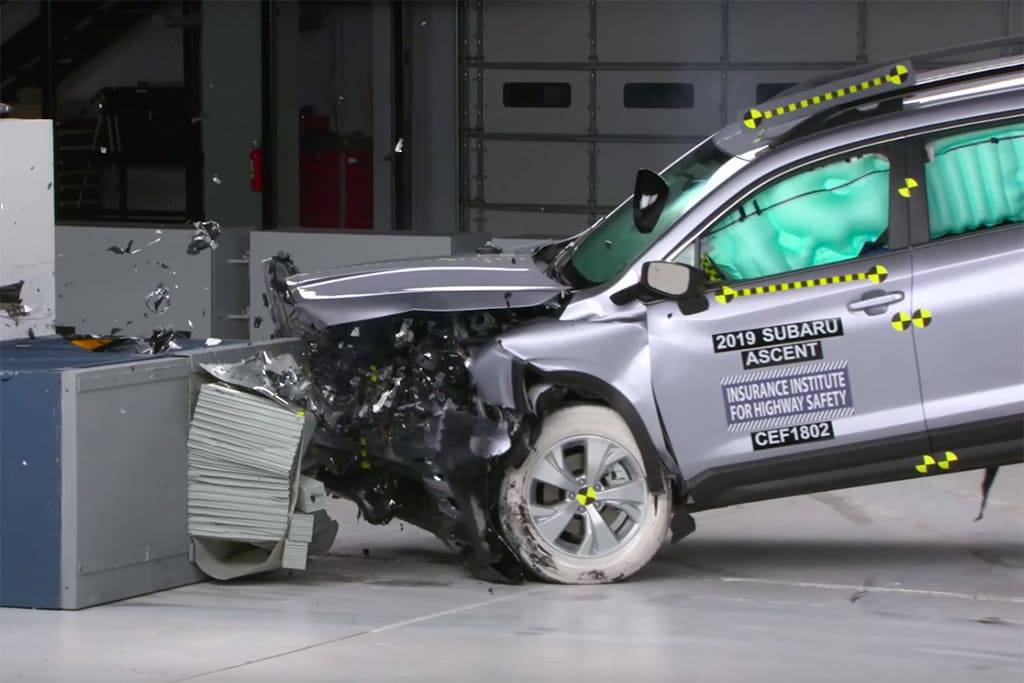 In what's become something of an annual tradition, the Insurance Institute for Highway Safety has ratcheted up requirements for 2019 on its two influential crashworthiness awards: Top Safety Pick and Top Safety Pick Plus. More than 50 models now meet either bar in IIHS' first published round of testing, but more are likely to emerge over the next 12 months. That compares to the 80-plus nameplates that earned the designations for the 2018 awards.
Related: Headlight Deterioration Could Leave You Flying Blind
Eight IIHS evaluations determine award eligibility. With four possible grades — good, acceptable, marginal or poor — five of them measure structural crashworthiness, one measures whiplash protection and another measures nighttime headlight effectiveness. The final test evaluates automatic emergency braking systems, but its results have a separate grading scale: superior, advanced, basic or none.
To get a Top Safety Pick for 2019, a car needs acceptable or good scores in both the headlight evaluation and passenger-side small-overlap crash test; advanced or superior grades for automatic braking; and good scores in the five remaining tests. Last year, scores for passenger-side small overlap — IIHS' newest test, which simulates a head-on collision with an object on the front-passenger side of the car — weren't part of the Top Safety Pick award.
To get the higher award, Top Safety Pick Plus, a car needs superior or advanced grades in automatic braking and good scores on all other evaluations. A year ago, Top Safety Pick Plus cars could skate by with an acceptable score in the passenger-side small overlap test.
Some Versions Left Out
Cars can still meet the headlight and automatic braking scores with optional equipment — and they often do, where a top score requires a higher trim level or optional package that comparatively few examples have. Indeed, a Cars.com investigation in 2017 found that out of nearly 100 cars that earned Top Safety Pick or Top Safety Pick Plus designations, just 13 carried the distinction across all trim levels.
Related: For IIHS Safety Awards, Not All Cars Are Equal
That appears to be an ebbing trend. IIHS noted this year that most award winners still only qualify with optional systems to bolster their headlight or automatic emergency braking scores, but most also now have standard automatic braking — a technology one study found reduces injury-causing rear-end crashes by some 40 percent. The vast majority of automakers have pledged to make such braking systems standard by 2022.
These cars, all 2019 models, earn the awards:
Acura: RDX, Top Safety Pick Plus
Audi: A3 sedan (not hatchback or convertible) and A4 sedan (not A4 wagon), Top Safety Picks
BMW: 5 Series and X3, Top Safety Pick Pluses; X2, Top Safety Pick
Chrysler: Pacifica, Top Safety Pick
Genesis: G70, G80 and G90, Top Safety Pick Pluses
Honda: Insight, Top Safety Pick Plus; Accord, CR-V, Odyssey and Pilot, Top Safety Picks
Hyundai: Elantra sedan, Kona, Santa Fe and Sonata, Top Safety Pick Pluses; Accent, Elantra GT hatchback, Ioniq, Santa Fe XL and Tucson, Top Safety Picks
Kia: Forte, Niro, Optima and Sorento, Top Safety Pick Pluses; Cadenza, Rio sedan (not hatchback) and Soul, Top Safety Picks
Lexus: ES, Top Safety Pick Plus
Mazda: CX-5, Top Safety Pick Plus; CX-3 and CX-9, Top Safety Picks
Mercedes-Benz: E-Class sedan (not E-Class coupe, convertible or wagon), GLC-Class SUV (not GLC Coupe) and GLE-Class SUV (not GLE Coupe), Top Safety Pick Pluses; C-Class sedan (not C-Class coupe or convertible), Top Safety Pick
Mitsubishi: Outlander, Top Safety Pick
Nissan: Altima, Kicks and Pathfinder, Top Safety Picks
Subaru: Ascent, Crosstrek, Impreza hatchback and sedan, Legacy, Outback and WRX, Top Safety Pick Pluses; Forester, Top Safety Pick
Toyota: Avalon and Camry, Top Safety Pick Pluses; Corolla hatchback (not Corolla sedan) and Highlander, Top Safety Picks
Of the group, seven cars — the BMW X2, Genesis G70 and G90, Honda Insight and Pilot, Mercedes-Benz C-Class sedan and Subaru Forester — get their respective awards with no strings attached. That is to say that even their base models have the equipment necessary to attain Top Safety Pick or Top Safety Pick Plus status.
Rankling Wrinkles
IIHS stipulates that the awards apply to both hybrid and plug-in hybrid versions of the Ioniq and Niro, as well as hybrid versions of the Honda Accord, Hyundai Sonata, Kia Optima and Lexus ES, and those of the Toyota Avalon, Camry and Highlander. For any awardees with plug-in hybrid versions — those being the Sonata and Optima, as well as the BMW 5 Series, Chrysler Pacifica, Mercedes C-Class and GLC-Class, Mitsubishi Outlander and Subaru Crosstrek — the ratings don't transfer over. Unlike with hybrids, IIHS requires additional documentation from automakers to extend ratings to plug-in hybrid variants, spokesman Russ Rader told Cars.com. The agency is awaiting such information on those cars. Rader added that ratings do not extend to fully electric versions of cars on the list, as in this case the Hyundai Kona Electric and Kia Soul EV.
Note, as well, that separate crash structures for body style variants — like a sedan nameplate with hatchback or convertible versions — mean IIHS awards don't apply unless those variants are also evaluated and pass muster, as was the case for the Impreza sedan and hatchback.
Another wrinkle: Some 2019 models — the Mini Cooper, for example — have Top Safety Pick or Top Safety Pick Plus designations for 2018 but not 2019, despite the apparent alignment in year. That's because the agency's awards go by calendar year, not model year. IIHS evaluated several 2019 models for its 2018 awards, and the same is all-but-assured for early 2020 models evaluated over the next 12 months. A new 2020 model might get the 2019 award, but that doesn't mean it will get the 2020 award.
Confused? We don't blame you. Rader admitted the timing could mystify some consumers.
"We agree that it can be confusing," Rader stated in an email to Cars.com.
However, he continued, the agency is "not sure how to address it when next-model-year vehicles that qualify for this year's award are introduced early at random times during the year."
Stay tuned for more evaluations and awards as the year progresses.
Cars.com's Editorial department is your source for automotive news and reviews. In line with Cars.com's long-standing ethics policy, editors and reviewers don't accept gifts or free trips from automakers. The Editorial department is independent of Cars.com's advertising, sales and sponsored content departments.