Doona Infant Car Seat Takes Stroll-and-Go to a New Level
Rear-facing infant seats are a favorite with parents because the carrying handle makes it possible to move a sleeping baby without waking him or her up. However, the combined weight of the infant carrier and your growing little one can make these car seats difficult to lug around. Simple Parenting's Doona infant car seat easily converts to a stroller, making running errands with your baby a snap.
Related: Car Seat Checks
The Doona is a car seat first, said Roni Golombek, product manager at Simple Parenting. The stroller is a "mobility solution," but it's not meant for long walks in the park. 
"As a car seat, Doona has all the features [needed] and as a stroller, it has only partial features," Golombek said in an email. The Doona doesn't have storage basket like you'd find in a stroller, but there are compatible snap-on bags that can be used when it's in stroller mode. The accessories cost $55 or $80 depending on size.
This infant seat is for children 4 to 35 pounds and up to 32 inches long. What will likely give many parents pause is the price: The Doona costs $499, which includes the car seat and base as well as a vehicle-seat protector.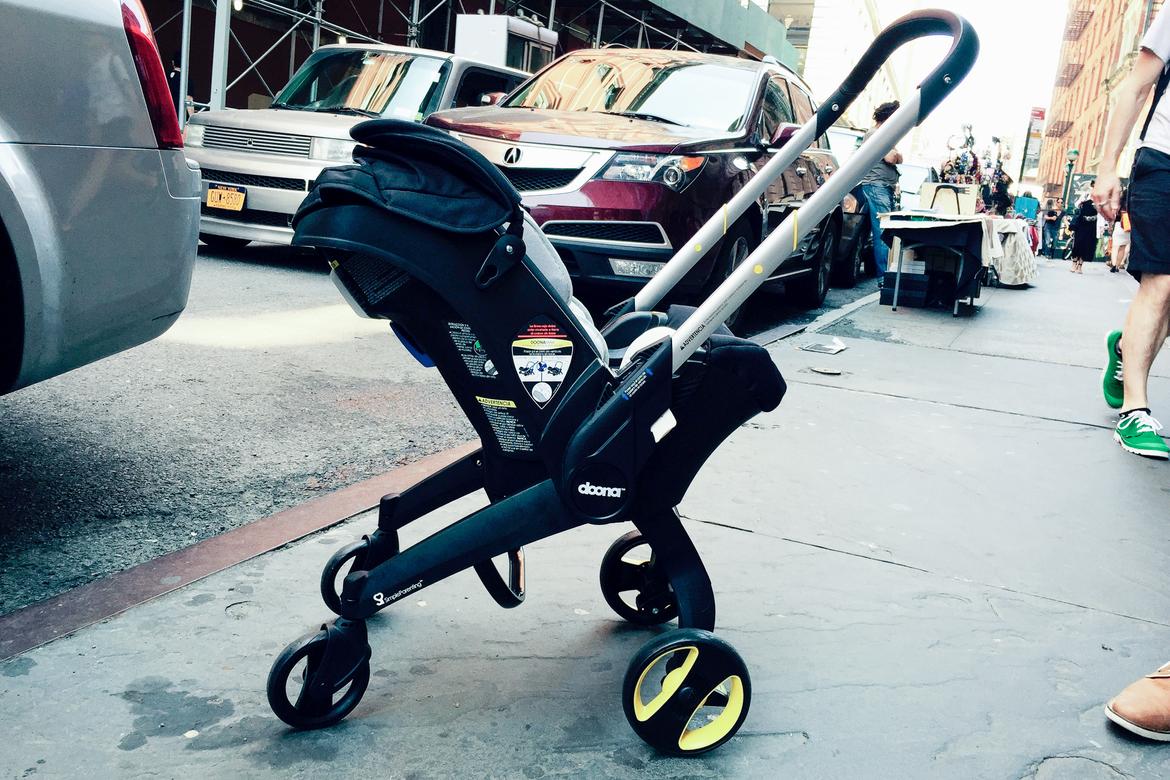 I tested the Doona at Fatherly.com's offices in New York City. The stroller portion of the Doona is what makes it stand out in the crowded infant-safety-seat field. This ingenious design helps parents who like the flexibility of an infant car seat but not the awkwardness of lugging it around, especially as the baby grows heavier.
The car seat easily converts to a stroller and back again by pushing the red button on its back and pulling up on the surrounding release handle while holding onto the car seat's handle. This two-step process serves as a safety feature, Golombek said, keeping a big brother or sister from accidentally collapsing the stroller when it's in use.
The stroller has a telescoping handle that I found comfortable enough to use for my 5-foot-8 frame. And the Doona easily navigated New York's streets and crowded sidewalks in stroller mode.
However, the Doona shouldn't be used as a stroller that logs many miles in an outing.
"When a parent wants to stroll with the baby in the park for three to four hours, we recommend using a stroller," Golombek said via email. "Doona is intended for running errands or moving easily from one place to another — using a taxi, public transportation or a car — without having to carry a stroller or a stroller frame and without waking the baby up while folding and unfolding the Doona."
The Doona can be used with or without its car-seat base. The base weighs around 10 pounds and has rigid Latch connectors as well as seat belt lock-offs for easy installation, depending on which mode you use to install the car seat. It also has an adjustable foot, which is controlled with a knob, for fine-tuning the installation, and a level lets parents know when they've got it just right.
For those installing the Doona without the base, the seat's handle has a seat belt positioner in it. This makes quick work of installing the car seat, allowing it to be easily installed in a taxi.
When the handle is pointed toward the back cushion, with or without the car-seat base, it serves as an anti-rebound bar, which helps control the car seat's movement during and after a frontal crash.
For families on the go, the Doona could be the perfect fit for their busy lifestyle, providing they've saved their pennies to buy it.