Even at $90K for Grand Cherokee SRT Trackhawk, This Jeep's Too Cheap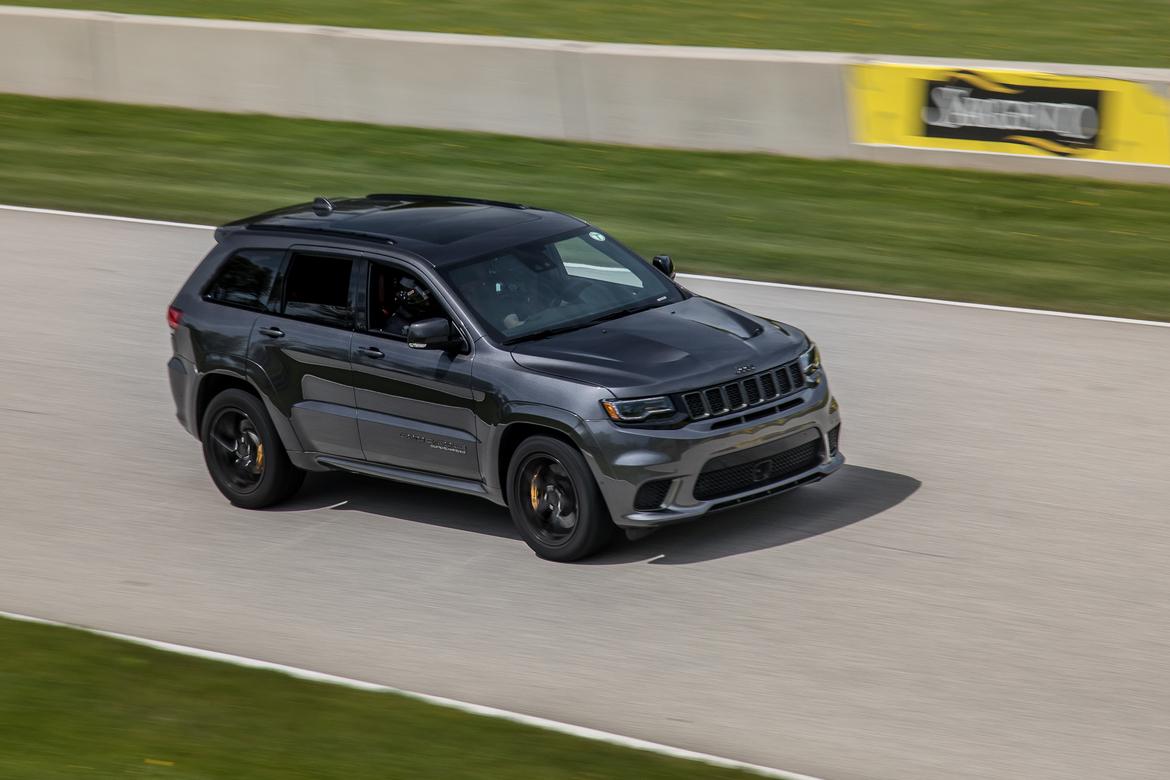 The 2018 Jeep Grand Cherokee SRT Trackhawk frustrates me — mostly because I can't afford one. There's also the issue of living in a city like Chicago and driving around in a 707 horsepower monster of an SUV and spending most of the time driving it at 35 mph if I'm lucky.
There's another problem, however: This SRT Jeep should cost more money.
Related: Extreme Jeep Grand Cherokee Trackhawk Gets Extreme Price
Hear me out: EPA ratings for the Trackhawk are 11/17/13 mpg city/highway/combined. That's ... laughably bad as fuel economy goes, but not unexpected for a 2.5-ton truck that can hit 60 mph in 3.5 seconds (according to the manufacturer). There's no way the Trackhawk doesn't fit into one of the penalty zones of the gas-guzzler tax — created as part of the 1978 National Energy Act and an attempt to disincentivize the production and purchase of inefficient vehicles.
One problem with that is that the gas-guzzler tax doesn't apply to many — if any — trucks and SUVs, and those are far and away our least efficient vehicle classes these days. So, while you have to pay an extra $1,700 to buy a HEMI-powered Dodge Challenger Hellcat thanks to its lousy fuel economy, the Trackhawk SRT Jeep is significantly worse and should cost thousands more. But it doesn't.
In mostly highway drives from Chicago to Elkhart Lake, Wis., and back, highway cruising in the Jeep SRT would reliably display fuel economy readings of 18 or even 19 mpg. When I first got in the SRT Trackhawk, however, the average mpg after a suburbs-city commute hadn't even reached double digits yet. The Trackhawk Jeep Grand Cherokee SRT is not made to be efficient, and it's incredibly difficult to drive it efficiently.
What is this Jeep made for? The SRT Trackhawk Jeep Grand Cherokee is made for throwing on a helmet and taking it to the track. Look at the photo above again and tell me that comfortable mid-size SUV doesn't look completely at home on a racetrack. There's a launch mode, too, if you prefer to live your life a quarter-mile at a time.
The point isn't that these kinds of vehicles shouldn't be made at all, although you're more than welcome to make that point — and you aren't wrong. My point is that the laws governing fuel economy shouldn't be so narrow that they don't apply to vehicles as silly as the Trackhawk. And if you want to spend $90,000-plus on a fast Jeep SUV that burns premium fuel like there's a literal volcano under the hood, an extra few thousand dollars probably won't dissuade you. But it could offset the cost of your hooniganism.
Cars.com's Editorial department is your source for automotive news and reviews. In line with Cars.com's long-standing ethics policy, editors and reviewers don't accept gifts or free trips from automakers. The Editorial department is independent of Cars.com's advertising, sales and sponsored content departments.