Ford Focus, Fiesta Transmission Settlement: What Owners Should Know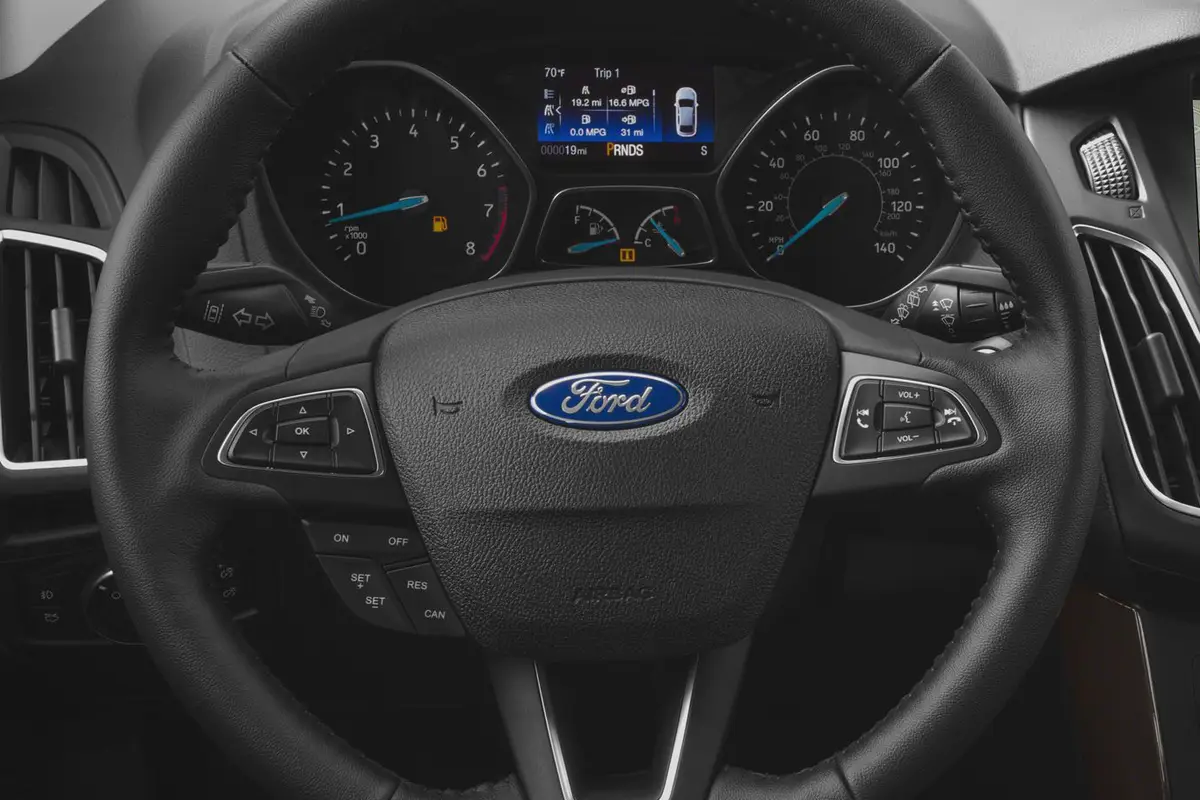 Starting Monday, owners of certain Ford Fiesta and Focus small cars equipped with the automaker's PowerShift automatic transmission can begin filing settlement claims that could top $20,000 apiece, depending on the issues experienced. Despite standing firm on the Detroit automaker's denial that the defect exists, Ford last month settled a lawsuit with owners of affected models. A federal appeals court in California has granted final approval of the settlement, which involved nearly 1.5 million cars sold with Ford's PowerShift transmission, a dual-clutch automatic code-named DSP6.
Related: Ford Extends Warranty on More Focus, Fiesta Transmissions
Ford extended warranty coverage at least twice — in 2014 and 2019 — for certain components of the DSP6, the second time after a major investigation by the Detroit Free Press. Ford later charged that the newspaper held "conclusions that are not based in fact," but the transmission has nonetheless spawned numerous complaints to the National Highway Traffic Safety Administration of rough shifting and sometimes interruption of power. Indeed, court filings for the settlement indicate the DSP6 "caused the vehicles [to] slip, buck, jerk, and suffer sudden or delayed acceleration and delays in downshifts."
Payouts can range from $20 to more than $20,000, depending on the sort of trouble an owner incurred, and the deadline to file claims comes as soon as Oct. 3, depending on the claim. Two California-based firms run the show: Capstone Law APC is the lead firm representing plaintiffs, while Kurtzman Carson Consultants is the claims administrator. Capstone's website has more background on the case here, while KCC has a claims portal here; rejected claims will have a one-time opportunity to resubmit information within 30 days.
For owners, questions no doubt abound. We'll try our best to answer them below, but those with further questions should contact Capstone at fordlawsuit@capstonelawyers.com or (855) 310-9583.
Who Does This Apply To?
Anyone who owns or owned a 2011-16 Ford Fiesta or 2012-16 Ford Focus equipped with a PowerShift dual-clutch transmission, according to Capstone. The PowerShift was an automatic-transmission offering in both models, so stick-shift owners need not apply. Still, the PowerShift transmission makes for nearly 2 million class members who owned close to 1.5 million cars, according to court filings. That includes any U.S. resident who bought or leased a car with the PowerShift transmission prior to the preliminary approval order, though several groups are excluded — among them employees of Ford and its affiliates, distributors or dealers, and those with earlier litigation against Ford over PowerShift problems who didn't dismiss such litigation to opt in.
What Am I Entitled To?
It depends how many times you brought your vehicle into the dealer for transmission service in the first seven years or 100,000 miles (whichever comes first) since it was sold brand-new. Payments range from $200 if you visited three times to replace certain transmission parts all the way up to $2,325 if you visited a whopping eight times. Alternately, you can receive double the cash amount (so, $400 to $4,650) in the form of a discount certificate toward the purchase of a new Ford vehicle. With some exceptions, those certificates expire a year after issuance.
Ten specific transmission parts qualify under this payment structure, per KCC:
Disc Asy-Clutch, part 7B546
Transmission Control Module, part 7Z369
Oil Seal-Trans Rear, part 7052
Transmission Asy-Aut, part 7000
Motor-Frt Clutch, part 7C604
Rod-Cl/Slave Cyl Pus, part 7A508
Seal/RetC/Shft Oil, part 6K301
Shaft/Bshg Asy-Out, part 7060
Seal-Input Shaft Oil, part 7048
Lever Asy-Clutch Rel, part 7515
You'll want to look through repair invoices to determine whether your replaced parts include the above items, noting that different invoices may employ unique language or adjacent codes.
If you didn't get new transmission parts but did get a software update, or reflash, to the transmission control module — essentially its computer — three or more times, you're entitled to payments of $50 to $600 depending on the total number of reflashes within the vehicle's first seven years or 100,000 miles. Separately, certain owners who incurred two clutch replacements for the transmission within its powertrain warranty may be entitled to a reimbursement for out-of-pocket costs on a third clutch repair.
Claims will be processed and payments made starting April 6, 2020, but you may receive additional money down the road. If total claims don't use all of Ford's court-ordered $30 million fund, court filings note that Ford must distribute remaining funds to class-action members who already received funds or, as a last resort, to charity.
What If I Got Both Hardware Replacements and Software Updates?
That gets tricky. According to KCC, you generally can't combine payments for both types. Those who receive settlement payouts for qualifying hardware replacements are ineligible to get payouts for software updates, regardless of how many occurred or whether some software updates came during the same visit as a hardware replacement. Given this stipulation, those who received enough qualifying repairs in both categories would presumably file a claim on the hardware side, given such payments are significantly higher than the software payments.
I Got Some of Those Repairs, but They Were Free Under Warranty. Can I Still Get a Payout?
Yes. Even if the services were performed at no charge under warranty, the payment accounts for the inconvenience of having to take your car in multiple times, according to KCC. That said, any transmission repairs you got as part of a recall — safety or otherwise — do not qualify for the settlement.
What Documentation Will I Need?
Court filings note you'll need a "receipt, repair order, or other invoice containing standard information, (e.g., repair date, a description of the vehicle, the dealership or facility where the work was performed, the vehicle's mileage at the time of repair, an itemized list of parts and labor), along with proof of ownership and a sworn written statement attesting to the authenticity of the documents provided."
What If the Dealer Denied Repairs on My Car?
Under penalty of perjury, you can sign a sworn declaration attesting to this and receive $20, according to filings.
What If I Visited a Third-Party Mechanic?
That may not count toward your settlement payout. Court filings note that cash payments or discount certificates are based on the number of service visits to authorized Ford dealers.
When Are the Important Deadlines?
According to Capstone, claims for any service visits or refused repairs that occurred before April 6, 2020, must be filed by Oct. 3, 2020. Claims for any service visits or refused repairs that occurred after April 6 must be filed by 180 days after said visit or refusal — but all claims must have occurred within the vehicle's first seven years or 100,000 miles, whichever comes first.
Can You Give Me an Example of What This All Looks Like?
Sure. Let's say you have a 2016 Focus with the PowerShift transmission. You purchased it brand-new with zero miles in mid-2016 and currently have 75,000 miles on the odometer. Between mid-2016 and now, you incurred four qualifying parts replacements for the PowerShift transmission, none of which came as a result of a recall. If you opted into the settlement and were approved under its terms, you'd be entitled to $200 for the third repair and $275 for the fourth repair, for a total of $475 or a new-vehicle discount certificate of $950.
Now, say that six months from now, your Focus needs a fifth qualifying transmission repair after you received the settlement payment. That's still fair game, according to KCC, so long as the repair occurs while your car is still less than 7 years old with fewer than 100,000 total miles. In that case, the fifth repair would get you another $350 or a vehicle-discount certificate of $700, so long as you filed the claim within 180 days of the service. The limit, of course, is eight qualifying transmission repairs. A hypothetical ninth repair will not enable additional settlement payments or new-car discounts.
Can I Sell My Car Back to Ford?
Check your state lemon laws. If you qualify, court filings indicate that Ford will pay whatever you paid to own or lease the car, including finance charges, minus "a reasonable allowance for use." For those who win such arbitration claims, Ford will also reimburse up to $6,000 in legal fees.
Regardless of state lemon laws, court filings require a fallback provision that enables automatic eligibility for a repurchase if the car still malfunctions after four transmission repairs within the first five years or 60,000 miles from when it was sold brand-new.
In total, buybacks "typically range from $15,000-$22,000," Capstone said, with a separate buyback portal here. You'll have to submit a buyback request by Oct. 3, 2020, or, for affected 2015-16 models, six years since the delivery date of the car to its first owner — so, for example, mid-2022 for a 2016 Focus purchased in mid-2016.
What If I Think the PowerShift Transmission in My Focus or Fiesta Caused an Accident?
If it caused injury to people or damaged property, you may need to take that up separately. The class action settlement "does not involve claims of personal injury or property damage to any property other than the Class Vehicles," claims administrator KCC noted.
What If I No Longer Own the Car?
You can still qualify for the fallback provision created, which gives former owners or lessees the option to seek relief.
What If I Have a Separate Lawsuit Against Ford Over This Issue?
Members of the class action "who had a pending suit against Ford as of the Notice Date were given an opportunity to opt-in," court filings said. But that ship sailed more than two years ago. Notices were mailed in mid-2017, and class members faced a deadline of Sept. 5, 2017, to opt in or out of the settlement, according to Capstone and KCC.
However, those with pending litigation "in which final judgment has not yet been entered" can still opt into the settlement, KCC said. Talk to your attorney. Characteristic of class-action settlements, those who join the class waive rights to litigate separately: "If you elect to participate in the Settlement, you cannot sue Ford for any claims based in whole or in part on any alleged problems with the PowerShift Transmission," the firm noted. However, you "may still pursue claims for personal injury or property damage," it added.
How Much Will This Cost Ford?
Court filings on March 5 indicated Ford had already paid $47.4 million to repurchase some 2,700 vehicles by the end of 2019. Including that total, the automaker will pay an estimated $86.25 million in committed or previously paid settlements, including legal expenses. But vehicle buybacks could easily escalate that total. The Detroit Free Press quoted Ryan Wu, a lead class counsel at Capstone, as calling it "reasonable to assume that the settlement will deliver at least $100 million for the buyback benefit alone, with no upper (dollar) limit."
Does This Mean Ford Has Admitted Fault?
Nope. The terms of the settlement do not require any admission of fault by Ford.
"Ford denies that it has violated any law, denies that it engaged in any wrongdoing, and denies that Class Vehicles' PowerShift Transmission is defective in any way," KCC said. "The parties agreed to resolve these matters before these issues were decided by the Court."
More From Cars.com:
Cars.com's Editorial department is your source for automotive news and reviews. In line withCars.com's long-standing ethics policy, editors and reviewers don't accept gifts or free trips from automakers. The Editorial department is independent of Cars.com's advertising, sales and sponsored content departments.