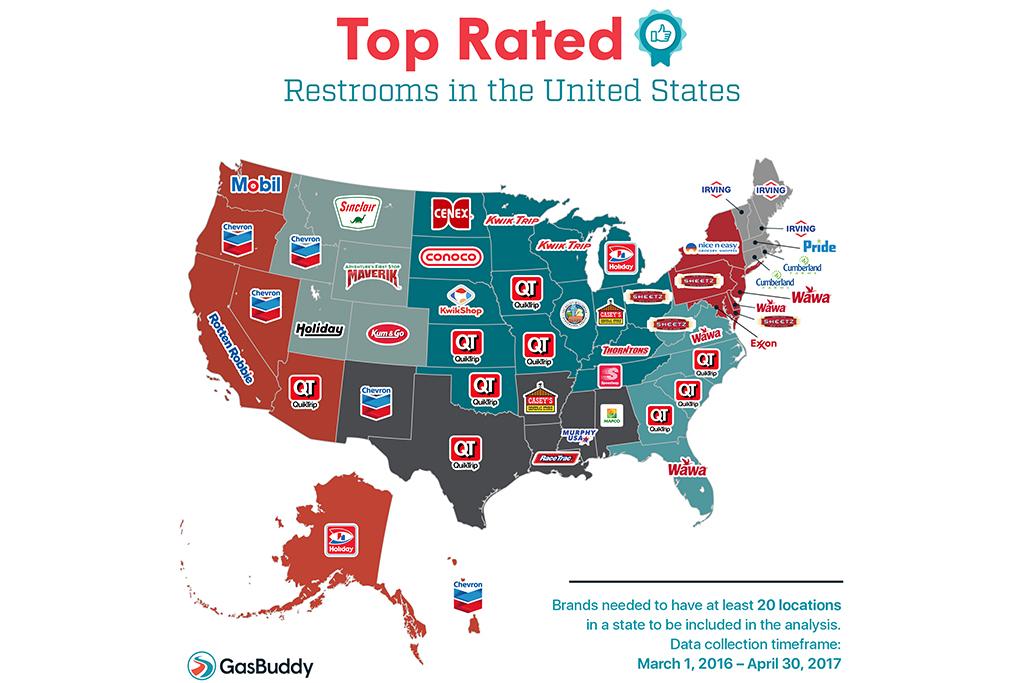 CARS.COM — With summer upon us, it's time to start thinking about that glorious seasonal tradition: the road trip — hitting the open road with the wind in your hair and the tunes blaring. But don't forget the pit stops.
A few years ago, I documented a family road trip to lovely Missouri. Over the course of more than 16 hours, we took 10 potty breaks, and 4 out of 10 stops weren't made quickly enough for my young kids. (Translation: We had some soaked and kind of stinky car seats.)
Related: 2017 Chrysler Pacifica Family Road-Trip Review
Even now that my kids are older, the whole restroom-on-the-road thing doesn't go smoothly. Whenever we're near a restroom, they don't have to go; 20 minutes later and it's, "I've got to go soooooo bad." What's worse, many gas station restrooms are grimy and dismal.
However, GasBuddy.com, a smartphone app that crowdsources information to help drivers find the best gas prices, has clean restrooms covered. GasBuddy also crowdsources information to help drivers find the cleanest restrooms and — after crunching data from over 1.5 million user ratings — just released its list of winners.
QuikTrip, a Tulsa, Okla.-based gas station and convenience store chain with locations throughout the Southeast and Southwest, secured the highest ratings overall and top honors in nine states — more than any other brand. Chevron got top marks in five states throughout the Western U.S., with Sheetz and Wawa gas stations dominating several East Coast states.
Sure, most of us wouldn't plan a road trip based on clean restrooms, but families with a few young kids in tow just might. With data like this being collected, gas stations might just start upping their restroom game, competing for the royal flush of restroom ratings.