Here's Everything We Know About the 2019 Hyundai Kona Electric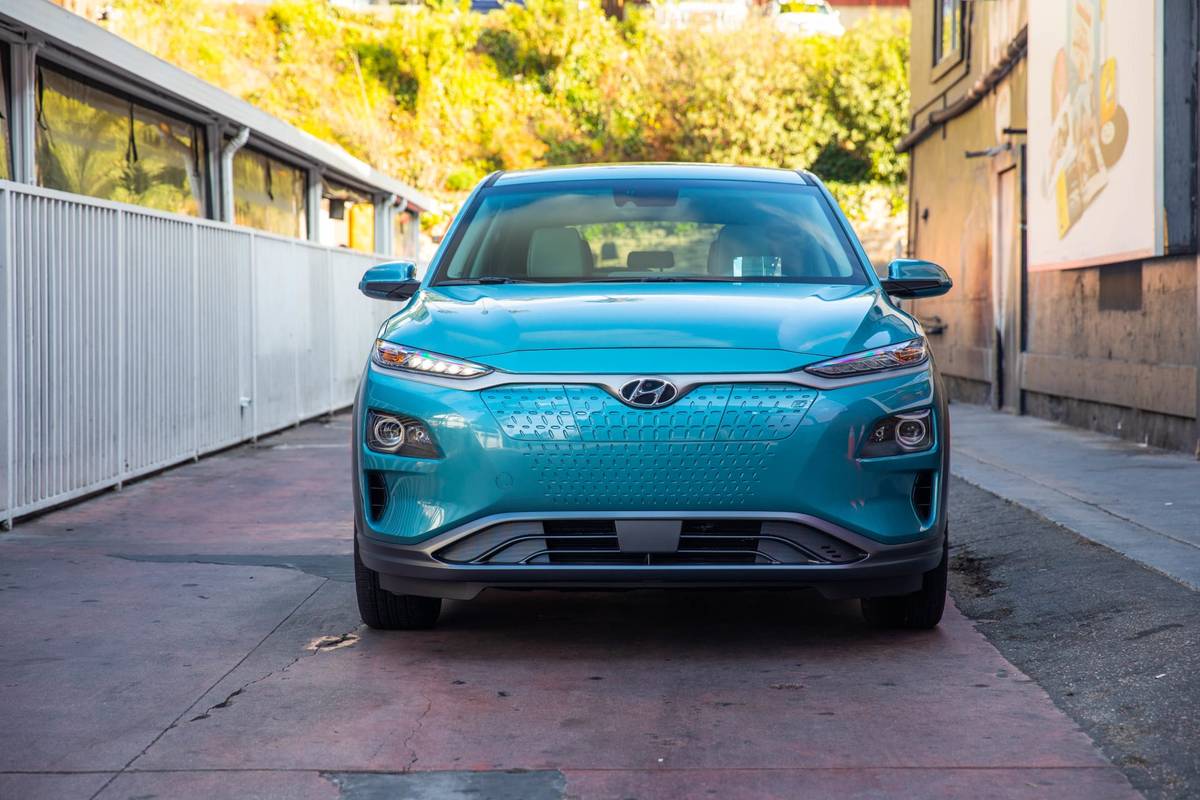 Competes with: Tesla Model 3, Chevrolet Bolt EV, Nissan Leaf, Hyundai Ioniq EV
Looks like: A Kona SUV with a smoother snout. Despite switching to an electric vehicle powertrain, much of the design remains the same for Hyundai's subcompact suvie.
Drivetrain: A 201-horsepower electric motor making 291 pounds-feet of torque and coupled to a 64-kilowatt-hour lithium-ion battery pack sending power to the front wheels.
Hits dealerships: Early 2019. Sales will begin in California before migrating to other states with similar zero-emission vehicle mandates, currently including Connecticut, Maine, Maryland, Massachusetts, New Jersey, New York, Oregon, Rhode Island and Vermont; the Kona Electric will not be sold in all 50 states.
The Hyundai Kona Electric combines the space and utility of the South Korean automaker's new subcompact SUV along with an estimated 258 miles of driving range on a full charge. This places the Kona Electric among some of the very best electric cars available today, at least when it comes to maximizing mileage.
Related: What's the Best Subcompact SUV for 2018?
The Chevrolet Bolt EV, for comparison, offers 238 miles of electric range. And depending on whether it has the standard battery pack or the optional long-range version, the Tesla Model 3 sedan delivers an electric range of between 220 and 310 miles.
One caveat with the Kona Electric is that sales will be limited to 10 states. Sales begin early next year, starting in California, and will eventually move to other states with similar emissions requirements and zero-emission vehicle mandates. Hyundai has not yet announced the price of the Kona Electric, nor whether it will be available with both a purchase and lease option.
Exterior
Like many electric cars, there isn't much that shouts that this Kona is electric. Sure, the front end kind of looks like a standard Kona wearing a surgical mask; the smoother nose undoubtedly helps aerodynamics and, since there is no traditional engine and radiator to keep cool, there's less need for large front apertures and openings. Style is subjective, but when viewed from the front, the simpler-looking face of the Kona EV is definitely less busy than the standard model. Do we detect the subtlest hint of Tesla Model X? Maybe, though if anything, the Kona Electric is the better-looking car.
Standard equipment includes front and rear LED lighting, along with aerodynamically shaped five-spoke alloy wheels. Apart from that, the electric model is nearly a visual twin of the standard version.
Interior
We've tested more than a few hybrids and electric cars to know that a powertrain can make a big impact on the interior. This is especially true when an automaker crams a battery pack into the space normally reserved for luggage; you end up with a car that's eco-friendly but downright mean when it comes time to load luggage or shopping bags. Thankfully, Hyundai has positioned the electric powertrain and battery pack in a way the preserves the 19.2 cubic feet of cargo room behind the split-folding rear seats. That's a big plus point considering one of the main advantages of the Kona is its larger cargo area and handy rear hatch.
From the driver's seat, you're greeted by a floating touchscreen mounted in the center of the dashboard. The largest version, equipped with navigation, measures 8 inches across and comes with Apple CarPlay and Android Auto compatibility. The standard 7-inch touchscreen includes features like voice recognition technology and a backup camera. Much like the exterior, the rest of the Kona Electric's cabin is similar to what you'll find in gas models.
Under the Hood
The Kona Electric is front-wheel drive and comes powered by an electric motor with the equivalent of 201 horsepower. That compares nicely to the standard model, which has a choice of a 147-hp, 2.0-liter four-cylinder engine or optional 175-hp, 1.6-liter turbocharged four. The car's 64-kilowatt-hour lithium-ion battery can be recharged up to 80 percent of its total capacity in approximately 54 minutes when using a fast-charging system, according to Hyundai. The battery is also covered by a lifetime warranty, which should provide extra peace of mind to anyone on the fence about an EV's long-term durability. The charging port is in the nose of the car to help make head-in parking-lot recharges a bit simpler.
Safety
While it's not as obvious as the Kona Electric's nose job, it's nice to know Hyundai has fitted a number of safety items as standard in the Kona Electric, including forward collision warning with emergency braking. Other available safety items include lane keep assist, driver attention warning, blind spot monitors, rear cross-traffic alert and automatic high beams.
Cars.com's Editorial department is your source for automotive news and reviews. In line with Cars.com's long-standing ethics policy, editors and reviewers don't accept gifts or free trips from automakers. The Editorial department is independent of Cars.com's advertising, sales and sponsored content departments.