What's the Best Subcompact SUV for 2018?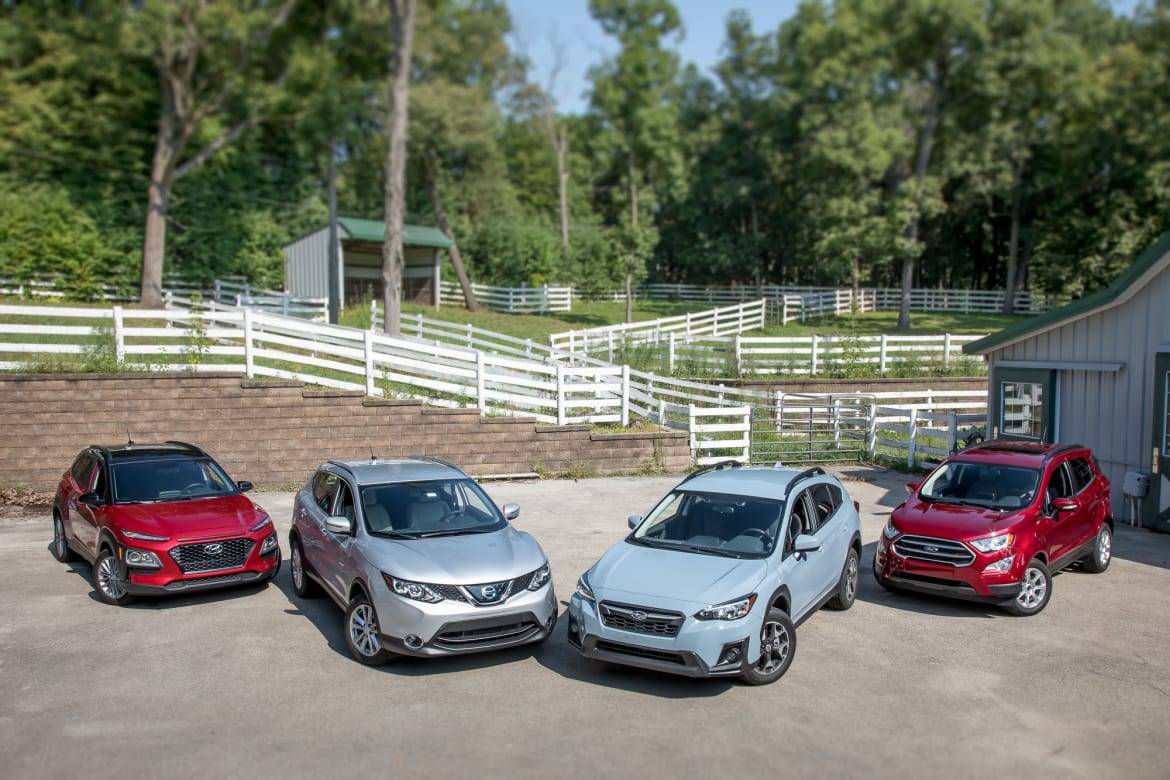 In the three years since we tested members of a growing class of the smallest SUVs, the class in question has only heated up, adding new models and shedding few old ones. So we gathered three newcomers — the Ford EcoSport, Hyundai Kona and Nissan Rogue Sport — and pitted them against a newly redesigned version of our previous winner, the Subaru Crosstrek.
2018 Subcompact SUV Challenge
Results | How We Tested | Video
We set a price cap of $26,000 (including destination charges), as equipped, and required automatic transmissions and the availability of all-wheel drive, but left drive type to the manufacturer's discretion, which led to a 50/50 split of front- and all-wheel drive among our contestants. All were 2018 models except the oddly characterized 2018.5 Nissan Rogue Sport, so named for the late addition of several active-safety features as standard equipment. Test vehicles included the Ford EcoSport SE FWD, Hyundai Kona SEL AWD, Nissan Rogue Sport SV FWD and Subaru Crosstrek 2.0i Premium AWD.
Three judges individually awarded points in 13 categories: interior quality, front-seat comfort, backseat comfort, in-cabin storage, multimedia features, convenience features, handling, powertrain, ride quality, noise, visibility, city friendliness and worth the money.
Each model was also awarded points based on our measurements of its cargo volume and assessment of associated factors, the advanced active-safety and driver-assistance features with which the test vehicle was equipped, and its grades in our Cars.com Car Seat Check, which gauges the accommodation of various child-safety seats (see our methodology in the How We Tested article above). All categories combined for a possible maximum score of 1,000 points.
Our Challenge judges were:
Kelsey Mays, Cars.com senior consumer affairs editor
Fred Meier, Cars.com Washington, D.C., bureau chief
Brian Wong, Cars.com Los Angeles bureau chief
This Challenge resulted in a considerable divide between the top two and bottom two finishers. As is often true in these contests — and perhaps more so for the smallest examples of a body style — models that provide more space at a comparable price reap some benefits. Read on to see how the contestants ranked, as well as the strongest and weakest aspects of each — and don't miss the scorecards at the end for the big picture.
4 2018 Ford EcoSport SE FWD, 498 out of 1,000 points
The verdict: Aside from excellent multimedia tech, Ford's U.S. version of the aging global EcoSport feels like a warmed-over placeholder awaiting a new, up-to-date subcompact SUV.

2018 Ford EcoSport SE FWD

Cars.com photo by Christian Lantry

Our Test Vehicle
As-tested price: $25,590
Powertrain: 123-horsepower, turbocharged 1.0-liter three-cylinder; six-speed automatic transmission; front-wheel drive
Estimated city/highway/combined mpg: 27/29/28
The tiny EcoSport ranked last in six categories, including noise, and tied for last in three more, including safety features. It led the pack in two areas: the multimedia system and convenience features. The EcoSport seems to be held back by aspects associated with its global focus, such as its small size and modest power.
The Good
Multimedia features: "The multimedia system is a star; it nails all the things you want out of one," said Brian Wong of the top-rated system in our test. Kelsey Mays noted that the touchscreen "measured a best-in-group 8 inches and had Apple CarPlay, Android Auto and navigation, all running through Ford's excellent Sync 3 interface."
Convenience features: Rated highest in this category, the EcoSport included among its features two USB ports, automatic climate control, heated front seats and the only household power outlet and moonroof in the test.
Backup camera: Fred Meier called out "the best backup camera in the group, with a high-definition image, predictive grid lines and backup sensors pictured on the screen."
Cargo storage: Though the Rogue Sport ranked highest for cargo storage, the EcoSport showed surprisingly well for its small size, tying for second place with the Crosstrek, which is also a larger model.
Steering: "It recalls the big brother Escape, with decisive turn-in and good feedback," said Mays.
Rear head restraints: "The backseat head restraints can fold all the way down to open up rearward visibility when they aren't in use," said Wong.
The Bad
Powertrain: Wong called the lowest-ranked powertrain in the test "unresponsive, especially from a standing start, and there's also a big hesitation once you're in motion when trying to accelerate quickly for passing maneuvers," he said. "Around town, the engine is passable, but if you need to get up to speed quickly, you'll find the three-cylinder struggling to keep up."
Visibility: "It figures Ford also sells the EcoSport in Greece; these A-pillars could support the Parthenon," mused Mays of the lowest-ranked EcoSport. Meier agreed: "The huge windshield pillar, extra strut and big side mirror combine for a front-corner blind spot that could hide a mom with a stroller and a dog at a crosswalk," he said.
In-cabin storage: "To be a credible SUV, even a small one, the EcoSport needs more interior storage spaces," said Meier, reflecting its bottom ranking. Wong noted that "the doors have decent storage pockets, but the center storage bin is laughably small."
Worth the money: "Being the only vehicle in our test with a moonroof and navigation isn't enough to save the EcoSport on the value front," said Wong of the Ford's bottom ranking. "It's shocking that this cost nearly as much as the Nissan or the Subaru, set aside the cheaper Kona; it just doesn't have enough safety features to match up."
Seat comfort: The EcoSport's bottom-rated backseat comfort is mainly about limited legroom, but Wong said, "Though the EcoSport looks tall, it has surprising issues with backseat headroom. The seat is pretty upright and lacks a tilt adjustment." At 6-feet-plus, Meier mentioned his head brushing the roof back there, and added, "The driver's seat is like a good inside fastball: high and hard. I couldn't find a just-right position." The front seats tied with the Kona's for last place.
Safety features: "The EcoSport doesn't offer important safety tech like automatic emergency braking or lane departure mitigation," said Mays. Wong added, "Not only missing here, they aren't even offered on higher trim levels." The EcoSport tied with the Kona for last place in this regard, as well.
Handling: Though the judges agreed that "the suspension excelled at soaking up harsh shocks from broken, uneven city pavement," Meier said, body control was a problem. Mays explained: "With the shortest wheelbase in the class, the chassis loses its cool too easily on rough roads." Wong said, "Skinny tires and a soft suspension sap any potential for driving fun." The EcoSport tied for last with the Rogue Sport in this area.
Interior quality: "Its design is cohesive and its colors inviting," said Mays, but negative facets earned the EcoSport just one point more than the bottom-ranked Kona: a wobbly center console, cupholders too low to reach easily, some inconsistent fit, visibly exposed edges of dashboard insulation and "a gear selector plucked from 2003," said Mays.
Child-seat accommodation: Rated third, ahead of the Kona, the EcoSport's middling car seat fitment is partly a consequence of its smaller backseat, resulting in a C grade for the infant seat test, along with mostly Bs in the Car Seat Check.
Swing gate: Having a side-hinged swing gate rather than a conventional liftgate in the rear also didn't charm the judges, and hurt its city friendliness rating. "It requires some 4 feet of rear clearance to open, versus less than 18 inches for, say, the Rogue Sport's liftgate," said Mays. "Swing and a miss, Ford."
Research the 2018 Ford EcoSport | Search Inventory | Car Seat Check | Photo Gallery
3 2018 Hyundai Kona SEL AWD, 525 points
The verdict: The Kona favors sport over utility or comfort, with modest cargo space, subpar ride quality and rougher edges than the other competitors — but it was also the most athletic and offers excellent value.

2018 Hyundai Kona SEL AWD

Cars.com photo by Christian Lantry

Our Test Vehicle
As-tested price: $23,705
Powertrain: 147-hp, 2.0-liter four-cylinder; six-speed automatic; all-wheel drive
Estimated city/highway/combined mpg: 25/30/27
For a model that's all-new rather than new to the U.S. market, our Kona racked up a disappointing five last-place finishes and tied for last in two other categories. It did rank first in one category and tied for the top slot in two others. Its performance seemed hampered by its size, refinement and the trim level at hand.
The Good
In-cabin storage: The Kona's top-rated in-cabin storage included "abundant storage space up front, including a big two-level cubby ahead of the gear selector, an overhead sunglasses holder, decent storage under the center armrest and front-door pulls that double as storage bins," said Mays. Meier added, "The door pockets are useful — not all contestants' were — and the second front bin is large enough for a phablet and keeps the phone hidden from sight."
Handling: "None of these SUVs are outright fun to drive, but the Kona might come closest: limited body roll, nimble reflexes and decent grip make bombing around cloverleafs a little fun," said Mays. Meier deemed it "the most fun in this group, with adequate power from the base engine, a Sport mode that sharpens the six-speed transmission's response and confident handling even though the light steering was not quite up to the level of the chassis and brakes." The Kona had "my favorite dynamics of the bunch," said Wong. The Hyundai tied with the Subaru for top handling overall.
Worth the money: "Characteristic of Hyundai, the Kona has oodles of value," said Mays. "Ours ran about $2,000 less than the others as-tested — and that's with AWD, keyless access and Hyundai's excellent warranty." The Kona tied with the Crosstrek for value by a good margin over the other two.
Powertrain responsiveness: Though the Kona's powertrain ranked one point below those of the Nissan and Subaru overall, it was universally praised for its responsiveness, which contributed to its athleticism. "A good six-speed automatic like the one in the Kona will always beat a continuously variable automatic transmission," said Wong.
Convenience features: Just one point behind the top-ranked EcoSport, the Kona's convenience features list included three USB ports (the most in the test), heated seats and power front windows that open or close at a single touch.
Multimedia features: "Another good multimedia system with a high-mounted screen, it loses to the EcoSport only because Sync 3 is a touch easier to use and I had to stretch to reach the far side of the Kona's screen," said Wong of the second-ranked system. "It's the most tech-friendly without extra cost upgrades, including a standard, easy-to-use 7-inch touchscreen and Apple CarPlay and Android Auto," added Meier.
Backseat headroom: Though the Kona rated in the bottom half for backseat comfort due to short cushions and limited knee clearance, judges gave some credit. "For one of the smallest SUVs in the group, Hyundai carved out surprising room for adults even in back," said Meier. "The trade-off is less cargo space behind the seats, but it seems worth it."
The Bad
Interior quality: The race to the bottom was close, but the Kona fell one point behind the EcoSport. "Higher trim levels improve on many cabin materials, but the cost-cutting in our mid-level SEL felt downright spiteful: coarse upholstery, shiny plastics, crude headliner, minimal brightwork," said Mays. "I could go on. The bean counters had their way with this."
Ride quality: Ranked last by a sizable margin, "The ride is busy, especially over rough roads," Wong said. "Broken pavement leads to strong vibrations throughout the cabin that are heard and felt." Meier added, "Hyundai has done a lot better with ride quality in recent models, but not so much with the Kona."
Cargo space: "In contrast to the abundant front storage, as-tested cargo space behind the backseat was the group's worst by a long margin," said Mays.
Child-seat accommodation: The Kona's smaller backseat meant less-than-ideal car seat space, especially for our Car Seat Check's demanding infant and rear-facing convertible seat tests, in which the infant seat required the front seat to be moved fully forward, pressing its passenger's knees into the dashboard and earning a grade of D. The Kona had the lowest ranking in this category.
Front-seat comfort: Tied for last with the Ford, "The Kona's front seats are not comfortable," said Wong. "The lower cushions are too short, and it fatigues your legs over time. An adjustment to raise the front of the cushions would have helped but wasn't available."
Research the 2018 Hyundai Kona | Search Inventory | Car Seat Check | Photo Gallery
2 2018.5 Nissan Rogue Sport SV FWD, 644 points
The verdict: The name is a misnomer. For this class, Nissan's contender should go by "Rogue Comfort" for its comfortable ride and quiet cabin, though it's hampered by its multimedia system — if you can call it that.

2018.5 Nissan Rogue Sport SV FWD

Cars.com photo by Christian Lantry

Our Test Vehicle
As-tested price: $25,910
Powertrain: 141-hp, 2.0-liter four-cylinder; continuously variable automatic; front-wheel drive
Estimated city/highway/combined mpg: 25/32/28
The Nissan Rogue Sport was sold globally (mainly as the Qashqai) before coming to the U.S., but it's less hamstrung than the EcoSport: Only its multimedia system, or relative lack thereof, betrays its age. It led in five categories, tied for first in two and brought up the rear in only two, and its points total put it just 23 points behind the overall winner and 119 points ahead of third place.
The Good
Cargo space: "The Rogue Sport had the group's most as-tested cargo volume behind the backseat, with Nissan's nifty Divide-N-Hide partitions in our test car to help divvy up the space," said Mays.
City friendliness: "The Rogue Sport was the best at soaking up bumps and potholes and minimizing harsh body motion on our worst-of-the-worst Chicago street pavement," Meier explained. The Nissan shone in other respects city dwellers value, too: "The high seating position, maneuverability and acceptable sightlines tied the Ford EcoSport for the easiest street parking, despite being bigger and roomier," he said. The Crosstrek ranked second because of its longer length, lesser performance in the brutal-pavement test and a lower, more sedanlike seating position.
Ride quality and quiet: "The Rogue Sport has the quietest and smoothest ride of this group," said Meier. "It drives more like a compact SUV than a subcompact." It was top-rated by healthy margins in both respects.
Front-seat comfort: "The front seats feel wider and cushier than the others, a boon on road trips," said Mays of this top-rated aspect of the Rogue Sport. Wong added, "Places where you would put your arm while driving (top of the door, center storage bin) were comfortable and covered in good materials."
Powertrain: Tied for first rank with the Crosstrek, the Rogue Sport's powertrain was praised for strong acceleration and for having "the rare CVT that doesn't fall all over itself when accelerating from a stop," said Wong.
Backseat comfort: In another tie with the Subaru, the Nissan's top-ranked backseat "was spacious, and this was the only vehicle to offer visible rear air vents," Wong said. "If I had to ride in the backseat of any of these models for an extended period, it would be the Rogue Sport's." To maintain perspective on the class, however, Mays pointed out that "the backseat sits too low to the floor. Adult passengers may feel like they're squatting."
Interior quality: Scoring a few points behind the Crosstrek, the Rogue Sport rated well above the other two contestants. "It has the looks, materials quality and soft-touch surfaces that feel a cut above most subcompact SUVs at this price," Meier said. "If you don't need the added cargo room or optional third row, I can't see why you'd spend more for a comparable but foot-longer Nissan Rogue compact SUV."
The Bad
Multimedia features: Rated rock bottom, "The throwback 'media system' is basically a radio with Bluetooth — no touchscreen, tiny display, no Apple CarPlay or Android Auto, one USB port," said Meier. Wong's take: "It would have fit right in about 10 years ago; the display isn't a touchscreen and it's very low-resolution. It makes the backup camera image look grainy." Mays piled on: "The backup camera lacked dynamic guidelines — adding up to an epic fail."
Handling: "I suspect most SUV shoppers want low-effort steering, which the Rogue Sport delivers, but it combines that with a slow ratio and numb feedback at all speeds," said Mays. "The result is an SUV that feels twitchy on the highway, soupy in corners and well shy of 'Sport.' " It ties for last with the other contestant that ironically has "sport" in its name, the EcoSport.
Safety features: Newly standard in the "2018.5," forward collision warning and automatic emergency braking gave the Nissan an edge on the Ford and Hyundai (as equipped), but the lack of other active-safety features put its rating closer to the followers than the Subaru, which led with its inclusion of lane departure provisions along with adaptive cruise control.
Worth the money: The Rogue Sport ranked ahead of the EcoSport for value, but being the most expensive contestant as tested stood in contrast to its lack of an all-wheel-drive option, a legitimate multimedia system and advanced smartphone compatibility. It didn't include other pluses such as the Kona's longer warranty and the Crosstrek's free-maintenance provision, either.
Transmission: Despite the strong overall powertrain rating and decent performance for a continuously variable transmission, judges still registered their issues with the technology. "The CVT is helped by artificial gear steps that respond quickly, but there still is a lot of whining," Meier said.
Research the 2018.5 Nissan Rogue Sport | Search Inventory | Car Seat Check | Photo Gallery
1 2018 Subaru Crosstrek 2.0i Premium AWD, 667 points
The verdict: Redesigned for its second go-round, the reigning champ does it again thanks to a mix of drivability, roominess, practicality and quality.

2018 Subaru Crosstrek 2.0i Premium AWD

Cars.com photo by Christian Lantry

Our Test Vehicle
As-tested price: $25,905
Powertrain: 152-hp, 2.0-liter four-cylinder; continuously variable automatic; all-wheel drive
Estimated city/highway/combined mpg: 27/33/29
Typical of Cars.com Challenge winners, the top-ranked Subaru Crosstrek grabbed the title through strong ratings in most respects even though it had the most points in four categories versus the Nissan's five. It also tied for first in four categories and placed last in just one. Overall, the Crosstrek's success rests most notably on its generous size and quality that's a substantial improvement in this redesign.
The Good
Safety features: "With important technologies like automatic emergency braking and lane departure steering intervention, our test car's optional EyeSight system helped the Crosstrek earn the highest safety score," Mays said.
Visibility: "The Crosstrek has excellent visibility, with solid sightlines in all directions," Wong said. Mays praised "skinny A-pillars, large front-quarter windows and a large rear window."
Interior quality: "Cabin materials are lush. Padding is generous where it counts, and most surfaces have handsome, low-gloss finishes," said Mays of the top-ranked interior. "All of the contenders had cloth interiors," added Wong, "but this one felt the most high-quality — not something I thought I'd say about a Subaru."
Child-seat accommodation: The Subaru accommodated child-safety seats better than the other contestants thanks to easily accessible Latch anchors in addition to a backseat large enough that the front seats didn't need to be moved forward, even for rear-facing seats.
Backseat comfort: The backseat benefited adults as well as bulky child seats with "a surprising amount of headroom and legroom for something that doesn't look like a conventional SUV," Wong said, adding, "It's the most comfortable backseat as well; there's actually some bolstering for the side passengers, which is unique in this group." The Crosstrek's backseat tied for first place with the Rogue Sport's.
Powertrain: In another tie for first with the Nissan, "The Crosstrek is light on power, but the artificial gear steps and paddle shifters help you wring the last drop out of the 2.0-liter boxer engine and CVT," Meier said. Wong agreed: "The CVT lags a bit at low speeds, but it's preferable to the Rogue Sport."
Ride and handling: The Crosstrek tied for first in handling and ranked second in ride quality, but it had the most points of any contestant for both scores combined. "It doesn't eclipse the Rogue Sport in comfort or the Kona in handling, but it strikes a good compromise," Mays said. Wong cited "a good combination of feedback from the steering wheel and the chassis," and Meier found it "not sporty, but confident, stable and forgiving when pushed."
The Bad
Convenience features: The Crosstrek's only last-place finish was in this category due to a lack of features one or more competitors included, as equipped. It didn't have automatic climate control or powered seat adjustments, and there was no moonroof, navigation system or overhead sunglasses holder. It was the only contestant without keyless access or a fold-down center armrest in its backseat. Such an armrest also could have raised its backseat cupholder count by two to match the Ford and Nissan. "Only one USB port? That's embarrassing," said Wong. "This ties with the Rogue Sport, but that vehicle doesn't even have a real multimedia system."
Noise: This isn't the class to shop if you're looking for a quiet cabin, but with just 15 total points from all judges out of a possible 30, the Crosstrek and Kona each were just one point ahead of the EcoSport and five points behind the leading Rogue Sport. Wong called out "lots of engine noise under harder acceleration; if you're cruising along, it's pretty quiet. But the moment you step on it, the noise fills the cabin."
Transmission: Of the two models so equipped, Mays preferred the Nissan's continuously variable transmission where Meier deemed the Crosstrek's "better sorted out." Despite the differences of opinion and high overall powertrain ratings for both models, judges pointed out that even today's more advanced CVTs — and their associated droning sounds — still aren't a favorite.
Obstructive seat belt: "Rather than anchoring in the seatback itself, the middle rear belt originates in the cargo area — the only car in the group with this setup — so it gets in the way of large cargo if you fold the seats down," said Mays.
Interior design: "Materials aside, cabin styling feels disjointed," Mays mused. "Did Subaru assign separate areas to three different designers and then mash everything together at the end?" Meier joined in: "The overall interior design is still an eccentric mix, but, as they say in the ad, that's what makes a Subaru a Subaru." Actually, we think that's claimed to be "love" …
Other nitpicks: "Subaru needs to improve on the rickety gear selector and clumsy climate dials," Mays said.
Research the 2018 Subaru Crosstrek | Search Inventory | Car Seat Check | Photo Gallery
How Each SUV Scored
Cars.com's Editorial department is your source for automotive news and reviews. In line with Cars.com's long-standing ethics policy, editors and reviewers don't accept gifts or free trips from automakers. The Editorial department is independent of Cars.com's advertising, sales and sponsored content departments.