Hybrid Sedans Still Take Six Years to Pay Off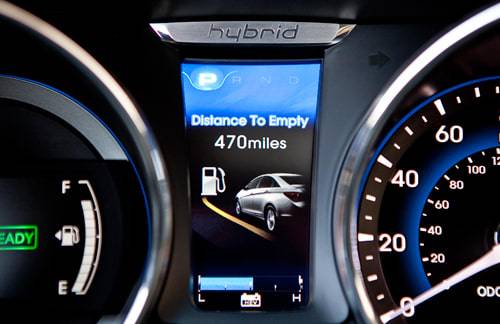 However, times have changed. When we recently looked at the most affordable midsize sedans equipped with popular features along with two years of gas costs, we noticed that the difference between some sedans and their hybrid counterparts wasn't far off.
There are more hybrid options for today's sedan shopper. The Ford Fusion, Hyundai Sonata, Kia Optima and Toyota Camry all have hybrid versions. The Volkswagen Passat has a fuel-efficient diesel model, too.
Since we had already done a lot of math and Excel building — favorites of journalists worldwide — we figured why not see how long it takes for these cars to pay off their higher price tags.
In the past, hybrid models had more standard features than the base sedans, but because our affordability story looked at the following features as part of the price consideration, we believe it is more of an apples-to-apples comparison:
Automatic transmission
Bluetooth connectivity
Remote keyless entry
MP3 jack for portable music players
Steering-wheel-mounted audio controls
Cruise control
Automatic headlights
Anti-theft alarm system
Tilt/telescoping steering wheel
That formula narrowed the gap between hybrid and non-hybrids, but we were shocked that even with these competitive prices, it took six years before any of the hybrids paid off. That is when the 2012 Toyota Camry and the 2011 Kia Optima hybrids paid off.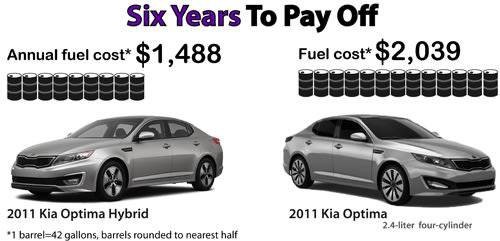 It's taking so long even with today's closer price points mainly because the traditional four-cylinder engines get very good mileage as-is.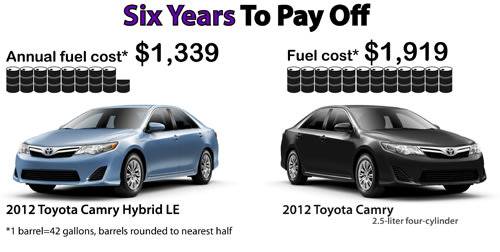 The hybrids that pay off the fastest are the new Toyota Camry Hybrid and the Kia Optima Hybrid. Both recoup their added sticker price by the sixth year of ownership with gas prices at a national average of $3.67 a gallon.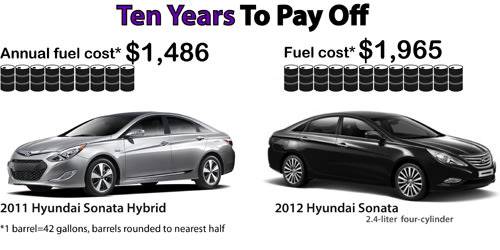 The car that takes the longest is the 2012 Hyundai Sonata, at 10 years. However, the non-hybrid Sonata is the most affordable car with the best mileage in the comparison. It should be noted that the 2011 Optima has slightly worse mileage than the 2012 Sonata, but that will change when the 2012 Optima goes on sale.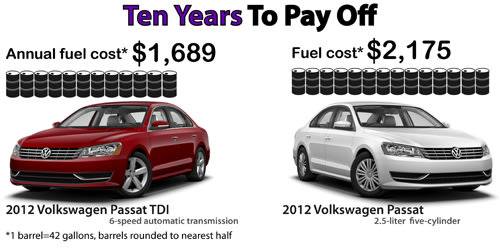 What about diesel? The higher prices hurt the Passat TDI versus the 2.5-liter five-cylinder. It takes 10 years to recoup costs. However, that diesel option is more powerful — and many would say more fun to drive — than the hybrids we rate.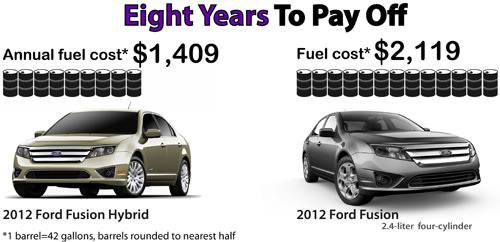 To illustrate what happens when gas prices are higher, we used the average gas price in the Chicago area, $3.84 a gallon. Logic suggests that hybrids should pay off faster with higher gas prices, but it still takes six years before the Camry and Optima pay off, just at a larger savings. The Sonata covers costs in nine years.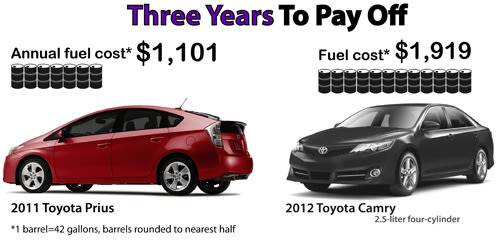 In the end, it seems these new hybrid sedans would be worth much more if gas prices were higher. It also means you're always better off buying a Prius. You'd be saving money over a similarly equipped Camry in just three.