Incentives Diet: Buy This, Not That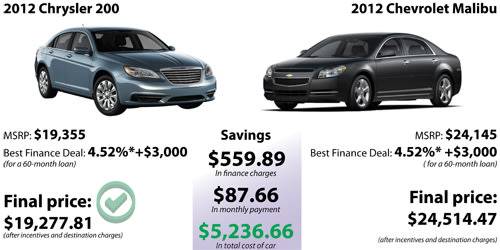 With new models coming fast and furious via announcements at the four major auto shows —  L.A., Detroit, Chicago and New York — of the season, we thought we'd focus our incentives breakdown on some older, proven models that are still around for the time being.
In this latest round of Buy This, Not That, we focused on midsize sedans, full-sized luxury SUVs and large family sedans. Included in this rundown are the Toyota Avalon and Chevrolet Malibu, which both have new models entering the market now or in the near future.
All the trim levels picked for these comparisons included an automatic transmission, air conditioning, keyless entry, cruise control, Bluetooth connectivity, a USB port, and power locks, windows and side mirrors. Final price includes destination charges.
2012 Chrysler 200 LX vs. 2012 Chevrolet Malibu 1LT
The Chrysler 200 and Chevrolet Malibu are two significantly re-engineered models based off pre-existing models that were duds in the retail space (the Chrysler Sebring and the sixth-generation Chevrolet Malibu).
While the Malibu is slowly being replaced by the redesigned 2013 Malibu and the Chrysler 200 will be replaced by an all-new model sometime next year, the current models offer decent ride comfort and adequate interior accommodations and amenities for the class.
When comparing the two you'll notice that the Chrysler 200 LX, at $18,995, is a bargain and more comparable to compact cars in terms of pricing and features than a midsize sedan. The Malibu is priced on the higher side of the market, with a starting price of $22,110.
What makes matters worse for the Malibu is it's not as well-equipped as the 200, which has all the features we were looking for sans Bluetooth. Adding Bluetooth was an inexpensive $360 option that also added voice-activated controls and an auto-dimming rearview mirror. To get a USB port in the Malibu, you have to upgrade to the 1LT trim, which costs $23,470. The trim adds features such as carpeted floormats, steering-wheel-mounted audio controls, and body-colored side mirrors, which all were standard on the 200. The Malibu 1LT's price still doesn't include Bluetooth, which is another $675 option and includes a six-way power-adjustable driver's seat, remote starter and a 110-volt plug to the backseat center console.
The big differences separating the Malibu and the 200 — besides the features we add to get Bluetooth — are the latter's aluminum wheels and a six-speed automatic transmission, which helps give the Malibu a 2 mpg better combined fuel-economy score.
For April, both vehicles get a $3,000 cash-back option or 0.0% APR financing for 60 months or more. Opting for the cash offer for both cars makes the Chrysler 200 the better value by a significant $5,236.66.
2012 Lincoln Navigator L vs. 2012 GMC Yukon XL Denali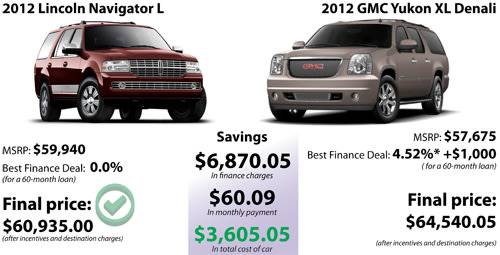 For large families that do significant towing large SUVs are a hard-to-avoid purchase. When the elongated Lincoln Navigator L debuted nearly six years ago, the chromed-out egg-crate grille was in vogue at Ford's luxury brand and also was featured on the first Lincoln MKX. With few updates since its launch in 2006, the Lincoln Navigator L is beginning to show its age, but there are still plenty of standard features and a fairly reasonable asking price for a model like this, at $59,940.
The GMC Yukon XL Denali might not seem like the appropriate competitor for the Navigator, but this blinged-out GMC is arguably the brand's closest thing to a unique flagship product. The Yukon Denali features its own unique engine that's separate from its Chevrolet Suburban twin: The 403-horsepower, 6.2-liter V-8 can propel the massive utility vehicle from zero to 60 mph in 6.75 seconds, which is more than 1.5 seconds faster than the relatively poky Navigator.
Both models come standard with heated and cooled front seats, leather upholstery, a power liftgate, power running boards, a navigation system and backup camera.
While the Yukon Denali starts out as $2,265 less expensive than the Navigator, buying the Lincoln will save you approximately $3,600 in total after financing. That's because the Navigator has 0.0% financing, while the GMC only offers a 3.9% financing deal, which is barely better than the prevailing interest rate of 4.52%, according to Bankrate.com.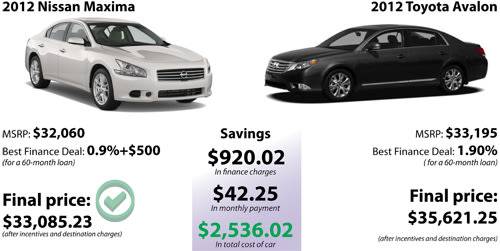 Introduced in 2008, the Nissan Maxima is officially the old man of the group, though its styling still makes it look surprisingly fresh. The outgoing Toyota Avalon was redesigned in 2010, but its look is rather bland.
Both models come with automatic climate control, an eight-way power-adjustable driver's seat and a power sunroof. The Avalon distinguishes itself with standard leather upholstery, while the Maxima gets standard push-button start and a passive entry system. Both models are closely matched, though the Maxima cost $1,135 less before financing or incentives. Toyota is offering either 1.9% APR financing or $500 off of the dated Avalon, while Nissan is offering 0.9% financing and $500 or $1,500 cash back on its aged Maxima.
Ultimately, the Maxima wins out with about $2,500 in savings.
*All final pricing includes destination fees. Finance rate based off national average, week of April 9th.