Is Nissan Rogue ProPilot Driver Assist Worth the Price?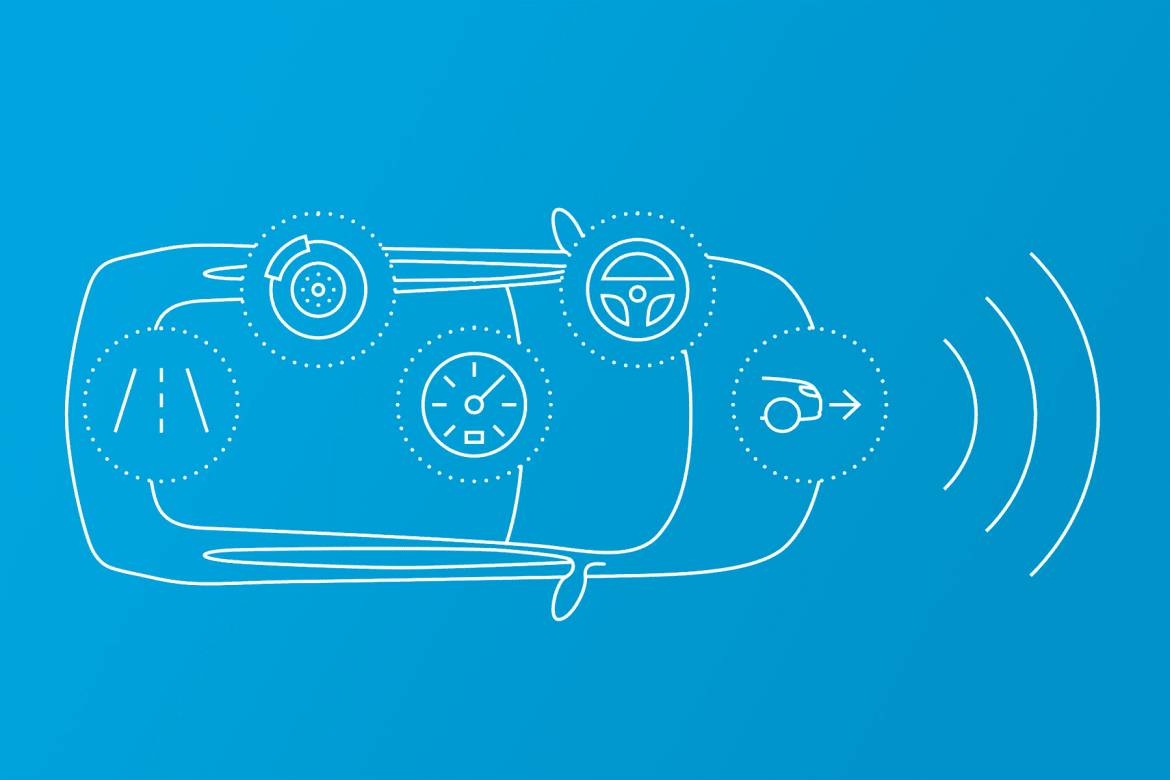 CARS.COM — Nissan is letting buyers of mainstream vehicles put a toe in the self-driving water with ProPilot Assist offered on the 2018 Rogue SUV. For many buyers, even with late-model trade-ins, this will be a first taste of rapidly advancing driver assistance technology. We put the system to the test to look at what it does and whether the option is worth it for buyers.
Related: Nissan Xmotion Concept Crosses Old-World Design With New-School Tech
The system was announced last summer for the redesigned 2018 Nissan Leaf EV arriving at dealerships now, but the 2018 Nissan Rogue beat it to the showroom (the technology also is offered on the 2018 Infiniti Q50 from Nissan's luxury brand). The Rogue is most significant given the size of the mainstream compact SUV market and that the Rogue was Nissan's best-seller in 2017. More Nissan and Infiniti models will follow.
While the Nissan Rogue is solidly mainstream, ProPilot Assist is available only at the top of the range in the Platinum Package on the Rogue's deluxe SL trim level. Still, the $36,520 price with destination of our test vehicle is not out of line with deluxe versions of rival compact SUVs.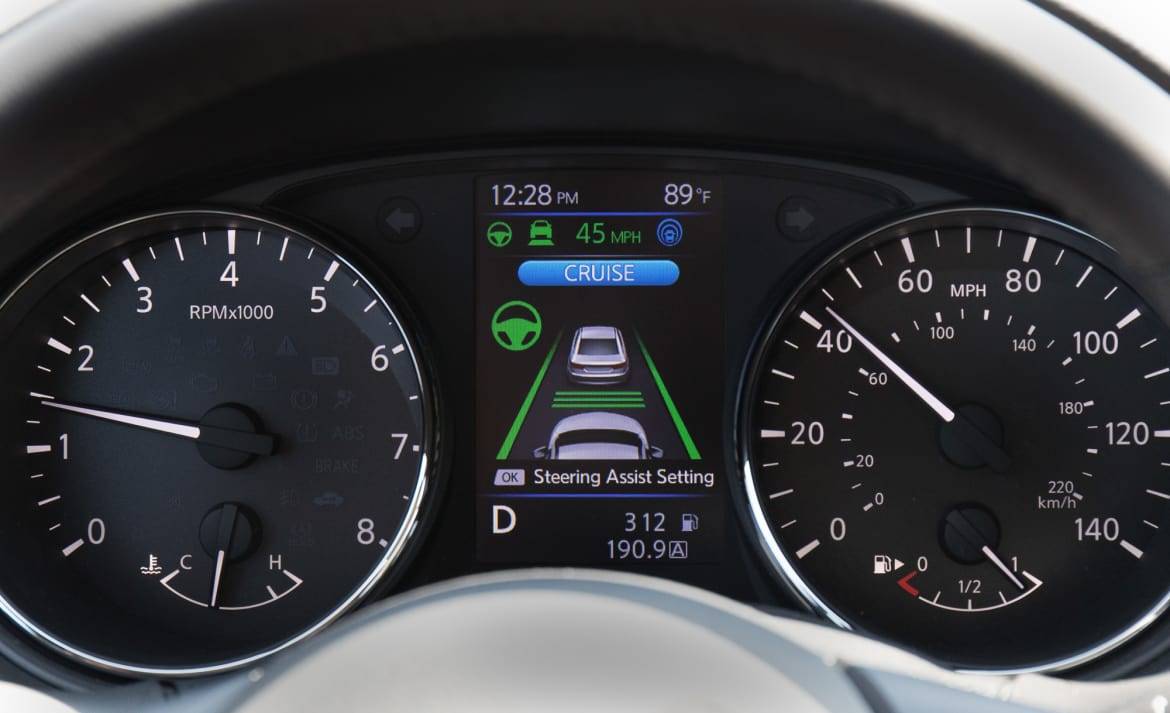 Is ProPilot Assist worth it? The short answer: Yes. While it's a relatively simple system compared with some on high-end vehicles, it actually does take a lot of the tedium out of highway driving and stop-and-go commutes. A longer answer: It's definitely worth adding if you already wanted a fully dressed Rogue. While I liked it a lot, it would not by itself seem to justify the cost of a Rogue SL if you would otherwise be satisfied with a plainer model.
What ProPilot Assist Does for You
The system is, in essence, a good adaptive cruise control feature coupled with a steering system that can take over in specific circumstances. ProPilot Assist enables semi-autonomous driving within a single, marked lane on highways. It maintains a set speed and distance from other vehicles using radar-based cruise control while camera-based self-steering keeps the vehicle in its lane, including guiding it around curves. That's similar to lane-centering features in other vehicles, but ProPilot Assist does it more aggressively and more naturally — for example, letting the vehicle ease just slightly toward the outside of a curve as you might when steering manually.
A blue button on the steering wheel activates the system, and you then use the cruise control "set" button to select your speed. A large, clear interface in the driver information center goes green and chimes when the system locks on the lane and takes over. Because it is a single-lane system for now, the steering (but not speed control) goes off when you change lanes but automatically reactivates in the new lane. See the video below for an overview of the operation and features.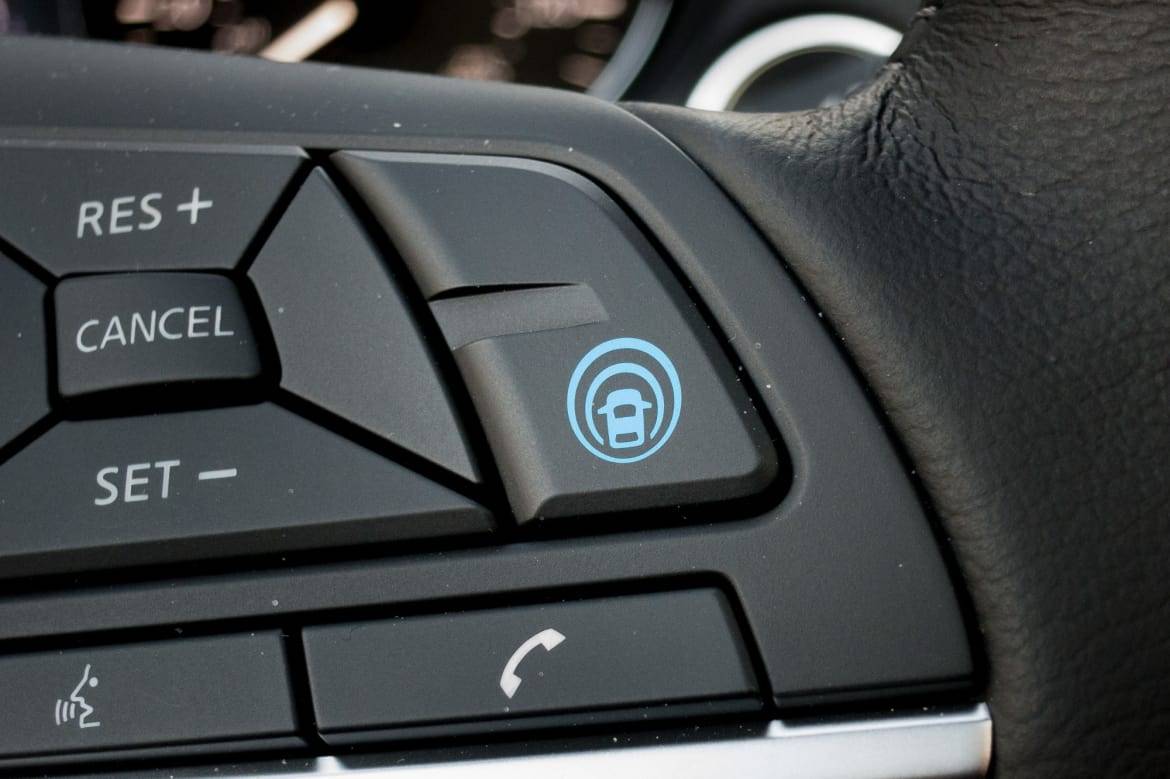 The system works on the highway both at speed and in stop-and-go traffic. It continues to function as long as you don't stop for more than 3 seconds. If you do, it holds the stop, and you reactivate it with a touch on the accelerator or by pressing the resume button on the wheel.
Real-World Use
In real-world driving, the system needed reasonably present highway lane markings, but it worked well for me on a wide variety of roads, including in lanes without reflectors and lanes with very worn markings. In places where broken pavement or repairs disrupted the markings, only marker loss for at least a few seconds of travel caused the system to shut off, which it signals with a double chime and the green interface going gray.
The system also handled lane shifts, as in construction zones, so long as the new lanes were marked and the old markings obscured. I used it successfully in daylight, on lit roads and on unlit sections of highway. I also was able to go from bright daylight into a long (though lit) tunnel under the Baltimore harbor without missing a beat. I was not able to try it in harsh, low sunlight, which could blind a camera.
The system was more challenged by long freeway exits and entrances with long gaps in the lane line, so I learned to stay out of the right-most lane. The only place in my drive that the steering system became confused enough to startle me was in a highway split where the center lane could go either way: It wanted to follow the strongest marking, I wanted to go the other.
Look, Ma! (Almost) No Hands
That brings up a key point: This is not a self-driving car. ProPilot Assist qualifies as a Level Two system on SAE International autonomy scale, meaning it will handle steering, braking and acceleration in specific situations, but you still are the driver. And just because you only have to keep one hand (or even just a finger, I found) resting lightly on the wheel, you should not be using the other hand for something that takes your attention from the car, the road or the idiot who just cut you off.
Failing to keep steering-wheel contact earns you a stern warning display and beeping. If you don't respond, it taps the brake. And if you still don't respond, as in a health emergency, it will slow the car to a stop and turn on the flashers. Other safety features include a warning to clean the front radar sensor if it becomes blocked by ice or mud. And it's not for bad weather; the steering system will not activate if the wipers are on any setting other than intermittent.
To be sure, there already are more sophisticated systems already out there that function with a higher level of autonomy, such as the ability to change lanes, but generally they're on much more expensive vehicles, with leaders including Mercedes-Benz and Tesla.
But ProPilot Assist is an opening shot in Nissan's Intelligent Mobility strategy to bring autonomous features to mass-market vehicles.
"Nissan continues to democratize technology, bringing our most advanced systems to our highest-volume models rather than reserving them for our most expensive vehicles," said Michael Bunce, vice president of product planning for Nissan North America, in a statement.
ProPilot Assist is a first step in Nissan's planned three-stage ramp up to autonomous city driving in 2020. Nissan plans advancements to be announced possibly this year that will allow automated driving across multiple lanes. The rollout will culminate in a system that will allow "intersection autonomy" by around 2020. That will allow cars to navigate city intersections and urban traffic without driver intervention, Nissan says. Also coming for the new Leaf will be ProPilot Park, a system for parking in a spot you choose by holding down a button and letting the Leaf do the work.
As it is now on the Rogue, ProPilot Assist is a taste of what's to come. And it will help mainstream buyers build experience and a trust level with such driving assistance from the vehicle.
As Tested: 2018 Nissan Rogue SL
Powertrain: 170-horsepower, 2.5-liter four-cylinder; continuously variable automatic with Sport and Eco modes
Fuel economy: 25/32/27 mpg city/highway/combined
Key features: Platinum Package with ProPilot Assist, Platinum Reserve interior with quilted leather seat inserts, power liftgate, panoramic moonroof, navigation, Bose premium audio, heated front seats and steering wheel, Divide-N-Hide cargo management system, blind spot warning, rear cross-traffic alert, automatic emergency braking with pedestrian detection
Price: $36,520 (including a destination charge)
A postscript about the test Rogue's interior: The test car was fitted with the SL's optional Platinum Reserve interior, which was worth every bit of the $250 option. We've been critical in the past of interiors of some Nissans — including earlier Rogues — for being dull or downscale. In fairness, it's worthy of note that this black-and-tan Reserve interior, with its piano-black trim and tan seats with quilted leather inserts, gave the test Rogue's straightforward interior, roomy and with comfortable seats, an upscale look and feel that's more competitive with higher trim levels of its compact SUV rivals.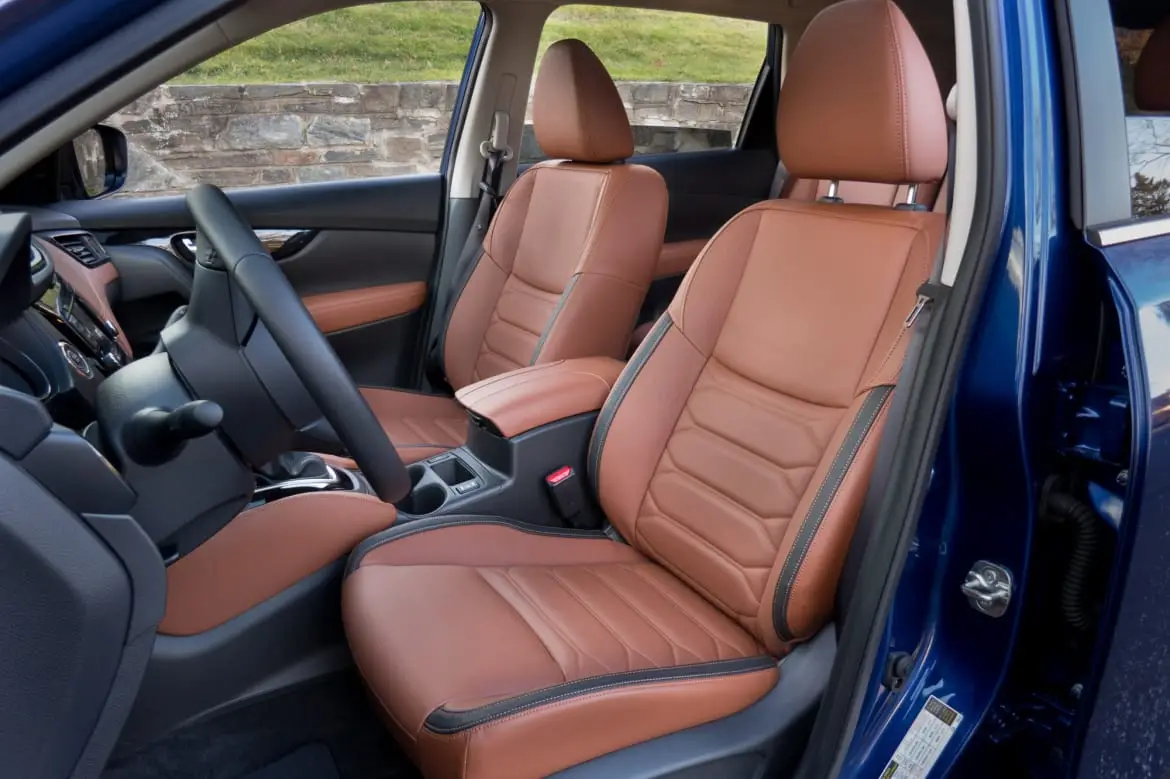 Cars.com's Editorial department is your source for automotive news and reviews. In line with Cars.com's long-standing ethics policy, editors and reviewers don't accept gifts or free trips from automakers. The Editorial department is independent of Cars.com's advertising, sales and sponsored content departments.