Is the Porsche 911 Targa 4 GTS Worth the Extra $63K?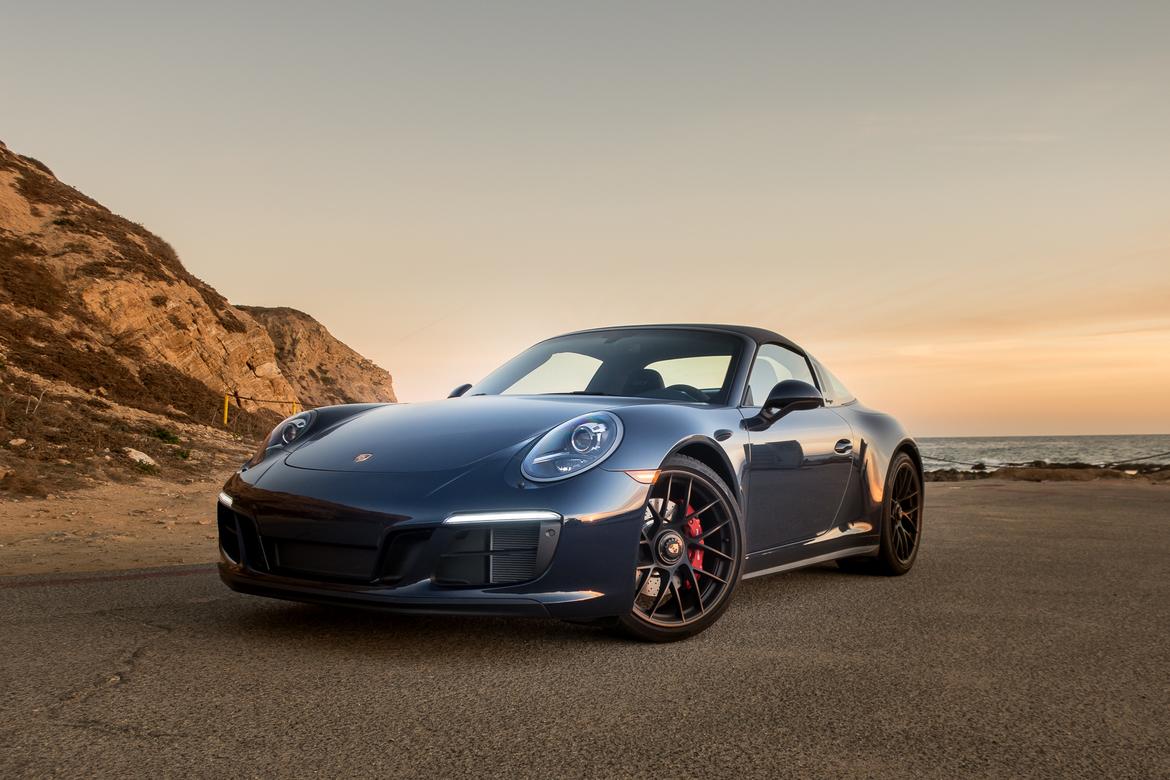 CARS.COM — When Porsche finds something it likes, it sticks with it. For evidence of this, look no further than the 911. Cars.com lists 21 different trim varieties of the 911 for 2018, an impressive amount of variance within one model. Among those models, there are also large gaps in price, which made us curious: Are the more expensive trims of the 911 appreciably better, and therefore worth opening up the wallet even more for?
Related: 2018 Porsche 911 GT3: Icon of the Road Hits the Track
Last August, I tested the base version of the 2017 911: a 911 Carrera coupe with a seven-speed manual that stickered for $97,010. And earlier this year, I had the chance to get behind the wheel of a model at the far opposite end of the 911 spending scale.
2017 Porsche 911 Targa 4 GTS; Cars.com photos by Brian Wong
What We Tested: 2017 Porsche 911 Targa 4 GTS
Powertrain: A 450-horsepower, twin-turbocharged 3.0-liter six-cylinder boxer engine that makes 405 pounds-feet of torque; seven-speed PDK dual-clutch automatic transmission ($3,720); all-wheel drive
Fuel economy: 20/26/22 mpg city/highway/combined
Key features: Center-lock wheels, sport exhaust, speed-extending rear spoiler, Targa convertible top, Alcantara upholstery ($3,850), rear axle steering ($2,090), 18-way adaptive sport seats ($3,025)
Price: $160,465 (with destination)
The price gap between the two 911 models that I tested was substantial, to put it lightly: $63,455. The Targa 4 GTS would have to be exceptional and unique in some way to justify the exorbitant price difference.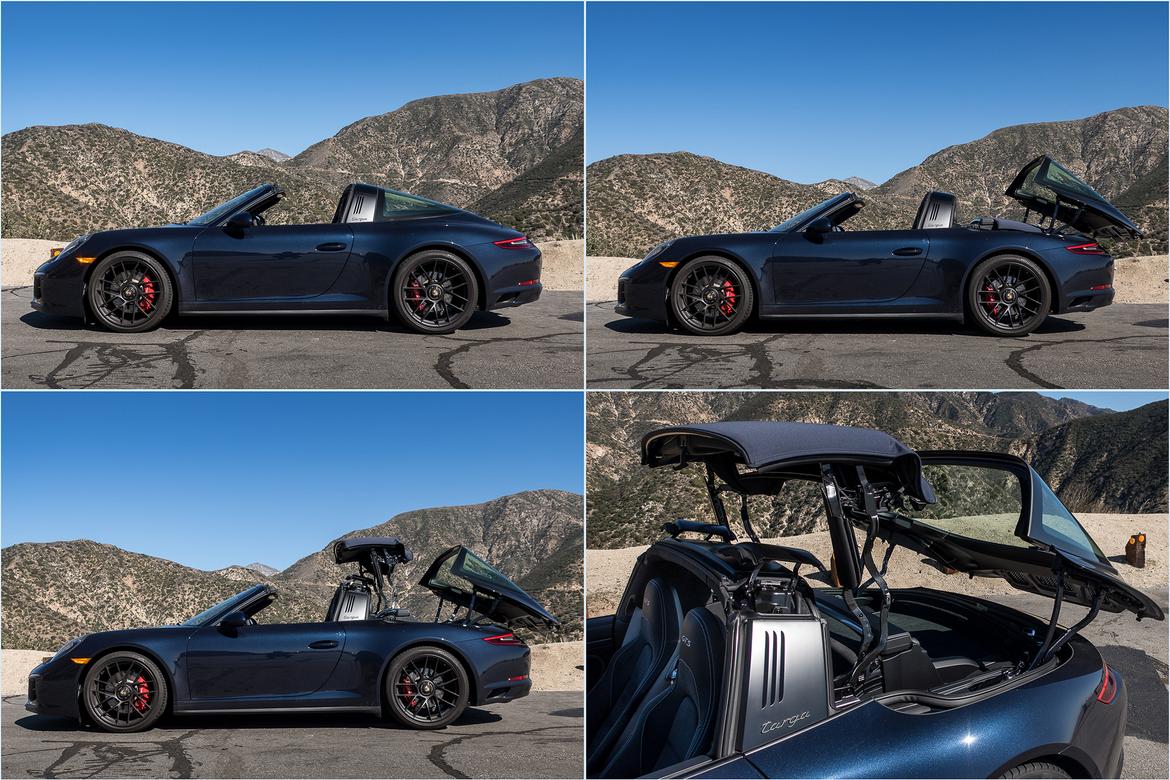 Talkin' Targa
First off ... what's a Targa? It's a convertible where the middle section of the roof can be removed, a design that first appeared in 1966 on the Porsche 911. Other companies make vehicles with similar roof designs (think the T-top on a Chevrolet Corvette or the retractable hardtop on a Mazda MX-5 Miata RF), but only Porsches can be Targas - the brand owns the trademark. 911 Targa models are easily identifiable by the large glass dome on the back, which also helps with rear visibility.
If we were basing this on interior features, the answer to the cost-benefit question would be a no. The interiors between the two cars aren't functionally that different, and because of how Porsche sets up its options, you could outfit a base Porsche 911 (or even a standard 911 Targa 4) with the same seats mentioned above and even the same Alcantara-wrapped steering wheel.
Performance Proposition
But working in the Targa 4 GTS' favor is the fact that it is a transcendent sports car. The 911 Carrera is a very sharp performance vehicle in its own right, but the Targa GTS takes it to another level on all fronts. It starts with the jump in power: The two cars have the same six-cylinder engine, but the Targa 4 GTS has larger turbochargers and more boost pressure. That bumps power up to 450 hp versus 370 hp, and torque to 405 pounds-feet versus 331 pounds-feet. You also get a Sport Response button on the steering wheel that you can press to unleash maximum acceleration in 20-second intervals.
2017 Porsche 911 Targa 4 GTS; Cars.com photos by Brian Wong
With it on or off, there's a noticeable difference in power between the GTS models and the Carrera. Combine this with the Targa 4's all-wheel-drive system and it's practically magical. The Targa 4 model GTS puts power to pavement like few other cars I've driven, and in all sorts of conditions — from a stop, at low speeds, at high speeds.
Confident Through the Curves
I was also struck by how much more balanced the Targa 4 GTS felt than the Carrera. The Carrera is a pretty neutral-riding car in its own right, but you can get it to wobble on the edge — especially if you jump on the power a little early coming out of a corner. In those situations, the rear end gives you a little twitch that reminds you to pull back to avoid wrapping yourself around a tree.
But that's eliminated in the Targa 4 model GTS, its all-wheel-drive system making those corner exits a dream. You can get on the power sooner and carry speed more cleanly into the next corner. It's sublime; I wasn't able to fluster the car in my time with it, and it ran my gauntlet of canyon roads with a scoff and a dismissive wave of the hand. To really push the car to its limits would require a track and more skill than I can muster.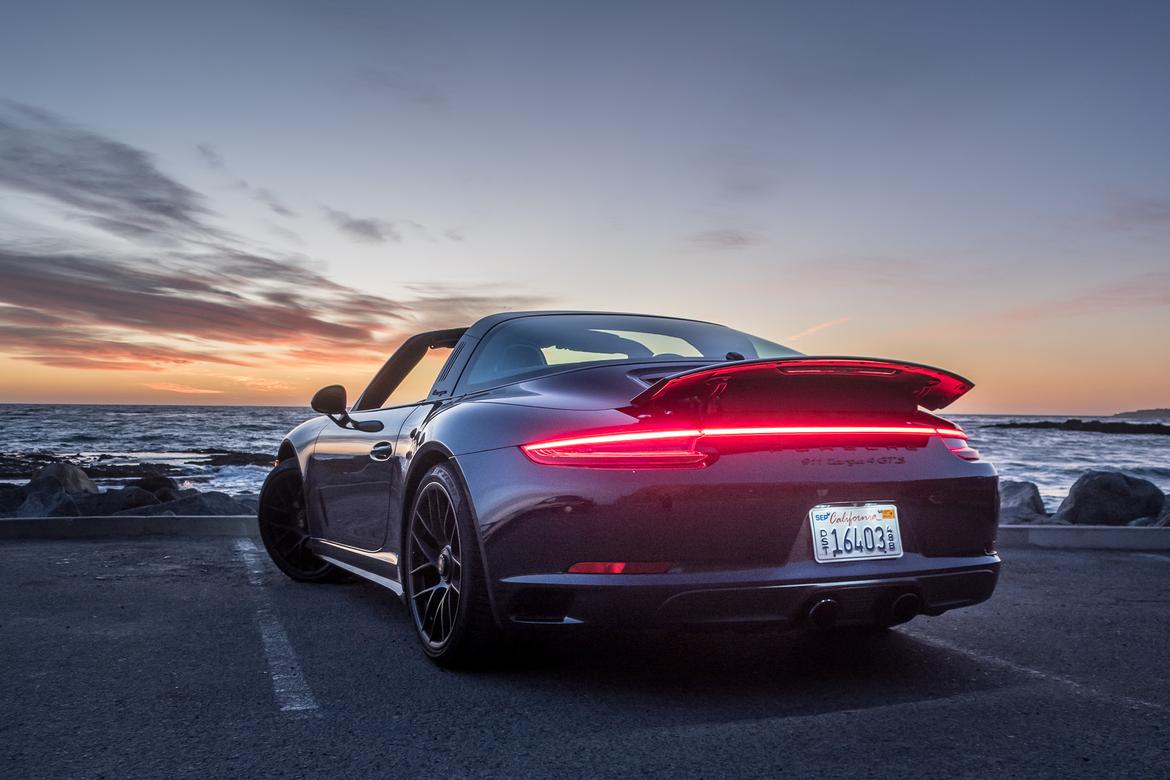 Final Verdict
Also working in the Targa 4 GTS' favor is ... I mean, look at it. I personally think the Targas are the most attractive members of the Porsche 911 family, and for 2017 they got drool-worthy center-lock Porsche wheels off the 911 Turbo S.
I've fully talked myself into this: If it were within my means (and maybe even if it weren't), I'd stretch out for the 911 Targa 4 GTS because it passed every test I threw at it with flying colors. If you're throwing down money for a Porsche 911, it's because you value performance, which this car has in spades and style to match. And the good news is, if you're not as fond of the Targa top as I am, there's a 911 GTS coupe that's more modestly priced than the Targa (the 2018 coupe starts at $121,750, while the Targa is nearly $20,000 more at $140,950).
Would I be happy in a 911 Carrera or Carrera S? Undoubtedly. Would I be much happier in a Porsche 911 Targa 4 GTS? Undoubtedly.
Cars.com's Editorial department is your source for automotive news and reviews. In line with Cars.com's long-standing ethics policy, editors and reviewers don't accept gifts or free trips from automakers. The Editorial department is independent of Cars.com's advertising, sales and sponsored content departments.