Man or Moose? Volvo's Large-Animal Detection Decides, Avoids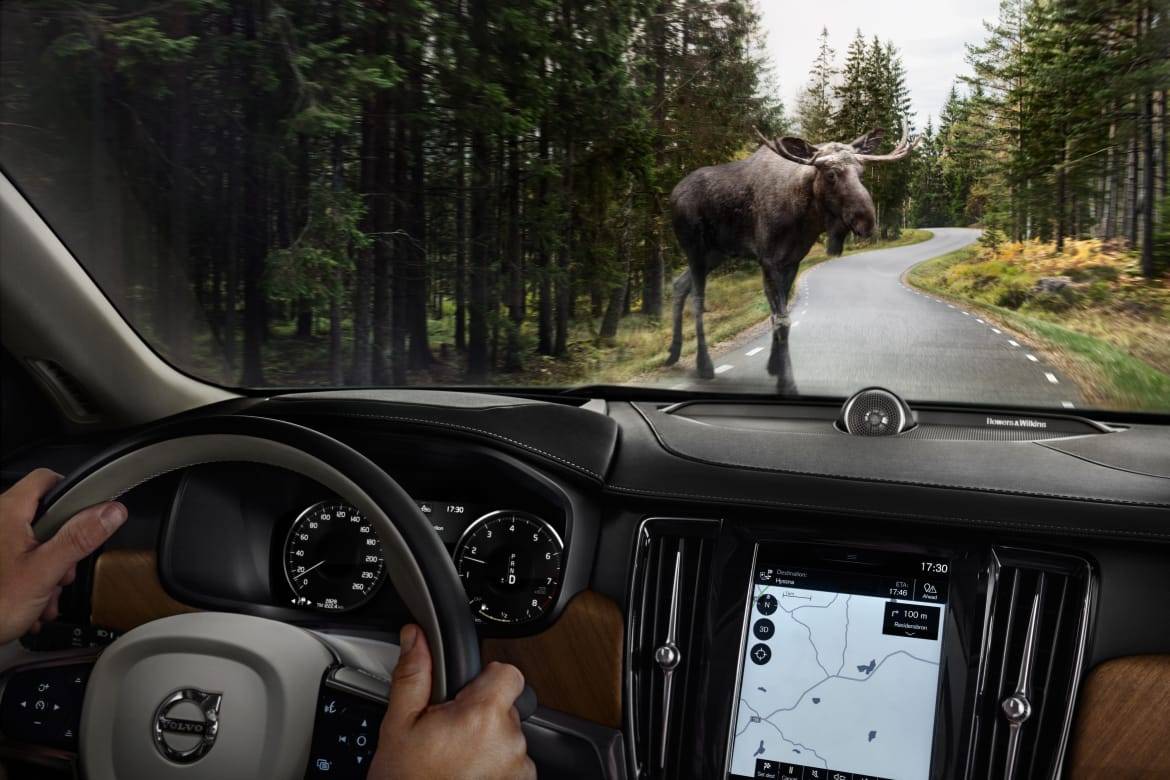 CARS.COM — Saving lives through advanced automotive safety technologies is serious business, but when we first heard about Volvo's large-animal detection system, we sniggered a little. After all, the promotional images showing a car avoiding a moose seem slightly comedic when such beasts are exotic or nonexistent in the vast majority of the Lower 48. But this safety feature's usefulness goes beyond an unlikely caribou collision.
Related: Motorists Fail to Buck Trend of Deer-Versus-Driver Crashes
Set to debut in the summer as standard safety equipment on Volvo's all-new flagship sedan, the 2017 S90, large-animal detection was designed not just for moose, elk … and kangaroos (no, really), but also deer. And that's where it becomes a lot less chuckle eliciting.
"We've been talking about large-animal detection since 2011," Jim Nichols, product and technology communications manager for Volvo, told Cars.com. "This technology is an advancement from our pedestrian and cyclist technology. There are thousands of large-animal strikes each year that cause significant damage, injury and in some cases, death."
Deer might not be the biggest among the animals Volvo's system is designed to avoid, but their annual collision numbers are. According to State Farm, there were 1.25 million car-versus-deer crashes between July 1, 2014, and June 30, 2015, translating to a 1 in 169 chance of being involved in such an incident. Nearly 200 people were killed in 2013 alone in these types of collisions, while the average insurance claim last year was more than $4,000.
In the U.S., moose, caribou and the like may only be found in places such as Alaska, Montana and northern portions of Michigan, Minnesota and New England, but deer pose a driving danger in all 50 states and the District of Columbia.
"This tech was designed to tackle the global issue of large-animal strikes on the roadway," Nichols said. "It has been adapted to each market. In the United States, large-animal detection is primarily for deer and elk; in Australia, it's kangaroo."
Large-animal detection, like pedestrian and cyclist detection, uses radar to sense an object and a camera to identify what that object is. The radar/camera combo, according to Volvo, can detect large animals standing on the road or slowly moving across it with their side facing the vehicle. If the system detects a large animal, it warns the driver; if the driver doesn't react, the brakes are applied to avoid or at least mitigate the impact.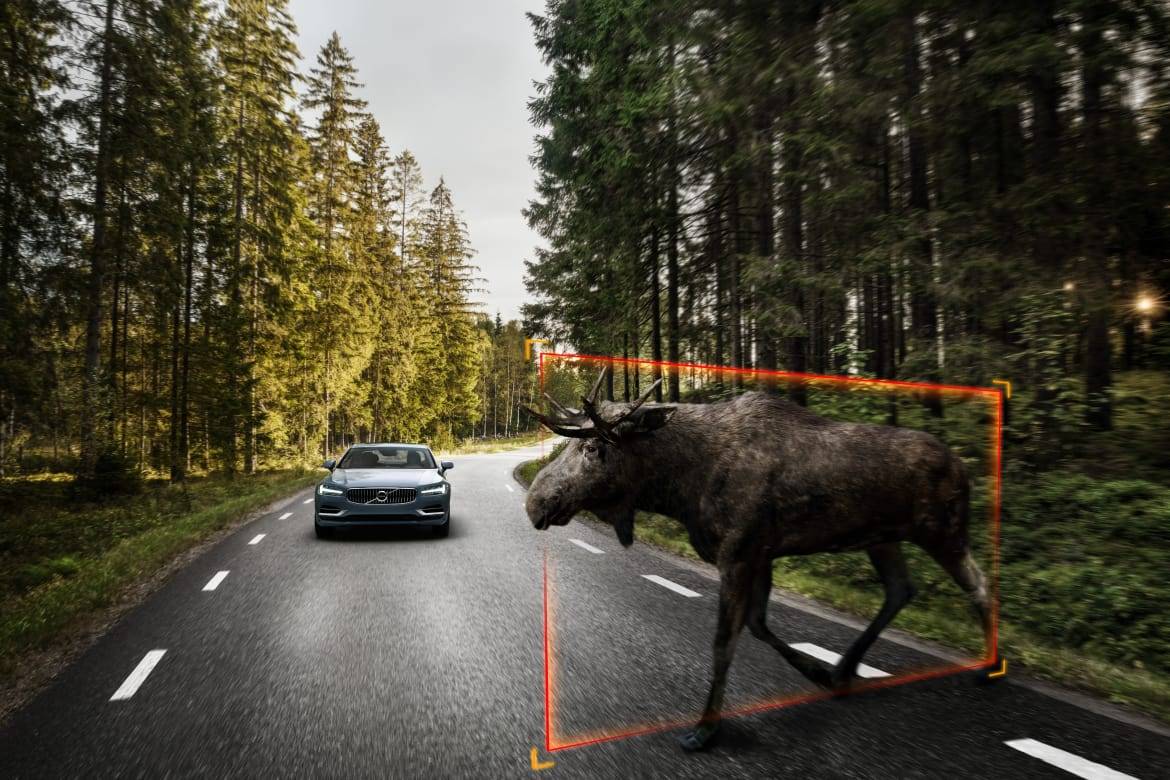 Nichols said the technological advancement represented by large-animal detection is the combination of camera recognition, analysis, processing and database that triggers the system. Once triggered, the vehicle's reaction — activating forward collision warning, then if necessary auto emergency braking — is basically the same whether the obstacle in the road is a pedestrian, cyclist or animal.
"The reaction is generally the same, but the system has to determine if the object is real or not, so the camera uses a database to determine what an object is," he explained. "The database contains thousands of images representing different objects, such as pedestrians, cyclists and now large animals, so the car can respond accordingly."
Both the animal and pedestrian/cyclist detection systems are part of Volvo's City Safety suite. Emergency auto braking has been standard on all Volvos since 2014, and the addition of large-animal detection is the next step in the Swedish automaker's long-term safety objectives, specifically its Vision 2020 objective that no one be killed or seriously injured in a new Volvo by the year 2020.
In March, a coalition of 20 automakers agreed with the National Highway Traffic Safety Administration and the Insurance Institute for Highway Safety to make collision avoidance systems with auto emergency braking standard on almost all new cars by September 2022. Shortly after, Toyota and Lexus announced that they would include standard auto emergency braking on nearly all new cars from both brands by the 2018 model year. In January, an IIHS report showed that Volvo's City Safety reduced rear-end collisions by 41 percent and injuries to occupants by 47 percent.
Along with the new S90, the new system will also be available on the 2017 XC90 SUV.