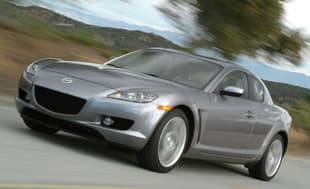 Owners of all 2004, 2005 and some 2006 Mazda RX-8s need to pay attention. Actually, if you own one of these sports cars you've probably already made a trip to the shop following a recall, so you're prepared. Now the company is voluntarily recalling the RX-8 over its award-winning rotary engine.
Some RX-8 engines can leak oil, causing severe damage. Owners can bring their RX-8s in for a vacuum test. If it doesn't pass, the entire engine will be replaced. Yes, you heard us, the entire engine will be replaced.
Most engines that fail are in hot weather climates, but every owner should go in for the test. Mazda is also going to check the battery and starter on the RX-8 because they often fail in cold weather.