Mitsubishi i MiEV Electric Car Coming to U.S.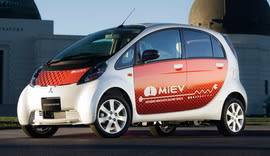 The small EV, named i MiEV (Mitsubishi Innovative Electric Vehicle) would be one of the first mass-produced EVs on the global scene, the automaker said. The i MiEV should start showing up in Japan and Europe over the next few years.
The vehicle is based on a small city car called the i that's sold in Japan. The gas engine, transmission and fuel tank are replaced by a battery pack and electric motor.
The lithium-ion battery pack will give the vehicle an 80-mile range on a single charge. It will take 12-14 hours to charge the vehicle using a normal outlet. Mitsubishi says there's also a fast charger available that allows an 80% charge in just 30 minutes.
According to Automobile Magazine, Mitsubishi has made some engineering changes in the i MiEV for U.S. tastes: The vehicle's track has been widened for better ride comfort, and the front and rear overhangs have been increased for better crash protection.
While an exact date for the i MiEV's release wasn't announced, the automaker did unveil a new partnership with Oregon utility firm Portland General Electric, which will develop electric charging stations in preparation for the EV's arrival.
According to Autoblog, company representatives said the car should arrive in the U.S. sometime "before 2012."
Mitsubishi's i MiEV May Come to America (Automobile Magazine)
Mitsubishi confirms i-MiEV will come to U.S. (Autoblog)