Phones and Cars: Why Choosing The Right Cable Matters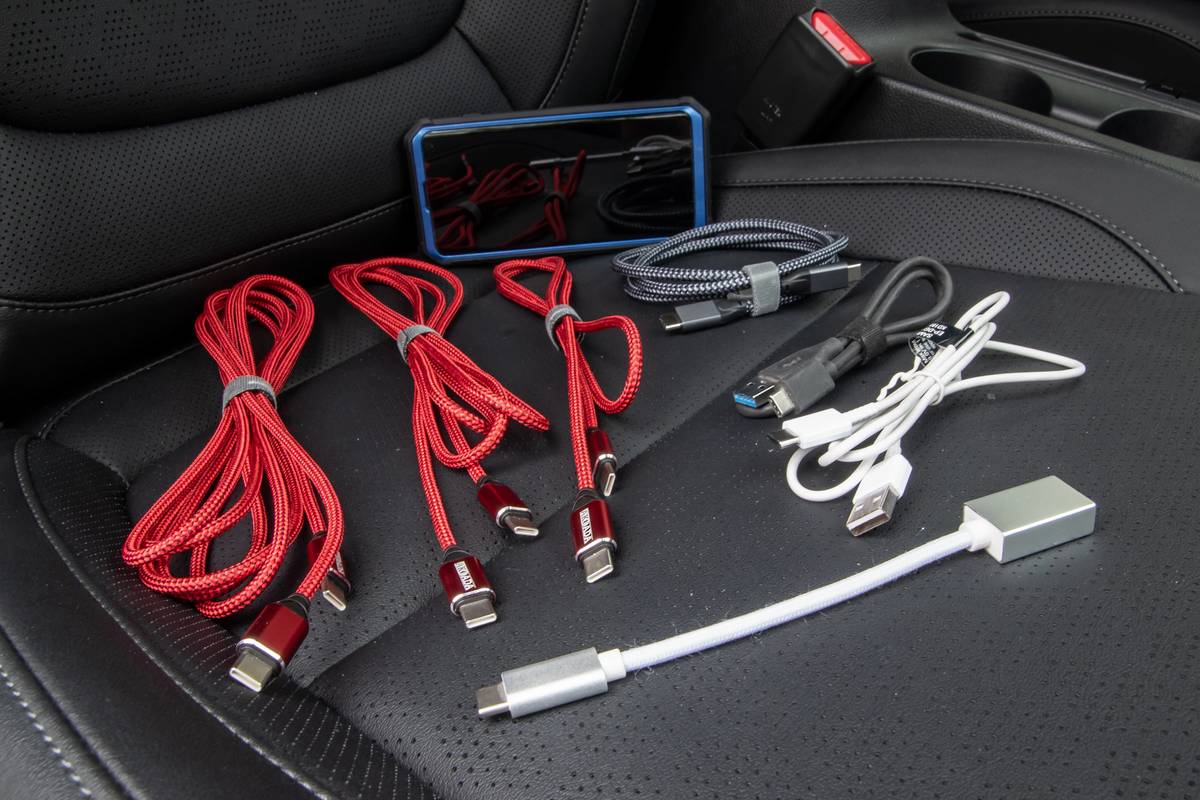 If we've learned anything about mobile devices by testing thousands of vehicles from virtually every brand, it's that not all smartphones play nice with all vehicles — or even with all USB ports in one vehicle. As we noticed with our 2020 Hyundai Palisade, the difference in charging speed between the slowest and fastest charging option in the same vehicle can be a matter of hours. But what surprised us is how much we can improve both the data connection and charging speed by being cord-smart. We didn't believe it ourselves until we put it to the test and confirmed that keeping cords short, clean and high-quality makes a huge difference.
Related: Wireless Apple CarPlay and Android Auto: Where Are They Now?
We'll discuss charging speed below, but the same principles apply to data connections and your phone's ability to communicate with a car for the purpose of running Apple CarPlay, Android Auto or the like.
Just so you can see what we're dealing with, below are some of the charging times we recorded by attaching a Samsung Galaxy S10 smartphone to a variety of ports in different vehicles while investigating the proliferation of USB-C ports in new cars. The Galaxy S10 is a handy test phone because it displays time left to charge and, though it has a USB-C port, comes with a factory cord that has the familiar rectangular USB-A plug on the other end. The information below is meant to illustrate differences in charge times for different cord lengths and types of USB ports (data versus charging only), but not speeds from one vehicle to another, as the phone's state of charge wasn't consistent for each vehicle tested.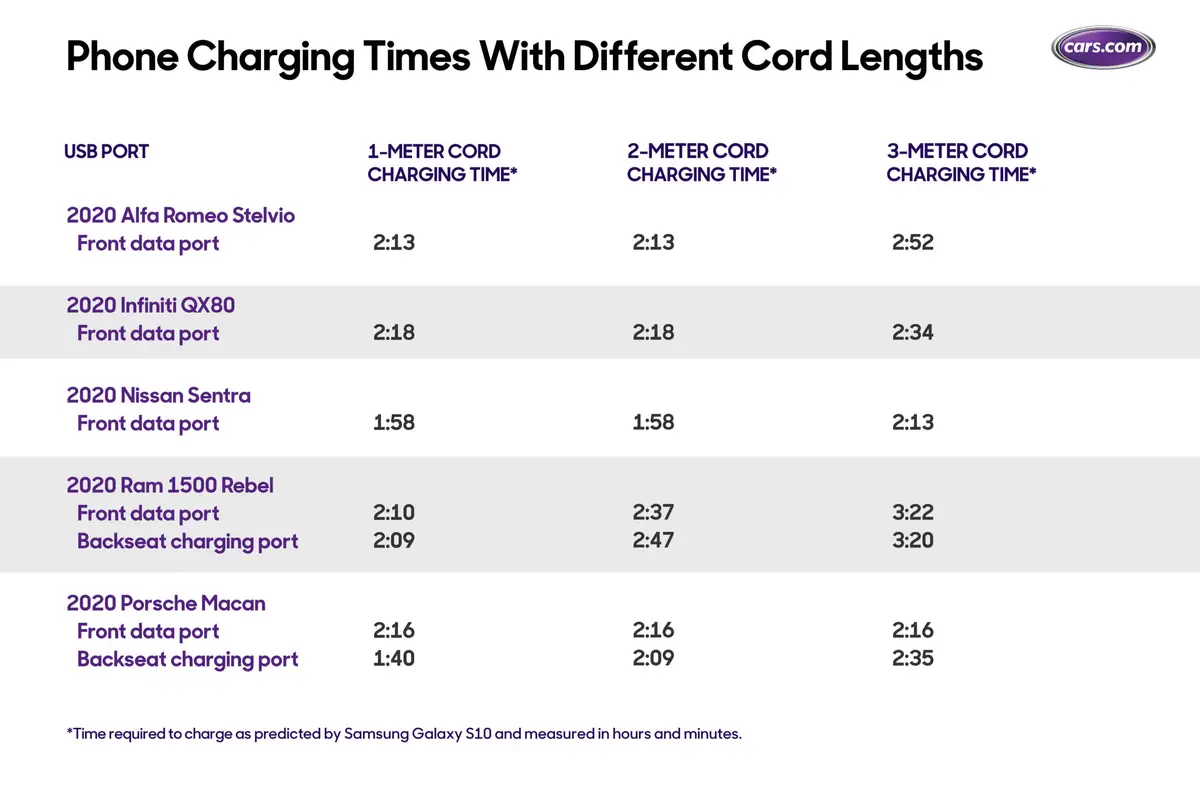 Cord Length
As you can see, one port out of seven — the 2020 Porsche Macan's data port — had identical predicted charging times regardless of cord length. Three ports had the same charging speed with both a 1- and 2-meter cord but longer times with a 3-meter cord. That leaves three ports, including one data type and two dedicated to charging, for which each successive increase in cord length decreased charging speed.
It happens that this test included USB-C ports and cords with USB-C connectors on both ends, but, as we'll detail in a separate story, there's practically no difference between those ports — as executed in current cars — and the more common, rectangular USB-A ports. One meter is a typical length for cords supplied with smartphones. Would shorter deliver faster charging? For some phones attached to some ports, it might; that's how variable USB ports have proved to be. We verified it with an 18-inch cord that shaved 12 minutes off the charging time of a poky data port in the 2021 Kia Seltos, compared with the regular 1-meter Samsung cable, but it made no difference with the vehicle's faster charging ports.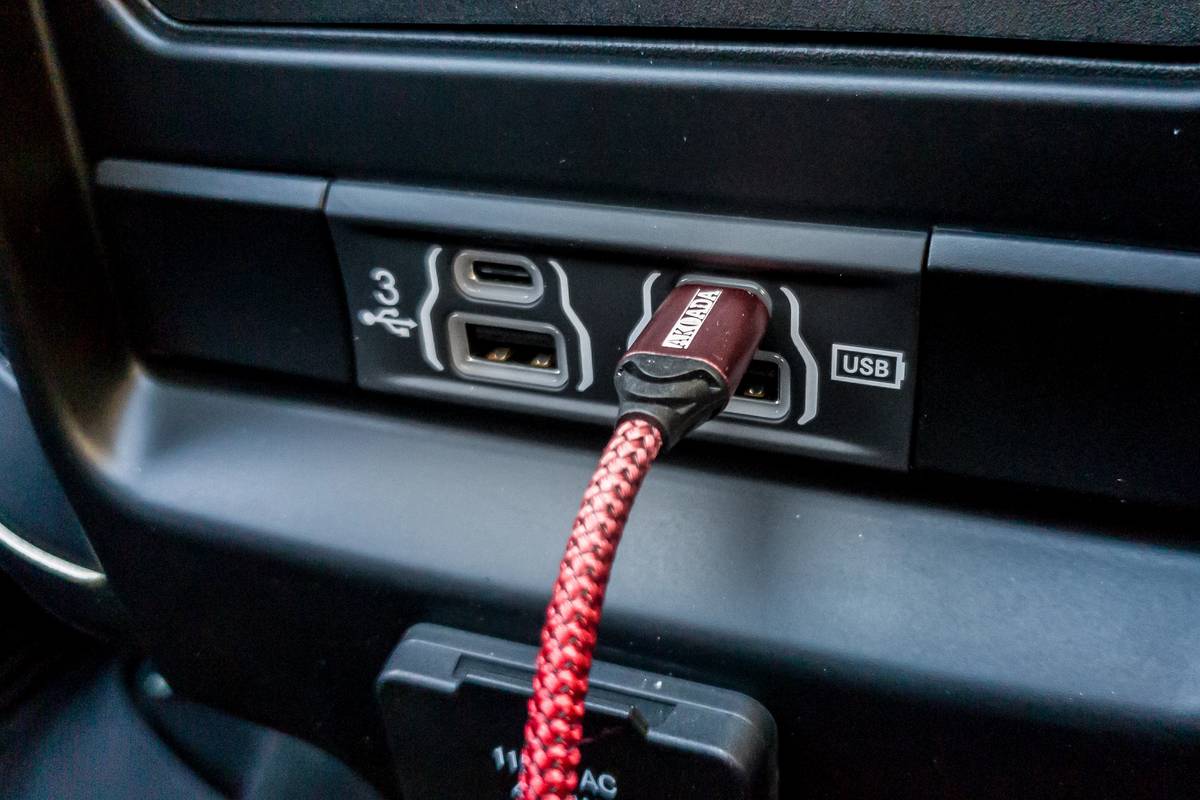 What's Going On Here?
Essentially, everything powered by USB ports employs fire-prone lithium-ion batteries, so the rate at which they charge is variable to prevent heat buildup, damage and fire. In the absence of USB-C Power Delivery — which few devices and no vehicles we're aware of currently support — the device itself has to control its own charging speed, which it does by monitoring resistance in the charging circuit. (The interplay of voltage, current and resistance in any circuit, a principle of electricity called Ohm's law, is what allows this.)
The reason the cord matters is that the port, the cord and the phone all represent a single circuit, and all parts of a circuit influence its resistance. If a cord has wires that are too small in diameter (exactly what you could expect from a cost-cutting manufacturer), it raises their resistance and that of the entire circuit. In this case, either the current available to the mobile device is lower than it should be, decreasing the charging speed, or the phone senses the potential danger and proactively throttles back its charging rate. If the cord is too long without an increase in the wire gauge to compensate, the same can happen.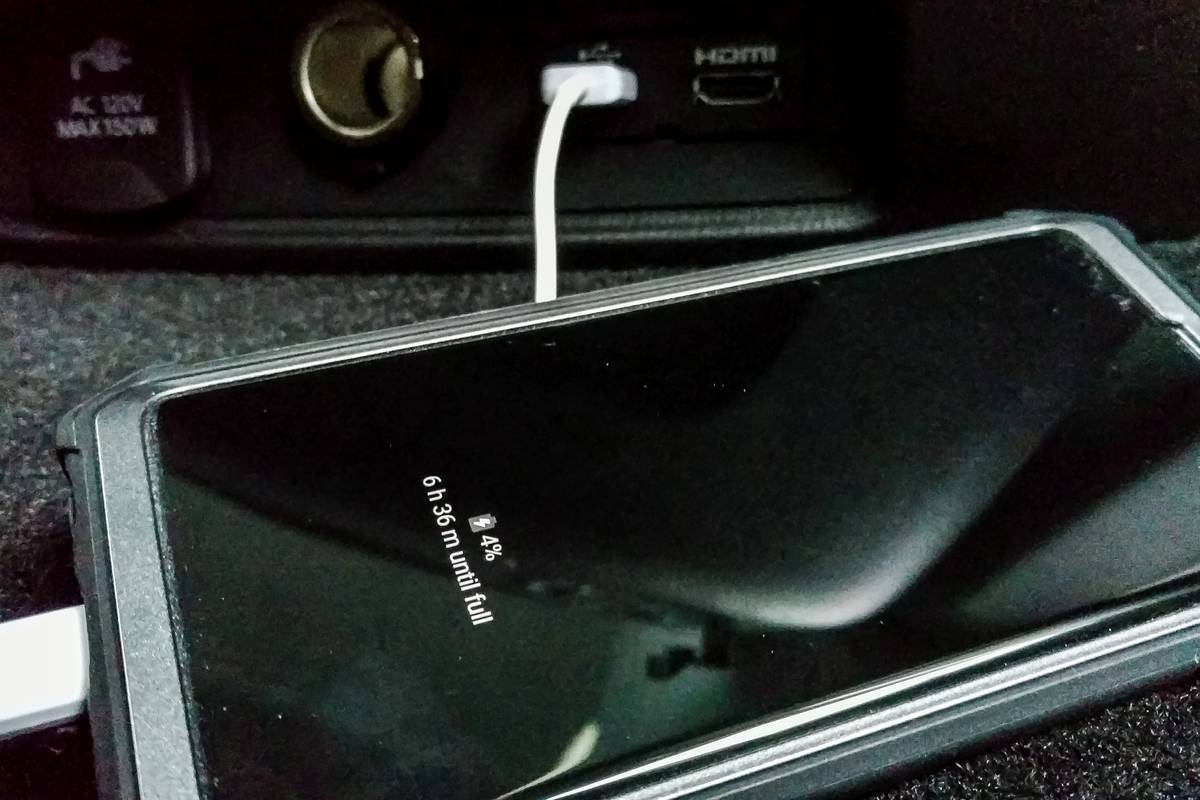 The voltage and current provided by each USB port varies enough that even the same phone and cord, when plugged in, will yield different results. A USB port tied to a 2020 Infiniti QX80's rear entertainment system gave us a predicted 6-hour, 36-minute charging time — just inches away from a port that promised 1:58. We even recorded slightly different charging times from twin USB-A ports next to each other in the backseat of a 2020 Alfa Romeo Stelvio: 2:28 and 2:32. An inline USB meter we bought to gauge voltage and amperage had to be abandoned when it increased the phone's projected charging times; everything in the circuit matters.
Damage, Lint and Oxidation
The same principles apply if a cord is kinked or otherwise damaged in such a way that its underlying wires resist the current flow. Connectors (ports and plugs) are another potential trouble spot. If lint or dirt prevent the terminals from making full contact — or keep the plug from seating fully, a common problem with smartphones that spend time in pockets — the resistance is higher, charging slows and data connections become less reliable.
Oxidation has the same effect. Any terminal that isn't gold-plated — or legitimately so (read: any bargain cord) — will oxidize over time, and even this will compromise the electrical contact between two connectors. This isn't just theory; we saw an oddly long charging time displayed on our Galaxy S10, and the friction of disconnecting and reconnecting the USB cord at the Samsung charger was enough to reduce oxidation and improve the connection, knocking more than an hour off the charging time.
Recommendations
The recommendations seemed like nonsense to us, but experience has shown that there's wisdom to investing in quality cords. Cheaper options are more likely to skimp on wire gauge, finishes that protect against oxidation and build quality that will fend off damage — all of which can result in a cable that works, but not as well as it should.
More From Cars.com:
How We Tested
All readings were taken with the cars' engines idling to ensure adequate power and with the phone battery at a low state of charge (starting between 4% and 17%). The three cords were from the same manufacturer and are rated for 480 megabytes per second, 20 volts and 3 amps. A 1-meter video-rated cable, specified for 5 amps, was tested concurrently and provided the same results as the 3-amp, 1-meter cable.
Cars.com's Editorial department is your source for automotive news and reviews. In line with Cars.com's long-standing ethics policy, editors and reviewers don't accept gifts or free trips from automakers. The Editorial department is independent of Cars.com's advertising, sales and sponsored content departments.