New Device Aims to Stop Teen Texting and Driving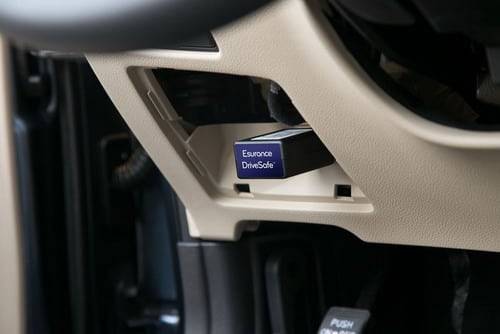 The National Highway Traffic Safety Administration says teens are six times more likely to crash while dialing a cellphone and 23 times more likely to crash while texting. Reaction times become similar to those of a 70-year-old who drives without a cellphone. Parents have a new tool to fight this, but it works best for teens with Android — not Apple — smartphones.
Tips for Teen Drivers and Their Parents
Insurance company Esurance introduced a new program this week called DriveSafe that monitors teens' driving habits. DriveSafe includes a telematics device that installs into the onboard diagnostics port on any vehicle built after 1996 except hybrids and electric vehicles. Parents then download the DriveSafe app on teens' smartphones, and the app can track driving habits via Bluetooth and lock out certain functions while the car is moving.
It also can alert parents to risky habits like accelerating too quickly, braking hard, driving past curfew, driving too far from home or speeding. And talk about speeding: Esurance's online overview depicts an alert that one teen reached 79 mph on a 25 mph zone of San Francisco's Arguello Boulevard. (He's so grounded.)
You'd think such alerts would raise insurance rates, but Esurance promises the data will not affect anything. In fact, the company claims it never sees the data; a third party hosts the information collected, which "will never be shared with Esurance."
Parents can block certain smartphone functions while the car is moving such as use of social media apps, text messaging, email or web browsing, but still allow teens to receive calls from Mom and Dad, dial 911 or access Bluetooth hands-free functions.
If teens try to remove the telematics device, it triggers a notification to parents. Still, it's unclear what happens if a teen removes the app, disables Bluetooth or turns his phone off. Esurance spokesman Danny Miller did not return our request for comment.
DriveSafe works with Android smartphones, as well as some Windows and BlackBerry devices. It works with iPhones, too, but the devices "do not support restriction of phone functionality," so all that happens is teens see a home-screen message to avoid using their cellphones while they drive. We suspect that's little deterrent when Becky texts all those details of her date with Jordan last night.
DriveSafe is free for parents with teens on their Esurance policies in 39 states. The insurer does not cover Alaska, Delaware, Hawaii, Maine, Montana, New Hampshire, North Dakota, Vermont and Wyoming; Massachusetts and Pennsylvania have opted out.
UPDATE: Miller contacted us to clarify some of DriveSafe's features. If teens remove the DriveSafe app, turn off Bluetooth, power down their phones or otherwise blocks access to the app, parents will get a notification. Miller expects Esurance to finalize agreements with Pennsylvania and Massachusetts to offer the program "sometime in the first half of 2014." He insisted that Apple doesn't allow any app to block texts: "No third party application can block iPhone functionality," he said. "That's not an issue that's particular to us; that's across the board. You won't have any sort of similar offering that will prevent folks from using their iPhone."
Related
Teens: Slow Down, Stay Alive
How to Talk to Teens About Safe Driving
More Safety News