Next-Gen Toyota Mirai Fuel-Cell Electric Car Uses 'Lex' Appeal to Attract Suitors
Looks like: A Lexus-like proper premium sedan
Defining characteristics: Sleek "four-door coupe" profile with rear-wheel-drive proportions befitting its shift from front-wheel drive to a new rear-drive platform
Ridiculous features: None. This "concept" is virtually production ready without a lot of show-car silliness. The special multilayer blue paint job might be concept only, but not the big wheels — Toyota says the production car will offer 20-inch alloy rims.
Chance of being mass-produced: 100 percent, since Toyota is calling it the concept for the second-generation 2021 Mirai that will go on sale late 2020
Toyota has unveiled a production-ready "concept" for a redesigned 2021 Mirai fuel-cell electric car that is dramatically better looking. The styling now is more "luxury Lexus" than "Prius weird" — and it's arguably the best-looking Toyota-manufactured car this side of the Lexus LC.
Related: 2021 Toyota RAV4 Hybrid Puts a Plug in It
Toyota says it is "rebooting" the Mirai to upgrade it to a premium sedan in look and features. The more upscale Mirai also gets an improved powertrain and shifts from front-wheel drive to Toyota's premium rear-wheel-drive platform, likely a version of the underpinnings for the Lexus LS and LC models.
"We have pursued making a car that customers feel like driving all the time, a car that has emotional and attractive design appeal, as well as dynamic and responsive driving performance that can bring a smile to the faces of drivers," said Yoshikazu Tanaka, Mirai chief engineer, in a statement.
The Mirai Concept will be unveiled later this month at the 2019 Tokyo Motor Show. The full redesign shows that Toyota remains committed to fuel-cell technology — which combines hydrogen with oxygen to generate electricity and emits only water vapor — as a part of its overall electrified-vehicle strategy, along with hybrids and plug-in vehicles. The automaker says it continues to believe that fuel-cell vehicles will one day be as common as its hybrid vehicles.
Toyota has sold or leased about 10,000 of the first-generation Mirai that appeared in 2015, with 6,000 in the U.S., almost all in California or Hawaii, where hydrogen refueling stations are available. The new Mirai follows Hyundai's introduction of its Nexo SUV, a next generation of its fuel-cell vehicle effort, as well as Honda's most recent redo of its Clarity fuel cell. The advantages of these zero-emissions vehicles are gasoline-vehicle-like range on a fillup and refueling time; the biggest drawback is lack of refueling infrastructure to support them.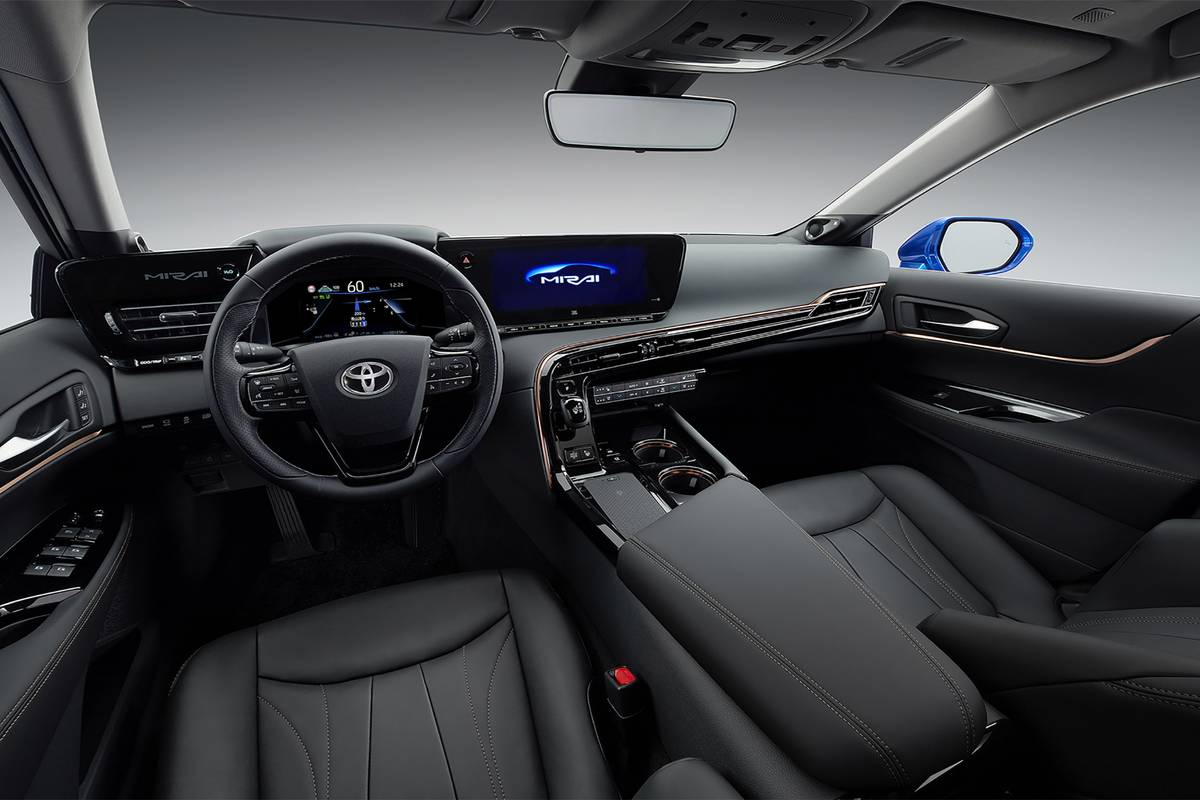 The new Mirai's wheelbase is about 5 inches longer at 114.9, and the overall car is longer, slightly wider and lower than the outgoing model. It's now about the dimensions of a Lexus ES. The size and a reconfiguration of the powertrain also allow it to have five seats rather than four. Along with the sleek styling, the Mirai interior gets a new premium design with a "hint of futurism" says Toyota — but not so much as to seem like a science project. And it will include such tech as a video rearview mirror, a 12.3-inch multimedia screen, navigation and a 14-speaker JBL sound system. It's likely this turn to premium also will bring a higher price for the Mirai than its current $59,495, including a destination charge.
Toyota hasn't provided a lot of powertrain details, but said that the revised fuel-cell system will be more powerful and also achieve a 30 percent longer range (the current model is rated at 312 miles) through greater hydrogen storage capacity and other revisions.
More From Cars.com:
Cars.com's Editorial department is your source for automotive news and reviews. In line with Cars.com's long-standing ethics policy, editors and reviewers don't accept gifts or free trips from automakers. The Editorial department is independent of Cars.com's advertising, sales and sponsored content departments.