Hyundai Unveils Nexo Fuel-Cell SUV With New Driver Aids at CES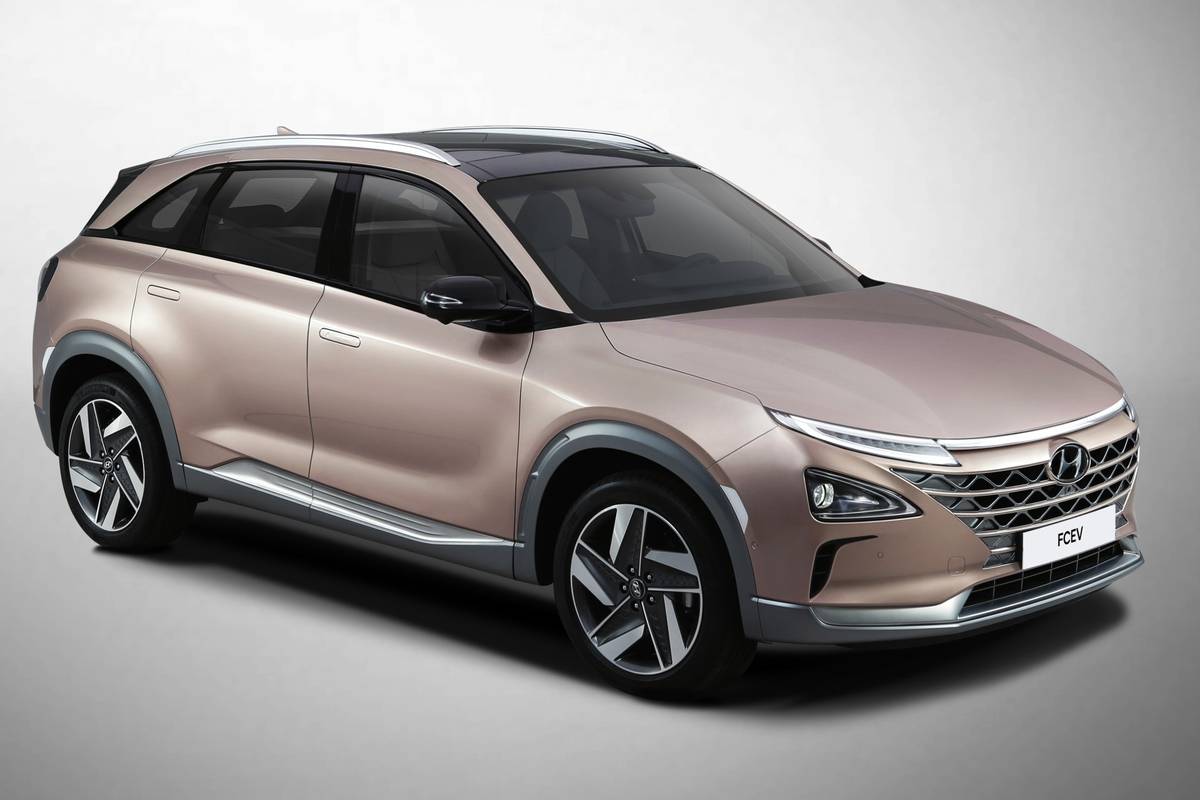 CARS.COM — Hyundai today unveiled what it calls the "technology flagship" of its green-car portfolio, a dedicated hydrogen fuel-cell SUV named Nexo, at the 2018 Consumer Electronics Show in Las Vegas. The vehicle not only includes Hyundai's latest fuel-cell system, but also will serve as a platform for testing implementation of more advanced driver assistance systems.
Related: More 2018 CES Coverage
While fuel-cell development seems to have taken a backseat to battery electric cars, Hyundai is among the world automakers continuing to advance fuel-cell development as a possible long-term low-emissions solution. Hyundai also has rolled out the Ioniq line of dedicated electrified sedans that includes a hybrid, plug-in hybrid and battery electric.
A fuel-cell vehicle is essentially an electric car that produces its own electricity to drive the motor using a fuel cell that combines hydrogen gas from onboard tanks with oxygen from the air.
The Nexo will be available globally in 2018 in "select markets" that have hydrogen available to power the fuel cell. It's a second generation of Hyundai fuel-cell SUVs, following the modified Tucson that has been available in the U.S. primarily in Southern California. Hyundai says Nexo improves the range of the Tucson fuel cell by 105 miles to 370 miles on hydrogen refueling.
By the numbers, Hyundai says the new fuel-cell and battery system is rated at a total of 135 kilowatts, up from 124 in the Tucson. And the bigger electric motor allowed by the new system puts out 120 kW and 291 pounds-feet of torque, up from 100 and 221, respectively. The company says the result is 25 percent better peak acceleration and a zero-to-60-mph time for the Nexo of 9.5 seconds, besting the Tucson's 12.5-second sprint.
Among other advancements, Hyundai says the Nexo has an improved cold start-up speed of 30 seconds, and has been tested at temperatures down to -20 degrees Fahrenheit; it also has reportedly improved performance at high altitudes. Moreover, the dedicated fuel-cell vehicle structure and new, smaller fuel-cell system are lighter, while an improved system layout and relocated battery increase interior and cargo space.
Measuring 183.9 inches, the Nexo is more than 10 inches longer than Hyundai's previous fuel-cell vehicle. The Nexo is about the length and width of the current Hyundai Santa Fe Sport, though not quite as tall.
The Nexo's new driver assistance technology includes:
Blind spot view monitor. This video-based blind spot warning system uses wide-angle surround- view cameras. And it displays side and rear views on the center dash display while the vehicle changes lanes either way.
Lane following assist and highway driving assist. The lane assist automatically steers to keep Nexo centered in the lane. It's a new technology for Hyundai and the company says it functions from zero-to-90 mph on highways, as systems such as Nissan's ProPilot Assist now do, but also can do so on city streets. The system is paired with highway driving assist, which uses both onboard sensors and map data to adjust highway speeds.
Remote smart parking assist. The Nexo can go park itself and come back to you, with or without anyone in the car, including backing itself into a parking spot.
Cars.com's Editorial department is your source for automotive news and reviews. In line with Cars.com's long-standing ethics policy, editors and reviewers don't accept gifts or free trips from automakers. The Editorial department is independent of Cars.com's advertising, sales and sponsored content departments.