Production Camaro Not Coming to a Major Auto Show Near You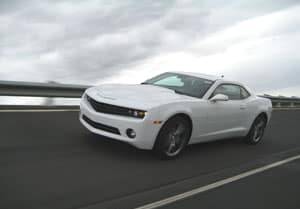 Even if you search the bowels of McCormick Place when the Chicago auto show gets under way next month, you won't find the upcoming Chevrolet Camaro that goes into production a year from now.
One reason, Chevy folks say, is that it was already shown as a coupe concept two years ago and as a convertible concept one year ago at the major Detroit, Chicago and New York shows, so now it's time for folks in smaller markets, like Cleveland and Philadelphia, to get an in-person peek at their local auto show. There aren't a host of pre-production cars built to travel to all shows in the country.
Part of the fear is that the Camaro was unveiled as a concept two years ago but won't go on sale for another year. If you show the vehicle too much before it actually goes on sale, you run the risk of having it look old even before it bows as a new car. What's odd is that GM fears overexposure at the same time it's showing pictures of the Camaro — minus any pre-production camouflage — on its own website and asking enthusiasts who spot one undergoing testing around the country to post their photos on the site, too.
Nonetheless, it's trying to avoid what some call "the Paris Hilton factor." See something too often and you get tired of seeing it again, much less buying one. 
Insiders debate whether the car could be adversely affected by overexposure, seeing as more people have expressed interest in the Camaro than there will be Camaros built, which will eventually be up to 100,000 annually.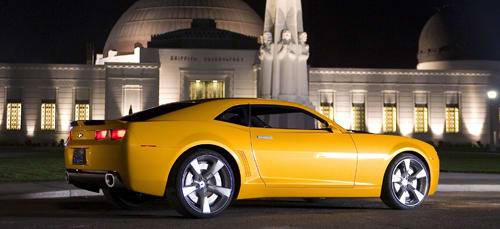 One Camaro, dubbed Bumble Bee, got lots of exposure in last year's "Transformers" movie in July. When the movie went on sale in October, Chevy inserted a card in the DVD and 500,000 people contacted the company for information about the Camaro.
Perhaps so many folks have already committed to parking a Camaro in their garage next year that Chevy has chosen, instead, to spotlight another high-performance car at the Detroit, Chicago and New York auto shows this year: The 2009 Chevy Corvette ZR1 that goes into limited production in June. It's a 600-plus-hp rocket that will carry a six-figure base price.
"People who love cars are the same people who love Camaro, and they will love to ogle the ZR1 'Vette," said Chevy spokesman Terry Rhadigan.
They'd probably also like to ogle one parked next to a Camaro.