Seven Scary Choices First-Time Buyers Make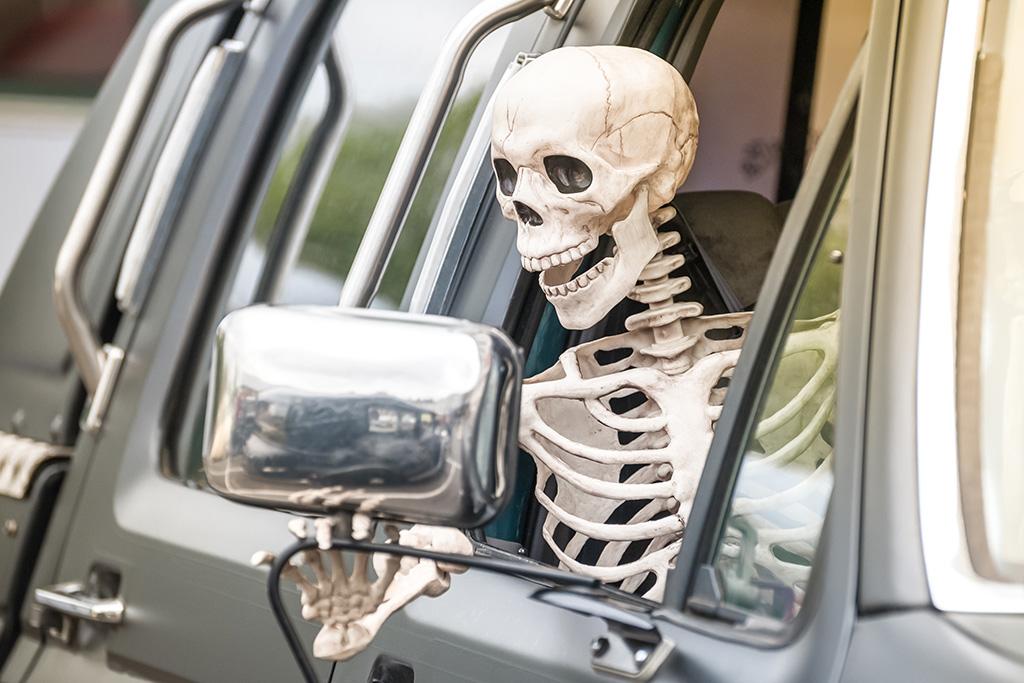 With Halloween just around the corner, this year's scariest choice might not be which costume to go for. (Relax. That "Balloon Boy" outfit was good for a few laughs.) If you're shopping for a car, the scariest choice you make this season could be at the dealership.
Related: More Stories for #FirstTimeBuyers
For first-time buyers, car shopping can be spookier than a haunted house, but it doesn't have to be. Cars.com editors have a lot of cumulative shopping experience, including the long-term vehicles we anonymously purchase each year. Grab your pumpkin latte and pull up a chair. Here are seven mistakes first-time buyers often make.
1. Buying too little car. If you think you have enough space to haul the kids and the family dog to grandma's house, pop the liftgate and take another look. You might have enough space for people, but the space behind the seats matters — not just for road trips, but for soccer practice and Costco-with-the-family runs too. Specs alone can be misleading. If you have a stroller or two that need to come along, bring them to the dealership and make sure they fit behind the last row or in the trunk.
2. Buying too much car. An attractive lease offer can put you into a luxury car with more features and performance, but it can also make for unsustainable ownership costs. Most luxury vehicles recommend or require premium fuel, and other costs can also blow your budget. Over the first five years of ownership (as of this writing), the average annual insurance cost on a 2015 Toyota Camry is $1,012; annual maintenance averaged $672 per year. Compare that to a 2015 BMW 320i, whose insurance averaged $1,365 per year. Even with BMW's two-year complimentary service program, five years of maintenance averaged $772 per year.
3. Buying too many extras. Watch out for minor accessories and protection packages. We've seen some dealers try to charge nearly $200 each for things like pin-striping, door-edge guards, splash guards and vehicle identification number etching. That's why we advise that you always ask for the out-the-door price and negotiate that against other out-the-door prices. That brings us to the next scary choice ...
4. Negotiating on the price of the car alone. If it seems like you're paying a lot more out-the-door than the original price you negotiated, it's probably because, well, you are. Any new-car purchase typically has a destination fee, not to mention sales tax and regulatory fees such as registration and license plates. It's also reasonable for dealers to charge a documentation fee to cover the cost of paperwork. (Used cars don't have destination fees, but expect to pay everything else.) Doc fees can run to the hundreds of dollars, depending on the dealership and state, as most states don't impose caps on those fees. Extra accessories can run up dealer prep fees that are separate from the cost of the accessories themselves. The best solution? Start by asking for the out-the-door price including taxes and all fees, and negotiate on that price alone. That minimizes the surprises between competing offers and gives you a clear picture of your car costs at the end of the process, not the beginning.
5. Buying a car without test-driving it. It might seem like you've done all your work by researching online, and negotiating by phone or email, but don't just show up to sign the paperwork and take the keys. Even if you drove the same make and model at another dealership, a test-drive of the model you're actually buying could reveal things you missed before — an issue with visibility, for example, or some noise you hadn't noticed the first time around — and you owe it to yourself to give it a thorough test drive. For a used car, this is far more important. Even if you drove the same model elsewhere, used cars have unique histories that influence their condition. Never buy sight unseen; always take a drive.
6. Not taking an out-of-warranty used car to a mechanic before buying. Late-model used cars often have portions of their original factory warranty remaining, and certified examples have even longer warranties. Should your purchase turn into a reliability quagmire, those offer some protection. But if you're buying an uncertified car that's past its factory warranty, it's critical to get a trusted mechanic to inspect it. Any reasonable seller should allow you to bring the car to an inspection, and a mechanic can look at areas that escape the human eye. Any problems can become negotiating leverage at minimum, or a reason to move on at worst.
7. Buying by monthly payment. As we explained earlier, loan terms can be manipulated to fit almost any monthly budget, which can get you into a car you really can't afford. A small minority of shoppers with their financial ducks in order can leverage lengthy, low-interest loans to their advantage. For the rest of you, we recommend committing to paying off that loan in five years or less, putting 20 percent down and using Cars.com's Affordability Calculator to see how much car you can afford. Then, focus only on that total (out-the-door!) price in your negotiations. The rest will follow.
In the market for a "cheap" car? Find cars priced at $6,000 or less near you.