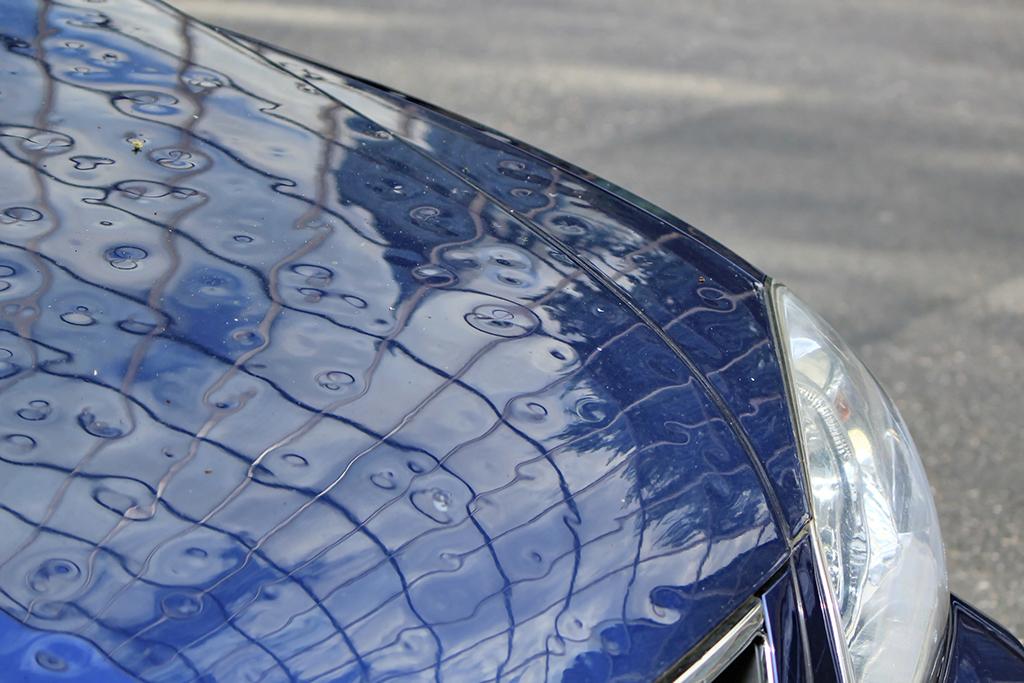 CARS.COM — Sometimes you can score a great deal on a hail-damaged car, but if you don't take the proper precautions before finalizing the purchase, well, there could be hail to pay. Several states were recently pummeled with golf-ball to softball-size hail in a band of severe weather that stormed through the Midwest and Great Plains states. Car casualties, no doubt, were many. And with summer on the way and more severe weather likely to occur, more damaged cars may make it into the market.
Related: Beware of Flood-Damaged Used Cars
Before you go trying to score a sweet deal on a hail-damaged car, consider the following tips from AAA:
Examine the car closely, as there could be more damage than immediately meets the eye.
Have any repairs made after the hail damage incident inspected by a professional technician.
If you're buying from a dealer, find out if it will repair the damage or warranty the car.
Consult your insurance agent to find out if you'll still be eligible for comprehensive insurance.
If you're financing your car purchase, make sure your lender will finance a hail-damaged car.
Consider the impact of the damage on your resale value down the road.
"All in all, some minor hail damage on a car might result in a nice discount on an otherwise great vehicle," AAA said in a statement. "Just be cautious as you inspect the vehicle and talk to your lender, insurance agent and automotive technician before you buy."
If it's your car that's been damaged by hail, CarInsurance.com offers advice on whether you should bother to claim the damage on your insurance or fix it out of pocket, whether you should have the damage repaired at all and if you should even keep your hail-damaged car. First, remember that hail damage is only covered by a comprehensive policy, and that if the damage doesn't exceed your deductible, it's probably not worth claiming at all.
If you own the car outright and choose to live with the hail damage, opting to pocket the insurance-claim check, remember that that amount will be deducted from future damage claims. If you still owe a lender, you'll likely have to fix the car, as any settlement check will be made payable to you and the lien holder.
If your hail-damaged car is declared a total loss and your state allows hail damage as the sole reason for a salvage title, the damage will show up on your car's title.
"Many states have a 'hail' designation to distinguish hail-totaled cars from wrecked or flooded ones. Others simply mark the title as 'salvage,' " CarInsurance.com stated. "If the car is not declared salvage, the title is clean. The damage may show up on electronic notification systems such as Carfax, though."
If your car is declared a total loss due to hail but you wish to keep driving it, you may be able to get your insurance provider to pay you the difference between the vehicle's value before the damage occurred and its salvage value, minus your deductible. Beware though: You may need an inspection before the car is allowed back on the road, and your title will be forever branded, making it potentially difficult to insure.
According to insurance provider Progressive, nearly 60 percent of 2015's severe weather insurance claims were attributed to hail. The National Oceanic Atmospheric Administration reports that hail causes $1 billion in damage to property each year. To avoid having your car wind up as part of that total, Progressive offers the following tips:
Find out if you live in an area at high risk of hail and, if so, opt for covered parking.
If you know there's a big storm brewing that could result in hail, find someplace to shelter your car, such as a local mall's parking garage.
In the absence of a covered-shelter option, cover your car either with blankets from home or with a cover specifically designed and sold for this purpose; make sure to secure the cover, though, as winds can be very strong in weather that produces hail.
Editor's note: This story was updated May 10 to attribute a statement to the National Oceanic Atmospheric Administration.