Subaru Three-Row SUV Still in the Works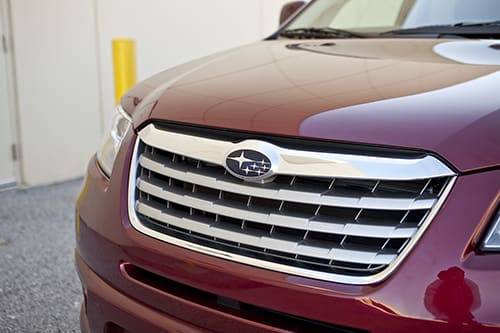 Remember the Subaru B9 Tribeca? Subaru introduced the warthog-nosed, three-row SUV at the Detroit auto show in early 2005 to widespread criticism of its … well … schnoz. Car shoppers agreed: In its first full calendar year of sales (2006), they bought just 18,614 B9 Tribecas, or about one-seventh of Toyota Highlander sales. Even emergency rhinoplasty and a name change to simply Tribeca in early 2007 couldn't right the ship. Sales plunged below 6,000 units by 2009 and never recovered from there.
Related: Subaru Cancels Tribeca SUV
A three-row Subaru should have been a hit but shoppers had spoken; the Tribeca was toast. Subaru announced in October 2013 that it would finally pull the plug on the ill-fated SUV, which was entering its ninth model year for 2014. But spokeswoman Jessica Tullman told us that the automaker hasn't put a fork in the segment just yet.
At a Midwest Automotive Media Association event Thursday, Subaru communications manager Dominick Infante reiterated that — and shared some other product tidbits along the way.
"We are actively working on a next-generation three-row," Infante told us. "We're not giving up on it."
Subaru is still in the planning stages for the SUV, Infante said, adding that it will "need to be a little bigger" than its predecessor and have better third-row packaging. The automaker is pondering a few questions — whether to basically build "a bigger Outback" or go "a Mazda CX-9" route with a sportier entrant, he added.
Of course, Subaru could be much further in the process than Infante let on. It's been nearly 10 months since Tullman told us Subaru would build another three-row SUV. That's enough time to get plenty on the drawing board, especially given the B9-turned-Tribeca hung around for nine model years. It's possible that Subaru has had something on the proverbial table for years, but we won't know until we see it.
It makes sense that Subaru is sticking around. Three-row crossovers are a big segment. In 2013, the Honda Pilot and Toyota Highlander each accounted for well over 100,000 sales; Ford's Explorer sold nearly 200,000 units, and GM's Chevrolet Traverse/GMC Acadia/Buick Enclave trio accounted for nearly 250,000. And those aren't exactly skinny on profits, either. In March 2014, CNW Research said the average Explorer sold for $33,407, while the average Traverse sold for $36,931 — both above the industry's average new-car transaction price.
In other news, Infante said a refreshed Impreza is coming late this year. And at the MAMA presser, one reporter asked about the WRX STI, whose turbocharged four-cylinder makes 305 horsepower — still impressive, but virtually unchanged in more than 10 model years.
Infante's response: "Would we like more power in the future? Absolutely."
Cars.com photo by Ian Merritt