Top 10 Most Extravagant Car Options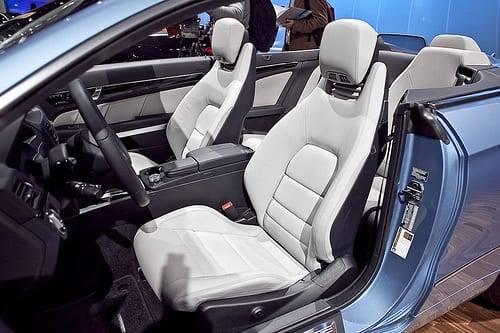 CARS.COM — For every buyer who is satisfied with an average, ordinary family sedan in subdued "greige" paint, there is a customer out there who wants something special in the car he or she drives.
Related: Top 10 Features Drivers Don't Need
That's especially true the higher you go on the automotive spectrum toward the high-dollar luxury cars, where you'll find that just about anything can be had — for a price. That said, some automakers offer unusual options for things you might not even know you need, but that are available if you want them (and want to pony up for the cost of them).
1. Mercedes-Benz Airscarf
The car: Mercedes-Benz E350 Convertible, $3,270*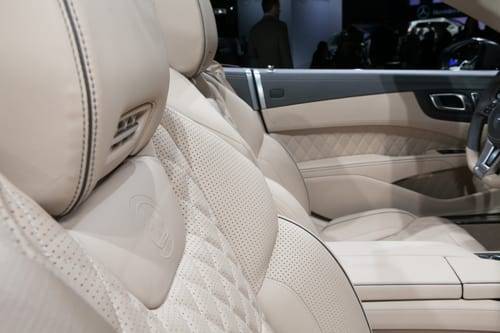 The best part about owning a convertible is enjoying motoring in the open air, wind tousling your hair, the warm breeze on your neck. The worst part, at least for much of the country, is not being able to use that top-down feature for much of the year. But fear not — now when the air turns a bit chilly or the setting sun has cooled things off, you can stay toasty warm in the cockpit of your convertible Mercedes-Benz thanks to Airscarf. The optional system places air vents in the seatbacks behind the passengers' necks and blows warm air onto the occupants to keep the environment comfortable. Put the windows up, crank up Airscarf, and you'll be pleasantly motoring alfresco well into autumn.
2. Auto-Closing Sedan Doors
The car: BMW 740Li, $4,800*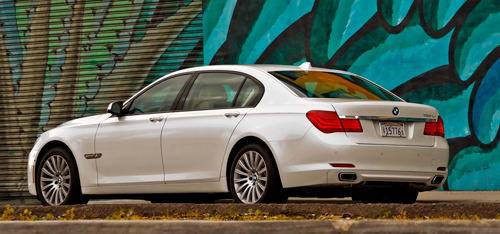 Slamming doors in an expensive car is so vulgar. Better to just softly close them until you hear a click and then allow the car to close them for you the rest of the way. In most cars, if you close the door too softly, you have to open it and close it with more gusto — but not in many luxury brands' offerings, which feature a system that gently secures the door for you.
3. Selectable Cabin Fragrance
The car: Mercedes-Benz S550, $350*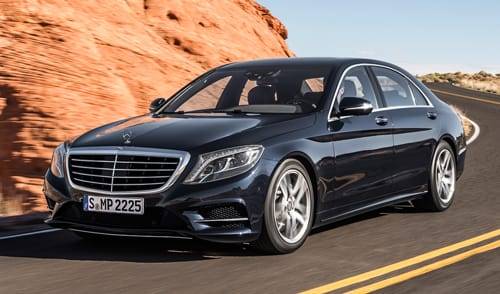 Eventually, all new-car smell wears off — leaving odors of all sorts to replace it depending on your hygiene habits. Not so in the 2014 Mercedes-Benz S-Class, which features an aromatherapy system that ties into the climate control. Owners can choose between one of four scent "moods": "Nightlife," "Downtown," "Fireside" and "Sport." The system then occasionally wafts some scent into the air for a subtle cabin freshening.
4. Illuminated Star
The car: Mercedes-Benz E350, $550 (includes installation)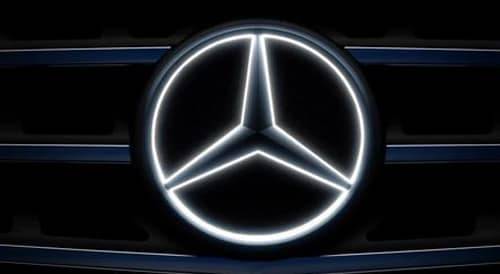 Mercedes-Benz features prominently in this top 10 list, and for good reason — the brand is offering some of the more wild and eyebrow-raising options for its luxury cars these days. Among those: an illuminated three-point star nestled into the grille of a number of cars beginning with the 2014 E-Class but available for a number of late-model Mercedes-Benzes through dealers. Unlock the doors at night and along with the headlights, the central star lights up using LEDs and conductive piping. Currently, it only works when you're stationary; the light goes out when the car is in motion. According to a Mercedes-Benz spokesperson, though, the company has been given federal clearance to allow the stars to remain lit while driving. That ability will become available soon.
5. Magic Sky Control
The car: Mercedes-Benz SLK350, $2,500

Available on the Mercedes-Benz SL and SLK roadsters, this is a glass retractable roof that, at the touch of a button, goes from transparent to mostly opaque. Instead of a sun shade to keep the interior cool, simply push a button and an LCD sandwiched between glass panels in the roof darkens. It doesn't work quite as well as an actual fabric or plastic retractable shade, but it certainly scores on novelty points.
6. Active Seat Bolsters
The car: Mercedes-Benz E550, $660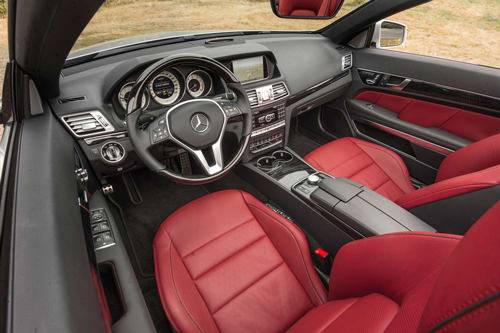 This is another Mercedes-Benz invention, and they can be found in a number of the brand's high-end offerings: inflatable bladders in the front (and now rear seats in the S-Class) inflate and deflate as you turn corners. The idea is to help brace you in spirited driving, but opinions are mixed as to their usefulness.
7. Stryker Red Paint
The car: Dodge SRT Viper, $14,600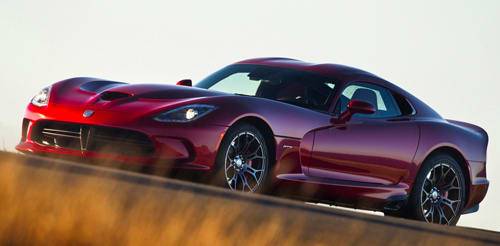 Lots of automakers offer special colors from the factory. You can get a number of new cars in special matte or satin finishes, which used to be a rare luxury option but is now available even on Hyundai models. But the most extravagant paint option we've come across recently is on the new 2013 SRT Viper: A remarkable hue called Stryker Red is a $14,600 option; that's enough to buy a new Kia Rio. SRT says that the three-step painting process takes seven days to finish and that the factory paint shop allocates one day a week to process nothing but Stryker Red cars. The result truly is one of the most stunning shades of red available anywhere.
8. Massaging Seats
The car: Audi A8, $4,000*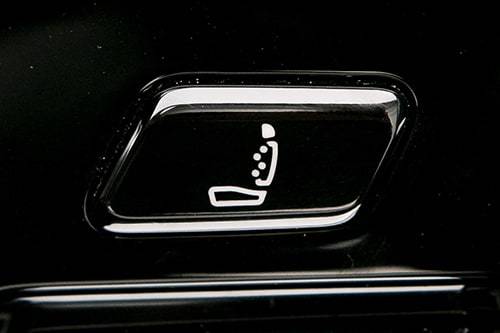 Make no mistake, this isn't a big, reclining Brookstone-style rolling shiatsu chair massage. The seats don't even vibrate; most of the time they just slowly poke you in the back at various points. Mercedes-Benz even goes so far as to call its seats a "hot stone massage." Still, combined with seat heaters, the luxury automakers from Audi to BMW that offer these massaging seats seem to be finding buyers for them.
9. Custom Interior Parts
The car: Porsche 911, $165 to $2,570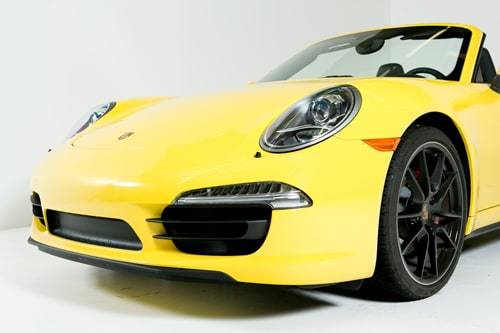 Ever taken a look at the options list for a Porsche 911? It's a little crazy and a lot lengthy. In addition to expected options like $1,145 adaptive sport seats, you can get nearly any part of the car's interior in leather or body-color paint. For $860, you can choose one of four different colors for your gauges. Want more leather? How about $165 for a leather fuse box cover, $365 for leather-covered defroster vents, $1,180 for a leather headliner or $2,570 for leather speaker grilles? Perhaps you'd rather have painted parts, color matched to the exterior color? Try $550 for painted interior door handles or $2,225 to paint a good portion of the dashboard. If you have the money, Porsche offers the ability to truly make your car your own.
10. Reclining Rear Executive Seats
The car: Lexus LS 460 L, $16,400*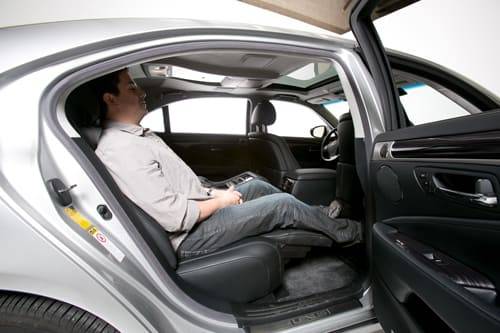 Lay back, relax, have a quick nap Mr. Chairman; it's about 30 minutes to the airport. Push a button and extend the retractable ottoman to rest your feet, recline the rear seatback, maybe use the remote control to surf the latest real-time stock quotes on the screen in front of you. Every high-end luxury automaker peddling a full-size sedan has an executive seating package for rear-seat passengers, and some are truly extraordinary, offering everything from shiatsu massage to power recline. Most executive rear-seat equipment groups come as part of an expensive package, but isn't the boss worth it?
* Package price, includes selected feature.
Cars.com's Editorial department is your source for automotive news and reviews. In line with Cars.com's long-standing ethics policy, editors and reviewers don't accept gifts or free trips from automakers. The Editorial department is independent of Cars.com's advertising, sales and sponsored content departments.