Toyota, Lexus Top Cars.com's 2015 Worry-Free Index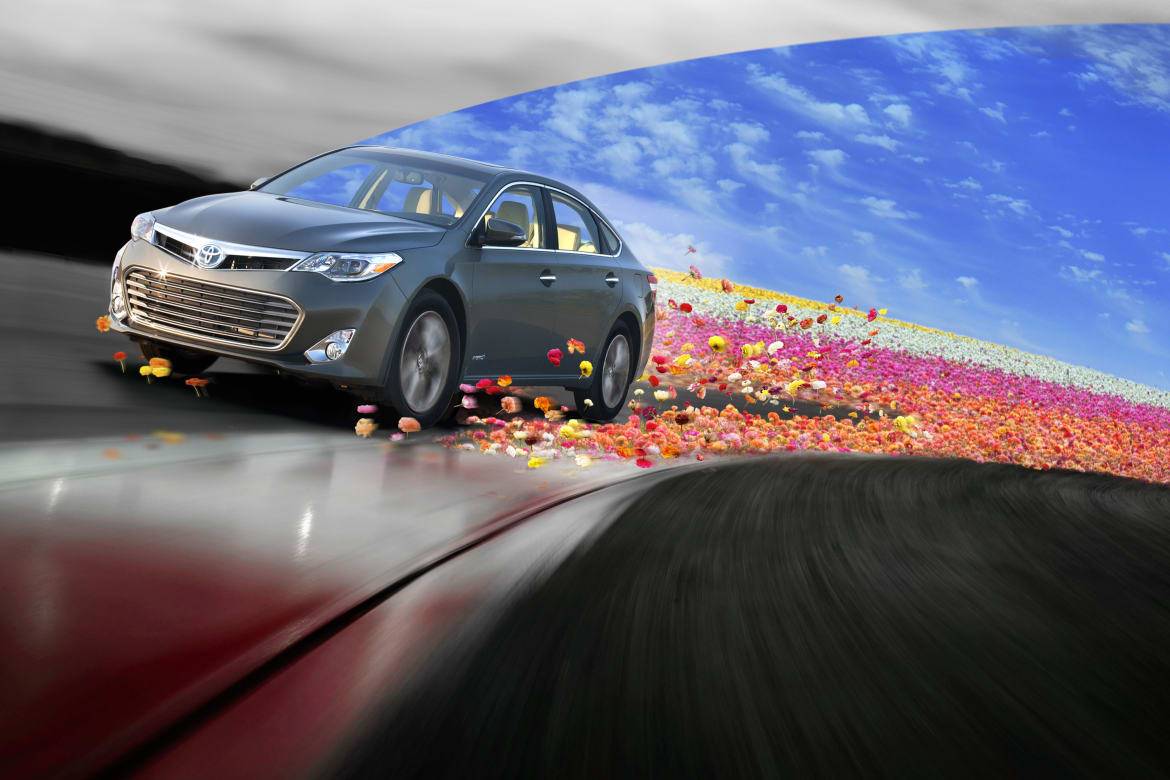 If the prevalence of automotive reliability and dependability studies are any indication, consumers care a lot about how well their cars will hold up. It's easy to see why: The average car on the road is a record 11.5 years old, according to IHS Automotive. That's more than enough time for an unreliable choice to ravage your finances.
Related: Consumer Reports Reliability Study: Toyota Thrives, Fiat Falls
Surveys have shown that when it comes to buying a car, shoppers still want reliability more than any single other factor. That's why Cars.com created the Worry-Free Index, which crunches a lot of data to find the cars most likely to give you peace of mind (and peace of wallet) when it comes to repairs and maintenance. Here are the most worry-free cars for 2015: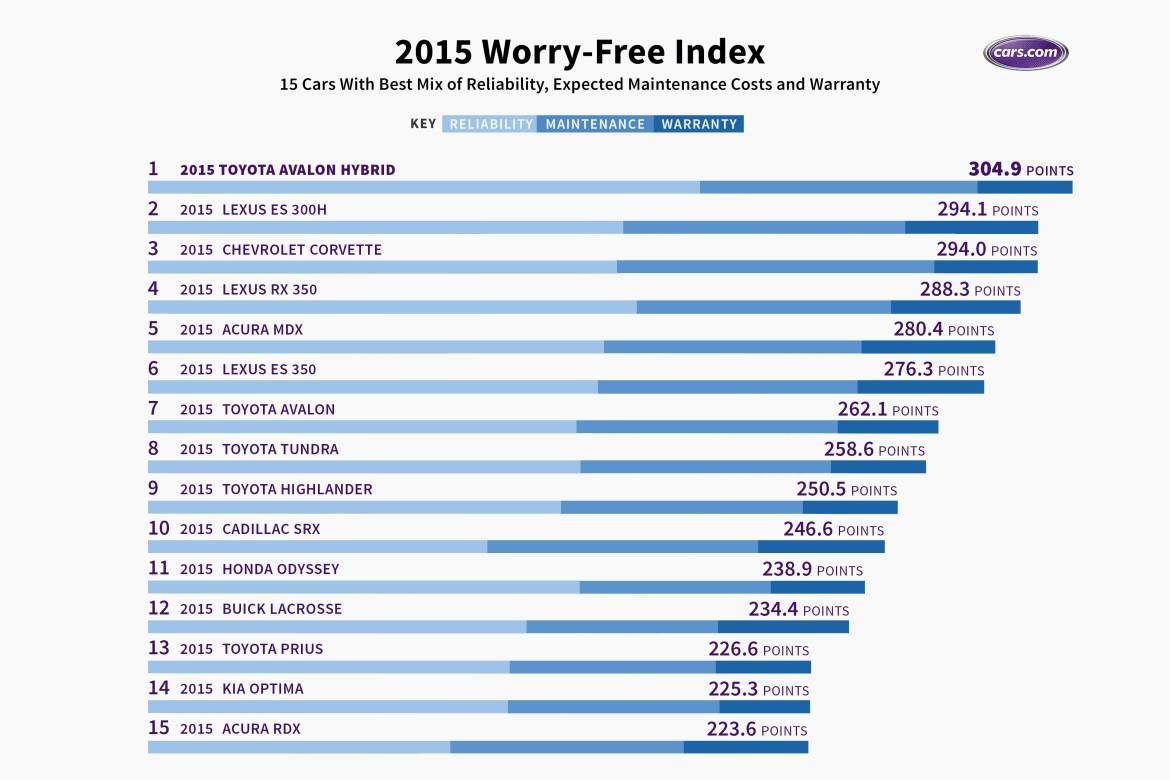 Cars.com editors are confident that the cars on this list will provide the most worry-free ownership experience based on our users' reported reliability, low expected maintenance and repair costs, and strong warranties.
We took the market's top 120 sellers through September 2015 (roughly 90 percent of new cars sold) and analyzed reliability scores from thousands of Cars.com consumers over the most recent model years. We also scrutinized expected repair costs, which gauge the frequency and seriousness when things go wrong. But reliability alone isn't the only component of what makes a car worry-free, so we looked at five-year estimated maintenance costs (which factor in any free-maintenance programs) and manufacturer warranties, as well.
This is the WFI's second year. Like last year, we disqualified cars in the first year of their current generation and any cars with bad crash-test ratings from the Insurance Institute for Highway Safety. We looked for both good and complete data, disqualifying any models without enough consumer reliability scores. Strong scores reflect cars that have a solid track record with lots of information to draw on. A vehicle can score a maximum of 350 points.
Newcomers on Top; Toyota Takes Majority

The Toyota Avalon Hybrid, a car that didn't have enough consumer reliability scores to qualify in 2014, earned 304.9 out of a possible 350 points, making it the most worry-free car for 2015. It's one of eight cars from Toyota and its Lexus division among the top 15.
This marks the second year a Toyota or Lexus ranked first in this index. Last year's top finisher, the Lexus RX 350, dropped to fourth place as the Lexus ES 300h and Chevrolet Corvette, two newly eligible cars for 2015, ranked second and third, respectively.
The Vette represents a new high for GM, whose top worry-free car in 2014, the Buick LaCrosse, ranked seventh. Relatively low maintenance and repair scores combined with high consumer reliability scores for Chevrolet's iconic sports car, now in its second model year.
The Acura MDX and Toyota Highlander round out the newcomers, while the Mercedes-Benz E-Class, Hyundai Santa Fe, Hyundai Santa Fe Sport, Lincoln MKZ Hybrid and Toyota Camry Hybrid are gone.
Despite the Camry Hybrid's absence this year, Toyota's showing eclipses 2014, when it had six of the top 15 WFI cars. GM and Honda (including Acura) had three cars apiece for 2015, while Hyundai-Kia had one.
Fifty-two cars qualified for the WFI this year versus 54 cars for 2014's WFI. On this year's list are 32 returnees from 2014, plus 20 new cars. Twenty-two cars from the 2014 WFI became disqualified, largely due to redesigns, new crash tests or fewer consumer reviews.