Traffic-Squashing Elevator Car Is One Tall Tale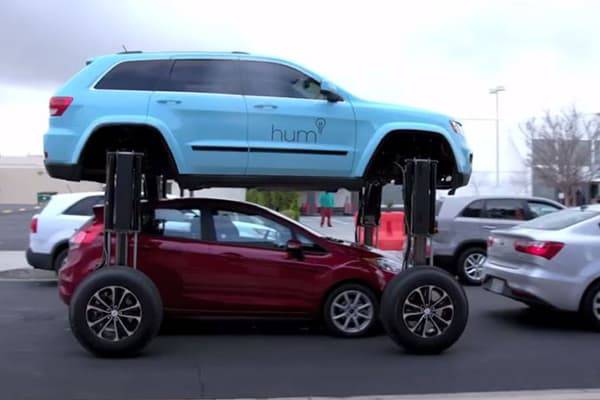 CARS.COM — We've heard of overdrive, but this is ridiculous. Someone actually built a vehicle that drives over cars stuck in traffic — and not a moment too soon.
Related: L.A. La-La-Lands at No. 1 for Worst Traffic in World
At last count, American motorists on average were spending 50 hours a year stuck in traffic — the worst of any nation in the world — largely attributable to economic recovery and falling unemployment rates. Traffic is getting so bad worldwide — the global car count is expected to double to more than 2 billion by 2030 — urban-mobility researchers suggest we may be reaching a tipping point at which continued growth is no longer sustainable.
Enter the Hum Rider — not to be confused with a Hummer, but just as obnoxious. At the touch of the Up button on the center stack, its wheels extend outward and upward, allowing the SUV to straddle the other cars to escape gridlock. A promotional video stages the whole thing going down (er, in this case, up) as onlookers gawk.
The driver can monitor the Hum Rider's position via a four-quadrant multimedia display showing forward, side and top views of the cars of the motorists it's lording over. We wouldn't want to add injury to insult, now would we? Then, once the Hum Rider is done agitating everyone else on the road, the driver just pushes the Drive button and goes humming along on their merry way.
We're sure no one would track the Hum Rider driver to their home and commit some act of physical violence (even if they took note of the personalized Georgia license plates that read "HUM-X" and just happened to know someone in the police department with access to a license-plate-tracking database).
Seriously, though, calm down. The Hum Rider is real; it's one of a kind and built only for promotional purposes of Verizon's Hum aftermarket device that provides vehicle diagnostics, maintenance reminders, a mechanic hotline, roadside assistance location services, emergency and stolen-vehicle assistance, a vehicle safety score and more. The $49.99 device, plus $10 monthly subscription, gets clipped to your visor and plugged into your OBD-II port, and all you have to do is download the app on your smartphone.
According to USA Today, the Hum Rider was designed in conjunction with Thinkmodo, whose previous work you might be familiar with — namely the creepy Devil Baby stunt, which became a viral sensation.