VW Binds Tech, Nostalgia at 2017 Detroit Auto Show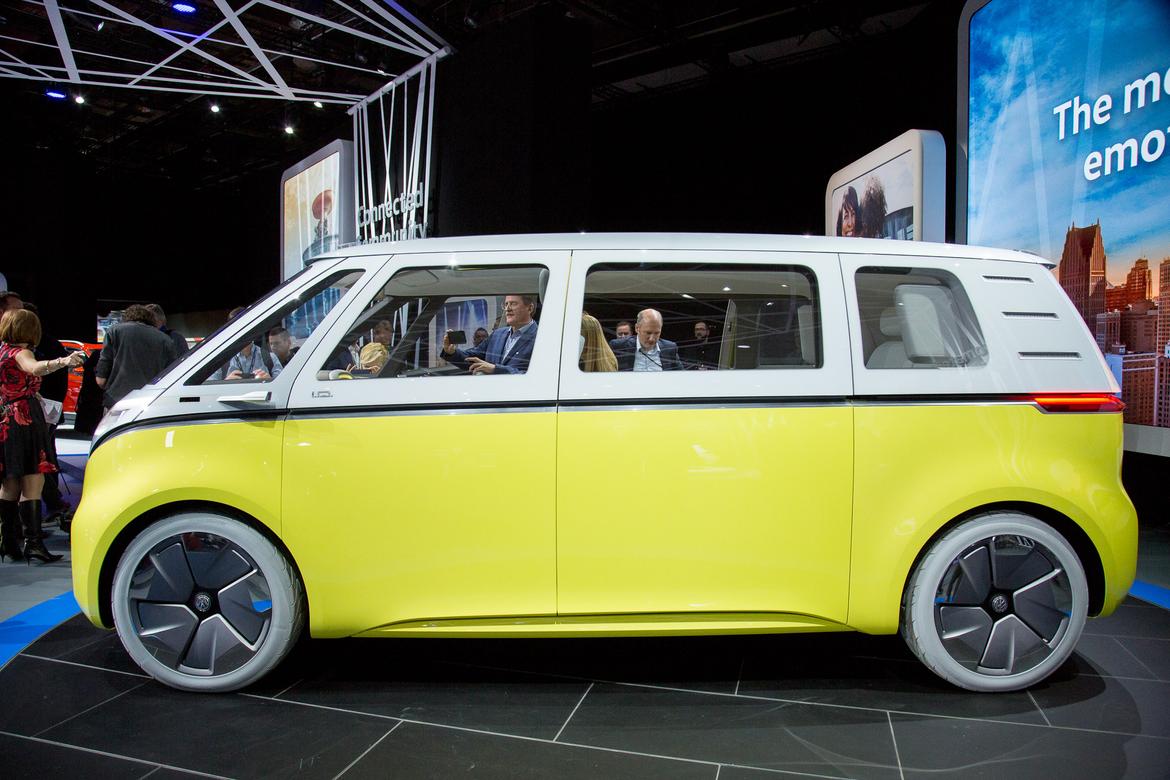 CARS.COM — New technology can be intimidating, but wrapping it in a lemon-yellow paint job and 1960s nostalgia certainly makes it more approachable. That's the case with Volkswagen's stand at the 2017 North American International Auto Show in Detroit, where a modern spin on the classic Microbus — now dubbed the I.D. Buzz concept — includes a retro body shell, electric powertrain and self-driving capability.
This quirky concept shows the way forward for VW's plans regarding electrification and the introduction of autonomous drive systems into mainstream offerings. While the I.D. Buzz is strictly a concept car with any production date remaining years into the future, VW's decision to present cutting-edge technology in a misty-memory time machine is a clever take on combining heritage with mobility solutions for the 21st century.
Why should I care? Being cute helps, especially when you're an automaker with a brand-new concept car. VW has been teasing the world with Microbus concepts for years now, but the automaker's push toward self-driving solutions is an intriguing mix when combined with the vintage shape of the I.D. Buzz. The car's highly flexible, spacious cabin — featuring seats that swivel to create a lounge-like atmosphere — shows the design possibilities that autonomous drive systems will provide.
Of course, it's that bright yellow paint that catches your eye first, not to mention the light-gray tires. Who said technology can't include a sense of humor?
Uber Is Finally in the Mood to Share
Uber is opening a vault of its data to city planners to help local governments integrate the needs of ride-hailing services into the designs of tomorrow's towns and roadways. The New York Times reports that Uber has unveiled a website called Movement, which tracks traffic patterns in cities using data collected from thousands of Uber rides.
This information, which for the moment is only available to city planners, compiles distance traveled, speed and any outside factors — such as sports game or a concert — that might have affected the trip.
Why should I care? Ride-hailing is still in its infancy, but the service isn't going away anytime soon. While there is no guarantee that Uber or Lyft will even be around in 10 to 20 years' time, the challenges facing city planners will remain for several generations. How do you balance transportation needs with the operation of a modern metropolis? More to the point, how do you seamlessly integrate a travel option that has only existed for a handful of years?
Generally speaking, this news is a welcome turnaround for Uber. The company has been notoriously fickle about sharing information with outside parties and most recently pulled its self-driving taxi prototypes from California over a dispute regarding $150 permits. The price wasn't the issue for Uber, it was the matter of having to share data gleaned from these prototypes. These permits require that any company must report any incidents, whether it's an accident, or if human intervention is needed during a drive. Uber isn't usually one to share, so this news could signal a change of direction.
CES Entrenches Itself as an Auto-Show Alternative
Before the automotive world turned its attention to Detroit, the Consumer Electronics Show in Las Vegas proved car companies are committed to looking beyond their traditional stomping grounds. Chrysler didn't have a press conference in the Motor City, but that didn't stop the American automaker from pulling the wraps off the Portal concept in Vegas. This highly advanced electric-powered minivan is fully connected for self-driving and, as you can imagine, was one of the automotive highlights at CES.
Why should I care? The back-to-back nature of CES and the Detroit auto show is going to make more automakers consider where to focus their time, money and energy. Other automakers — such as Audi, Hyundai, BMW and Nissan — had a strong presence in Las Vegas, but Chrysler was the only one to bite the bullet and save its biggest newsmaker for CES.
Expect other car companies to follow that same route moving forward. Detroit proves that product is still king; fancy sheet metal and powerful engines will always be crowd pleasers. CES is more beneath the surface of the auto world — it's a think-tank where innovations can be tried and tested without the "When will it hit production?" pressure of a traditional auto show.