What Should Fiat Chrysler Demonize Next?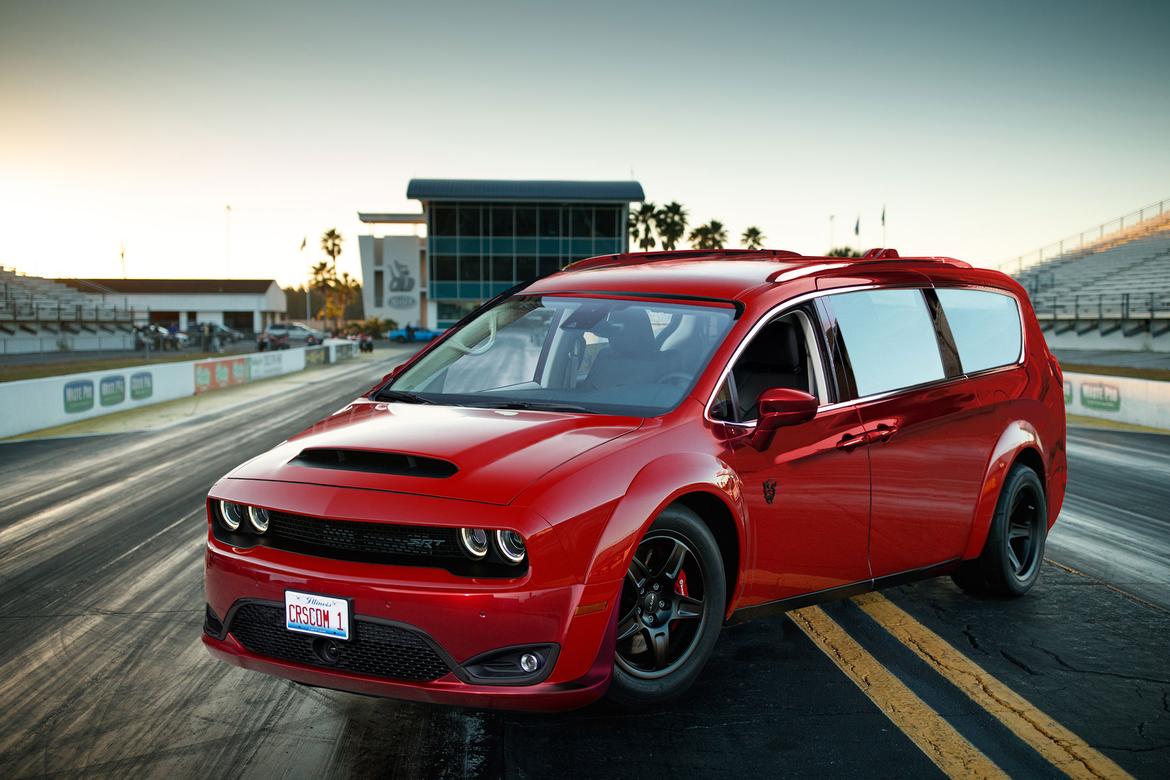 CARS.COM — Twelve weeks of teasers, video clips, vague license plate codes and spy photos culminated earlier this month in the reveal of the 2018 Dodge Challenger SRT Demon at the 2017 New York International Auto Show. The factory dragster is 840 horsepower of supercharged monster, living its life a quarter-mile at a time, shattering records and blowing minds with its 2.3-second zero-to-60-mph time and sub-10-second quarter-mile results
Related: 2018 Dodge Challenger SRT Demon Photo Gallery
So we got to wondering: What if Fiat Chrysler Automobiles used its Demonizing magic on something else in the lineup? We asked our editors to tell us what else from the lineup would make a good Demon.
Joe Wiesenfelder, Executive Editor
The Dodge Dart! I know it's been discontinued, but this could bring it back. The Dart's main problem was its unresponsive drivetrains. I was looking forward to an SRT version to transform the thing because I think the chassis would have been up to it. Many years have passed, but this is the same company that turned the Neon (which had become a turd by then) into the fantastic original 2003-05 Dodge SRT-4. I guess that didn't save the Neon, either, but it was a nice swan song.
Mike Hanley, Senior Editor
Ram 1500 Demon — put some wide drag radials on the back of a rear-wheel-drive Ram 1500 regular-cab, short-bed truck to make a successor to the outrageous Dodge Ram SRT-10 from the early 2000s.
Fred Meier, D.C. Bureau Chief, and Kelsey Mays, Senior Consumer Affairs Editor
Jeep Wrangler Rubicon Recon — not only no seats, you could run it with no doors or roof, says Meier. Nothing says capability like an open-air SUV that can run the Rubicon one day and a drag strip the next, adds Mays.
Patrick Masterson, Copy Editor
The Fiat 500L. It's got a deserved reputation for being all-around appalling. If the Demon trim proves viable (or even just viable enough) in the Challenger, what's the worst this could do? Sales were already down 67 percent for 2016, anyway. May as well throw 800-plus horsepower into it.
Brian Normile, Logistics Editor
Dodge Journey! It would be incredibly stupid, just like the Demon (which is what makes the Demon great). Plus, you can use the conversation mirror to see how terrified your backseat passengers are, unless the mirror is sacrificed for weight savings. Most importantly, the marketing writes itself! [Cue "Don't Stop Believin"]
But the winner is this: the 2019 Chrysler Pacifica SRT Demon!
It's the perfect formula: Take that big, supercharged 6.2-liter V-8 and bulletproof eight-speed automatic transmission — as well as the rest of the drivetrain from the Challenger — and stuff it under the Pacifica's seven-passenger body! Of course, it no longer carries seven people; due to weight savings requirements for the track, it just has a seat for the driver. Since you won't need the Stow 'n Go seating anymore, those empty voids in the floor now hold nitromethane tanks, one-upping the Challenger Demon's 100-octane capability. And if you want to terrify the whole family, you can add all those seats back in for one dollar each.

Smoked chrome, drag radials at all four corners, fender flares and the front clip from the Challenger to aid in cooling and air intake complete the package. Come on, FCA! The world needs a sub-10-second quarter-mile minivan.